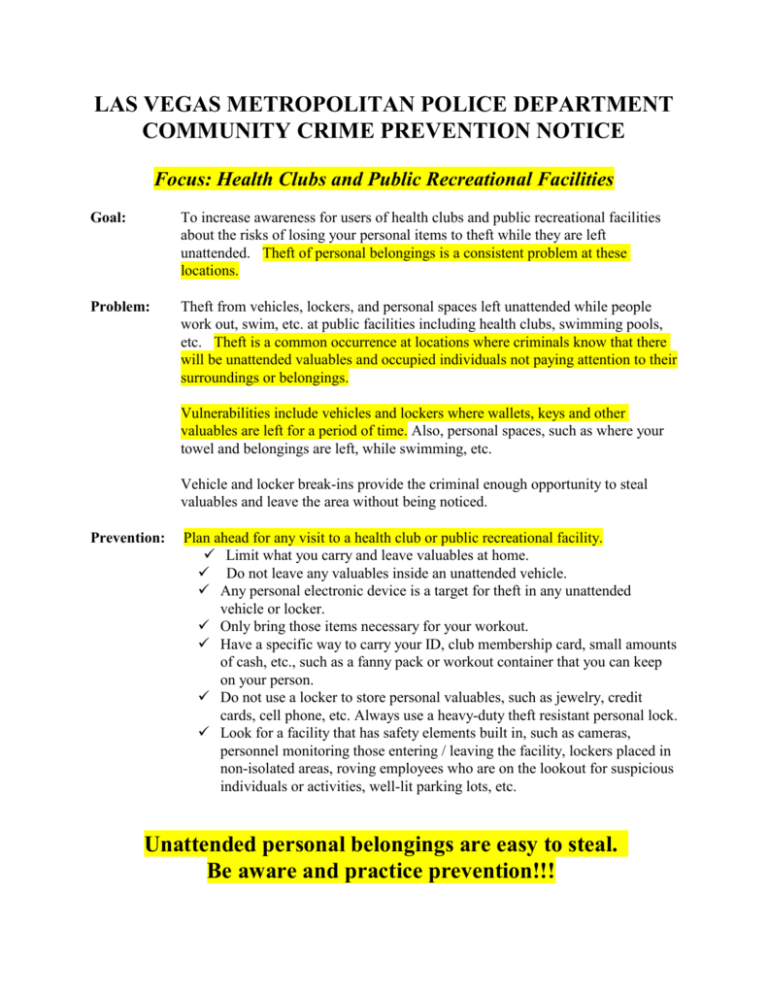 LAS VEGAS METROPOLITAN POLICE DEPARTMENT
COMMUNITY CRIME PREVENTION NOTICE
Focus: Health Clubs and Public Recreational Facilities
Goal:
To increase awareness for users of health clubs and public recreational facilities
about the risks of losing your personal items to theft while they are left
unattended. Theft of personal belongings is a consistent problem at these
locations.
Problem:
Theft from vehicles, lockers, and personal spaces left unattended while people
work out, swim, etc. at public facilities including health clubs, swimming pools,
etc. Theft is a common occurrence at locations where criminals know that there
will be unattended valuables and occupied individuals not paying attention to their
surroundings or belongings.
Vulnerabilities include vehicles and lockers where wallets, keys and other
valuables are left for a period of time. Also, personal spaces, such as where your
towel and belongings are left, while swimming, etc.
Vehicle and locker break-ins provide the criminal enough opportunity to steal
valuables and leave the area without being noticed.
Prevention:
Plan ahead for any visit to a health club or public recreational facility.
 Limit what you carry and leave valuables at home.
 Do not leave any valuables inside an unattended vehicle.
 Any personal electronic device is a target for theft in any unattended
vehicle or locker.
 Only bring those items necessary for your workout.
 Have a specific way to carry your ID, club membership card, small amounts
of cash, etc., such as a fanny pack or workout container that you can keep
on your person.
 Do not use a locker to store personal valuables, such as jewelry, credit
cards, cell phone, etc. Always use a heavy-duty theft resistant personal lock.
 Look for a facility that has safety elements built in, such as cameras,
personnel monitoring those entering / leaving the facility, lockers placed in
non-isolated areas, roving employees who are on the lookout for suspicious
individuals or activities, well-lit parking lots, etc.
Unattended personal belongings are easy to steal.
Be aware and practice prevention!!!