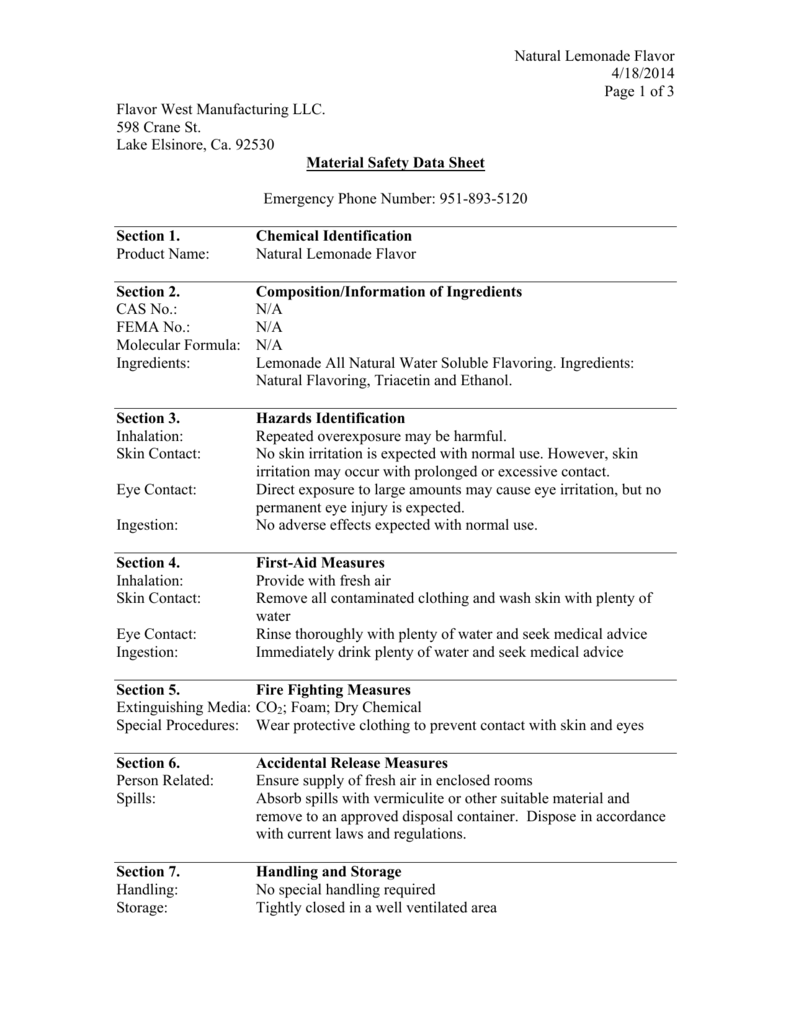 Natural Lemonade Flavor
4/18/2014
Page 1 of 3
Flavor West Manufacturing LLC.
598 Crane St.
Lake Elsinore, Ca. 92530
Material Safety Data Sheet
Emergency Phone Number: 951-893-5120
Section 1.
Product Name:
Chemical Identification
Natural Lemonade Flavor
Section 2.
CAS No.:
FEMA No.:
Molecular Formula:
Ingredients:
Composition/Information of Ingredients
N/A
N/A
N/A
Lemonade All Natural Water Soluble Flavoring. Ingredients:
Natural Flavoring, Triacetin and Ethanol.
Section 3.
Inhalation:
Skin Contact:
Hazards Identification
Repeated overexposure may be harmful.
No skin irritation is expected with normal use. However, skin
irritation may occur with prolonged or excessive contact.
Direct exposure to large amounts may cause eye irritation, but no
permanent eye injury is expected.
No adverse effects expected with normal use.
Eye Contact:
Ingestion:
Section 4.
Inhalation:
Skin Contact:
Eye Contact:
Ingestion:
First-Aid Measures
Provide with fresh air
Remove all contaminated clothing and wash skin with plenty of
water
Rinse thoroughly with plenty of water and seek medical advice
Immediately drink plenty of water and seek medical advice
Section 5.
Fire Fighting Measures
Extinguishing Media: CO2; Foam; Dry Chemical
Special Procedures: Wear protective clothing to prevent contact with skin and eyes
Section 6.
Person Related:
Spills:
Accidental Release Measures
Ensure supply of fresh air in enclosed rooms
Absorb spills with vermiculite or other suitable material and
remove to an approved disposal container. Dispose in accordance
with current laws and regulations.
Section 7.
Handling:
Storage:
Handling and Storage
No special handling required
Tightly closed in a well ventilated area
Natural Lemonade Flavor
4/18/2014
Page 2 of 3
Section 8.
Exposure Limits:
Respiratory:
Eye Protection:
Hand Protection:
Industrial Hygiene:
Exposure Controls/Personal Protection
Avoid contact with eyes, skin, clothing
No special requirements
Wear protective goggles
Wear suitable gloves
Change contaminated clothing; wash hands after working with
substance
Section 9.
Physical and Chemical Properties
Form:
Liquid
Color:
Level: Clear.
Odor:
Lemonade
Boiling Point:
Not available
Melting Point:
N/A
Flashpoint:
Not available
Lower explosion:
Not available
Upper explosion:
Not available
Vapor Pressure:
Not available
1.04
Specific Gravity @ 200C:
Solubility
Water:
Organic Solvents:
Soluble
Soluble
Section 10.
Stability and Reactivity
Conditions to Avoid:
Hazardous polymerization:
Hazardous decomposition products:
Further information: No information available
Section 11.
Oral LD50:
Dermal LD50:
Inhalation LD50:
Further Information:
Toxicological Information
No information available
No information available
No information available
May be harmful if inhaled, swallowed or absorbed through the skin
Section 12.
Biodegradability:
Aquatic Toxicity:
Ecological Information
No information available
No information available
Section 13.
Disposal Considerations
The Small quantities generated by consumer use may be disposed of in a sanitary sewer
with large quantities of water. Empty containers generated by consumer use may be
Natural Lemonade Flavor
4/18/2014
Page 3 of 3
disposed of as conventional waste. Any disposal practice must be in compliance with
local, state, and federal laws and regulations (contact local or state government agency
for specific rules). Do not dump into sewers, any body of water, or onto the ground.
Section 14.
UN#/Name:
UN Pkg Group:
Required Labels:
Transport Information
N/A
N/A
N/A
Section 15.
Regulatory Information
Federal and State Regulations: TSCA 8(b) inventory
Other Regulations: OSHA: Hazardous by definition of Hazard Communication
Standard (29 CFR 1910.1200).
Other Classifications:
WHMIS (Canada): Not controlled under WHMIS (Canada).
DSCL (EEC):
R36/38- Irritating to eyes and skin. S2- Keep out of the reach of children. S46- If
swallowed, seek medical advice immediately and show this container or label.
HMIS (U.S.A.):
Health Hazard: 1
Fire Hazard: 1
Reactivity: 0
Personal Protection: h
National Fire Protection Association (U.S.A.):
Health: 1
Flammability: 1
Reactivity: 0
Specific hazard:
Protective Equipment:
Gloves. Lab coat. Vapor respirator. Be sure to use an approved/certified respirator or
equivalent. Splash goggles.
Section 16.
Other Information
The information contained herein is based on the present state of our knowledge.
However, the data is provided without warranty, expressed or implied, regarding it's
correctness or accuracy. It is the user's responsibility both to determine safe conditions
for the use of this product and to assume liability for loss, injury, damage or expense
relating from the improper use of this product.