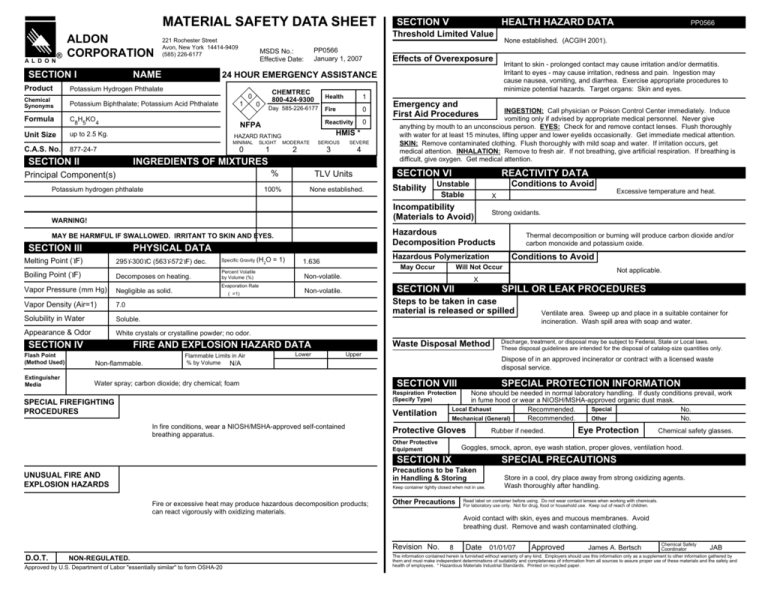 MATERIAL SAFETY DATA SHEET
A L D O N
®
ALDON
CORPORATION
SECTION I
221 Rochester Street
Avon, New York 14414-9409
(585) 226-6177
NAME
Potassium Hydrogen Phthalate
Chemical
Synonyms
Potassium Biphthalate; Potassium Acid Phthalate
PP0566
January 1, 2007
MSDS No.:
Effective Date:
Formula
C8H5KO4
Unit Size
up to 2.5 Kg.
CHEMTREC
800-424-9300
0
1
0
Day 585-226-6177
NFPA
Health
1
0
Reactivity
0
MINIMAL
HMIS *
0
877-24-7
SLIGHT
MODERATE
SERIOUS
SEVERE
1
2
3
4
INGREDIENTS OF MIXTURES
%
Principal Component(s)
Potassium hydrogen phthalate
100%
TLV Units
None established.
INGESTION: Call physician or Poison Control Center immediately. Induce
vomiting only if advised by appropriate medical personnel. Never give
anything by mouth to an unconscious person. EYES: Check for and remove contact lenses. Flush thoroughly
with water for at least 15 minutes, lifting upper and lower eyelids occasionally. Get immediate medical attention.
SKIN: Remove contaminated clothing. Flush thoroughly with mild soap and water. If irritation occurs, get
medical attention. INHALATION: Remove to fresh air. If not breathing, give artificial respiration. If breathing is
difficult, give oxygen. Get medical attention.
SECTION VI
Stability
REACTIVITY DATA
Conditions to Avoid
Unstable
Stable
PHYSICAL DATA
Melting Point (°F)
295°-300°C (563°-572°F) dec.
Specific Gravity (H2O
Boiling Point (°F)
Decomposes on heating.
Percent Volatile
by Volume (%)
Vapor Pressure (mm Hg)
Negligible as solid.
Evaporation Rate
( =1)
Strong oxidants.
Thermal decomposition or burning will produce carbon dioxide and/or
carbon monoxide and potassium oxide.
Conditions to Avoid
Hazardous Polymerization
1.636
May Occur
Will Not Occur
Non-volatile.
Not applicable.
X
SECTION VII
Non-volatile.
SPILL OR LEAK PROCEDURES
Steps to be taken in case
material is released or spilled
Vapor Density (Air=1)
7.0
Solubility in Water
Soluble.
Appearance & Odor
White crystals or crystalline powder; no odor.
SECTION IV
= 1)
Excessive temperature and heat.
X
Hazardous
Decomposition Products
MAY BE HARMFUL IF SWALLOWED. IRRITANT TO SKIN AND EYES.
SECTION III
Irritant to skin - prolonged contact may cause irritation and/or dermatitis.
Irritant to eyes - may cause irritation, redness and pain. Ingestion may
cause nausea, vomiting, and diarrhea. Exercise appropriate procedures to
minimize potential hazards. Target organs: Skin and eyes.
Emergency and
First Aid Procedures
Incompatibility
(Materials to Avoid)
WARNING!
Waste Disposal Method
FIRE AND EXPLOSION HAZARD DATA
Flash Point
(Method Used)
Non-flammable.
Extinguisher
Media
Water spray; carbon dioxide; dry chemical; foam
Flammable Limits in Air
% by Volume
N/A
Lower
PP0566
None established. (ACGIH 2001).
Effects of Overexposure
Fire
HAZARD RATING
SECTION II
HEALTH HAZARD DATA
24 HOUR EMERGENCY ASSISTANCE
Product
C.A.S. No.
SECTION V
Threshold Limited Value
Upper
Ventilate area. Sweep up and place in a suitable container for
incineration. Wash spill area with soap and water.
Discharge, treatment, or disposal may be subject to Federal, State or Local laws.
These disposal guidelines are intended for the disposal of catalog-size quantities only.
Dispose of in an approved incinerator or contract with a licensed waste
disposal service.
SECTION VIII
SPECIAL PROTECTION INFORMATION
None should be needed in normal laboratory handling. If dusty conditions prevail, work
in fume hood or wear a NIOSH/MSHA-approved organic dust mask.
Local Exhaust
Special
Recommended.
No.
Mechanical (General)
Other
Recommended.
No.
Respiration Protection
(Specify Type)
SPECIAL FIREFIGHTING
PROCEDURES
Ventilation
In fire conditions, wear a NIOSH/MSHA-approved self-contained
breathing apparatus.
Protective Gloves
Other Protective
Equipment
Chemical safety glasses.
SPECIAL PRECAUTIONS
Precautions to be Taken
in Handling & Storing
Keep container tightly closed when not in use.
Fire or excessive heat may produce hazardous decomposition products;
can react vigorously with oxidizing materials.
Eye Protection
Goggles, smock, apron, eye wash station, proper gloves, ventilation hood.
SECTION IX
UNUSUAL FIRE AND
EXPLOSION HAZARDS
Rubber if needed.
Other Precautions
Store in a cool, dry place away from strong oxidizing agents.
Wash thoroughly after handling.
Read label on container before using. Do not wear contact lenses when working with chemicals.
For laboratory use only. Not for drug, food or household use. Keep out of reach of children.
Avoid contact with skin, eyes and mucous membranes. Avoid
breathing dust. Remove and wash contaminated clothing.
Revision No.
D.O.T.
NON-REGULATED.
Approved by U.S. Department of Labor "essentially similar" to form OSHA-20
8
Date 01/01/07
Approved
James A. Bertsch
Chemical Safety
Coordinator
JAB
The information contained herein is furnished without warranty of any kind. Employers should use this information only as a supplement to other information gathered by
them and must make independent determinations of suitability and completeness of information from all sources to assure proper use of these materials and the safety and
health of employees. * Hazardous Materials Industrial Standards. Printed on recycled paper.