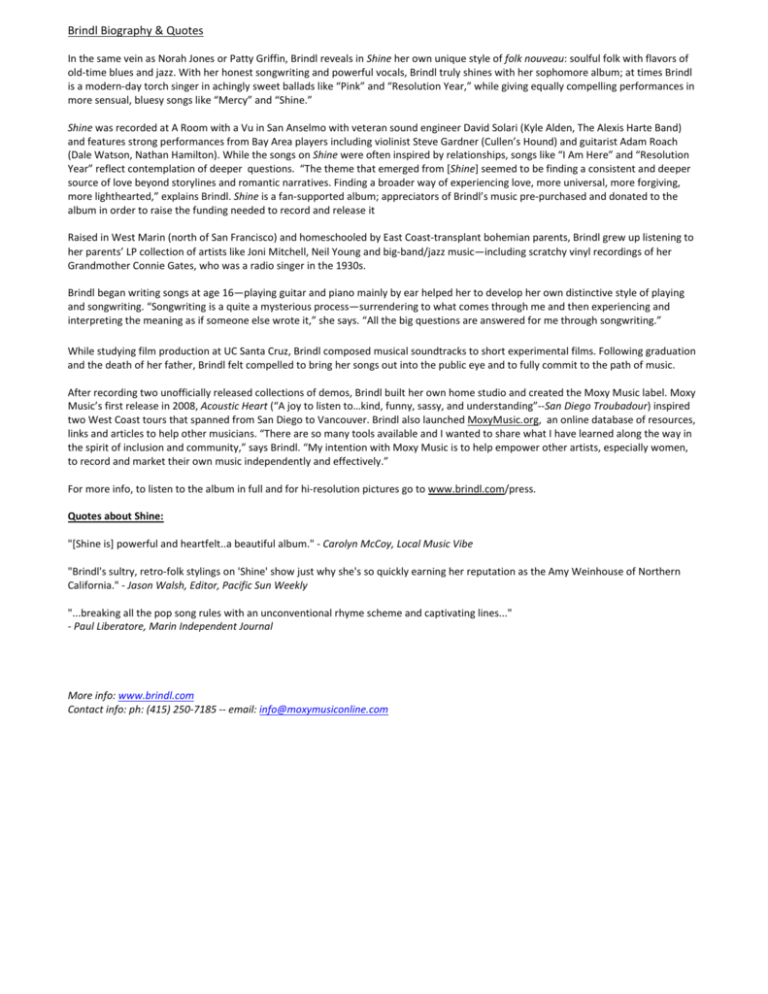 Brindl Biography & Quotes
In the same vein as Norah Jones or Patty Griffin, Brindl reveals in Shine her own unique style of folk nouveau: soulful folk with flavors of
old-time blues and jazz. With her honest songwriting and powerful vocals, Brindl truly shines with her sophomore album; at times Brindl
is a modern-day torch singer in achingly sweet ballads like "Pink" and "Resolution Year," while giving equally compelling performances in
more sensual, bluesy songs like "Mercy" and "Shine."
Shine was recorded at A Room with a Vu in San Anselmo with veteran sound engineer David Solari (Kyle Alden, The Alexis Harte Band)
and features strong performances from Bay Area players including violinist Steve Gardner (Cullen's Hound) and guitarist Adam Roach
(Dale Watson, Nathan Hamilton). While the songs on Shine were often inspired by relationships, songs like "I Am Here" and "Resolution
Year" reflect contemplation of deeper questions. "The theme that emerged from [Shine] seemed to be finding a consistent and deeper
source of love beyond storylines and romantic narratives. Finding a broader way of experiencing love, more universal, more forgiving,
more lighthearted," explains Brindl. Shine is a fan-supported album; appreciators of Brindl's music pre-purchased and donated to the
album in order to raise the funding needed to record and release it
Raised in West Marin (north of San Francisco) and homeschooled by East Coast-transplant bohemian parents, Brindl grew up listening to
her parents' LP collection of artists like Joni Mitchell, Neil Young and big-band/jazz music—including scratchy vinyl recordings of her
Grandmother Connie Gates, who was a radio singer in the 1930s.
Brindl began writing songs at age 16—playing guitar and piano mainly by ear helped her to develop her own distinctive style of playing
and songwriting. "Songwriting is a quite a mysterious process—surrendering to what comes through me and then experiencing and
interpreting the meaning as if someone else wrote it," she says. "All the big questions are answered for me through songwriting."
While studying film production at UC Santa Cruz, Brindl composed musical soundtracks to short experimental films. Following graduation
and the death of her father, Brindl felt compelled to bring her songs out into the public eye and to fully commit to the path of music.
After recording two unofficially released collections of demos, Brindl built her own home studio and created the Moxy Music label. Moxy
Music's first release in 2008, Acoustic Heart ("A joy to listen to…kind, funny, sassy, and understanding"--San Diego Troubadour) inspired
two West Coast tours that spanned from San Diego to Vancouver. Brindl also launched MoxyMusic.org, an online database of resources,
links and articles to help other musicians. "There are so many tools available and I wanted to share what I have learned along the way in
the spirit of inclusion and community," says Brindl. "My intention with Moxy Music is to help empower other artists, especially women,
to record and market their own music independently and effectively."
For more info, to listen to the album in full and for hi-resolution pictures go to www.brindl.com/press.
Quotes about Shine:
"[Shine is] powerful and heartfelt..a beautiful album." - Carolyn McCoy, Local Music Vibe
"Brindl's sultry, retro-folk stylings on 'Shine' show just why she's so quickly earning her reputation as the Amy Weinhouse of Northern
California." - Jason Walsh, Editor, Pacific Sun Weekly
"...breaking all the pop song rules with an unconventional rhyme scheme and captivating lines..."
- Paul Liberatore, Marin Independent Journal
More info: www.brindl.com
Contact info: ph: (415) 250-7185 -- email: info@moxymusiconline.com
"...Kind, funny, sassy, and understanding, Brindl's heart truly beats through acoustic music. - Tim Mudd, San Diego Troubador
Bay Area singer-songwriter Brindl's music is a unique vision of Neo-Folk and Acoustic Soul. Brindl is known for her powerful vocals,
insightful songwriting, and inexplicable affinity for The Hoff.
Raised in Northern California, Brindl grew up listening to vinyl records of Joni Mitchell and Neil Young, 80's pop radio and big-band/jazz
music—(Her Grandmother Connie Gates was a radio singer in the 1930s.)
After earning a degree in film school, Brindl recorded her first full length album Acoustic Heart (2008) in her home studio, which inspired
two West Coast tours and the creation of Moxy Music and MoxyMusicOnline.com (an DYI online resource for indie female musicians.) Her
new album Shine was released in 2010 and is available at www.brindl.com.
Brindl is currently writing new songs on her ukulele and working on her next recording project.