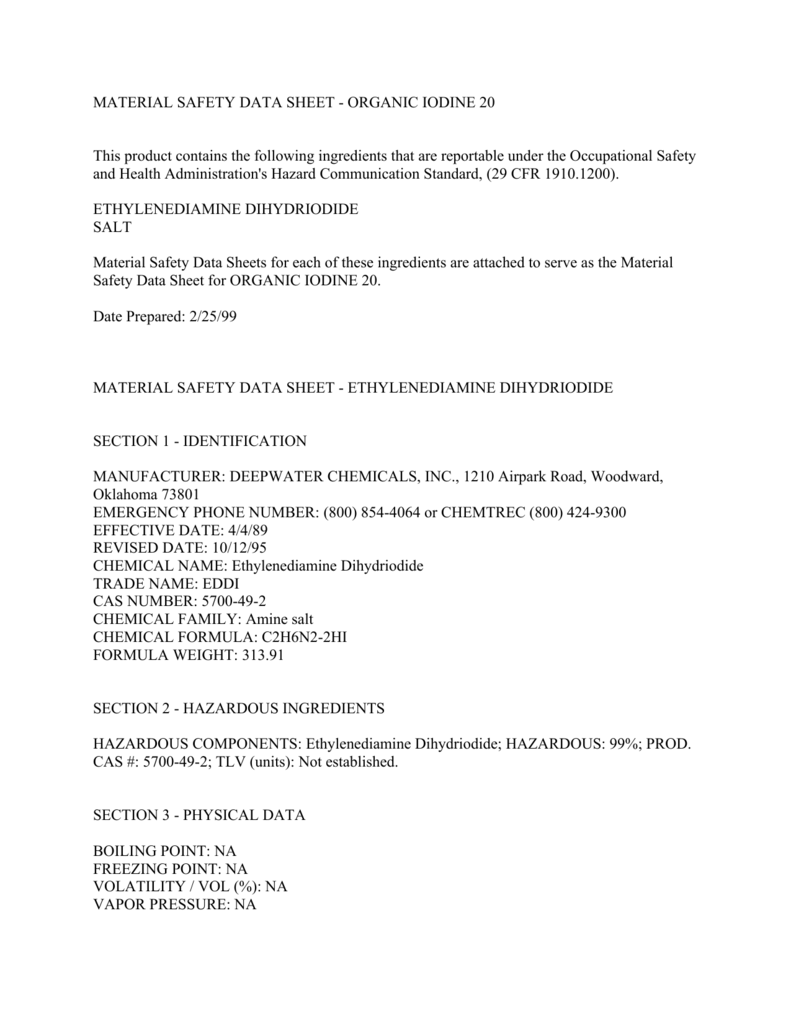 MATERIAL SAFETY DATA SHEET - ORGANIC IODINE 20
This product contains the following ingredients that are reportable under the Occupational Safety
and Health Administration's Hazard Communication Standard, (29 CFR 1910.1200).
ETHYLENEDIAMINE DIHYDRIODIDE
SALT
Material Safety Data Sheets for each of these ingredients are attached to serve as the Material
Safety Data Sheet for ORGANIC IODINE 20.
Date Prepared: 2/25/99
MATERIAL SAFETY DATA SHEET - ETHYLENEDIAMINE DIHYDRIODIDE
SECTION 1 - IDENTIFICATION
MANUFACTURER: DEEPWATER CHEMICALS, INC., 1210 Airpark Road, Woodward,
Oklahoma 73801
EMERGENCY PHONE NUMBER: (800) 854-4064 or CHEMTREC (800) 424-9300
EFFECTIVE DATE: 4/4/89
REVISED DATE: 10/12/95
CHEMICAL NAME: Ethylenediamine Dihydriodide
TRADE NAME: EDDI
CAS NUMBER: 5700-49-2
CHEMICAL FAMILY: Amine salt
CHEMICAL FORMULA: C2H6N2-2HI
FORMULA WEIGHT: 313.91
SECTION 2 - HAZARDOUS INGREDIENTS
HAZARDOUS COMPONENTS: Ethylenediamine Dihydriodide; HAZARDOUS: 99%; PROD.
CAS #: 5700-49-2; TLV (units): Not established.
SECTION 3 - PHYSICAL DATA
BOILING POINT: NA
FREEZING POINT: NA
VOLATILITY / VOL (%): NA
VAPOR PRESSURE: NA
VAPOR DENSITY (Air = 1): NA
SOLUBILITY IN H20: Greater than 50% by weight
APPEARANCE/ODOR: Colorless to light yellow, crystalline powder
SPECIFIC GRAVITY(H2O=1): Not determined
EVAPORATION RATE (H2O=1): NA
pH: 4.5 - 5 for a 5% aqueous solution
SECTION 4 - FIRE AND EXPLOSION DATA
FLASH POINT: NA
LOWER FLAME LIMIT: NA
HIGHER FLAME LIMIT: NA
EXTINGUISH MEDIA: Carbon dioxide, dry chemical powder, foam.
FOR FIRE: Wear a self-contained breathing apparatus.
USUAL FIRE HAZARD: While ethylenediamine dihydriodide is not flammable, toxic iodine
vapor may be liberated during a fire.
SECTION 5 - HEALTH HAZARD DATA
HEALTH HAZARDS: Dust is irritating to the respiratory tract. Skin contact may cause an
allergic response. Contact with moist skin may result in minor burns.
TOXICITY DATA: Not established
CARCINOGENICITY: Not reported
MUTAGENICITY: Not reported
REPRODUCTIVE EFFECTS: None reported
TERATOGENCITY: Not reported
OVER EXPOSURE EFFECTS: Prolonged exposure may cause skin rash, irritation of the
respiratory tract, and headache. Some individuals are extremely susceptible to an allergic
response following exposure to iodides.
FIRST AID PROCEDURES:
EYE CONTACT: Rinse with water for at least 15 minutes.
SKIN CONTACT: Immediately wash thoroughly with soap and water. Remove contaminated
clothing.
INGESTION: Drink a large quantity of water to dilute the salt.
INHALATION: Remove to fresh air and support breathing as necessary.
SECTION 6 - REACTIVITY DATA
CHEMICAL STABLITY: Stable
CONDITION TO AVOID: Strong oxidizing agents and strong alkali
INCOMPATIBLE MATERIALS: Strong oxidizing agents, alkaline materials, and moist copper
salts.
DECOMPOSITION PRODUCTS: While generally stable, exposure to strong oxidizing agents or
sunlight in a moist environment may result in the liberation of iodine.
HAZARDOUS POLYMERIZATION: Will not occur
POLYMERIZATION AVOID: NA
SECTION 7 - SPILL OR LEAK PROCEDURE
FOR SPILL: Sweep up the solid crystals, place in a container, and either recycle or dispose of in
an approved method.
WASTE DISPOSAL METHOD: Burn in a chemical incinerator equipped with an afterburner
and scrubber. Contact the manufacturer concerning recycle possibilities.
SECTION 8 - SPECIAL PROTECTION
RESPIRATORY PROTECTION: Wear a NIOSH/MSHA approved dust mask.
VENTILATION: Local exhaust
PROTECTIVE GLOVES: Rubber or plastic gloves
EYE PROTECTION: Chemical safety glasses or goggles
OTHER PROTECTIVE EQUIPMENT: None required
HANDLING AND STORAGE: Store in a cool (<100°F), dark place. Do not expose to direct
sunlight. Do not store in open, unlabeled containers.
SECTION 9 - SPECIAL PRECAUTIONS
SPECIAL SHIPPING INFORMATION: None required
HAZARD CLASS: Not hazardous
DOT SHIPPING NAME: Ethylenediamine Dihydriodide
REPORTABLE QUANTITY (RQ): Not established
UN NUMBER: None
PACKAGING SIZE: 100 pound or 50 kg drums
SECTION 10 - PREPARATION OF MSDS
PREPARED BY: D.G. Mason
PHONE NUMBER OF PREPARER: (405) 256-0500
The above information is believed to be correct but does not purport to be all inclusive and shall
be used only as a guide. Deepwater Chemicals shall not be held liable for any damage resulting
from handling or from contact with the above product.
MATERIAL SAFETY DATA SHEET - SALT
SECTION 1 - GENERAL INFORMATION
MANUFACTURER: Cargill Incorporated - Salt Division, P.O. Box 5621, Minneapolis, MN
55440
GENERAL SERVICES ADMINISTRATION NATIONAL STOCK NUMBER: 6810-00-2270437
CONTACT: Director-Quality Admin.
PHONE NO: (612) 742-6581
TRADE NAME (Common Name or Synonym): Salt
C.A.S. NO(S): 7647-14-5
CHEMICAL NAME (S): Sodium Chloride
FORMULA: NaCl
MOLECULAR WEIGHT: 58.44
DATE ISSUED: 8/1/85
DATE REVISED: 4/28/93
SECTION 2 - HAZARDOUS INGREDIENTS / IDENTITY INFORMATION
None
THIS PRODUCT IS NOT REGULATED UNDER:
OSHA Hazard Communication Standard 29 CFR 1910.1200
S.A.R.A. Title III
SECTION 3 - PHYSICAL / CHEMICAL CHARACTERISTICS
BOILING POINT (760 mm Hg)(°C): 1465
VAPOR PRESSURE (mm Hg / 747°C): 2.4
VAPOR DENSITY (Air =1): NA
SOLUBILITY IN WATER (g/cc,%): 26.4
SPECIFIC GRAVITY (H2O = 1): 2.16
MELTING POINT (°C): 801
EVAPORATION RATE (Butyl Acetate = 1): NA
APPEARANCE AND ODOR: White crystalline solid with slight halogen odor.
SECTION 4 - FIRE AND EXPLOSION HAZARD DATA
FLASH POINT (Method Used): NA
FLAMMABLE LIMITS: LEL: NA; UEL: NA
EXTINGUISHING MEDIA: NA. This product is nonflammable.
SPECIAL FIRE-FIGHTING PROCEDURES / EQUIPMENT: NA
UNUSUAL FIRE AND EXPLOSION HAZARDS: None
SECTION 5 - REACTIVITY DATA
STABILITY: Stable
CONDITIONS TO AVOID: Contact with strong acids.
INCOMPATIBILITY (Materials to Avoid): Becomes corrosive to metals when wet.
HAZARDOUS DECOMPOSITION OR BYPRODUCTS: May evolve chlorine gas when in
contact with strong acids.
HAZARDOUS POLYMERIZATION: Will not occur
CONDITIONS TO AVOID: NA
SECTION 6 - HEALTH HAZARD DATA
ROUTE(S) OF ENTRY
INHALATION: May cause mild irritation of nose and throat.
SKIN: Dust may cause mild irritation.
INGESTION: Ingestion of large amounts may cause gastrointestinal upset.
HEALTH HAZARDS (Acute and Chronic): Ingestion of large amounts (greater than 0.1 pound)
can cause gastrointestinal upset and irritation of the stomach.
No applicable information found for chronic systemic effects.
CARCINOGENICITY:
NTP? Not listed as a carcinogen or mutagen.
IARC Monographs? Not listed as a carcinogen or mutagen.
OSHA Regulated? Not listed as a carcinogen or mutagen.
SIGNS AND SYMPTOMS OF EXPOSURE
INHALATION: Slight irritation of the nose; sneezing.
SKIN CONTACT: Irritation; inflammation.
INGESTION: Nausea; vomiting.
MEDICAL CONDITIONS GENERALLY AGGRAVATED BY EXPOSURE: In some cases of
confirmed hypertension, ingestion may result in elevated blood pressure. (This applies only to
salt-sensitive individuals.)
EMERGENCY AND FIRST AID PROCEDURES
INHALATION: If person breathes large quantities, remove to fresh air at once. If breathing
stops, apply artificial respiration immediately.
SKIN CONTACT: Remove clothing from affected area. Wash skin thoroughly. Rinse carefully.
For eye contact, flush with water immediately, lifting eyelids occasionally.
INGESTION: Less than a few grams would not be harmful. For larger quantities, drink large
amounts of water or milk.
EMERGENCY TELEPHONE NUMBERS: Daytime (612) 475-6581 - Evenings (612) 476-1127
(Minnesota)
SECTION 7 - PRECAUTIONS FOR SAFE HANDLING AND USE
STEPS TO BE TAKEN IN CASE MATERIAL IS RELEASED OR SPILLED: Contain spills to
prevent contamination of water supply or sanitary sewer system. Vacuum or sweep into
containers for proper disposal.
WASTE DISPOSAL METHOD: For disposal of this material as a waste, act in accordance with
all applicable Federal, state and local waste management regulations.
PRECAUTIONS TO BE TAKEN IN HANDLING AND STORAGE: Avoid humid or wet
conditions as product will cake and become hard.
OTHER PRECAUTIONS: NA
SECTION 8 - CONTROL MEASURES
RESPIRATORY PROTECTION (Specify Type): NIOSH/MSHA approved respirator for
particulates.
VENTILATION: LOCAL EXHAUST: Ventilate as required to maintain airborne particulates
below occupational exposure limits. MECHANICAL (General): Dust collection equipment may
be employed. SPECIAL / OTHER: NA
PERSONAL PROTECTIVE EQUPMENT
PROTECTIVE GLOVES: Normal work gloves are adequate.
EYE PROTECTION: Eyeglasses or goggles should be worn in dusty areas.
OTHER PROTECTIVE CLOTHING OR EQUIPMENT: Protective clothing may be worn in
dusty areas, but is generally not required.
WORK/HYGIENE PRACTICES: Warm water showering and handwashing is suggested after
working in extremely dusty areas.
All statements, technical information and recommendations contained herein are, to the best of
our knowledge, reliable and accurate; however, no warranty, either express or implied, is made
with respect thereto, nor will any liability be assumed for damages resultant from the use of the
material described.
It is the responsibility of the user to comply with all applicable federal, state and local laws and
regulations. It is also the responsibility of the user to maintain a safe workplace. The user
should consider the health hazards and safety information provided herein as a guide and should
take the necessary steps to instruct employees and to develop work practice procedures to ensure
a safe work environment.
This information is not intended as a license to operate under, or a recommendation to practice or
infringe upon any patent of this Company or others covering any process, composition of matter
or use.