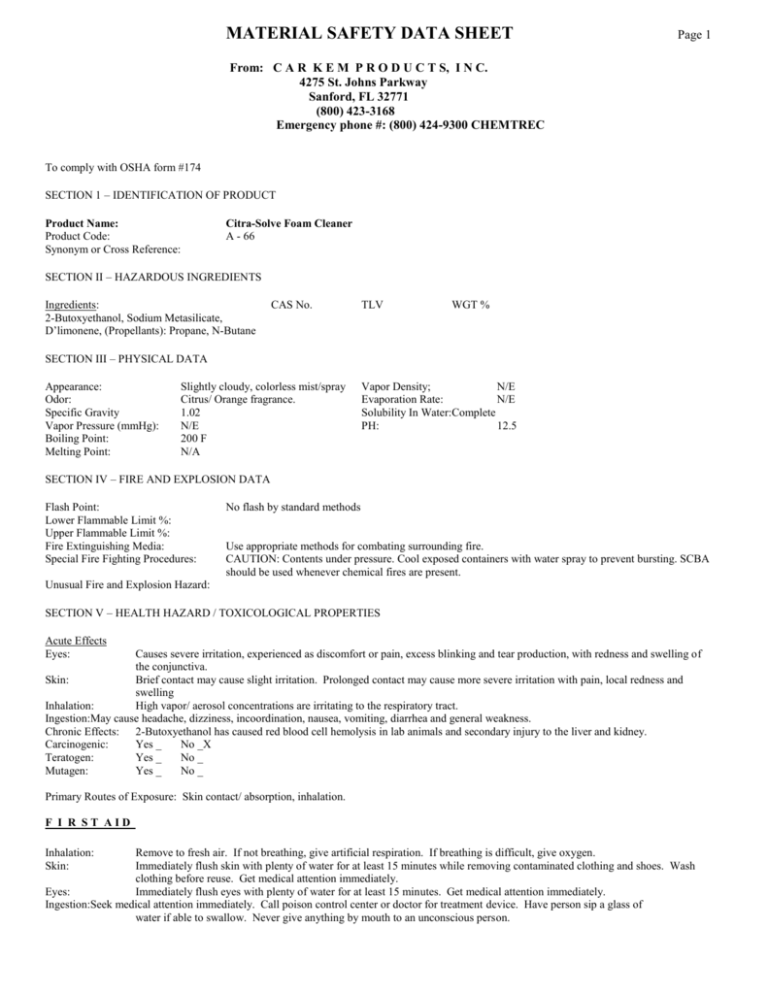 MATERIAL SAFETY DATA SHEET
Page 1
From: C A R K E M P R O D U C T S, I N C.
4275 St. Johns Parkway
Sanford, FL 32771
(800) 423-3168
Emergency phone #: (800) 424-9300 CHEMTREC
To comply with OSHA form #174
SECTION 1 – IDENTIFICATION OF PRODUCT
Product Name:
Product Code:
Synonym or Cross Reference:
Citra-Solve Foam Cleaner
A - 66
SECTION II – HAZARDOUS INGREDIENTS
Ingredients:
2-Butoxyethanol, Sodium Metasilicate,
D'limonene, (Propellants): Propane, N-Butane
CAS No.
TLV
WGT %
SECTION III – PHYSICAL DATA
Appearance:
Odor:
Specific Gravity
Vapor Pressure (mmHg):
Boiling Point:
Melting Point:
Slightly cloudy, colorless mist/spray
Citrus/ Orange fragrance.
1.02
N/E
200 F
N/A
Vapor Density;
N/E
Evaporation Rate:
N/E
Solubility In Water:Complete
PH:
12.5
SECTION IV – FIRE AND EXPLOSION DATA
Flash Point:
Lower Flammable Limit %:
Upper Flammable Limit %:
Fire Extinguishing Media:
Special Fire Fighting Procedures:
No flash by standard methods
Use appropriate methods for combating surrounding fire.
CAUTION: Contents under pressure. Cool exposed containers with water spray to prevent bursting. SCBA
should be used whenever chemical fires are present.
Unusual Fire and Explosion Hazard:
SECTION V – HEALTH HAZARD / TOXICOLOGICAL PROPERTIES
Acute Effects
Eyes:
Causes severe irritation, experienced as discomfort or pain, excess blinking and tear production, with redness and swelling of
the conjunctiva.
Skin:
Brief contact may cause slight irritation. Prolonged contact may cause more severe irritation with pain, local redness and
swelling
Inhalation:
High vapor/ aerosol concentrations are irritating to the respiratory tract.
Ingestion:May cause headache, dizziness, incoordination, nausea, vomiting, diarrhea and general weakness.
Chronic Effects: 2-Butoxyethanol has caused red blood cell hemolysis in lab animals and secondary injury to the liver and kidney.
Carcinogenic:
Yes _
No _X
Teratogen:
Yes _
No _
Mutagen:
Yes _
No _
Primary Routes of Exposure: Skin contact/ absorption, inhalation.
F I R ST AID
Inhalation:
Skin:
Remove to fresh air. If not breathing, give artificial respiration. If breathing is difficult, give oxygen.
Immediately flush skin with plenty of water for at least 15 minutes while removing contaminated clothing and shoes. Wash
clothing before reuse. Get medical attention immediately.
Eyes:
Immediately flush eyes with plenty of water for at least 15 minutes. Get medical attention immediately.
Ingestion:Seek medical attention immediately. Call poison control center or doctor for treatment device. Have person sip a glass of
water if able to swallow. Never give anything by mouth to an unconscious person.
MATERIAL SAFETY DATA SHEET
Page 2
From: C A R K E M P R O D U C T S, I N C.
4275 St. Johns Parkway
Sanford, FL 32771
(800) 423-3168
Emergency phone #: (800) 424-9300 CHEMTREC
Product Name:
A-66
SECTION VI – REACTIVITY DATA
Stability:
Conditions To Avoid:
Incompatibility Materials To Avoid:
Hazardous Decomposition Products:
Hazardous Polymerization:
Stable
High Temperatures
Acids and strong oxidizers
CO, CO2
Will not occur
SECTION VII – SPILL AND DISPOSAL PROCEDURE
Spills, Leak or Release:
Waste Disposal:
Stop all leaks. Isolate hazard area. Keep unnecessary and unprotected personnel from entering. Eliminate all
ignition sources. Disperse vapors with water spray. Prevent runoff from entering drains, sewers, streams or other
bodies for water. Absorb spill with inert material. Absorb unrecoverable product. Transfer contaminated
absorbent, soil and other materials to containers for disposal.
Waste must be disposed of in accordance with federal, state and local environmental control regulations. See label
for further instructions.
SECTION VIII – PROTECTION INFORMATION
Respiratory Protection:
Ventilation:
Protection Gloves:
Eye Protection:
Other Protective Equip.
When respiratory protection is required, use and organic vapor & particulate cartridge. All reparatory programs
must meet OSHA's 29 CFR 1910.34 & ANSI Z88.2 requirements.
Good general ventilation required.
To prevent repeated or prolonged contact, wear impervious gloves (made from rubber, nitrile or neoprene).
Wear safety glasses or goggles.
SECTION IX – HANDLING AND STORAGE PRECAUTIONS
Storage and Handling:
Do not use or store near heat, sparks or open flame. Exposure to temperatures above 120 F may cause bursting. Do
not puncture or incinerate container. Sore in cool, dry place. Do not get in eyes, on skin or on clothing. Intentional
issue by deliberately concentrating and inhaling may be harmful or fatal. Keep out of reach of children.
SECTION X – ADDITIONAL INFORMATION
Shipping Information: Please comply with DOT regulations in USA
Hazard Rating:
0
= Insignificant
Health
1
1
= Slight
Fire
4
2
= Moderate
Reactivity
0
3
= High
Personal Protection B
4
= Extreme
Product Code:
Prepared on:
This information in the Material Safety Data Sheet has been compiled from our experience and date presented in various technical publications.
It is the user's responsibility to determine the suitability of this information for the adoption of the safety precautions s may be necessary.
We reserve the right to revise Material Safety Data Sheets from time to time as new technical information becomes available. The user has the
responsibility to contact the company to make sure that the sheet is the latest issue.