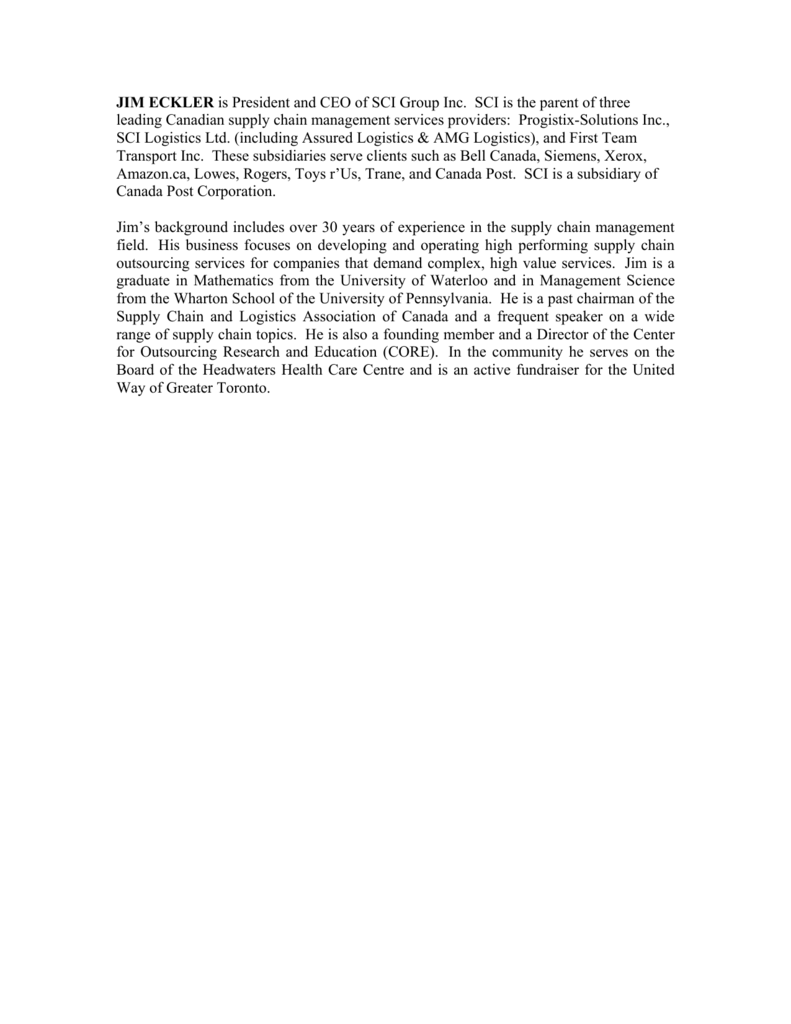 JIM ECKLER is President and CEO of SCI Group Inc. SCI is the parent of three
leading Canadian supply chain management services providers: Progistix-Solutions Inc.,
SCI Logistics Ltd. (including Assured Logistics & AMG Logistics), and First Team
Transport Inc. These subsidiaries serve clients such as Bell Canada, Siemens, Xerox,
Amazon.ca, Lowes, Rogers, Toys r'Us, Trane, and Canada Post. SCI is a subsidiary of
Canada Post Corporation.
Jim's background includes over 30 years of experience in the supply chain management
field. His business focuses on developing and operating high performing supply chain
outsourcing services for companies that demand complex, high value services. Jim is a
graduate in Mathematics from the University of Waterloo and in Management Science
from the Wharton School of the University of Pennsylvania. He is a past chairman of the
Supply Chain and Logistics Association of Canada and a frequent speaker on a wide
range of supply chain topics. He is also a founding member and a Director of the Center
for Outsourcing Research and Education (CORE). In the community he serves on the
Board of the Headwaters Health Care Centre and is an active fundraiser for the United
Way of Greater Toronto.