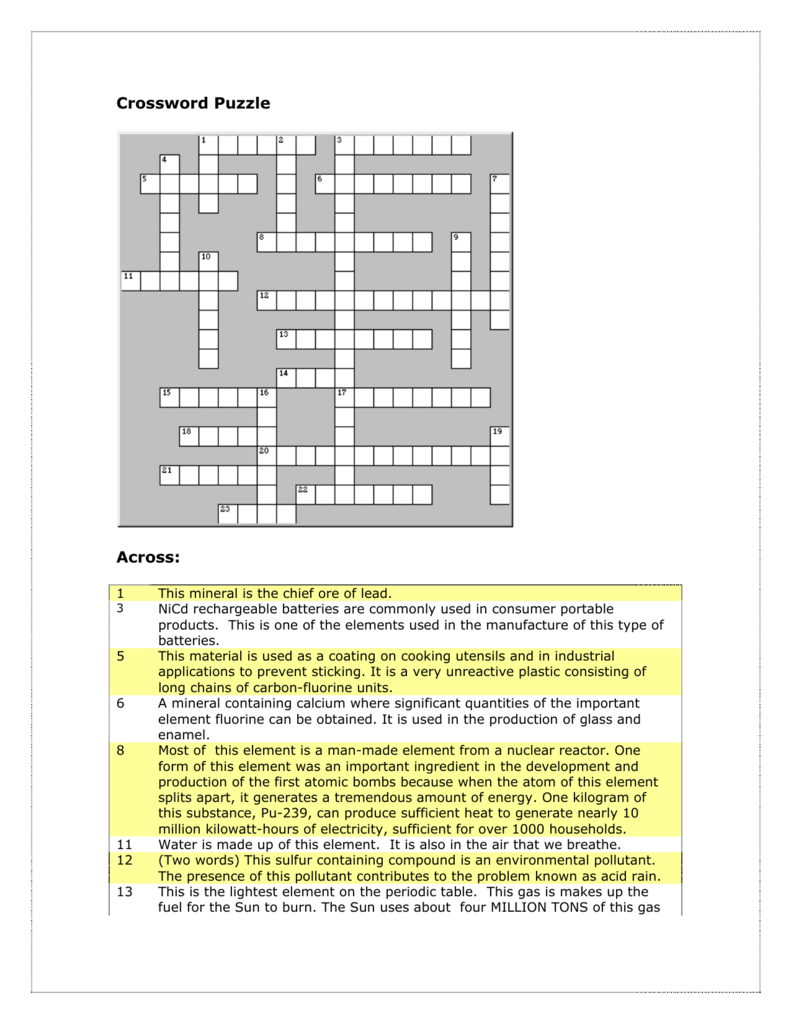 Crossword Puzzle
Across:
1
3
5
6
8
11
12
13
This mineral is the chief ore of lead.
NiCd rechargeable batteries are commonly used in consumer portable
products. This is one of the elements used in the manufacture of this type of
batteries.
This material is used as a coating on cooking utensils and in industrial
applications to prevent sticking. It is a very unreactive plastic consisting of
long chains of carbon-fluorine units.
A mineral containing calcium where significant quantities of the important
element fluorine can be obtained. It is used in the production of glass and
enamel.
Most of this element is a man-made element from a nuclear reactor. One
form of this element was an important ingredient in the development and
production of the first atomic bombs because when the atom of this element
splits apart, it generates a tremendous amount of energy. One kilogram of
this substance, Pu-239, can produce sufficient heat to generate nearly 10
million kilowatt-hours of electricity, sufficient for over 1000 households.
Water is made up of this element. It is also in the air that we breathe.
(Two words) This sulfur containing compound is an environmental pollutant.
The presence of this pollutant contributes to the problem known as acid rain.
This is the lightest element on the periodic table. This gas is makes up the
fuel for the Sun to burn. The Sun uses about four MILLION TONS of this gas
14
15
17
18
20
21
22
23
every SECOND!
Brass is an alloy of this element and copper.
Pierre and Marie Curie were the pioneers of the field of radioactivity. This
element was named after them.
ALCAN is the manufacturer of this element. The BC smelter is located in
Kitimat.
The purity of gold is measured in this unit.
(Two words) This is the gas that you breathe out. Too much of this gas in the
atmosphere will result in global warming.
Potassium salts are given this name. Canada produces about 25% of the
world production of potassium salts from deposits in the Prairie Evaporite
Formation in Saskatchewan.
A compound of this element is the active ingredient in Pepto-Bismol.
This is the compound that forms when iron corrodes.
DOWN:
1
2
3
4
7
9
10
16
19
The symbol of this element is Au. It comes from its Latin name aurum.
Inco Ltd is a producer of this element. Their Ontario's Sudbury Basin has some
of the richest mineral deposits in the world and expanding operations in
Manitoba.
It's CFC for short. These compounds are used as air-conditioner refrigerants
and aerosal propellants. When these compounds reach the stratosphere, they
break down the ozone layer.
The chemical symbol of this element is taken from the Latin, hydrargyrus,
meaning "liquid silver". It is the only metal that is in its liquid state at room
temperature.
This element is the active ingredient in fertilizer, which is essential for plant
growth. Laughing gas, which is a mild anaesthetic used in medicine and
dentistry also contains this element.
This is the most abundant solid element. You'd recognize the compound of this
element as sand on the beach. There is a center of high technology known by
its name, near San Francisco in California, where semiconductor chips are the
principal product made from this element.
This is a light gas. When it is used to fill weather balloon or birthday balloon,
the balloon will rise because it is less dense than air.
Striking these will generate enough heat of friction to ignite the phosphorus
sulfide.
When electricity is passed through this gaseous element, the gas glows. The
most popularly known commercial application is making tubes filled with this
glowing gas for advertisement.