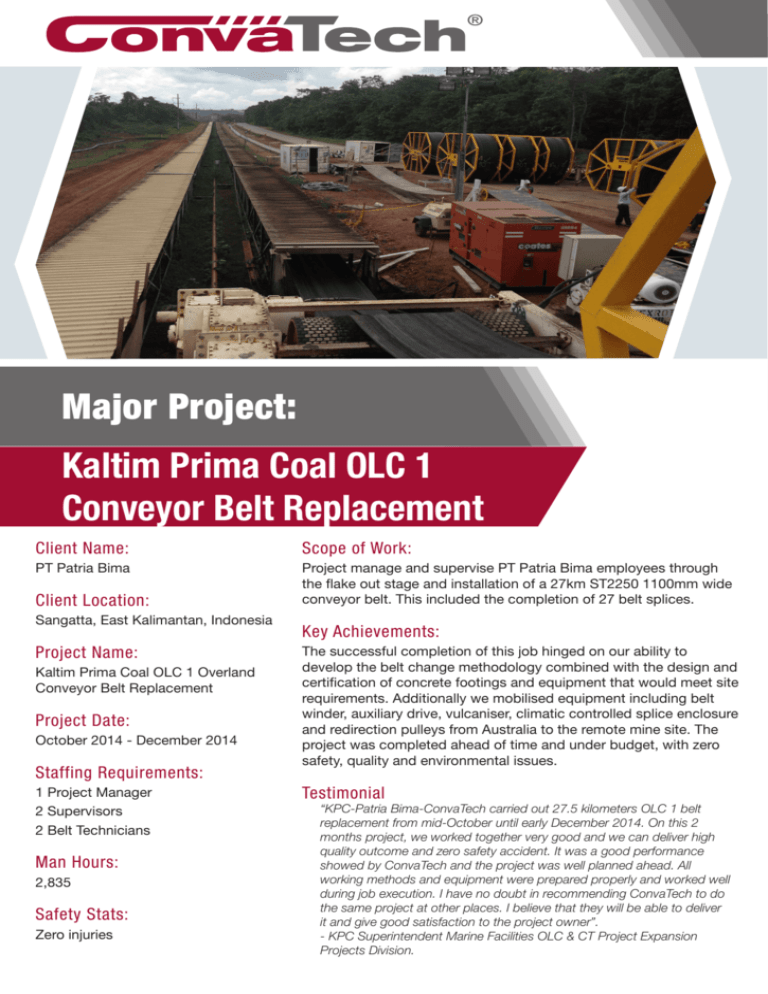 Major Project:
Kaltim Prima Coal OLC 1
Conveyor Belt Replacement
Client Name:
Scope of Work:
PT Patria Bima
Project manage and supervise PT Patria Bima employees through
the flake out stage and installation of a 27km ST2250 1100mm wide
conveyor belt. This included the completion of 27 belt splices.
Client Location:
Sangatta, East Kalimantan, Indonesia
Project Name:
Kaltim Prima Coal OLC 1 Overland
Conveyor Belt Replacement
Project Date:
October 2014 - December 2014
Staffing Requirements:
1 Project Manager
2 Supervisors
2 Belt Technicians
Man Hours:
2,835
Safety Stats:
Zero injuries
Key Achievements:
The successful completion of this job hinged on our ability to
develop the belt change methodology combined with the design and
certification of concrete footings and equipment that would meet site
requirements. Additionally we mobilised equipment including belt
winder, auxiliary drive, vulcaniser, climatic controlled splice enclosure
and redirection pulleys from Australia to the remote mine site. The
project was completed ahead of time and under budget, with zero
safety, quality and environmental issues.
Testimonial
"KPC-Patria Bima-ConvaTech carried out 27.5 kilometers OLC 1 belt
replacement from mid-October until early December 2014. On this 2
months project, we worked together very good and we can deliver high
quality outcome and zero safety accident. It was a good performance
showed by ConvaTech and the project was well planned ahead. All
working methods and equipment were prepared properly and worked well
during job execution. I have no doubt in recommending ConvaTech to do
the same project at other places. I believe that they will be able to deliver
it and give good satisfaction to the project owner".
- KPC Superintendent Marine Facilities OLC & CT Project Expansion
Projects Division.