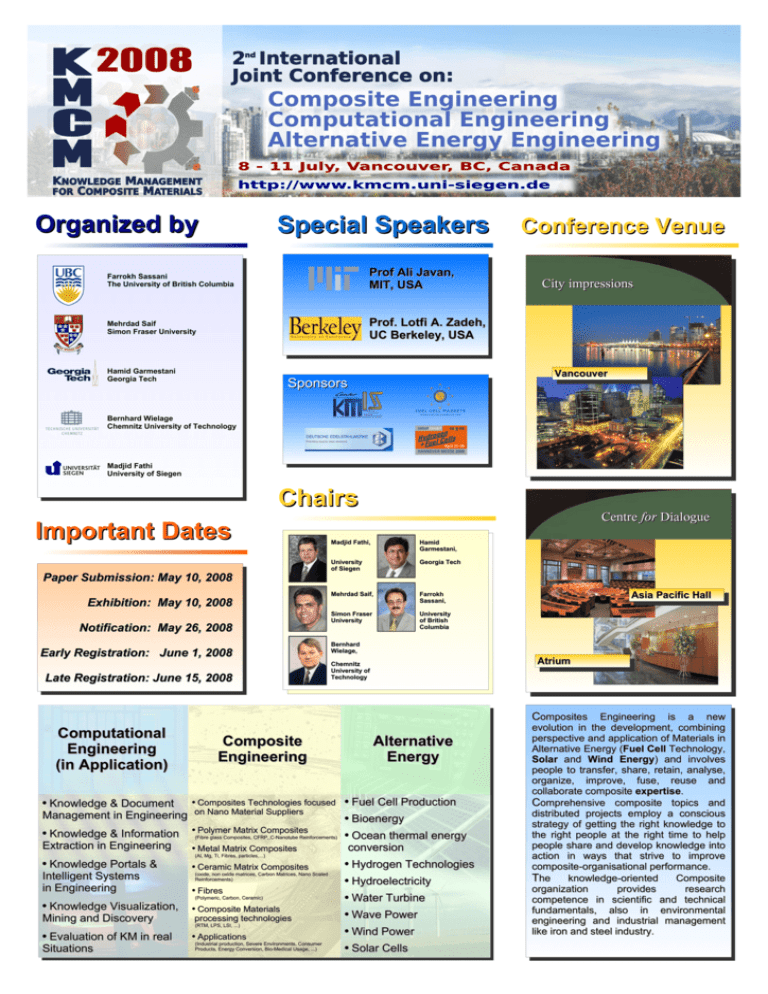 Organized by
Special Speakers
Farrokh Sassani
The University of British Columbia
Prof Ali Javan,
MIT, USA
Mehrdad Saif
Simon Fraser University
Prof. Lotfi A. Zadeh,
UC Berkeley, USA
Hamid Garmestani
Georgia Tech
Conference Venue
City impressions
Vancouver
Sponsors
Bernhard Wielage
Chemnitz University of Technology
Madjid Fathi
University of Siegen
Chairs
Important Dates
Paper Submission: May 10, 2008
Exhibition: May 10, 2008
Notification: May 26, 2008
Early Registration: June 1, 2008
Late Registration: June 15, 2008
Morris J. Wosk Centre for Dialogue,
Vancouver, Canada
Centre for Dialogue
Madjid Fathi,
Hamid
Garmestani,
University
of Siegen
Georgia Tech
Mehrdad Saif,
Farrokh
Sassani,
Simon Fraser
University
University
of British
Columbia
Bernhard
Wielage,
Atrium
Chemnitz
University of
Technology
KM Tools
Document
Management
Computational
● Collaboration Management
Engineering
● Business Intelligence
(in
Application)
● Relationship Discovery
● KM Portals
Composites
●
Knowledge & Document
Management in Engineering
●
Knowledge & Information
Extraction in Engineering
●
Knowledge Portals &
Intelligent Systems
in Engineering
●
Knowledge Visualization,
Mining and Discovery
●
Evaluation of KM in real
Situations
●
Composite
Engineering
Composites Technologies focused
on Nano Material Suppliers
●
●
Polymer Matrix Composites
(Fibre glass Composites, CFRP,.C-Nanotube Reinforcements)
●
Metal Matrix Composites
(Al, Mg, Ti, Fibres, particles,...)
Alternative
Energy
●
Fuel Cell Production
●
Bioenergy
Ocean thermal energy
conversion
●
●
Hydrogen Technologies
●
Hydroelectricity
(Polymeric, Carbon, Ceramic)
●
Water Turbine
Composite Materials
processing technologies
●
Wave Power
●
Wind Power
●
Solar Cells
●
Ceramic Matrix Composites
(oxide, non oxide matrices, Carbon Matrices, Nano Scaled
Reinforcements)
●
Fibres
●
(RTM, LPS, LSI, ...)
●
Asia Pacific Hall
Applications
(Industrial production, Severe Environments, Consumer
Products, Energy Conversion, Bio-Medical Usage, ...)
Engineering is a new
evolution in the development, combining
perspective and application of Materials in
Alternative Energy (Fuel Cell Technology,
Solar and Wind Energy) and involves
people to transfer, share, retain, analyse,
organize, improve, fuse, reuse and
collaborate composite expertise.
Comprehensive composite topics and
distributed projects employ a conscious
strategy of getting the right knowledge to
the right people at the right time to help
people share and develop knowledge into
action in ways that strive to improve
composite-organisational performance.
The
knowledge-oriented
Composite
organization
provides
research
competence in scientific and technical
fundamentals, also in environmental
engineering and industrial management
like iron and steel industry.