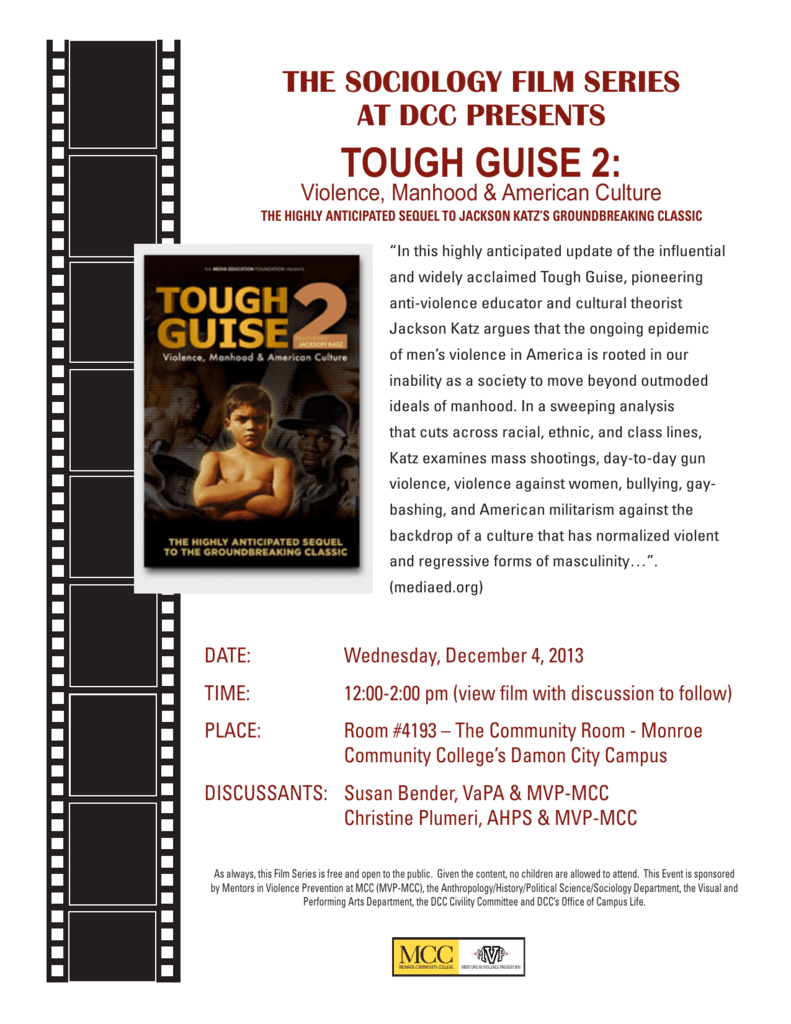 THE SOCIOLOGY FILM SERIES
AT DCC PRESENTS
TOUGH GUISE 2:
Violence, Manhood & American Culture
THE HIGHLY ANTICIPATED SEQUEL TO JACKSON KATZ'S GROUNDBREAKING CLASSIC
"In this highly anticipated update of the influential
and widely acclaimed Tough Guise, pioneering
anti-violence educator and cultural theorist
Jackson Katz argues that the ongoing epidemic
of men's violence in America is rooted in our
inability as a society to move beyond outmoded
ideals of manhood. In a sweeping analysis
that cuts across racial, ethnic, and class lines,
Katz examines mass shootings, day-to-day gun
violence, violence against women, bullying, gaybashing, and American militarism against the
backdrop of a culture that has normalized violent
and regressive forms of masculinity…".
(mediaed.org)
DATE: Wednesday, December 4, 2013
TIME: 12:00-2:00 pm (view film with discussion to follow)
PLACE: Room #4193 – The Community Room - Monroe
Community College's Damon City Campus
DISCUSSANTS: Susan Bender, VaPA & MVP-MCC
Christine Plumeri, AHPS & MVP-MCC
As always, this Film Series is free and open to the public. Given the content, no children are allowed to attend. This Event is sponsored
by Mentors in Violence Prevention at MCC (MVP-MCC), the Anthropology/History/Political Science/Sociology Department, the Visual and
Performing Arts Department, the DCC Civility Committee and DCC's Office of Campus Life.