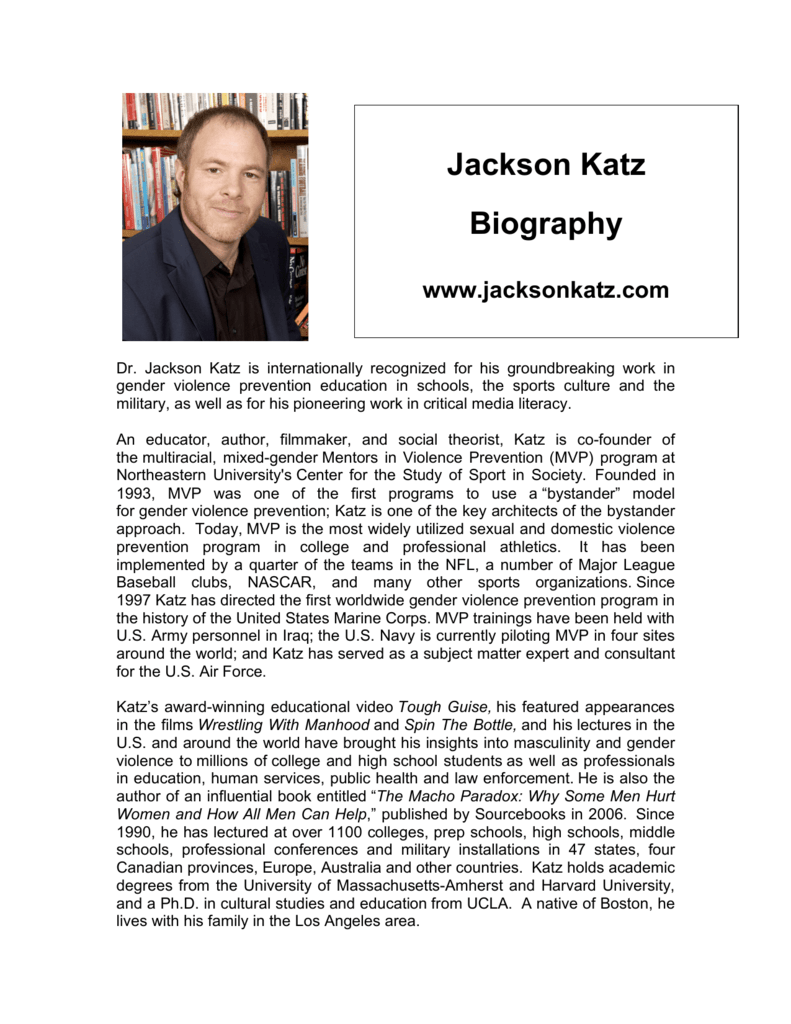 Jackson Katz
Biography
www.jacksonkatz.com
Dr. Jackson Katz is internationally recognized for his groundbreaking work in
gender violence prevention education in schools, the sports culture and the
military, as well as for his pioneering work in critical media literacy.
An educator, author, filmmaker, and social theorist, Katz is co-founder of
the multiracial, mixed-gender Mentors in Violence Prevention (MVP) program at
Northeastern University's Center for the Study of Sport in Society. Founded in
1993, MVP was one of the first programs to use a "bystander" model
for gender violence prevention; Katz is one of the key architects of the bystander
approach. Today, MVP is the most widely utilized sexual and domestic violence
prevention program in college and professional athletics. It has been
implemented by a quarter of the teams in the NFL, a number of Major League
Baseball clubs, NASCAR, and many other sports organizations. Since
1997 Katz has directed the first worldwide gender violence prevention program in
the history of the United States Marine Corps. MVP trainings have been held with
U.S. Army personnel in Iraq; the U.S. Navy is currently piloting MVP in four sites
around the world; and Katz has served as a subject matter expert and consultant
for the U.S. Air Force.
Katz's award-winning educational video Tough Guise, his featured appearances
in the films Wrestling With Manhood and Spin The Bottle, and his lectures in the
U.S. and around the world have brought his insights into masculinity and gender
violence to millions of college and high school students as well as professionals
in education, human services, public health and law enforcement. He is also the
author of an influential book entitled "The Macho Paradox: Why Some Men Hurt
Women and How All Men Can Help," published by Sourcebooks in 2006. Since
1990, he has lectured at over 1100 colleges, prep schools, high schools, middle
schools, professional conferences and military installations in 47 states, four
Canadian provinces, Europe, Australia and other countries. Katz holds academic
degrees from the University of Massachusetts-Amherst and Harvard University,
and a Ph.D. in cultural studies and education from UCLA. A native of Boston, he
lives with his family in the Los Angeles area.