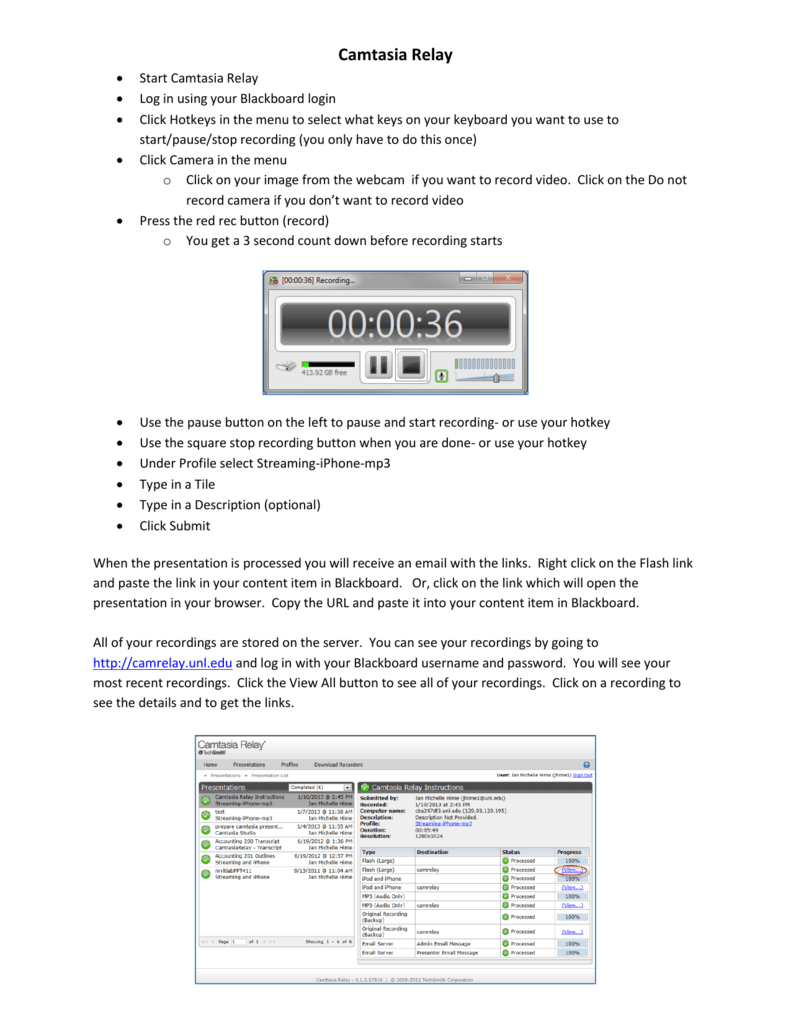 Camtasia Relay











Start Camtasia Relay
Log in using your Blackboard login
Click Hotkeys in the menu to select what keys on your keyboard you want to use to
start/pause/stop recording (you only have to do this once)
Click Camera in the menu
o Click on your image from the webcam if you want to record video. Click on the Do not
record camera if you don't want to record video
Press the red rec button (record)
o You get a 3 second count down before recording starts
Use the pause button on the left to pause and start recording- or use your hotkey
Use the square stop recording button when you are done- or use your hotkey
Under Profile select Streaming-iPhone-mp3
Type in a Tile
Type in a Description (optional)
Click Submit
When the presentation is processed you will receive an email with the links. Right click on the Flash link
and paste the link in your content item in Blackboard. Or, click on the link which will open the
presentation in your browser. Copy the URL and paste it into your content item in Blackboard.
All of your recordings are stored on the server. You can see your recordings by going to
http://camrelay.unl.edu and log in with your Blackboard username and password. You will see your
most recent recordings. Click the View All button to see all of your recordings. Click on a recording to
see the details and to get the links.