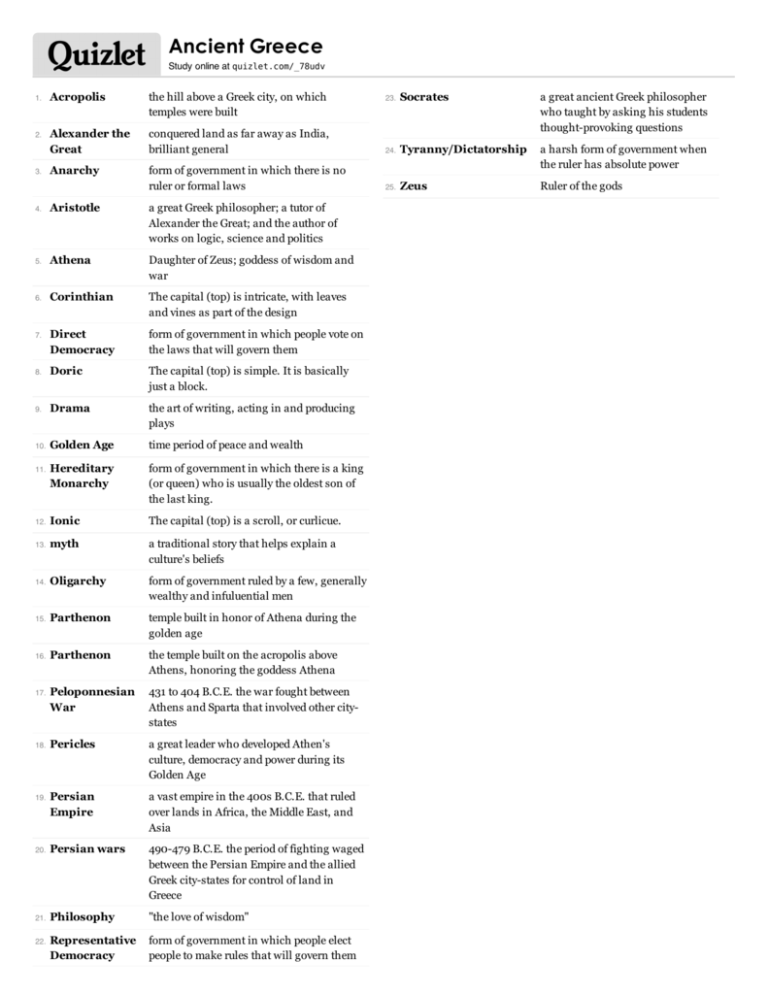 Ancient Greece
Study online at quizlet.com/_78udv
1.
2.
3.
Acropolis
the hill above a Greek city, on which
temples were built
23.
Socrates
conquered land as far away as India,
brilliant general
a great ancient Greek philosopher
who taught by asking his students
thought-provoking questions
Alexander the
Great
24.
Tyranny/Dictatorship
form of government in which there is no
ruler or formal laws
a harsh form of government when
the ruler has absolute power
Anarchy
25.
Zeus
Ruler of the gods
4.
Aristotle
a great Greek philosopher; a tutor of
Alexander the Great; and the author of
works on logic, science and politics
5.
Athena
Daughter of Zeus; goddess of wisdom and
war
6.
Corinthian
The capital (top) is intricate, with leaves
and vines as part of the design
Direct
Democracy
form of government in which people vote on
the laws that will govern them
8.
Doric
The capital (top) is simple. It is basically
just a block.
9.
Drama
the art of writing, acting in and producing
plays
10.
Golden Age
time period of peace and wealth
Hereditary
Monarchy
form of government in which there is a king
(or queen) who is usually the oldest son of
the last king.
12.
Ionic
The capital (top) is a scroll, or curlicue.
13.
myth
a traditional story that helps explain a
culture's beliefs
14.
Oligarchy
form of government ruled by a few, generally
wealthy and infuluential men
15.
Parthenon
temple built in honor of Athena during the
golden age
16.
Parthenon
the temple built on the acropolis above
Athens, honoring the goddess Athena
Peloponnesian
War
431 to 404 B.C.E. the war fought between
Athens and Sparta that involved other citystates
Pericles
a great leader who developed Athen's
culture, democracy and power during its
Golden Age
Persian
Empire
a vast empire in the 400s B.C.E. that ruled
over lands in Africa, the Middle East, and
Asia
20.
Persian wars
490-479 B.C.E. the period of fighting waged
between the Persian Empire and the allied
Greek city-states for control of land in
Greece
21.
Philosophy
"the love of wisdom"
Representative
Democracy
form of government in which people elect
people to make rules that will govern them
7.
11.
17.
18.
19.
22.