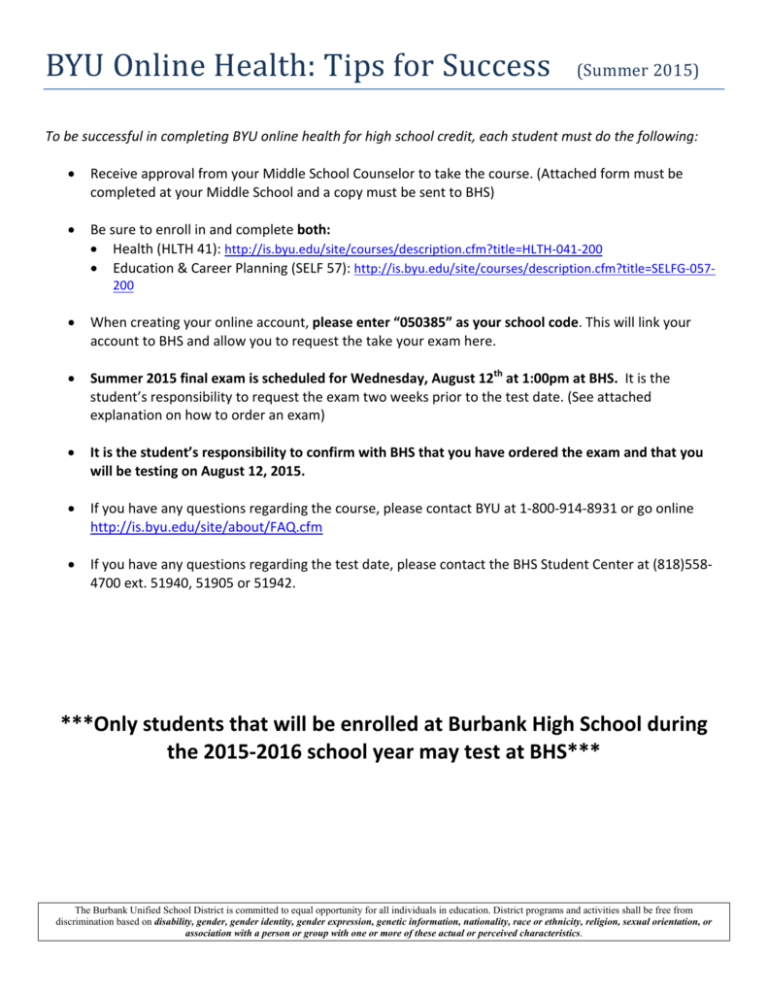 BYUOnlineHealth:TipsforSuccess
(Summer2015)
To be successful in completing BYU online health for high school credit, each student must do the following:  Receive approval from your Middle School Counselor to take the course. (Attached form must be completed at your Middle School and a copy must be sent to BHS)  Be sure to enroll in and complete both:  Health (HLTH 41): http://is.byu.edu/site/courses/description.cfm?title=HLTH‐041‐200  Education & Career Planning (SELF 57): http://is.byu.edu/site/courses/description.cfm?title=SELFG‐057‐
200  When creating your online account, please enter "050385" as your school code. This will link your account to BHS and allow you to request the take your exam here.  Summer 2015 final exam is scheduled for Wednesday, August 12th at 1:00pm at BHS. It is the student's responsibility to request the exam two weeks prior to the test date. (See attached explanation on how to order an exam)  It is the student's responsibility to confirm with BHS that you have ordered the exam and that you will be testing on August 12, 2015.  If you have any questions regarding the course, please contact BYU at 1‐800‐914‐8931 or go online http://is.byu.edu/site/about/FAQ.cfm  If you have any questions regarding the test date, please contact the BHS Student Center at (818)558‐
4700 ext. 51940, 51905 or 51942. ***Only students that will be enrolled at Burbank High School during the 2015‐2016 school year may test at BHS*** The Burbank Unified School District is committed to equal opportunity for all individuals in education. District programs and activities shall be free from
discrimination based on disability, gender, gender identity, gender expression, genetic information, nationality, race or ethnicity, religion, sexual orientation, or
association with a person or group with one or more of these actual or perceived characteristics.
BYUExams
What should I know before I request my exam?
High School and Middle School Courses
You must take high school or middle school exams under the supervision of a BYU Independent Studyapproved proctor. Please contact us if you are having difficulty finding a proctor at your school.


First talk to your counselor to see if your school already has an approved proctor.
Eligible individuals can submit a proctor-certification form found on our website to request to be a
proctor.

Remember that your nominated proctor must be approved by us before you can request to take your
exam.

If you are not able to find a proctor at your school, you may also take your exam with any of the
individuals listed under "Eligible Proctors."
Exam Academic Honor Code
As with all educational programs sponsored by Brigham Young University, a high sense of personal honor and
integrity is expected in the completion of BYU Independent Study courses. If you are found cheating on exams,
you may be subject to appropriate disciplinary action, which may include the following: rescinding the grade,
failing the course, prohibiting re-enrollment in the course, and prohibiting participation in any BYU
Independent Study courses.
How do I take my exam?
Your courses may have midcourse exams, final exams, or both.
Final exams will be sent to your BYU Independent Study-approved proctor or testing center only after the
following criteria are met:

All course assignments and midcourse exams have been submitted.

You have paid any outstanding fee(s).


You have confirmed that your proctor has been approved, and asked his or her permission.
Your course has not expired.
IMPORTANT THINGS TO KNOW


Exams may not be administered anywhere other than the proctor's educational place of employment.
You should allow two weeks for your proctor to receive the exam unless Express Mail arrangements have
been made.

You are responsible to contact your proctor or testing center to find out whether your exam has arrived

Once you request your exam, you have one month for your proctor to receive the test, for you to take it,
and to determine an appropriate time to take the exam.
and for your proctor to return it to us.

Exams must be taken without the use of books, notes, or any other outside help (unless otherwise
specified in the exam instructions).

Your proctor must return all exam materials directly to us by Standard Mail or Express Mail.

You may request an exam online through your course or by calling 1-800-914-8931 (toll free) or 801-

You will receive an e-mail confirmation when your exam is shipped.
422-2868 (local).

Exams cannot be faxed or e-mailed.
Burbank Unified School District
Office of the Assistant Superintendent for Instructional Services
Petition to Enroll in an Online Health Course for Transfer of Course Credit
This form must be submitted to your School Counselor at least 10 school days before enrolling in an online course.
Attached are the student's transcripts and the student's current schedule of classes.
Student Name:
Date of Request:
Student School ID#
Special Education:
504
(Mark with an "x")
For students currently enrolled in a Burbank Unified School District High School, the following information is
required to transfer credits earned online at Brigham Young University during non-school hours or during the
summer. NOTE: Students who do not receive prior approval before enrolling in a course will not be granted credit.
Name of Course(s):
Health HLTH 41 and
Name and contact information for course provider:
Education and Career Planning SELFG 57
BYU
Website:
Student must attach course syllabus and high school transcripts with this form. Number of Credits:
Reason for taking the course in this manner:
Notes and Restrictions:
• Course final exams must be proctored by a Burbank USD teacher who is a staff member at the student's
school of residence. Student must solicit a teacher who agrees to proctor the final examination.
• There must be a compelling reason to take on online or correspondence course of original credit if the
class is available on campus. The student must carry a full load of six classes in addition to this online course.
• The final determination of whether or not a class is acceptable for college admission purposes is made by
each college and university.
• The course must be completed within one year as per the Date of Request on this form.
• This does not fulfill the mandated graduation requirement of 10 credits of service learning which must be
completed by the end of the first semester of the senior year.
We understand that the student may be requested to provide sample assignments, log-in records, and /or take an
assessment to determine mastery of course content. For further information, contact your School Counselor. We
understand and have read Burbank USD Administrative Regulation 6146.1 High School Graduation Requirements.
Student's Signature:
Signature of Parent and/or Guardian:
(Space below this line is for school use only)
Recommended
Not Recommended
Reason
Signature of School Counselor:
Approved
Signature of Superintendent/Designee:
Revised: August 31, 2009
Date:
Not Approved
Date:
Summer Contact Information: Please provide us with the following information so that we can contact you concerning the course and exam date if necessary: Student's Name: Parent's Name: Parent's Email: Middle School: Phone #: Student's Email: Please turn in with your BYU approval form.