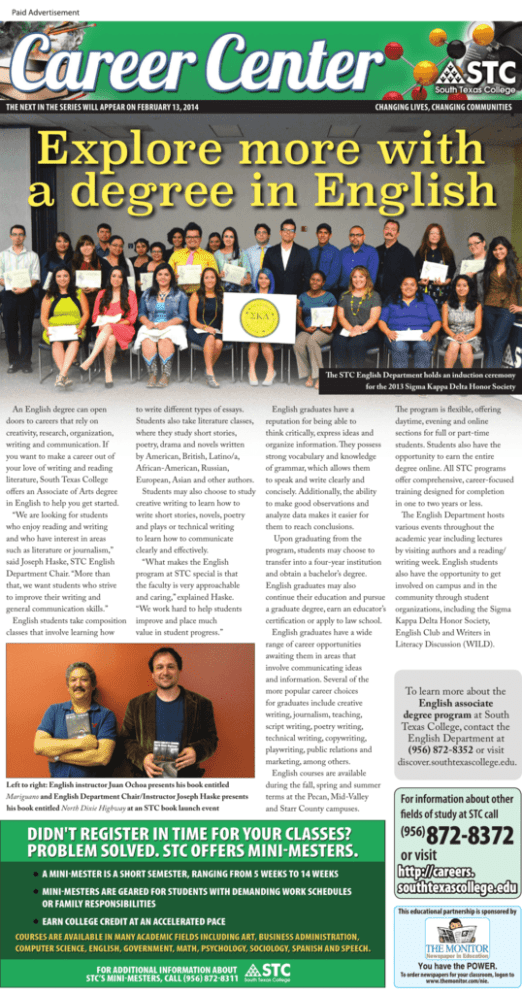 THE NEXT IN THE SERIES WILL APPEAR ON FEBRUARY 13, 2014
CHANGING LIVES, CHANGING COMMUNITIES
Explore more with
a degree in English
The STC English Department holds an induction ceremony
for the 2013 Sigma Kappa Delta Honor Society
An English degree can open
doors to careers that rely on
creativity, research, organization,
writing and communication. If
you want to make a career out of
your love of writing and reading
literature, South Texas College
offers an Associate of Arts degree
in English to help you get started.
"We are looking for students
who enjoy reading and writing
and who have interest in areas
such as literature or journalism,"
said Joseph Haske, STC English
Department Chair. "More than
that, we want students who strive
to improve their writing and
general communication skills."
English students take composition
classes that involve learning how
to write different types of essays.
Students also take literature classes,
where they study short stories,
poetry, drama and novels written
by American, British, Latino/a,
African-American, Russian,
European, Asian and other authors.
Students may also choose to study
creative writing to learn how to
write short stories, novels, poetry
and plays or technical writing
to learn how to communicate
clearly and effectively.
"What makes the English
program at STC special is that
the faculty is very approachable
and caring," explained Haske.
"We work hard to help students
improve and place much
value in student progress."
Left to right: English instructor Juan Ochoa presents his book entitled
Mariguano and English Department Chair/Instructor Joseph Haske presents
his book entitled North Dixie Highway at an STC book launch event
English graduates have a
reputation for being able to
think critically, express ideas and
organize information. They possess
strong vocabulary and knowledge
of grammar, which allows them
to speak and write clearly and
concisely. Additionally, the ability
to make good observations and
analyze data makes it easier for
them to reach conclusions.
Upon graduating from the
program, students may choose to
transfer into a four-year institution
and obtain a bachelor's degree.
English graduates may also
continue their education and pursue
a graduate degree, earn an educator's
certification or apply to law school.
English graduates have a wide
range of career opportunities
awaiting them in areas that
involve communicating ideas
and information. Several of the
more popular career choices
for graduates include creative
writing, journalism, teaching,
script writing, poetry writing,
technical writing, copywriting,
playwriting, public relations and
marketing, among others.
English courses are available
during the fall, spring and summer
terms at the Pecan, Mid-Valley
and Starr County campuses.
The program is flexible, offering
daytime, evening and online
sections for full or part-time
students. Students also have the
opportunity to earn the entire
degree online. All STC programs
offer comprehensive, career-focused
training designed for completion
in one to two years or less.
The English Department hosts
various events throughout the
academic year including lectures
by visiting authors and a reading/
writing week. English students
also have the opportunity to get
involved on campus and in the
community through student
organizations, including the Sigma
Kappa Delta Honor Society,
English Club and Writers in
Literacy Discussion (WILD).
To learn more about the
English associate
degree program at South
Texas College, contact the
English Department at
(956) 872-8352 or visit
discover.southtexascollege.edu.
For information about other
fields of study at STC call
(956)
872-8372
or visit
http://careers.
southtexascollege.edu
This educational partnership is sponsored by
To order newspapers for your classroom, logon to
www.themonitor.com/nie.