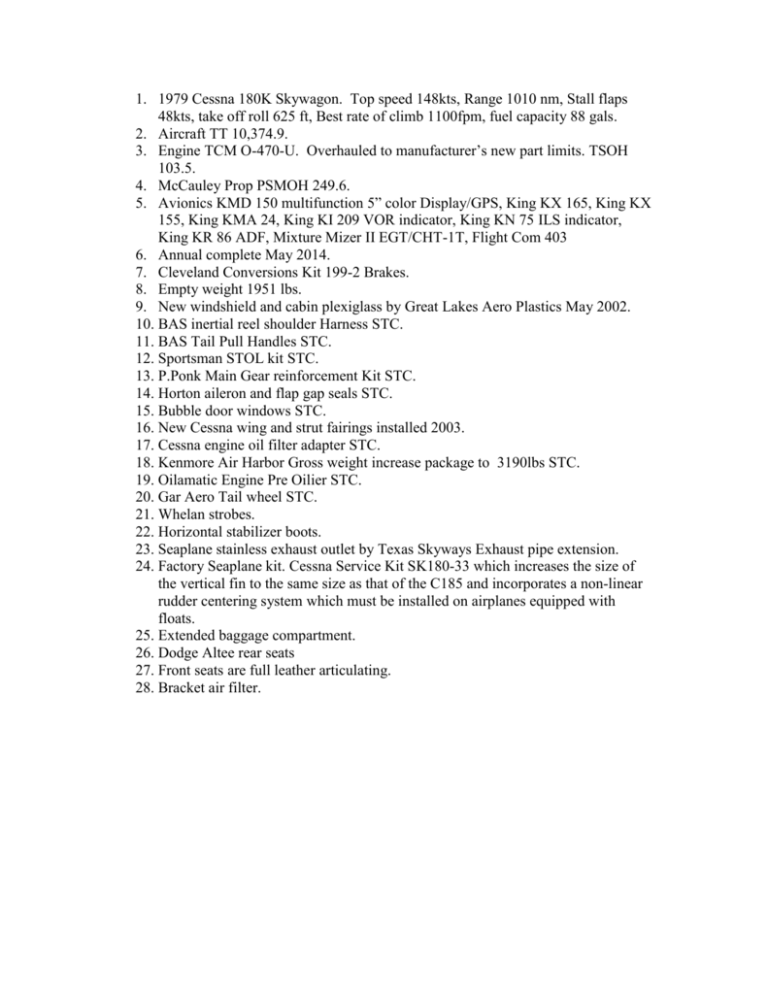 1. 1979 Cessna 180K Skywagon. Top speed 148kts, Range 1010 nm, Stall flaps
48kts, take off roll 625 ft, Best rate of climb 1100fpm, fuel capacity 88 gals.
2. Aircraft TT 10,374.9.
3. Engine TCM O-470-U. Overhauled to manufacturer's new part limits. TSOH
103.5.
4. McCauley Prop PSMOH 249.6.
5. Avionics KMD 150 multifunction 5" color Display/GPS, King KX 165, King KX
155, King KMA 24, King KI 209 VOR indicator, King KN 75 ILS indicator,
King KR 86 ADF, Mixture Mizer II EGT/CHT-1T, Flight Com 403
6. Annual complete May 2014.
7. Cleveland Conversions Kit 199-2 Brakes.
8. Empty weight 1951 lbs.
9. New windshield and cabin plexiglass by Great Lakes Aero Plastics May 2002.
10. BAS inertial reel shoulder Harness STC.
11. BAS Tail Pull Handles STC.
12. Sportsman STOL kit STC.
13. P.Ponk Main Gear reinforcement Kit STC.
14. Horton aileron and flap gap seals STC.
15. Bubble door windows STC.
16. New Cessna wing and strut fairings installed 2003.
17. Cessna engine oil filter adapter STC.
18. Kenmore Air Harbor Gross weight increase package to 3190lbs STC.
19. Oilamatic Engine Pre Oilier STC.
20. Gar Aero Tail wheel STC.
21. Whelan strobes.
22. Horizontal stabilizer boots.
23. Seaplane stainless exhaust outlet by Texas Skyways Exhaust pipe extension.
24. Factory Seaplane kit. Cessna Service Kit SK180-33 which increases the size of
the vertical fin to the same size as that of the C185 and incorporates a non-linear
rudder centering system which must be installed on airplanes equipped with
floats.
25. Extended baggage compartment.
26. Dodge Altee rear seats
27. Front seats are full leather articulating.
28. Bracket air filter.