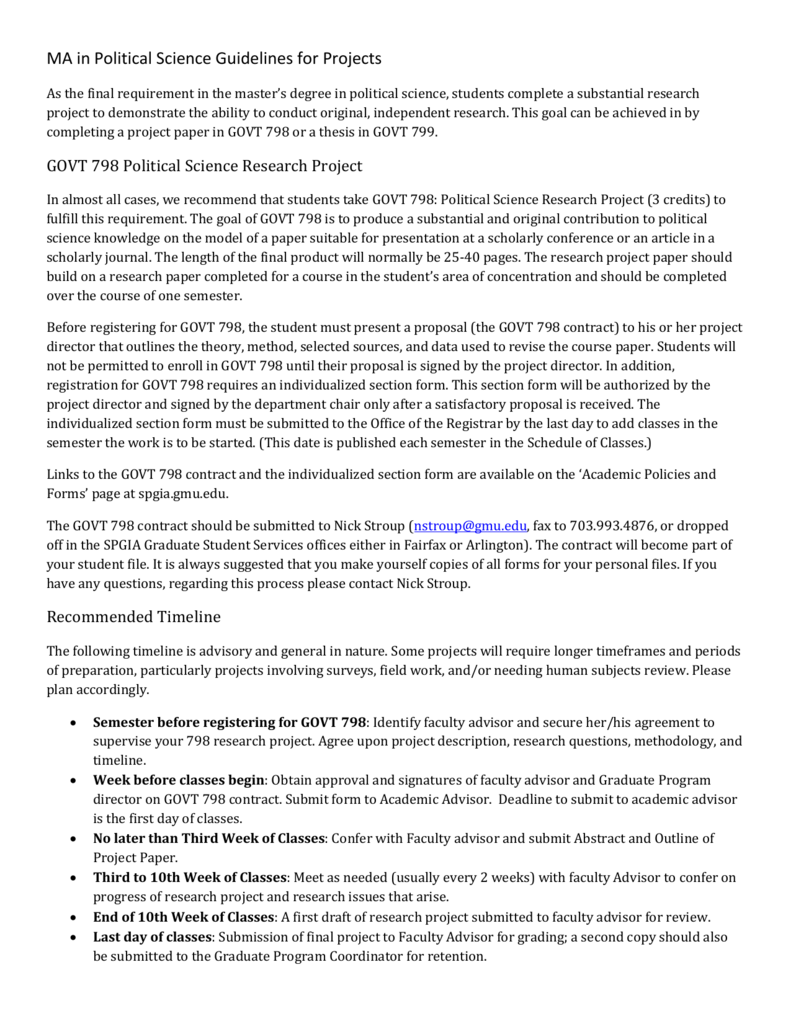 MA in Political Science Guidelines for Projects
As the final requirement in the master's degree in political science, students complete a substantial research
project to demonstrate the ability to conduct original, independent research. This goal can be achieved in by
completing a project paper in GOVT 798 or a thesis in GOVT 799.
GOVT 798 Political Science Research Project
In almost all cases, we recommend that students take GOVT 798: Political Science Research Project (3 credits) to
fulfill this requirement. The goal of GOVT 798 is to produce a substantial and original contribution to political
science knowledge on the model of a paper suitable for presentation at a scholarly conference or an article in a
scholarly journal. The length of the final product will normally be 25-40 pages. The research project paper should
build on a research paper completed for a course in the student's area of concentration and should be completed
over the course of one semester.
Before registering for GOVT 798, the student must present a proposal (the GOVT 798 contract) to his or her project
director that outlines the theory, method, selected sources, and data used to revise the course paper. Students will
not be permitted to enroll in GOVT 798 until their proposal is signed by the project director. In addition,
registration for GOVT 798 requires an individualized section form. This section form will be authorized by the
project director and signed by the department chair only after a satisfactory proposal is received. The
individualized section form must be submitted to the Office of the Registrar by the last day to add classes in the
semester the work is to be started. (This date is published each semester in the Schedule of Classes.)
Links to the GOVT 798 contract and the individualized section form are available on the 'Academic Policies and
Forms' page at spgia.gmu.edu.
The GOVT 798 contract should be submitted to Nick Stroup ([email protected], fax to 703.993.4876, or dropped
off in the SPGIA Graduate Student Services offices either in Fairfax or Arlington). The contract will become part of
your student file. It is always suggested that you make yourself copies of all forms for your personal files. If you
have any questions, regarding this process please contact Nick Stroup.
Recommended Timeline
The following timeline is advisory and general in nature. Some projects will require longer timeframes and periods
of preparation, particularly projects involving surveys, field work, and/or needing human subjects review. Please
plan accordingly.






Semester before registering for GOVT 798: Identify faculty advisor and secure her/his agreement to
supervise your 798 research project. Agree upon project description, research questions, methodology, and
timeline.
Week before classes begin: Obtain approval and signatures of faculty advisor and Graduate Program
director on GOVT 798 contract. Submit form to Academic Advisor. Deadline to submit to academic advisor
is the first day of classes.
No later than Third Week of Classes: Confer with Faculty advisor and submit Abstract and Outline of
Project Paper.
Third to 10th Week of Classes: Meet as needed (usually every 2 weeks) with faculty Advisor to confer on
progress of research project and research issues that arise.
End of 10th Week of Classes: A first draft of research project submitted to faculty advisor for review.
Last day of classes: Submission of final project to Faculty Advisor for grading; a second copy should also
be submitted to the Graduate Program Coordinator for retention.