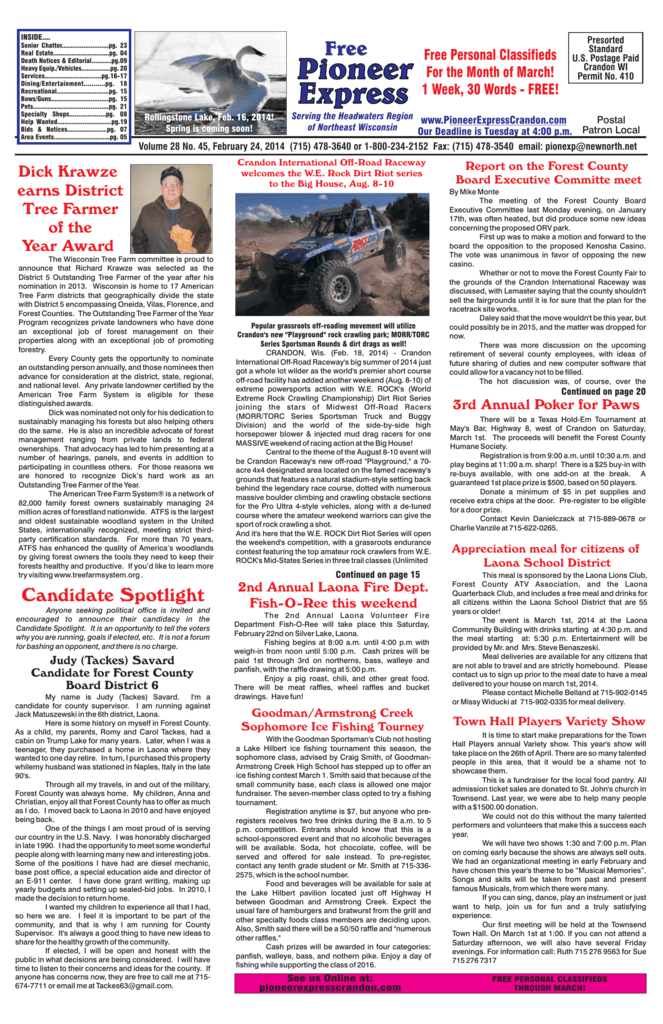 INSIDE....
Senior Chatter..........................pg. 23
Real Estate...............................pg. 04
Death Notices & Editorial...........pg.09
Heavy Equip./Vehicles................pg. 20
Services...............................pg.16-17
Dining/Entertainment...........pg. 18
Recreational.............................pg. 15
Bows/Guns................................pg. 15
Pets..........................................pg. 21
Specialty Shops....................pg. 08
Help Wanted..............................pg.19
Bids & Notices......................pg. 07
Area Events...............................pg. 05
Free
Pioneer
Express
Rollingstone Lake, Feb. 16, 2014!
Spring is coming soon!
Presorted
Standard
U.S. Postage Paid
Crandon WI
Permit No. 410
Free Personal Classifieds
For the Month of March!
1 Week, 30 Words - FREE!
Serving the Headwaters Region www.PioneerExpressCrandon.com
of Northeast Wisconsin
Postal
Patron Local
Our Deadline is Tuesday at 4:00 p.m.
Volume 28 No. 45, February 24, 2014 (715) 478-3640 or 1-800-234-2152 Fax: (715) 478-3540 email: [email protected]
Dick Krawze
earns District
Tree Farmer
of the
Year Award
The Wisconsin Tree Farm committee is proud to
announce that Richard Krawze was selected as the
District 5 Outstanding Tree Farmer of the year after his
nomination in 2013. Wisconsin is home to 17 American
Tree Farm districts that geographically divide the state
with District 5 encompassing Oneida, Vilas, Florence, and
Forest Counties. The Outstanding Tree Farmer of the Year
Program recognizes private landowners who have done
an exceptional job of forest management on their
properties along with an exceptional job of promoting
forestry.
Every County gets the opportunity to nominate
an outstanding person annually, and those nominees then
advance for consideration at the district, state, regional,
and national level. Any private landowner certified by the
American Tree Farm System is eligible for these
distinguished awards.
Dick was nominated not only for his dedication to
sustainably managing his forests but also helping others
do the same. He is also an incredible advocate of forest
management ranging from private lands to federal
ownerships. That advocacy has led to him presenting at a
number of hearings, panels, and events in addition to
participating in countless others. For those reasons we
are honored to recognize Dick's hard work as an
Outstanding Tree Farmer of the Year.
The American Tree Farm System® is a network of
82,000 family forest owners sustainably managing 24
million acres of forestland nationwide. ATFS is the largest
and oldest sustainable woodland system in the United
States, internationally recognized, meeting strict thirdparty certification standards. For more than 70 years,
ATFS has enhanced the quality of America's woodlands
by giving forest owners the tools they need to keep their
forests healthy and productive. If you'd like to learn more
try visiting www.treefarmsystem.org .
Candidate Spotlight
Anyone seeking political office is invited and
encouraged to announce their candidacy in the
Candidate Spotlight. It is an opportunity to tell the voters
why you are running, goals if elected, etc. It is not a forum
for bashing an opponent, and there is no charge.
Judy (Tackes) Savard
Candidate for Forest County
Board District 6
My name is Judy (Tackes) Savard.
I'm a
candidate for county supervisor. I am running against
Jack Matuszewski in the 6th district, Laona.
Here is some history on myself in Forest County.
As a child, my parents, Romy and Carol Tackes, had a
cabin on Trump Lake for many years. Later, when I was a
teenager, they purchased a home in Laona where they
wanted to one day retire. In turn, I purchased this property
whilemy husband was stationed in Naples, Italy in the late
90's.
Through all my travels, in and out of the military,
Forest County was always home. My children, Anna and
Christian, enjoy all that Forest County has to offer as much
as I do. I moved back to Laona in 2010 and have enjoyed
being back.
One of the things I am most proud of is serving
our country in the U.S. Navy. I was honorably discharged
in late 1990. I had the opportunity to meet some wonderful
people along with learning many new and interesting jobs.
Some of the positions I have had are diesel mechanic,
base post office, a special education aide and director of
an E-911 center. I have done grant writing, making up
yearly budgets and setting up sealed-bid jobs. In 2010, I
made the decision to return home.
I wanted my children to experience all that I had,
so here we are. I feel it is important to be part of the
community, and that is why I am running for County
Supervisor. It's always a good thing to have new ideas to
share for the healthy growth of the community.
If elected, I will be open and honest with the
public in what decisions are being considered. I will have
time to listen to their concerns and ideas for the county. If
anyone has concerns now, they are free to call me at 715674-7711 or email me at [email protected]
Crandon International Off-Road Raceway
welcomes the W.E. Rock Dirt Riot series
to the Big House, Aug. 8-10
Popular grassroots off-roading movement will utilize
Crandon's new "Playground" rock crawling park; MORR/TORC
Series Sportsman Rounds & dirt drags as well!
CRANDON, Wis. (Feb. 18, 2014) - Crandon
International Off-Road Raceway's big summer of 2014 just
got a whole lot wilder as the world's premier short course
off-road facility has added another weekend (Aug. 8-10) of
extreme powersports action with W.E. ROCK's (World
Extreme Rock Crawling Championship) Dirt Riot Series
joining the stars of Midwest Off-Road Racers
(MORR/TORC Series Sportsman Truck and Buggy
Division) and the world of the side-by-side high
horsepower blower & injected mud drag racers for one
MASSIVE weekend of racing action at the Big House!
Central to the theme of the August 8-10 event will
be Crandon Raceway's new off-road "Playground," a 70acre 4x4 designated area located on the famed raceway's
grounds that features a natural stadium-style setting back
behind the legendary race course, dotted with numerous
massive boulder climbing and crawling obstacle sections
for the Pro Ultra 4-style vehicles, along with a de-tuned
course where the amateur weekend warriors can give the
sport of rock crawling a shot.
And it's here that the W.E. ROCK Dirt Riot Series will open
the weekend's competition, with a grassroots endurance
contest featuring the top amateur rock crawlers from W.E.
ROCK's Mid-States Series in three trail classes (Unlimited
Continued on page 15
2nd Annual Laona Fire Dept.
Fish-O-Ree this weekend
The 2nd Annual Laona Volunteer Fire
Department Fish-O-Ree will take place this Saturday,
February 22nd on Silver Lake, Laona.
Fishing begins at 8:00 a.m. until 4:00 p.m with
weigh-in from noon until 5:00 p.m. Cash prizes will be
paid 1st through 3rd on northerns, bass, walleye and
panfish, with the raffle drawing at 5:00 p.m.
Enjoy a pig roast, chili, and other great food.
There will be meat raffles, wheel raffles and bucket
drawings. Have fun!
Goodman/Armstrong Creek
Sophomore Ice Fishing Tourney
With the Goodman Sportsman's Club not hosting
a Lake Hilbert ice fishing tournament this season, the
sophomore class, advised by Craig Smith, of GoodmanArmstrong Creek High School has stepped up to offer an
ice fishing contest March 1. Smith said that because of the
small community base, each class is allowed one major
fundraiser. The seven-member class opted to try a fishing
tournament.
Registration anytime is $7, but anyone who preregisters receives two free drinks during the 8 a.m. to 5
p.m. competition. Entrants should know that this is a
school-sponsored event and that no alcoholic beverages
will be available. Soda, hot chocolate, coffee, will be
served and offered for sale instead. To pre-register,
contact any tenth grade student or Mr. Smith at 715-3362575, which is the school number.
Food and beverages will be available for sale at
the Lake Hilbert pavilion located just off Highway H
between Goodman and Armstrong Creek. Expect the
usual fare of hamburgers and bratwurst from the grill and
other specialty foods class members are deciding upon.
Also, Smith said there will be a 50/50 raffle and "numerous
other raffles."
Cash prizes will be awarded in four categories:
panfish, walleye, bass, and nothern pike. Enjoy a day of
fishing while supporting the class of 2016.
See us Online at:
pioneerexpresscrandon.com
Report on the Forest County
Board Executive Committe meet
By Mike Monte
The meeting of the Forest County Board
Executive Committee last Monday evening, on January
17th, was often heated, but did produce some new ideas
concerning the proposed ORV park.
First up was to make a motion and forward to the
board the opposition to the proposed Kenosha Casino.
The vote was unanimous in favor of opposing the new
casino.
Whether or not to move the Forest County Fair to
the grounds of the Crandon International Raceway was
discussed, with Lemaster saying that the county shouldn't
sell the fairgrounds until it is for sure that the plan for the
racetrack site works.
Daley said that the move wouldn't be this year, but
could possibly be in 2015, and the matter was dropped for
now.
There was more discussion on the upcoming
retirement of several county employees, with ideas of
future sharing of duties and new computer software that
could allow for a vacancy not to be filled.
The hot discussion was, of course, over the
Continued on page 20
3rd Annual Poker for Paws
There will be a Texas Hold-Em Tournament at
May's Bar, Highway 8, west of Crandon on Saturday,
March 1st. The proceeds will benefit the Forest County
Humane Society.
Registration is from 9:00 a.m. until 10:30 a.m. and
play begins at 11:00 a.m. sharp! There is a $25 buy-in with
re-buys available, with one add-on at the break. A
guaranteed 1st place prize is $500, based on 50 players.
Donate a minimum of $5 in pet supplies and
receive extra chips at the door. Pre-register to be eligible
for a door prize.
Contact Kevin Danielczack at 715-889-0678 or
Charlie Vanzile at 715-622-0265.
Appreciation meal for citizens of
Laona School District
This meal is sponsored by the Laona Lions Club,
Forest County ATV Association, and the Laona
Quarterback Club, and includes a free meal and drinks for
all citizens within the Laona School District that are 55
years or older!
The event is March 1st, 2014 at the Laona
Community Building with drinks starting at 4:30 p.m. and
the meal starting at: 5:30 p.m. Entertainment will be
provided by Mr. and Mrs. Steve Benaszeski.
Meal deliveries are available for any citizens that
are not able to travel and are strictly homebound. Please
contact us to sign up prior to the meal date to have a meal
delivered to your house on march 1st, 2014.
Please contact Michelle Belland at 715-902-0145
or Missy Widucki at 715-902-0335 for meal delivery.
Town Hall Players Variety Show
It is time to start make preparations for the Town
Hall Players annual Variety show. This year's show will
take place on the 26th of April. There are so many talented
people in this area, that it would be a shame not to
showcase them.
This is a fundraiser for the local food pantry. All
admission ticket sales are donated to St. John's church in
Townsend. Last year, we were abe to help many people
with a $1500.00 donation.
We could not do this without the many talented
performers and volunteers that make this a success each
year.
We will have two shows 1:30 and 7:00 p.m. Plan
on coming early because the shows are always sell outs.
We had an organizational meeting in early February and
have chosen this year's theme to be "Musical Memories".
Songs and skits will be taken from past and present
famous Musicals, from which there were many.
If you can sing, dance, play an instrument or just
want to help, join us for fun and a truly satisfying
experience.
Our first meeting will be held at the Townsend
Town Hall. On March 1st at 1:00. If you can not attend a
Saturday afternoon, we will also have several Friday
evenings. For information call: Ruth 715 276 9563 for Sue
715 276 7317
FREE PERSONAL CLASSIFIEDS
THROUGH MARCH!
PIONEER EXPRESS PAGE 2, FEBRUARY 24, 2014
DON'T GET
STUCK OUT IN
THE COLD!
Wabeno Elementary Class of the Week
NOW IS THE TIME TO
WINTERIZE YOUR VEHICLE!
•Coolant •Battery Check
•Alignment Check
•Snow Tires •Wipers
•Brake Check
Elite
Automotive
305 E. Pioneer St., Crandon, WI
715-784-6046
[email protected]
THEY DID IT! The Second Grade has been working really, really hard on their
expectations and behaviors. They even made new signs for reminders in their classroom
and around the school. Their teachers, Mrs. Swearingen and Mrs. Christianson are very
proud of them. Way To Go Second Grade!
FOR SALE: Red Oak,
1x4x8, $5.00 each. Call
Gary Smith at 715-6743814.
P46
FOR SALE: 2 Vacuums One is a Canister, 5 years
old, brand name is
Santaire "Electrolex", like
new, comes with bags $75.00 / Other is an
Upright, 5 years old, brand
n a m e S a n t a i r e
"Electrolex", like new,
comes with bags - $100.00
Call 715-478-3711.
P46
FOR SALE: Commercial,
coin-operated washer and
dryer, exc. condition; $350
each or $650 for the pair.
Contact Jim or Peggy
Houle @ 715-478-2531.
B45
PIONEER EXPRESS PAGE 3, FEBRUARY 24, 2014
TRUCKS & SUVS
2008 Saturn Vue XR - 4 dr, 4x4, V6, auto, loaded, leather, 110K.......$9,995
2008 Ford Escape XLT - 4x4, 4 dr., V6, auto, loaded, 83K...........$10,995
2008 Chevy Equinox LS - 4 dr, V6, auto, loaded, 111K......$7,995
2006 Ford Escape XLT - 4x4, 4 dr, V6, auto, loaded, 105K......$8,995
2005 Chevy Trailblazer LT - 4x4, 4 dr. 6 cyl., auto, loaded, sunroof, 138K.......$6,995
2002 GMC Envoy SLT - 4x4, 6 cyl, 4 dr, auto, loaded, 128K...............$4.995
2001 Chevy S10 Blazer LT - 4x4, 4 dr, V6, auto, loaded, 77K................$4,995
2001 Chevy Silverado LT - Ext cab, Z71, 4x4, V8, auto, loaded, 137K.....$7,995
2000 Chevy Silverado LS - Ext. cab, 1500, Z71, 4x4, V8, auto, loaded, 139K...$6,995
2000 GMC Sierra SLE - Ext. cab, 1500, 4x4, V8, auto, loaded, 127K...$6,495
1999 Chevy Silverado LT - Ext. cab, 1500 Z71, 4x4, V8, auto, loaded, 142K...$6,995
1999 Chevy Silverado LS - Ext. cab, 4x4, Z71, V8, auto, loaded, 122K.......$6,995
VANS
2006 Dodge Caravan SXT - 4 dr, V6, auto, loaded, 98K...............$6,995
2006 Dodge Grand Caravan SXT - 4 dr, V6, auto, loaded, 95K..........$7,495
2005 Chrysler Town & Country Touring - 4 dr, V6, auto, loaded, DVD, 114K..$6,495
See Complete Inventory
& Pictures at
www.hwy52auto.com
HWY. 52 AUTO
Bryant, WI
Remaining Factory or our 3-month, 3,000 mile Warranty
"More to Choose From" Trade-ins Welcome
CARS
2014 Toyota Camry SE - 4 dr, 4 cyl, auto, loaded, 4,241 miles.............$21,995
2013 Ford Fiesta Titanium - 4 dr, 4 cyl, auto, loaded, 10K...........$13,995
2012 Chevy Malibu LT - 4 dr, 4 cyl, auto, loaded, 27K..............$13,995
2011 Chevy Impala LT - 4 dr, V6, auto, loaded, 43K.......$12,995
2010 Chevy Impala LT - 4 dr, V6, auto, loaded, 61K..........$10,995
2009 Pontiac G6 GT - 4 dr, V6, auto, loaded, 105K........$7,995
2009 Chevy Cobalt LT - 4 dr, 4 cyl, auto, loaded, 87K.....$7,995
2009 Ford Fusion SE - 4 dr, 4 cyl, auto, loaded, sunroof, 55K..........$9,995
2009 Chevy HHR LS - 4 dr, 4 cyl, auto, loaded, 97K..............$6,995
2008 Saturn Aura XE - 4 dr, V6, auto, loaded, 99K..........$7,995
2008 Chevy Impala LT - 4 dr, V6, auto, loaded, 68K......$9,995
2007 Saturn Ion2 - 4 dr, 4 cyl, auto, loaded, 86K..............$4,995
2007 Chevy Aveo LS5 - 4 dr, 4 cyl, auto, 132K.............$3,995
2007 Pontiac Grand Prix GT - 4 dr, V6, auto, loaded, sunroof, 102K.............$7,995
2007 Pontiac G6 - 4 dr, 4 cyl, auto, loaded, 63K........$8,995
2006 Saturn Ion2 - 4 dr., 4 cyl, auto, loaded, 80K.......$6,995
2006 Mercury Milan Premier - 4 dr, V6, leather, sunroof, auto, loaded, ONLY 67K..$9,995
2005 Toyota Matrix XR - 4 dr, 4 cyl, auto, loaded, 98K................$6,995
2005 Pontiac Grand Prix - 4 dr, V6, auto, loaded, sunroof, 94K...........$6,995
2004 Hyundai Sonata - 4 dr, V6, auto, loaded, 113K............$3,995
2004 Chevy Aveo - 4 dr, 4 cyl, auto, hatchback, 109K...................$3,995
2003 Chevy Impala LS - 4 dr, V6, auto, loaded, 104K............$5,595
2002 Ford Focus ZTS - 4 dr, 4 cyl, auto, loaded, 71K............$4,995
2001 Ford Taurus SES - 4 dr, V6, auto, loaded, 113K..................$3,995
2001 Saturn SC2 - 2 dr, 4 cyl, auto, loaded, sunroof, 123K...$3,495
2001 Buick Regal - 4 dr, V6, auto, loaded, 116K..........$3,995
2001 Saturn L200 - 4 dr, 4 cyl, auto, loaded, 153K....$3,995
2001 Olds Alero GL - 4 dr, 4 cyl, auto, loaded, 123K....$3,995
2000 Pontiac Grand Prix SE - 4 dr, V6, auto, loaded, 81K................$3,495
715-623-0804
Wabeno Bus Driver
Appreciation Week
This week was Bus Driver Appreciation Week.
We appreciate our bus drivers each and every day but
they had a special day this week. We had our drivers join
us at our Day A assembly so we could give them a few
tokens of our appreciation. As is the custom at our school
when we are recognizing someone for something great,
we give them a trip around the gym in a 'wheelie' chair
(AKA an office chair). They enjoy that alot. We also had a
bus driver that just retired in January. We still love you
Curt Kroll and hope you are loving sunny Florida. We miss
you.
A picture is our long time bus driver W. John
Pakulski (AKA Big John) getting his ride around the gym
during assembly with some of the students that ride his
bus following along behind.
This picture is of our bus maintenance and head
of the drivers, Paul Ehlinger. We appreciate Paul for all the
trips he makes in the middle of the day for numerous
reasons and for all the care he gives to our buses and the
ones that ride the 'little' bus with him.
Above we have our big bus drivers. They have
different areas of our district to cover and they always
come back with a smile on their faces. The love and
concern they show their riders are second to none. We
truly do love our bus drivers! Included is Lori Exferd, Troy
Hoffmann, Linda McEwen, Big John Pakulski, Vicky Pirus,
and Lorna Weyenberg.
PIONEER EXPRESS PAGE 4, FEBRUARY 24, 2014
Real Estate
Jeff Radish, Broker
Vicky Radish, Sales Associate
715-276-6027
Cell: 715-850-0455
Fax: 715-276-1108
Realty
17585 Red Maple Lane
Townsend, WI 54175
www.radishrealty.com
CRANDON 1 bedroom apartments
available at Glenview
Senior Apartments.
Specifically built for
persons 62 years of age or
older handicapped/
disabled individuals. Rent
is based on 30% of your
adjusted income and
includes water, sewer,
garbage pickup, HEAT,
major appliances, off
street parking and laundry
facilities.
Call 800-938-3229 for an
application or more
information.
This institution is an
Equal Opportunity Provider
and Employer.
Equal Housing
Opportunity.
Handicap
Betc40
Accessible
DON'T MISS THIS
White Lake Apartments
Near spring fed fishing
lake and National Forest!
Like new, 2-3 bedroom.
Includes heat, water, air,
microwave, appliances, full
size washer/dryer in unit,
security system.
Senior
discount, on site
management. Call Gordon
(715)216-5147.
Betc26
PICKEREL, WI -- (3
LOTS) -- All beautifully
secluded Lakefront
property located on Crane
Lake (341 Acres) in
Kasson Bay in Forest
County, WI. Lots are
adjoining and wooded.
Can be sold separately or
in one parcel. All lots
selling for below
appraised value! LOT #2 - .871 Acres, 106 ft. of
Lakefront. In this section,
only 4 property owners in
over 65 acres. $155,000
OBO. LOT #3 -- .63 Acres,
121 ft. of Lakefront.
$150,000 OBO. LOT #4 -1.049 Acres, 910 ft. of
Lakefront with 90 ft. point.
A one of a kind lot!
$200,000 OBO. 1,137 ft. of
total Lake frontage! Crane
Lake is connected by a
channel to Pickerel Lake
(1300 Acres). Swimming,
fishing, boating, hunting,
& 2 casinos within 20
miles. All prices
negotiable. Call 262-8622769 or 262-331-0752
Betc9
DUE TO ILL HEALTH,
PRICED FOR QUICK
SALE BY OWNER: A well
kept spacious 3 bedroom
home on 25 wooded acres.
Newer septic. 2 very large
garages. Maintenance free
siding.
Newer roofs
throughout.
Included in
this one of a kind property is
a deluxe eat-in kitchen w/
breakfast bar, beautiful oak
cabinetry w/ access to a
private deck. Main floor
laundry room, full bath,
large sunken den w/ stone
fireplace & a family room
overlooking a spring fed
pond. Manicured lawns w/
many beautiful trees. There
are mowed hiking or ATV
trails & an abundance of
wildlife. A certified survey,
all perched on a dead end
road. Located near 1,600
acre Pine Lake & Nicolet
National Forest. Will sell for
reduced price. $159,900
Call 715-367-2041. P45
FOR SALE BY OWNER
Located in Pickerel near Maplewood Golf Course.
3
bedroom, 2 bath on approx. 3 acres. Built new in 1998. Split
level with finished basement. Upper floor is open concept
kitchen and living room with hardwood laminate, master
bedroom & bathroom. Lower level is 2 bedrooms, bath with
laundry, large family room and office room. Has a detached
hot tub room and a detached 2 car garage. Huge yard for your
garden and toys. Sold with all newer appliances including
stove, refrigerator, washer and dryer. $129,000 Call (715)
216-0100 and set up an appointment for viewing.
FOR SALE: 2 bedroom 1
bath house with 2 car
detached garage on 2.6
acres. Hwy 8 frontage in
City of Crandon. Home
has its own well and
septic. Great starter home
or rental unit. Home also
has adjoining 4.99 acres
that could be sold with
home. 8943 E. Pioneer
Street. $64,000. Shown by
appointment only. Call
715-649-3655 or 715-8899034.
Betc40
H O U S E F O R R E N T:
LAONA - Quiet house in
rural Laona, 4 bdrms., with
appliances (stove,
fridges/freezer, washer),
partly furnished, nonsmokers only, $550.00/
month, plus utilities & 1
month security deposit.
Please call David Karl at
715-889-0290 or 715-674P50
3935.
FOR RENT: 3 BR, 2 BA
1,344 sq. ft. ranch style
home with detached
garage located approx. 4
miles outside of Crandon
in country. $700/month
plus 1st month security
deposit. House is in
beautiful setting with a nice
yard. Appliances included:
stove, refrig., dishwasher,
washer and dryer (opt).
Send written request,
references and other
information to:
Rental
PO Box 333
Crandon, WI 54520
P48
WABENO - Three
bedroom apartments.
Rent is based on 30% of
your gross income and
includes water, sewer,
garbage & HEAT!! Major
appliances, off street
parking and laundry
facilities. To receive an
application, please call
1-800-938-5648
This institution is an
Equal Opportunity Provider
and Employer.
Equal Housing
Opportunity.
Handicap
Betc45
Accessible
FOR SALE: Custom 2
bdrm., 2 bath mobile home
in Muellers Pine Grove
Resort, Pickerel. On slab, 2
decks, shed & landscaped
yard. Lake and
snowmobile trail access.
Microwave, stove, fridge,
dish washer and
washer/dryer included.
$29,900. Call Sue at 715630-6875.
P38Betc39
LOOKING FOR PLACE TO
RENT: Elderly gentleman in
need of a 1 bedroom place.
Preferably in the wooded,
country area. Call 715-8899292.
P45
FOR SALE: 4.99 acres,
Hwy. 8 East (E. Pioneer St.)
frontage in City of Crandon.
Property has great
potential for home or
business. $22,000. Call
715-649-3655 or 715-8899034.
Betc40
APARTMENT FOR RENT:
Huge 1-bedroom, partially
furnished apartment
located in downtown
Crandon. For more
information, please call
715-889-3207.
Betc35
FOR RENT, LANGLADE:
Duplex w/large deck,
opposite Wolf River. 2 BR,
cedar chalet.
Heat,
appliances & laundry room
included.
No smoking.
$550.00. Call (715) 8427607 or (715) 470-7195.
Betc38
LANGLADE CO. WI
Upper & Lower
Post Lake.
1,136 acres all
recreational water plus
famous Wolf River.
Homes - Cottages
Vacant Lots - Cabins
Great Fishing. ATV,
Snowmobile trails.
Fantastic Deals.
Broker ph: 715-216-0838
www.postlakerealestate.com
FOR SALE: 1-3 acres plus,
old growth heavily
wooded. View of lake on a
quiet dead end road. Three
Lakes, $9,500 per acre.
Call 715-891-4572 or email
[email protected]
P48
FOR SALE: Home or 4Season Cottage. 2 hours
North of Green Bay,
wooded 2 acres,
overlooking Bishop's Lake,
3088 Black Lane, WI. 2
bedrooms, 1 bath, full
basement, fireplaces, 2.5
stall detached garage,
furnished/unfurnished,
b o a t s , l a w n m o w e r,
snowblower, golf cart.
$84,900 OBO. Call 920P51
490-9699.
HUNTING LAND FOR
SALE: 70 acres with new
cabin, metal roof, siding,
and attached garage.
Approx 1200 square feet.
No water or electricity,
although it is wired for use
with a generator. Propane
lights installed throughout
cabin. Includes the
essential outhouse.
Mature hardwoods, ridges,
and cedar swamp, with
small brook running
through some of the
property. Snowmobile/ATV
trails are very accessible.
Located 5 miles west of
Hwy 55 off Hwy B, near
Crandon, in the Town of
Nashville. Asking
$2100/acre. Contact
[email protected]
et with inquiries, and
directions to the property.
P50
CRANDON: FOR RENT:
1 bedroom lower
apartment. Very clean UPDATED! Appliances,
heat & water included.
$410 per month + sec.
deposit. Avail. March 1st.
Call for an application
715-499-2404.
Betc36
Goodman/Armstrong Creek
Lions Predator Hunt
With the registration deadline set for March 1st,
the Goodman-Armstrong Creek Lions Club's sixth annual
predator hunt, to take place from Friday March 14 after the
7 p.m. mandatory dinner until the by two p.m. check-in
Sunday, March 23, has added a dog hunting division in an
effort to reach out to coyote hunters who have requested
they be able to use hounds.
Hunt chairman Pete Osterberg, said that
following communication with "... a lot of people --groups
in the Pelican Lake area, Crandon, and Argonne--" he and
co-chairman John Gorgol have added the dog division to
accomodate hunters who use dogs exclusively and also
those who seek the coyote singly or in two-person teams
without dogs.
Registration forms have been distributed to area
businesses from Rhinelander to Niagara and from
Michigan to Green Bay, but hunters can contact Osterberg
or Gorgol to register by March 1, or they can mail the $35
fee, with the check made out to G-AC Lions to one of them.
Osterberg said to include a phone number along with the
address of the registrant.
Osterberg can be reached at N20011 County H,
Goodman, WI 54125. His phone number is 715-336-2685.
Gorgol's address is 714 Witkowski Lane, Armstrong
Creek, WI 54103. His phone number is 715-336-2830. To
register by e-mail or to request information via the net,
contact Gorgol at [email protected]
The mandatory dinner, part of the $35 fee, begins
at 7 p.m. Friday, March 14 at the Goodman Community
Center with George Buck and his Buckaroo clan again
preparing the meal that consists of a number of entrees,
plus side dishes. There, hunters will be able to enter raffles
for a pair of Weatherby rifle drawings exclusively for those
in attendance. Other donated prizes will also be available.
Hunters will also register their teams and designate a
captain if in the dog division. Those who hunt with dogs
may have 10 people. Those without may work as an
individual or in a two-person team.
The dinner, Osterberg emphasized, is mandatory
for each participant, even if part of a team. Each will
receive a kit specially prepared for the event, and hear of
the rules and have any questions answered. Veterans of
past years will notice some modifications.
Last year, Osterberg and Gorgol gave hunters a
choice of dates. It was they who opted to have the hunt
from March 14 through the morning of March 23 during the
full moon. This hunt also tends to wrap up the predator
season as a number of hunts have occurred in the Laona,
Crandon, Argonne areas. Hunts have also taken place in
Niagara and in Michigan's Upper Peninsula.
Coyotes need to be registered at the Goodman
Sportsman's Clubhouse by two p.m. Sunday. The
clubhouse is located on Sportsman's Road off County
Road H between Goodman and Armstrong Creek. For the
past five years, the clubhouse has served as the final stop
where the Lions weigh the critters. Food and beverages
will also be for sale at that time.
Osterberg said that the Lions have added a
"Major Prize" drawing, at the weighing in on Sunday. "Each
guy who shoots an animal has to register it. They put the
hunter's name on a paper, and it goes into the bucket. A
captain can't register for his team members. He just gets
the prize money to distribute it. Then we have a drawing for
hunters who have shot a coyote."
Specifics on the total amount of prize money for
each division were not available at this time. Osterberg
said it depends on registration numbers, and since it is
their first time with two divisions, it may vary. In the past
they have set aside $1500 for prize distribution. That
should be known after March 1st. Following the dinner,
hunters are free to chase the critters anywhere in Michigan
or Wisconsin and follow existing laws.
FIND PAST
REAL ESTATE
ONLINE AT
WWW.PIONEEREXPRESSCRANDON.COM
Area Events
2nd Annual Laona Volunteer Fire Dept.
FISH-O-REE
Saturday, February 22nd
Silver Lake, Laona WI
Fishing: 8 a.m. - 4 p.m. Weigh In
Noon - 5 p.m.: Raffles, Food, Etc.
At Silver Lake Beach
FISH CASH PRIZES 1ST THRU 3RD
NORTHERN, BASS, WALLEYE & PAN FISH
RAFFLE DRAWING AT 5 P.M.
1st Prize: Eskimo Viper 43CC Power
Ice Auger, 949 Fast Fish Portable
Ice Shelter & Ice Sled
Tickets available now from any fireman & local businesses and they will be available the day of the fisheree
2nd Prize: $100 • 3rd & 4th Prizes: $50
5th - 8th Prizes: $25
PIG ROAST - $5 A PLATE
CHILI • CHICKEN NOODLE SOUP
HOT DOGS, BRATS & BURGERS
HEATED PAVILLION
FOOD • REFRESHMENTS
MEAT RAFFLES
WHEEL RAFFLES • 50/50
BUCKET DRAWINGS
FREE APPRECIATION
DINNER
For Citizens age 55 & Older from the
communities within the Laona School Dist.
Sat., March 1st, Laona Community Building
Cocktails 4:30 p.m. • Dinner 5:30 p.m.
Entertainment by Mr. & Mrs. Steve Benaszeski
Delivery available to Home Bound Seniors
Please RSVP (715) 902-0335 or (715)902-0145
Sponsored by Laona Quarterback Club, Laona Lions Club
& the Forest County ATV Association
HOPE YOU CAN JOIN US!!!
We want to thank our citizens of the Laona School District for their
support and for future support going forward to help continue to grow
our school district to help prosper the surrounding communities.
Come Worship With Us
Daily Mass Times
Rev. Callistus I. Elue
(Consult the weekly bulletin for
Mass Times:
any week day Mass changes)
Saturday's - 5:00 p.m. •Tuesday's - 6:00 p.m.
Sunday's - 9:00 a.m. •Wednesday's - 12 Noon
•Thursday, Adoration
Confessions:
& Mass - 6:00 p.m.
Saturday's 9-10 a.m.
•Friday - 12 Noon
St. Joseph Catholic Church
208 North Park Ave., Crandon 54520 • 715-478-3396
Downtown
Crandon
478-1010
200 S Lake Ave.
Soup, Song
& Sandwiches
FREE!
Robert Kimberling
Saturday,
& Accompaniment
February 22nd
will lead us in a great
1:00-3:00 p.m.
time of Fellowship
EVERYONE Get on Out, Come on In,
INVITED! Relax & Have a Great Time!
Lincoln / Reagan Dinner
Sunday, March 9, 2014
Hotel Crandon Restaurant
PIONEER EXPRESS PAGE 5, FEBRUARY 24, 2014
Leo Zagar
Cancer
Benefit
Sat., Feb. 22 • 4-9 p.m.
Lil Hummer's Hideaway
Corner of Hwy. A & TT, Pearson
Live Music, Food, Raffles
& Silent Auction
For Questions or Donations
Call Zach Zagar @ 715-216-5507
Three Lakes School/
Community Arts Association
Presents
"The Winga Woodwind Quintet"
Saturday, March 1, 7:30 pm at the Reiter Center
1858 S. Michigan St,
Three Lakes
Admission: Adult $10
/Students Free
N o a d v a n c e
t ic k e t s a le s ,
COMMUNITY BILLBOARD
•AA Meetings - Back Door Group - Open meetings Monday & Thurs. Nights @ 7 p.m., Lakewood Lakes Country
Library. Call Mary 715-276-2318 or Bill 715-889-3512.
•Forest Co. Big Book Closed AA Meeting - Thurs. 7 p.m., Crandon Library. 715-478-2598 or 715-889-1829.
•Al-Anon Meetings - Courage to Change Group. Every Friday, 7-8 p.m., lower level Crandon Library.
•Forest Cty. Humane Society - Open to public every Sat. from 1-4 p.m. Call for more info. 715-478-2098.
•AA Meeting - Saturdays, 9 a.m., Wabeno Fire Station, side entrance.
•Crandon VFW Post - Meets every first Tuesday of the month. 6 p.m. at the VFW building, 104 N. Forest.
•Support Group for Parents of Children with Disabilities - Call Chris at 715-784-0058.
•Crandon Lions Board Meetings - 1st Monday of the month at Crandon Library at 7 p.m. (downstairs). Member
Meeting - 3rd Monday of Month at 5:30 p.m.
•Bridge Community Dental Health Clinic - This project serves people of all ages in Forest County for people who
have Badger Care, medical Assistance & UNINSURED. To schedule an appointment call (715) 848-4884. Call the
Health Dept. for more information at 715-478-3371.
•Good Shepherd Lutheran Church - Hwy. 55N, Crandon. Sunday service 9:30 a.m. No Saturday services.
•Christian Motorcyclist Association - Spirit Ryders Chapter of Langlade & Forest Co. Invites you to attend out
monthly meetings on the last Saturday of each month. Call George 715-350-1679.
•Crandon PTO - 1st Monday of month, 6-7 p.m., Elementary Cafeteria.
•Wellbriety 12 Step Meeting (AA/NA) - Monday nights, 6 p.m. - ? Lower level of the FCP Museum,
Mish•Ko•Swin Lane, Crandon. Call Brooks Boyd for more info. at 7158-889-4902.
•Mole Lake Flea & Craft Sale - Every Thursday, Mole Lake Casino Bingo Hall. 9-4 p.m. Free coffee and soda.
$5.00 tables. Everyone welcome. Call 715-478-7557 for more information.
•Town of Lincoln Board meetings - 2nd Monday of each month, 6 p.m., Town of Lincoln Hall.
•AA Meeting - Antigo Hospital, Saturdays at 7:00 p.m.
•Forest County Humane Society Meeting - Every fourth Monday of the month, 6:30 p.m., Crandon Library.
•Women's Closed AA Meeting - Sundays from 6:30-7:30 p.m., 300 S. Lake Ave, Crandon. Questions 715478-1117 or 784-0680
•Trinity Ev. Lutheran Church in Wabeno, WI announces that the Monday night service has changed to
Wednesday night at 5:30 p.m. and Ladies Aid Meeting will be the second Tuesday of the month at 1:30 in the
afternoon. Call 715-473-5633 for more info. or check our web site www.trinityrisensavior.com.
200 North Lake Avenue, Crandon, WI
Social Hour at 1:00 p.m. - Luncheon at 2:00 p.m.
FOREST/FLORENCE
Open Bar - Tickets $20 each
COUNTY
REPUBLICAN
PARTY
Guest Speakers: Senator Tiffany,
Rep. Mursau & Rep. Swearingen
For Tickets call Jennifer (715) 649-3263 or Terri 478-2752
Authorized and paid for by Forest County Republican Party
Bible Study
Where: Double Buck Cafe
When: Tuesdays @ Five p.m.
All Are Welcome Please Bring Bible and Notepad
Forest County Family Services
Network Community Baby Shower
All expectant and parents with a baby less than
one year old are invited to a Community Baby Shower to
be held April 30th 4:30 – 6:30 p.m. at the Crandon
Community Center, 601 W Washington Crandon, WI says
Jenette Gunville, University of Wisconsin – Extension
Family Living Agent serving Forest, Florence, and Vilas
Counties and co-chair of the Family Services Network.
Community Baby Shower attendees will have the
opportunity to visit with over 15 exhibitors and enjoy a light
supper. There will be a program where new parents will be
given time for questions and answers about pregnancy
and post-partum, along with hearing about dental tips for
the entire family. There will be drawings for many donated
prizes.
The mission of the Family Services Network is to
support healthy families and strong communities through
education and networking, says Gunville. The Community
Baby Shower is being held to help families learn about
community resources and get connected to other parents
and agencies who can support them as they parent the
next generation.
There is no charge for participating in this event.
North Central Sales Auctions
Homestead Bar & Banquet Hall
Saturday March 1st. 2014 at 10:30 AM.
8507 St. Highway 52, Wausau, WI
Directions:From Wausau, WI Take 52 East
approx. 12 Miles to Homestead Ballroom.
Watch For Signs.
Auctioneer Note: Huge Estate up for auction, been
packed away and now headed for auction! Go to
www.northcentralsales.com for list and photos.
GUNS, SPORTING GOODS,TOOLS, COINS,
TOYS, ANTIQUES, COLLECTIBLES, ART
WORK CLEAN HOUSEHOLD
Go to www.northcentralsales.com
PIONEER EXPRESS PAGE 6, FEBRUARY 24, 2014
Laona, WI
HOURS:
Mon. - Sat. 8 am - 7 pm (715)674-6108
We reserve the right to correct any
Sunday 8 am - 4 pm printing
errors and limit quantities.
Prices Effective Mon., February 24, 2014
MON TUE WED THU
FRI SAT SUN
24 25 26 27 28 1
2
Fresh & Packaged Meat Specials
$4.99/Lb. Reg. or Bun Length Franks
$3.29/Lb. Little Sizzlers
$1.69/Lb. Bologna or Cotto Salami
$2.59/Lb. Reg. or Beef Ring Bologna
$4.59 Taquitos
John Morrell - 16 Oz.
USDA Family Pack
Sirloin Sizzler Steaks
Hormel - 12 Oz.
Family Pack
Ground Round
Oscar Mayer Family Pack - 16 Oz.
Farmland (Sold Whole)
Pork Butt Roast
Klements - 14 Oz.
Farmland
St. Louis Style Spare Ribs
El Monterey - 27.5-28 Oz.
Farmland - 16 Oz. Reg. or Thick Sliced
Hickory Smoked Bacon
Seedless
F Sweet
a Red Grapes
r Fresh Express - 16 Oz.
m Cole Slaw
Scoop Away - 14 Lb.
Kitty Litter
Alpo Prime Cuts - 13.2 Oz.
Dog Food
Indian Summer - 6/4 Oz. Sel. Var.
Applesauce
Brawny - 1 Roll
Big Roll Paper Towels
Betty Crocker - 4.5-8 Oz.
Gushers & Fruit Roll-Ups
Progresso - 18.5-19 Oz.
Soups
Era - 50 Oz.
Liquid Laundry Detergent
Fresh Baked Homemade
D Lasagna
e Carolina Deluxe
l Turkey Breast
i Crescent Valley
Farmer Cheese
Flav-R-Pac - 12 Oz.
Steam Vegetables
Lean Cousine - 8.5-10 Oz.
Dinner Entrees
9 Oz.
Lean or Hot Pockets
Fresh
$1.68/Lb. Cucumbers
2/
$1.00
$1.29
Grocery
Crisp Super Select
$5.99 Facial Tissue
2/
$1.50 Chips Ahoy Cookies
$2.19 Cocktail or Chili Sauce
$1.49 Chili or Kidney Beans
2/
$3.00 Pasta Noodles
2/
$3.00 Potato Sides
2/
$7.00 Tartar Sauce
Puffs - Reg. 68-96 Ct.
Nabisco - 9.5-14.4 Oz.
Shur Fine - 12 Oz.
Bush's - 15-16 Oz.
Creamette - 12-16 Oz.
Shur Fine - 4.7-6 Oz.
Shur Fine - 12 Oz.
$4.99
$3.49
$3.99
4/
$5.00
$2.59
2/
$4.00
B Skinner
/Lb. a Coffee Danishes
k
e
/Lb. r Fresh Baked Wheat
y Kaiser Rolls
/Lb. Frozen
How to Manage
Atrial Fibrillation
Understanding atrial fibrillation will allow you to
communicate your needs to your family, friends, and
health care providers. Knowing how to manage atrial
fibrillation will empower you to live your life healthier,
happier, and with less worry.
Avoid stimulants
Stimulants — even too much coffee, tea, soda, or
chocolate — can speed up your heart rate even more.
Also, beware of over-the-counter medicines, including
nutritional supplements and cold and allergy medicines.
Drugs may contain stimulants or have other properties
that can trigger arrhythmias and/or interact with your
prescription medications. Source: Cardiosmart.org
Maintain a healthy weight
Extra weight places a stress on the heart that can
manifest as atrial fibrillation. It turns out that obesity can
actually change the size of the heart's atria, with a gradual
increase in atrial size occurring as body weight increases
from normal, to overweight, to obese. Source: Nature.com
Minimize stress
Even people who are generally healthy and have
no known heart problems may develop atrial fibrillation
due to high stress. Contemporary research suggests that
approximately 54 percent of patients with intermittent
atrial fibrillation cite psychological stress as the most
common trigger. Source: American Heart Association
Limit alcohol
Tombstone Orig. - 12"
Pizza
P Sweet Ripe - 5.6 Oz.
r
o Blackberries
d
u Fresh Dole
c
e Green Onions
$6.99
99¢ Master Roast Coffee
2/
4/
$5.50 Cake Mix
$5.00
2/
$1.19 Hot Cocoa Mix
$4.00
88¢
$3.29
4/
Doritos Chips
$5.00
$3.29
99¢ Potato Chips
2/
$1.39 Tomato or Chicken Noodle Soup $1.00
Shur Fine - 31.5 Oz.
Shur Fine - 16.5-18.25 Oz.
Swiss Miss - 6-10 Ct.
10-11 Oz.
Ruffles - 7.5-9 Oz.
Shur Fine - 10.5-10.75 Oz.
H Top Care - 120 Ct.
B Aspirin
C Top Care - 36 Ct.
/ Dental Flossers
G DX Alkaline - 8 Ct.
& Dairy M AA, AAA Batteries
Minute Maid - 59 Oz.
3/
Sargentos - 15 Oz.
Ricotta Cheese
Old Home - 14 Oz.
100% Natural Peanut Butter
$1.69
$1.69
2/
$5.00
$3.59
$6.79
2/
$3.00
2/
$1.00
2/
$6.00
$2.89
$12.00
$2.79
$2.69
In excess, alcohol is toxic to the heart. Also
dangerous are hangovers, which are associated with
dehydration and an increase in stress hormones, which
can increase the risk of atrial fibrillation. Source:
Cardiosmart.org
Stop smoking
Nicotine is a cardiac stimulant and can aggravate
atrial fibrillation by temporarily making the heart race.
Cigarette smoking is also a known risk factor for coronary
artery disease. Source: American Heart Association
Manage your cholesterol
Heart problems like atherosclerosis (clogged,
hardened arteries) and high cholesterol can worsen atrial
fibrillation and put you at a higher risk for heart attack and
stroke. Stick to a low-fat, plant-based diet and exercise
daily to keep your levels under control.
Chronic conditions
Atrial fibrillation is often resulting from another
ongoing condition. Conditions like sleep apnea and
hyperthyroidism are two serious conditions that, left
untreated, can cause atrial fibrillation. AF is about 5 times
greater in people with apnea. Hyperthyroidism can cause
chemical imbalances that lead to electrical imbalances in
your heart, triggering atrial fibrillation.
http://www.healthcentral.com/heart-disease
5 Natural Back Pain
Remedies That Work
Lower-back problems are the number two reason
people visit a doctor, second only to the common cold and
flu. If you're prone to pain, you may already be treating it
with OTC medications or trying to prevent it by
Orange Juice
Morning Glory - 16 Oz.
Chunk Cheese Blocks
Deans Tru Moo - 32 Oz.
Reg., 1% or Chocolate Milk
$2.99
$1.39
$2.99
2/
$5.00
$3.99
2/
$3.00
strengthening your core and back. Consider these pill-free
treatments another weapon in your arsenal.
Yoga: People who took a weekly 75-minute class for
12 weeks found that they had diminished lower-back pain
symptoms and less need for pain meds than those who
didn't, according to a 2011 study in Archives of Internal
Medicine. Can't stomach downward dog? Researchers
found similar results among those who took a 50-minute
weekly intensive stretching class instead.
Osteopathic Manual Therapy (OMT): Six
sessions of OMT—during which a doctor of osteopathy
stretches and uses gentle pressure on muscles and
joints—led to substantial improvement in about half of
people with lower-back pain after 12 weeks, according to a
University of North Texas Health Sciences Center study
published last March. Nearly two-thirds reported moderate
improvement.
Comfrey Root: Using an ointment that contains
this plant-based extract reduced lower-back pain by 95%,
according to a 2009 study conducted by Merck and
published in the British Journal of Sports Medicine. Look for
comfrey-root ointment in health food stores or online. Just
don't use it for more than 10 days at a time—it can be toxic.
Acupuncture: It may relieve lower-back pain more
effectively than meds or physical therapy, according to a
2009 study done at Group Health Cooperative for Health
Studies in Seattle and Northern California Kaiser
Permanente in Oakland.
Massage: A third of people who got one weekly for
10 weeks reported significant relief from their lower-back
pain, compared with 4% who didn't go for rubdowns,
according to a 2011 study in The Annals of Internal Medicine.
Bids & Notices
PIONEER EXPRESS PAGE 07, FEBRUARY 24, 2014
The School District of Laona is looking for your input!
TIMBER SALE BIDS
AM Forestry, P.O. Box 252, Laona, WI 54541 is accepting
bids for timber on two separate sales. Bids will be
accepted until 5:00 p.m., February 25, 2014.
Wabeno Old Dump Sale
33.2 acres with an estimated 589 cords of cordwood and
bolts with aspen, spruce, tamarack and balsam fir being
major amounts. Also including a minor amount of misc.
hardwood sawlogs.
Jim Born Sale
31.13 acres with an estimated 440 cords of cordwood and
bolts with aspen, hardwood and balsam fir being major
amounts. Also including a minor amount of misc. hardwood
sawlogs.
Each sale has all season/dry conditions areas in
combination with winter only areas. Each sale has direct
access to public roadways.
AM Forestry and the respective owners retain the
right to accept or reject any or all bids and retain the right to
waive technical defect.
Please contact AM Forestry in the evenings at
715-674-2062 for more information or to obtain a bid
packet.
Public Library Hours
Lakes Country Public Library - Lakewood - Monday,
Tuesday & Thursday 9:00 a.m. - 5:00 p.m.; Wednesday
and Friday 2:00 p.m. - 8:00 p.m.; Saturday 9:00 a.m. 2:00 p.m. • 715-276-9020.
Wabeno Public Library - Tues & Fri. 10 a.m. - 5 p.m.;
Wed. & Thurs. Noon - 5; Sat. 9 - Noon. Closed
MONDAYS & SUNDAYS. Wifi signal: 8 a.m.-9 p.m., 7
days/week. 715-473-4131
Crandon Public Library - Monday, Tuesday & Friday
9:00 a.m. - 5:00 p.m.; Wednesday 9:00 a.m. - 7:00 p.m.;
Thursday 9:00 a.m. - 7:00 p.m.; Saturday 9:00 a.m. Noon • 715-478-3784.
Laona Edith Evans Community Library - SUMMER
HOURS: Monday - Friday 8:00 a.m. - 2:00 p.m. &
extended hours on Tuesday 5:00 - 7:00 p.m. CLOSED
Saturday & Sunday • 715-674-4751
Museum Hours
Forest County Museum- Summer Hours: 10-4 on
Tuesday, Thursday, Friday and Saturday.
Forest County Potawatomi Cultural Center &
Museum - Monday -Thursday 7 a.m. - 5 p.m. If you have
special research needs or want to inquire about
collection, please call 715-478-4841.
Wabeno Museum - Memorial Day - Through Labor Day Monday-Thursday:
11:00 a.m.- 4:00 p.m.; FridaySaturday: 10:00 a.m.- 5:00 p.m.; Sunday: 10:00 a.m. 4:00 p.m.
USED
CALLING ALL
MARINES - WE WANT
YOU!
The Forest County
Detachment of the Marine
Corps League is looking for
new regular members and
associate members to come
join us the first Wednesday of
every month at the VFW Hall in
Crandon. Food & Door Prizes.
For more information please
call Micah Dewing at 715-8890371 OU/50
MARCH 7 & 8
FRIDAY 9-5
SATURDAY 9-12
CRANDON
LIBRARY
110 W POLK
Lots of paperbacks!
Still Smoking
207 N. Lake Ave.
Crandon
GET YOUR
E-CIGARETTE
TODAY!
We are your local E-Cig
headquarters.
Rechargeable, refillable
starter kits at only
$10.00! Over 50 flavors
available!
Still Smoking
on Main Street
Crandon, between
Duck's and Pickers.
(715) 478-4059
Betc22
The District is studying the need for a Day Care program located within the
school building. Please join us at one of the following listening sessions to share
your thoughts:
Wednesday, March 5th - 6:00 pm - School Library
Thursday, March 6th - 6:00 pm - School Library
If you have questions, please contact Mrs. Laurie Asher, District
Administrator at 715-674-2143.
SCHOOL DISTRICT OF
WABENO AREA 2014
February 24 - 28
LUNCH MENU
MON: Swedish beef casserole,
green beans, roll, peaches
TUES: Nacho grande (taco meat,
cheese, lettuce, tom, chips),
refried beans, corn, corn bread,
slushie cup
WED: Chicken nuggets, seasoned
potato wedges, baked beans, cinn.
baked apples
THURS: Chicken Alfredo, pasta,
diced beets, biscuit, tropical fruit
FRI: Chili, stuffed bread stick,
winter blend, orange wedges
PLEASE NOTE - ROMAINE SALAD BAR
& MILK AVAILABLE DAILY. BREADS,
BUNS & PASTA ARE WHOLE GRAIN.
Menus are subject to change
SCHOOL DISTRICT OF
WABENO AREA 2014
February 24 - 28
BREAKFAST MENU
MON: Cereal, double chocolate
oat bar, pears
TUES: Scrambled egg w/ ham &
cheese, biscuit, tropical fruit
WED: Pancake sausage on stick,
sunny fruit
THURS: Cheese omelet, sweet
potato puffs, apple slices
FRI: Chocolate Malt-O-Meal,
banana, cinnamon toast
PLEASE NOTE - 100% FRUIT JUICE&
MILK AVAILABLE DAILY. BREADS,
BUNS & PASTA ARE WHOLE GRAIN.
Menus are subject to change.
SOKAOGON CHIPPEWA COMMUNITY
NOTICE OF PUBLIC HEARING
Pursuant to Section 100.11 of the Sokaogon Chippewa
Natural Resource Administrative Ordinance, the
Sokaogon Chippewa Community Natural Resources
Board will hold a public hearing on March 5, 2014 at
10:00 a.m. at the Sokaogon Chippewa Environmental
building located at 3051 Sand Lake Road, Crandon,
Wisconsin.
Public input will be sought on: US EPA
Clean Water Act 401 Certification for the Proposed
National Pollutant Discharge Elimination System
(NPDES) General Permit for Stormwater Discharges
From Industrial Activities, also referred to as the MultiSector General Permit (MSGP).
Interested public officials and private citizens
are welcome to attend. All applicable written materials
pertaining to this hearing are available for public review
by contacting the Sokaogon Environmental Director,
Tina L. Van Zile at (715)-478-7605.
Historical Society to meet
February 27th
The Forest County Historical & Genealogical
Society February meeting will be on February 27 at 7:00
p.m. at the Crandon Public Library. Open to the public.
Members are encouraged to attend.
Town of Hiles receives loan
to purchase fire truck
MADISON – The Board of Commissioners of
Public Lands (BCPL) today approved a State Trust Fund
Loan totaling $160,000 to the town of Hiles to purchase a
fire truck.
The Board approved loans totaling $581,689 at
today's meeting. They include:
· Town of Hiles, Forest County / Purchase tanker/fire truck /
$160,000
· Village of Rock Springs, Sauk County / Refinance
outstanding debt / $385,000
· Village of Rock Springs, Sauk County / Refinance BCPL
loan #96047 / $36,689.18
With income generated by State Trust Fund
Loans, and not a single taxpayer dollar, the BCPL provides
all of the state's financial aid to public elementary, middle
and high school libraries; $30.1 million in 2013, alone. A
complete list of the 2013 library aid distribution by school
district will be found here:
(http://bcpl.wisconsin.gov/docview.asp?docid=24671&l
ocid=145).
State Trust Fund Loan monies come from the
principal of the state's Common School Fund enhanced
by revenues generated by fees, fines, forfeitures,
unclaimed property and timber sales.
Established by the State Constitution, the BCPL
consists of the Secretary of State, Doug La Follette;
Attorney General, J.B. Van Hollen; and State Treasurer,
Kurt Schuller.
To learn more about the agency, visit
http://bcpl.wisconsin.gov.
LOST
LOST: Ski-Doo Touring
bag, between Crandon and
Long Lake on the trail. Call
920-973-3478, leave
message. REWARD!! P46
REGULAR MEETING OF THE SCHOOL DISTRICT OF WABENO AREA
BOARD OF EDUCATION
Tuesday, March 4, 2014 - 6:30 P.M.
Community Room - Wabeno Elementary School
AGENDA
I. Call to order.
II. Roll call.
III. Pledge of Allegiance.
IV. Approval of the agenda.
V. Appearances:
A. Pat Lowery and students will appear to present
information on SkillsUSA.
B. Michelle Boor and students will present updates on the
Senior Class trip.
C. Elementary Leadership Team will present updates on
Next Generation classrooms and Personalized Learning.
D. Laura Klescewski and teachers to present information on
Math Interventions and curriculum.
E. John Twardowski and students will present updates on
Prom.
VI. Action items:
A. Review and possible approval of the minutes of the
regular School Board Meeting held on February 5, 2014.
B. Review and possible approval of vouchers and payroll.
C. Discuss and take possible action on an overnight trip for
Skills USA.
D. Discuss and take possible action on a calendar for the
2014-2015 school year and review a draft of a calendar
for the 2015-2016 school year.
E. Discuss and take possible action on adopting an updated
nondiscrimination statement for district notices and
publications.
VII. Information Items:
A. Allison Space, Elementary School Principal.
1. RtI/PBIS updates
2. Math Leadership Conference update
3. Summer School update
4. Family Engagement Team
5. Parent Teacher Conferences on March 13 from 1:308:00 P.M.
6. Home and School Events and updates
7. Updates on other elementary news and events.
B. Matthew Paulsen, Jr/Sr High School Principal.
1. PBIS/RtI updates
2. Educator Effectiveness update
3. Staff recognition
4. School safety updates
5. Strategic planning: personalized learning
6. Principal's Conference updates
7. ASCD Conference live stream updates
8. Parent Teacher Conferences on March 13 from 1:308:00 P.M.
9. Honors students
10. Updates on other Jr/Sr High news and events.
C. Kimberly Odekirk, District Administrator.
1. Updates on the district staffing report and staff
licensing.
2. Updates from the Community Coalition of Forest
County
3. Update on other news and events
VIII. Enter closed sessions under Wisconsin State Statutes 120.13 and
Wisconsin State Statutes 19.85 (1) (c) (e) to:
A. Discuss employment, promotion, compensation or
performance evaluation data of any public employee
over which the governmental body has jurisdiction or
exercises responsibility.
IX. Return to open session and take possible action on items
discussed in closed session.
X. Adjourn.
NOTE: THE AGENDA IS SUBJECT TO CHANGE AS ALLOWED BY LAW.
Deadlines approach to remove
ice fishing shelters
MADISON - The first of a number of deadlines for
ice anglers to remove ice fishing shelters from boundary
waters is this week, when all ice fishing shelters must be
removed from Wisconsin-Iowa boundary waters by
Wednesday, Feb. 20. This earlier date, applying to
Mississippi River south of the Minnesota-Iowa border,
corresponds with Iowa regulations.
The deadlines for other boundary waters are
March 1 for Wisconsin-Minnesota boundary waters and
March 15 for Wisconsin-Michigan boundary waters.
For inland Wisconsin waters, ice fishing shelters must be
removed by the first Sunday following March 1 for waters
south of Highway 64 and by the first Sunday following
March 12 for waters north of Highway 64. For 2014, those
dates are: Sunday, March 2 for waters south of Highway
64; and Sunday, March 16 for waters north of Highway 64.
After these dates for removing ice fishing shelters
from a frozen lake or river, an angler may continue to use a
portable shelter but must remove it daily and when it is not
occupied or actively being used.
PIONEER EXPRESS PAGE 08, FEBRUARY 24, 2014
NORTHWOODS
FLOORING
Gold Miner
Jewelers
L.L.C.
In the North Town Centre Mall
431 Highway 64, Antigo • 715-623-4165
Hours: Mon. - Fri. 8-5 , Sat. 9-1, Closed Sunday.
Carpet • Tile • Hardwood • Vinyl • Laminate
Sears of Antigo
445 Hwy 64 • Antigo
By Kwik Trip
(715) 627-4407
Authorized Retail Dealer Store
Specialty Shops
Hours: Mon-Sat. 9-7,
Sun. 10-4
On the Spot Jewelry
Repair!
Can add metal with
the cutting edge
technology of a Laser!
Prong Re-tipping, Ring
Sizing, Chain Repairs &
More!
Stop In Today!
Buying gold, silver,
coins and scrap.
2737 N. Hwy 45
Next to Arlen's Antigo,
WI
or Call 715-627-4747
FOR SALE: Light brown,
swivel rocker/recliner.
Barely used, very good
condition. $300 or best
offer. Call 715-649-3397.
P48
Locally roasted &
fresh coffee.
Experience a
great
coffee taste!
Call Dave at
715-649-3414
the Perfect
Gift
by Darlene
&
Flowers from
the Heart
Wabeno
•Fresh Floral Arrangements
•Balloons & Cards
•Homemade Fudge
•Wines, Cheeses & Honeys
•Gift Baskets
•Tuxedo Rentals
•Scarves, Jewelry & Purses
•Primitive Decor
& Many More Gift Items
HOURS: Wed. - Fri. 10 to 4:30, Sat. 10 to 2
715-473-5400
RUMMAGE
RUMMAGE
SALE
Friday & Saturday
March 7th & 8th
9 a.m. - 2 p.m.
St. Luke's
Methodist Church
501 S. Lake Ave.
Crandon
RADA CUTLERY,
HOUSEHOLD
ITEMS &
CLOTHING
Hosted by
United Methodist
Women
P46
STERN
ELECTRONICS
SPECIALIZING IN:
•LG Sales & Service
•Antenna Installations &
Repair
•Now Selling Used TVs,
•Dish Network
Installations & Repair
VERY REASONABLE
RATES!
Call
STERN ELECTRONICS
715-623-2441
Betc10
Main Street, Wabeno
Nicolet College Creative Arts Series feature five free
events in February
The Nicolet College Creative Arts series will feature five free events in February.
The events include presentations on island jewels of the Caribbean and a rescue camp for
aging elephants in Cambodia, the ever-popular Community Music Festival, a new art
exhibit, and a presentation on how to safely store computer information on the Cloud.
Details of each of the upcoming events in February are below. The Nicolet Theatre
and Art Gallery are located in the Learning Resources Center on the Nicolet College
Campus.
Tech Talk
The Cloud: How to Safely and Securely Store Your "Stuff" in the Cloud
Thursday, Feb. 13
3 p.m. Nicolet College - Learning Resources Center - 205
7 p.m. Nicolet College - Lakeland Center, Minocqua - Computer Lab
Services such as DropBox, Box.net, Google Drive, and Microsoft's Live Drive allow you to
store information online in the Cloud. Learn about security settings and how to keep your
family pictures and documents stored safely online.
Nicolet Theatre
Community Music Festival
2 p.m., Sunday, Feb. 16
The Northwoods is rich in musical talent and you'll get a sampling of its range and
energy in one dynamic evening of performances by five local music groups: the
Rhinelander Area Community Band, Nicolet Male Chorus, Nicolet Choraliers, Hymns and
Hyrs, and Lakeland Barbershoppers. Each group will perform the highlights of its season's
repertoire. The music will be sweet and you'll be smiling as your friends and neighbors
entertain you with all their heart and soul.
Nicolet Theatre
St. Vincent & the Grenadines: Caribbean Jewels with Steve Gonser
7:30 p.m., Thursday, Feb. 20
A vicarious visit to the St. Vincent and the Grenadine islands will help take the chill
of a cold winter night during this travelogue to these jewels of the Caribbean. The islands
emerged from the sea eons ago when the Caribbean and Atlantic plates collided, leaving
the islands lush with mountains, rich volcanic soil, and unspoiled landscapes of brilliant
flora. From breathtaking natural beauty to a dynamic mix of culture, there's something for
everyone in this 90-minute travelogue, hosted by the director, his wife and grandson.
Art Gallery
Tony G. Conrad Exhibit
Gallery hours are 8 a.m. to 8 p.m. Monday through Thursday and 8 a.m. to 4 p.m. Fridays
and Saturdays
Through Saturday, February 22
Wisconsin artist Tony Conrad's paintings combine culturally opposed themes in
surprising, ironic, and humorous ways. A single painting may juxtapose delicate patterns
from Persian wallpaper with macho images found in a hunting magazine. Conrad is
currently a Lecturer of Art at Lawrence University in Appleton.
Nicolet Theatre
Aging and Elephants with Ann Eshelman
7:30 p.m., Thursday, Feb. 27
After retiring as a public defender, Ann Eshelman headed for remote northeastern
Cambodia to work at a sanctuary for elephants who were worn down by decades of hard
labor and brutal treatment. With passion and humor, she describes the work involved to
make their last years comfortable, healthy, and as free-roaming as possible.
For a complete listing of all upcoming Creative Arts Series events, visit
nicoletcollege.edu.
FOR SALE: Antique
washstand, floor lamp, beer
COLLECTABLE DISHES
signs, wicker doll buggy.
FOR SALE: Vintage
Dog tracking system. Call
sapphire and milk glass
F O R S A L E : W O O D 715-216-1172 or 715-2161940's bubble bowl sets,
P45
BURNING STOVE - NORDI 3806.
anchor hocking
with 8" pipe. Glass front
FOR SALE: Free standing
pitchers/glasses, fire king,
with painted ceramic tile.
Fireplace with two glass
wheat, autumn wheat, blue
Used frequently in our
doors, has automatic
wheat dish sets,
previous cabin. Great for
blower, comes w/over $400
currier/Ives dishes and
your cabin, basement or
worth of stainless steel
bakeware. Call 715-478shop. Call 920-428-4941.
chimney. $300, call 7153277.
P45
P45
276-6406.
P45
Lunch & Learn with your Forest County
UW Extension Office
Forest County Courthouse Board Room – 200 East Madison, Crandon, WI from 12
noon – 1 p.m.
Bring your lunch and join us!
Food Safety & Preservation Lunch & Learn Series:
March 4 Springtime is Food Safety Time – Spring holidays are a time for family and
friends, but don't forgot food safety. Join us for a look at all that is new in food safety.
April 8 Planning for a Successful Gardening Year – Often a bountiful harvest is linked to
planting the right crops, at the right time. Learn what varieties work well in Wisconsin
and tips for a successful gardening year. Mike Maddox, Master Gardener Program
Coordinator
May 6 Tips for a Successful Year of Food Preservation – Be sure you have the right
equipment and most up-to-date information prior to the start of the food preservation
season. Information on steam canning should be ready for this program!
For information on these programs please call 715-479-3653 or email
[email protected] Information and program archives are also available
online at www.foodsafety.wisc.edu.
Death Notices
DUSTIN M. MCGESHICK, age 24, of Wabeno, passed
away unexpectedly at Aspirus Wausau Hospital on
Saturday, February 15, 2014 following a short battle with
cancer.
Visitation was held after 3:00 p.m. on Monday,
February 17 at the Lake Lucerne Gospel Chapel, Crandon.
Funeral services were at 2:00 p.m Tuesday with Pastor Don
Dewing officiating. Interment was at the Potawatomi Tribal
C e m e t e r y, C r a n d o n . O n l i n e c o n d o l e n c e s
www.weberhillfuneralhome.com
PAUL MARVIN ROBERTOY, 56, of Egg Harbor and of
Wabeno, died Feb. 15, 2014, in Sturgeon Bay after a twomonth battle with cancer. Funeral services – 11a.m., Thurs.,
Feb. 20, 2014, St. Paul's Lutheran Church, W4167 Juddville
Rd., Fish Creek, WI 54212. Visitation – 4-8p.m., Wed., Feb.
19, 2014 at Huehns Funeral Home, 1414 Michigan St.,
Sturgeon Bay, WI 54235 and at church, Thurs., 10-11a.m.
Online guestbook and condolences at
www.huehnsfuneralhome.com
SANDRA LYNNE BUKOVIC, 64, Hiles, passed away
peacefully at her home on Thursday, February 13, 2014.
She was born on October 30, 1949 in Oak Creek to Paul and
the late Rosemary (Kwasneski) Bukovic.
Sandra had a love of animals; her horses and her
cats that were a very important part of her life. She lived in
Apopka, FL for a number of years and worked as a legal
proof reader for APOPKA CHIEF of Apopka, FL and also
worked as an accountant for United Telephone Company of
Altamonte, FL for many years before retiring to the Hiles
area.
Sandra is survived by her father, Paul of Hiles, two
brothers, Steven of Hiles and Russell of Mercer, WI, sisterin-law, Tammy, two nieces, Nicole (Rafael) Castillow and
their daughter, Cadence and Christine (Josh) Siorini and
nephew, Russell Hanson, Jr.
Visitation was held on Monday, February 17 from
4-6:00 p.m. and again on Tuesday, February 18 from 1011:00 a.m. at the Weber-Hill Funeral Home, Crandon.
Funeral service followed on Tuesday at 11:00 a.m. with
Pastor Ed Leiskau officiating. Inurnment will be at a later
date in St. Mary's Catholic Cemetery, Argonne. Weber-Hill
Funeral Home is assisting the family. Online condolences at
www.weberhillfuneralhome.com.
CANDY MAE (DUFF) BEENEN, age 62, passed away at
home surrounded by family and friends, on February 17,
2014 after another courageous battle with cancer.
Candy was born August 9, 1951 to the late Virgil &
Laura (Quade) Duff in Crandon, WI. She continued to live
and go to school in Crandon until she moved to Sheboygan
in 1969 to be close to her sister Mary.
She enjoyed live music, dancing and a good game
of pool.
During the summer months she would
occasionally travel back to Crandon to spend time with her
cousins, other family members and good friends. Later in
life, she enjoyed reading and spending time with her Rat
Terrier, "Apollo" who spent 13 wonderful years as her
companion.
Candy was employed by the Spiller Spring
Company from April 1979 until October 2009, when she had
to retire due to health issues. During her 30 years there, she
made many great friends.
Candy is survived by her only daughter, Susan
(Vincent) Sherman, of Sheboygan and 2 grandchildren,
Brayden & Emery, along with nephews, nieces, cousins and
an aunt, Ida Quade.
Candy was preceded in death by her parents; her
brother Virgil Duff and her two sisters Betty Ann Radtke and
Mary L. Kloppenburg, and half-sister Shirley Bracken.
Special thanks to Paula and Barb of Sharon S.
Richardson Community Hospice, Pat Johnson at Memorial
Medical Center and her friend, Paula Zimmermann, for
helping Candy through this difficult journey. Entombment
will take place at the Garden Terrace Mausoleum, Lutheran
Cemetery, Sheboygan.
Online condolences may be
expressed at www.reinboldfh.com
RATES ARE PER WEEK
Personal Classified $3.00
Business Classified $4.00
With border $3.50
With border $4.50
UP TO 30 WORDS ONLY.
Additional words, add 10¢ per word.
To display your ad, fill out form and send
form and check to:
PIONEER EXPRESS
P.O. BOX 333
CRANDON, WI 54520
(715) 478-3640 OR 1-800-234-2152 FAX (715) 478-3540
AD DEADLINE 4 P.M. TUESDAY
Amount of weeks to run
PIONEER EXPRESS PAGE 9, FEBRUARY 24, 2014
State Farm donates vehicle to
Nicolet College's Auto Technician
program
Students in Nicolet College's Automotive
Technician program now have a new high-tech vehicle to
train on thanks to a generous donation by State Farm.
The insurance company took in a 2012 Ford Focus that
was totaled by flood damage. The company then donated
the vehicle to the college for students to train on as they
work their way to a college credential.
"This is wonderful for the college and students in
the Auto program," said Brigitte Kumbier, dean of Trade
and Industry at Nicolet. "Students need to train on the
latest technology and this donation by State Farm will give
students greater opportunity to do just that."
State Farm has a long history of supporting
higher education and officials said they are happy to
support Nicolet College.
"Our support for this program is a reflection of
our commitment to Wisconsin communities," said State
Farm Public Affairs Specialist Kelly Savage. "We are
pleased to be able to partner with the college to help
students acquire the career skills they will need to
succeed."
The donated car will be especially useful in
teaching students about the latest electronic technology
that goes into late-model vehicles, said Ken Duesing,
Nicolet Auto instructor.
"Vehicles today are becoming increasingly
computerized and this car is perfect for students to learn
about new components and how to diagnose and then
repair any problems with the vehicle," Duesing said.
"Considering it was totaled by flooding, I'm guessing
students will find all kinds of things to fix. That's exactly
what makes this vehicle so valuable to us. It's real-world
training."
Kumbier Towing from Minocqua and Quality
Collision of Rhinelander also donated their services to
haul the car from Milwaukee to the Auto Lab on the Nicolet
College Campus.
For more information about Nicolet's Auto
program, visit nicoletcollege.edu or call the college's
Welcome Center at (715) 365-4493, 1-800-544-3039; TDD
(715) 365-4448.
Phone
Ad
We welcome letter to the Editor; however the letters
should be legible, in good taste, not libelous and pertinent to
current issues. Names will not be withheld upon request, except
for very special circumstances. NAME AND PHONE NUMBER
SHOULD BE INCLUDED FOR VERIFICATION PURPOSES. We
reserve the right to reject any and all letters.
FDA's teen tobacco prevention campaign
On Tuesday, February 6th the U.S. Food & Drug
Administration (FDA) announced a new multi-media
campaign to show teens the consequences of using
tobacco products. The campaign, titled "The Real Costs",
couldn't be launching at a better time.
Sadly, too many Wisconsin kids are addicted to
tobacco. It may be hard to believe, but each year 6,600
kids start smoking in Wisconsin and over 400,000 who are
alive now will become smokers. Ninety percent of all
smokers begin while in their teens or earlier.
These ads will help reverse these numbers by
using alarming visuals to draw attention to the physical
and social costs of smoking. One ad depicts the harmful
effects to the skin and teeth. When I saw this ad I felt it
would catch the attention of teenagers who are thinking
about smoking or maybe have tried it a few times already.
Appropriately, this campaign is launching during
the 50th anniversary year of the first U.S. Surgeon
General's report on smoking that showed the harmful
effects of tobacco. The campaign honors the report's
legacy by helping to make the next generation tobaccofree.
For more on the campaign, visit
www.therealcost.gov To get involved in local tobacco
prevention efforts, visit the Northwood's Tobacco Free
Coalition at www.nwtfc.org
Sincerely,
Jill Krueger
Forest County Health Department
Crandon Library News
Family Story Time Dance Party a Success
Our Family Story Time Dance Party held last week
was a great success. Seventeen families participated in
our heart-pumping program. The staff at the Crandon and
Laona Ministry clinics and Jill Krueger at the Forest County
Health department for helped make this event a fun and
educational event for our local area families.
Digital Photo Contest for Teens
In honor of Teen Tech Week - when libraries make
the time to showcase all of the great resources and
services that are available to teens and their families – the
Crandon Public Library is hosting a Digital Photography
Contest for teens in our area.
Teen Tech Week is March 9-15, 2014, but in order
to give everyone adequate time to get out there and take
photos we are getting the word out now. The theme for this
contest is: PRIDE – so please keep this in mind when
taking/submitting photos. Information about the contest is
available online or at the front desk of the library.
The deadline for entry submission is Wednesday,
March 5th.
New Books
New Nonfiction titles added to our shelves this
week include The ultimate Guide to U.S. Army Survival
Skills, Tactics, and Techniques edited by Jay McCullough,
The Forager's Harvest : a guide to identifying, harvesting,
and preparing edible wild plants by Samuel Thayer, Yoga
for Regular Guys : the best damn workout on the planet by
Diamond Dallas Page with Craig S. Aaron, and Back to
Basics : a complete guide to traditional skills edited by
Abigail R. Gehring.
New audio books-on-cd include Gone Girl: a
novel by Gillian Flynn, Divergent by Veronica Roth,
Insurgent by Veronica Roth, Allegiant by Veronica Roth
and The book Thief by Markus Zusak.
Name
Address
Letters to the Editor
PIONEER EXPRESS
Published Weekly
125 N. Lake Ave., P.O. Box 333
Crandon, WI 54520
email: [email protected]
Mike & Linda Monte...........................Publishers/Editors
Laney Hines................Computer Graphics/Job Printing
Meagan Kevilus..........Accts. Rec./Post Press/Graphics
Boyd Monte....................Ad Sales/Job Printer/Graphics
Carmen Strong............................................Proofreader
Vets Corner
by Diane Fenske Joyner
Last year the Forest County CVSO Veterans
Transportation Donations Fund, donations from very
generous Veterans family members, along with $600 from
the Brush Run donation, paid for two caretakers to take
two WWII Veterans on the Honor Flight.
Anyone can volunteer to take Veterans on the
flights as Caretakers, for a cost of $500 each, by filling out
an application and submitting it to the Honor Flight
organization. Complete information can be found at :
w w w. w i s c o n s i n h o n o r f l i g h t . o r g
Old Glory Honor Flight announces its 2014 flight
Schedule.
Old Glory Honor Flight is proud to announce an
aggressive flight schedule for 2014. We will be flying five
flights of WWII and Korean War veterans to Washington
D.C. The currently scheduled flights are as follows:
Mission 22: April 3rd
Mission 23: May 8th
Mission 24: June 17th
Mission 25: September 11th
Mission 26: October 9th
As always, these dates are subject to change and
are dependent on our continuing ability to raise needed
funds.
Calls to veterans eligible to fly on Mission 22 will
begin in early March to allow our flight coordination
volunteers some much needed Winter downtime. Thank
you for your patience, and thank you for your support.
Did you know that nearly 900 WWII veterans pass away
every day nationwide? Most have not seen the memorials
built in their honor. The time is NOW to thank them for
doing nothing less than saving our nation and the world!
Please join our mission!
We transport our local heroes, free of charge, on
this Tour of Honor to Washington DC because it's our small
way to say thank you for their service and sacrifices. "It is
never too late to say thank you."
Welcome to Old Glory Honor Flight, the
Northeast Wisconsin hub of the Honor Flight Network. Our
mission is to offer our local World War II and Korean War
veterans a memorable, safe and rewarding tour of honor
to our Nation's Capital!
"It's Never Too Late To Say Thank You"
Thank Yous & Personals
The Family of Alice Harrison
The family of Alice Harrison would like to thank the
following for their help in getting us, the family, through
this trying time. Pastor Lee Jennings for the kind and
understanding funeral sermon; the Presbyterian Ladies
Aide for serving and cleaning up after dinner; Pichotta's
Pub & Grub for cooking the delicious dinner; Gregg Tallier
for playing and singing the music; Denise Smith for your care
and conversation with Mom at home; the Staff and
Administration of NuRoc Community Healthcare for their
devotion to Mom's care; Weber-Hill Funeral Home for making the
arrangements a lot easier to bear and to all the friends, relatives
and acquaintances who stopped by to visit with Mom and to all
those who expressed their condolences at her passing.
Sincerely our thanks!
Mike, Bob, Steve, Terry, Dan, Alan and Pat Harrison and Families
Thank You!
The family of Darrel "Jiggs" Gerow wants to
express their heartfelt gratitude for the love,
support and prayers during Darrel's illness and
then his death. Thanks so much for the
monetary gifts, flowers & plants, food gifts,
many cards of condolences, visits and many
stories of Jiggs. It is much appreciated.
Kathy, Brian & Micky, Melissa, Terry & Family
GOOD LUCK AT
INDIVIDUAL
SECTIONALS THIS
WEEKEND!
Nicolet students get real-world training
through services offered to the public
Bringing real world training into the classroom is
a major component of a Nicolet College education.
To give students this valuable learning
experience, several Nicolet academic programs offer
services to the public ranging from basic auto repair and
dental care to haircuts, perms and quality dining in the Top
of the Hill Restaurant.
"The goal is to create a real-world experience so
graduates can make a smooth transition from our labs and
classrooms to the workplace," said Nicolet College
President Elizabeth Burmaster.
"By doing so, these individuals quickly become
valuable employees that area businesses depend on to be
successful."
Services offered include:
Culinary Arts
The student-run Top of the Hill restaurant is now
open to the public, offering buffet service lunches from 11
a.m. to 12:15 p.m. Monday through Thursday and dinner
service from 5:30 p.m. to 6:45 p.m. Monday and Tuesday
evenings.
Each lunch menu has a different theme, focusing
on cuisine styles from around the world. Cost for lunch is
$9.50 plus tax.
Dinner fare consists of traditional American
foods with a theme. Offerings also include main course
specials, a fresh salad bar, daily soups, desserts, and
beverages. Cost for each dinner ranges from $5 to $7
depending on the menu.
Complete menus are posted on the Nicolet
website at http://www.nicoletcollege.edu/about/campusinfo/dining-top-of-the-hill/index.html
For more information or to make a reservation,
call the Top of the Hill Restaurant at (715) 365-4466.
Dental Hygiene
Improving overall dental health across the
Northwoods is one of the goals of Nicolet's new Dental
Hygienist training program at the Peter Christensen
Dental Campus in Lac du Flambeau. Along with lab and
lecture training, students in the program also develop their
skills by offering services to the public under the direct
Ruffed Grouse Society announces
2014 Wisconsin Drummer Fund Projects
Record 16 Projects Approved For Funding
Coraopolis, PA – Sixteen projects benefiting
ruffed grouse and American woodcock habitat in
Wisconsin have been selected by the Ruffed Grouse
Society (RGS) to receive over $62,000 during 2014
through its Wisconsin Drummer Fund program. Partners
receiving RGS funding for projects in Wisconsin in 2014
include county forestry departments in Ashland, Douglas,
Eau Claire, Florence, Langlade, Lincoln, Marathon, Price,
and Wood Counties, the Wisconsin Department of Natural
Resources (DNR) and the U.S. Forest Service. The U.S.
Fish and Wildlife Service through its Partners in Fish and
Wildlife Program is also providing funding support for
several of these projects.
According to John Eichinger, RGS President and
CEO, "RGS is pleased that in 2014 the Society will be
supporting another record year, both in the amount of
funds provided and the number of projects conducted
under the Wisconsin Drummer Fund program. Our ability
to fund these important wildlife management projects
isdue to the dedicated efforts of the volunteer members of
our Wisconsin RGS chapters."
The Wisconsin Drummer Fund was initiated in
2010 and is the direct result of funds being raised at
Wisconsin RGS chapter fund raising events and through
direct member donations. Since its inception, nearly
$219,000 has been made available through the Wisconsin
Drummer Fund to support 56 Wisconsin grouse and
woodcock projects. These funds have been matched by
other agencies and organizations and have resulted in
over $616,000 worth of projects being funded in
Wisconsin since 2010.
Wisconsin Drummer Fund Projects approved for
2014 include:
--Augustine Creek Hunter Walking Trail Bridge
Replacement/Ashland County – Ashland County Forestry
Department and Wisconsin DNR
--Burma Road Hunting Trail Development/Florence
County – Florence County Forestry Department and
Wisconsin DNR
--Cylon Wildlife Area Aspen Regeneration/St. Croix
County – Wisconsin DNR
--Cylon Wildlife Area Land Acquisition/St. Croix County–
Wisconsin DNR
--Douglas County Grouse Management Area Signage –
Douglas County Forestry Department
--Eau Claire County Aspen Regeneration and Hunting
Trail Development – Eau Claire County Forestry
Department
--Empire Swamp Management Area Access
Improvement/Douglas County – Douglas County Forestry
Department
--Kubisiak Ruffed Grouse Management Area Alder/Aspen
Regeneration/Wood County – Wisconsin DNR and Wood
County Forestry Department
--Marathon County Alder Regeneration – Wisconsin DNR
and Marathon County Forestry Department
--Medford/Park Falls District Hunting Trail and Opening
Maintenance – US Forest Service
P YOU
E
ENESS MOV R
K SI
rds, ,
a
C
ss enus
e
n
i
Bus ices, M ters!
s
Invo rs, Po all Flie do it call!
We us a ess
r
Give eer Exp 640
Pion 5-478-3
71
I
G
FOR MAKING SCHOOL
HISTORY - TEAM
SECTIONAL RUNNER
UPS! YOU GUYS DID AN
OUTSTANDING JOB!
Management/Langlade and Lincoln Counties – Langlade
and Lincoln County Forestry Departments and Wisconsin
DNR
--Northwest Sands Unit Landowner Outreach – Wisconsin
DNR
--Pershing Wildlife Area Opening Development/Taylor
County – Wisconsin DNR
--Price County Aspen Age-Class Distribution – Price
County Forestry Department
--Wild Rose Aspen Regeneration/Waushara County –
Wisconsin DNR
--Woodboro Lakes Wildlife Area Hunting Trail
Development/Oneida County– Wisconsin DNR
Nine of the sixteen approved projects in 2014 are
taking place on Wisconsin's county forests. According to
Jane Severt, executive director of the Wisconsin County
Forests Association, "Wisconsin County Forests
Association truly values continued conservation efforts
and fiscal resources directed toward county forest lands
by the Ruffed Grouse Society. Together, county forests
and RGS have completed countless outstanding projects
benefiting our environment and sportsmen and women
alike. The partnership between our county forests and
RGS clearly demonstrates the importance of ensuring that
the ecological benefits and sporting opportunities
provided by young forest communities remain a part of our
forested landscape across Wisconsin."
"Though the Wisconsin Drummer Fund
originated in 2010, RGS has been very active supporting
habitat work in Wisconsin since 1985. Since that time,
RGS has contributed over $900,000 to fund over 110
projects in 44 of Wisconsin's 72 counties," reports RGS
Biologist Gary Zimmer.
Established in 1961, the Ruffed Grouse Society is
dedicated to preserving our sporting traditions by creating
healthy forest habitat for ruffed grouse, American
woodcock, and other wildlife. We work with landowners
and government officials to develop critical habitat using
scientific forest management.
Information on the RGS, its mission,
management projects and membership can be found on
the web at: www.ruffedgrousesociety.org.
N
Morgan Krueger,
Alex Stroik,
Grant Murray,
Isaiah Doane,
Deven Groff
& Jarred Roberts
CONGRATULATIONS
TO CRANDON'S
WRESTLING TEAM
supervision of licensed dental hygienists.
Services offered include dental exams, teeth
cleaning, sealant application, blood pressure screening,
dental x-rays, fluoride treatments, and oral cancer
screening.
Reasonable fees apply for these services and the clinic
does accept Medicaid, Badger Care, and Forward Health
payments.
For more information on costs, when these
services are available, and to make an appointment, call
the campus at (715) 588-4494 or send an email to
[email protected]
Cosmetology
Students in this diploma program operate Studio
113, a full service salon that offers a wide variety of hair
care that includes cuts, styles, perms and coloring; an
assortment of nail care treatments along with spa services
such as facials and makeup. All services carry a nominal
charge.
Salon hours are Tuesdays 12:30 p.m. to 5 p.m.,
Wednesdays from 9 a.m. to noon and 1 p.m. to 5 p.m., and
Thursdays 8 a.m. to noon and 1 p.m. to 5 p.m.
For more information, or to make an
appointment, call the salon at (715) 365-4475.
Auto Technology
Students in the Auto program hone their skills by
providing a wide range of repair and maintenance
services to the public.
These include everything from basic oil changes,
tire rotation, and wiper blade and headlight installs to
brake, steering, exhaust and suspension work. More
complicated work includes automatic transmission
rebuilds and major engine repair.
The services provided at any given time vary and
are aligned with the topics students are studying in class.
To find out about what services are offered when, call the
Auto Lab at (715) 365-4499 or email instructors Ken
Duesing at [email protected] or Chris Kolasa
at [email protected]
Clients are charged for the cost of parts but are
encouraged to make donations to the Auto Technology
student club.
BU
PIONEER EXPRESS PAGE 10, FEBRUARY 24, 2014
SCHAEFER'S IGA PULL-OUT SECTION
SCHAEFER'S MEAT DEPT. SELLS USDA ANGUS
CHOICE BEEF & USDA INSPECTED PORK
MEAT
Premium Angus Choice
Boneless Beef
THESE AD PAGES NOW ON-LINE AT
pioneerexpresscrandon.com
PRODUCE
Fresh, Tender
SCHAEFER'S IGA PULL - OUT SECTION
SCHAEFER'S IGA PULL - OUT SECTION
PIONEER EXPRESS FEB. 24, 2014
SCHAEFER'S IGA PULL-OUT SECTION
Asparagus
rump
roast
$3.99
Lb.
$1.49
Pint
Premium
Angus Choice
Boneless Beef
Ea.
bottom round
steak
Lb.
Sunkist, large
Lemons
$4.49
Lb.
SCHAEFER'S IGA PULL - OUT SECTION
ribeye
steaks
$8.99
Coleslaw
Mix
Lady Alice Apples
or Pink Lady Apples
99¢
$1.99 Lb.
14 Oz. Pkg.
Lb.
Hormel Natural Choice
Assorted Family Pack
Fresh
Strawberries
pork
chops
$1.99
Rainier, X- Fancy
Dole Classic
1 Lb. Pkg.
Green Giant
Baby Cut
Carrots
1 Lb. Bag
Lb.
Buddig Premium
lean sliced
meats
8 Oz.
Bar-S
corn dogs
3 Lbs.
$4.99
Gold 'N Plump
Whole Cut-up
chicken
wieners
Original, Bun
Length, or
Jumbo, 16 Oz.
John Morrell
sliced
bacon
12 Oz.
$2.99
Sliced Mushrooms
Color Bell
Peppers
8 Oz. Pkg.
2/$3.00
$1.39
Green Giant
Vegetable medley
Idaho Russet
or Broccoli & Cauliflower Potatoes
12 Oz. Bag
10 Lb. Pkg.
$1.99
$2.79
Hormel Big Slice
pepperoni
3.5 Oz.
2/$3.00
John Morrell
Double G Boneless
half hams
12 Oz.
SCHAEFER'S IGA PULL-OUT SECTION
White
Mann's
$5.99
$1.99
Red, Orange, Yellow
2/$5.00
52 Oz.
cocktail
smokies
$1.19
SCHAEFER'S IGA PULL - OUT SECTION
2/$3.00
Oscar Mayer
2/$5.00
Come visit us on the web at
Schaefers.iga.com
Pioneer Plaza
Highway 8 E., Crandon
HOURS: Mon. - Sat. 7AM - 8PM
Sun. 7AM - 7PM
$3.99 Lb.
478-2558 FAX 478-2545
SCHAEFER'S IGA PULL - OUT SECTION
2/$1.00
Premium Angus Choice
Boneless Beef
Prices Effective Mon. Feb. 24, 2014
SUN
MON
24
TUE
25
WED THU
26
27
FRI
SAT
28
01
02
We reserve the right to correct any printing errors in the ad
We reserve the right to limit quantities
SCHAEFER'S IGA PULL-OUT SECTION
SCHAEFER'S IGA PULL-OUT SECTION
SCHAEFER'S FOOD MART PULL-OUT SECTION
SCHAEFER'S IGA PULL-OUT SECTION
IGA
Chef Boyardee
tuna
in water
select canned
dinners
5 Oz.
14.5 - 15 Oz.
79¢
$1.00
Ea.
Ea.
Select
Betty Crocker
hamburger
helper
pizza mix
6.5 Oz.
SCHAEFER'S FOOD MART PULL - OUT SECTION
SCHAEFER'S FOOD MART PULL - OUT SECTION
PIONEER EXPRESS FEB. 24, 2014
$1.29
Shurfine
IGA
IGA
mac & cheese deluxe snack
or deluxe cheddar crackers
shells
oyster
crackers
11.3 Oz.
9 Oz.
$1.00
$1.49 $1.29
14 Oz.
Select Hunt's
Shurfine
Del Monte
pineapple
diced
tomatoes
pretzels
15.25 Oz.
4 Kinds
16 Oz.
3 Kinds
$1.19
14.5 Oz.
3 Kinds
Limit 1
$1.49
Shurfine
corn
chips
IN STORE COUPON
Limit 1 Coupon Per Customer
Must Buy 4 Betty Crocker
$1.49
(In the Meat Department)
When you Buy Any Four
Betty Crocker
Selected 5.2-12.2 Oz. Chicken Helper
4.3-7.5 Oz. Hamburger Helper
or 5.3-7.3 Oz. Tuna Helper
GOOD ONLY AT PARTICIPATING
AFFILIATED FOODS STORES
THRU 03/02/14
2/$5.00
pepsi brand
powerade
coke
brand
32
Oz.
12 Oz/12 Pack Cans
12 Oz./12Pk. Cans
24 Oz./6 Pack Bottles
12 Oz./8 Pack Bottles
OR
3/$10.98
12 Oz./8 Packs
Bottles
3/$12.00
coke brand
.5 Liter/6 Pack
or
7.5/8 Pack
4/$11.00
SCHAEFER'S FOOD MART PULL-OUT SECTION
79¢
aquafina
water
24 Pack
Klarbrunn
vita ice
SCHAEFER'S FOOD MART PULL - OUT SECTION
Reg. $3.49
Excludes Baked Lays
RVO150
SAVE $1.50
on Any Meat Item
Retailer for redemption
send before 4/04/14 To
Affiliated Foods Midwest
PO Box 1067, Norfolk, NE
68702-1067 Attn: Affiliated
Coupon
Redemption Dept
lays &
kettle Lays
50¢
with a
Separat
$10 Purch e
ase
50¢
PLU 985
9.25 Oz.
SCHAEFER'S FOOD MART PULL - OUT SECTION
79¢
SCHAEFER'S FOOD MART PULL - OUT SECTION
SCHAEFER'S FOOD MART PULL - OUT SECTION
3 Kinds
.5 Liter Bottles
$4.99 79¢
SCHAEFER'S FOOD MART PULL-OUT SECTION
SCHAEFER'S FOOD MART
SCHAEFER'S IGA PULL-OUT SECTION
SCHAEFER'S IGA PULL-OUT SECTION
BAKERY
Computerized
PICTURE CAKES
at Schaefer's
Bakery
Bring in any
photograph,
picture, or
drawing and we
will put it on
your next party cake
BIRTHDAY
ANNIVERSARY
TEAM PARTY
HOLIDAYS
FAVORITE PETS
RETIREMENT
GRADUATION
DRAWING
PHOTOGRAPH
All cake orders MUST be placed with a 24 hour notice!
All weekend orders must be placed by 10:00 am Thursday!
potato
wedges
coleslaw
$2.99Lb.
$2.99 Lb.
family fish fry
pc. Battered Cod
Starting 1 8Lb.
Crinkle Wedges
1
Lb.
2/28/14 10 HushColeslaw
Puppies
$19.99
honey cream
crumb
cake
$3.59
elephant
ears
2 Ct.
Please Call ahead for your order
Plus our other regular Friday Specials
24 Hour Notice On Party/Deli Tray Orders Please
$3.29
hamburger
buns
8 Ct.
Saint Patrick's Day
white dinner green
mini
rolls
lights
benadryl
allergy
HEALTH &
BEAUTY
24 Ct.,
Liqui-Gels or
Tablets, Reg.
$5.99
$4.99
Aqua Net
Children's
benadryl or
benadryl-d
$5.99
11 Oz. 3 Kinds
Unscented Super
Hold or Extra Super
Hold & Fresh Scent
Super Hold
Reg. $2.93
T. J. Farms
32 Oz. Bag
Reg. $2.49
window
clings
$1.29
Daisy
soup mix or stew
vegetables
16 Oz.
$1.39
Fresh Frozen
onion
rings
$4.99
DAIRY
8 Oz.
$2.39
$1.19
FROZEN Crystal Farms
Cream Cheese
8 Oz. Tub
Assorted
$1.69 $1.69
Shurfine
garland
Crystal Farms
David's Deli
Bagels
Assorted, 5 Ct.
$1.39
Parkay
SCHAEFER'S IGA PULL - OUT SECTION
southern style
hash browns
$5.99
Sour cream
hair spray
GENERAL
MERCHANDISE
St. Patrick's
12 Ct.
$1.39 $2.09 $2.39
Allergy & Sinus
4 Fl. Oz. Grape
Allergy 4 Fl. Oz.
Cherry, Reg. $6.83
Mrs. Gerry's
SCHAEFER'S IGA PULL - OUT SECTION
SCHAEFER'S IGA PULL - OUT SECTION
$7.99 Ea.
NEW ON FRIDAYS ONLY!
m&m
cookies
12 Ct.
Unfilled
DELI
bucket of chicken
apple spice
picnic cake
$3.79
SCHAEFER'S IGA PULL - OUT SECTION
Gold 'N Plump
8 Piece
SCHAEFER'S IGA PULL - OUT SECTION
SCHAEFER'S IGA PULL - OUT SECTION
THESE AD PAGES NOW ON-LINE AT
pioneerexpresscrandon.com
PIONEER EXPRESS FEB. 24, 2014
Soft
Spread
20 Oz. Bag
Reg. $3.83
41 Oz. Tub
$2.69
SCHAEFER'S IGA PULL-OUT SECTION
$3.39
SCHAEFER'S IGA PULL-OUT SECTION
SCHAEFER'S IGA PULL-OU
SCHAEFER'S IGA PULL-OUT SECTION
SCHAEFER'S IGA PULL-OUT SECTION
SCHAEFER'S IGA PULL - OUT SECTION
SCHAEFER'S IGA PULL - OUT SECTION
PIONEER
JULY 08,
PIONEEREXPRESS
EXPRESS FEBRUARY
24,2013
2014
Good Feb. 03 - Mar. 02, 2014
20 Pack
On your next fill-up
$6.99
10¢ off /gal
Bakery
apple
pie
pumpkin
pie
$4.29
$4.89
5¢ off /gal
5¢ off /gal
Vicks
dayquil
16 Liqui
Caps
Vicks
nyquil
16 Liqui Caps
Barbasol
shaving
cream
vitamin water 20 Oz.
smart water 700 ml
fruit water 16.9 Oz.
$1.79
$1.00Ea.
Soothing Aloe, Skin
Conditioner, Original
Pacific Rush, Reg. $2.03
2¢ off /gal
TE M
I
NEW
icy hot
Advanced Pain
Relief Cream
2 Oz. Tube
$8.83
$8.83+ $6.45
5¢ off /gal
5¢ off /gal
Greenlite
cfl
13 Wt
50¢ Ea.
5¢ off /gal
flour sack
towels
30x38 &
33x38
5¢ off /gal
Domestix
scouring
pad
2 Ct.
$1.99 Ea. $1.33
5¢ off /gal
SCHAEFER'S IGA PULL-OUT SECTION
5¢ off /gal
M
ITE
W
NE Balmex
Adult Care
rash
cream
3 Oz.
$4.49
5¢ off /gal
Durable Foil
Extra Deep
roaster
1¢ off /gal
dasani
water
24 Pack
$4.99
5¢ off /gal
Bellatoria
pizza
2 Liters, Reg.
& Diet
$1.43 Ea. $5.99
5¢ off /gal
SCHAEFER'S IGA PULL-OUT SECTION
SCHAEFER'S IGA PULL - OUT SECTION
SCHAEFER'S FOOD IGA - OUT SECTION
Bakery
SCHAEFER'S IGA PULL - OUT SECTION
SCHAEFER'S FOOD IGA - OUT SECTION
coke
5¢ off /gal
SCHAEFER'S IGA PULL-OUT
Recreational
Recreational
www.motorsportsmarine.com
Sales & Service - New & Used
CONCEALED
CARRY COURSE
Wis. Dept. of Justice Instructor
Financing available
FULL SERVICE CENTER • CERTIFIED TECHNICIANS
Sat., Feb. 22•8-Noon
Tues.-Thurs. 9-5; Fri. 9-7; Sat. 9-3; Sun. 11-3
CLOSED MONDAYS TIL APRIL 15TH
Call to register:
Authorized Dealer of Mercury & Evinrude Outboards, MirroCraft Boats,
Palm Beach & Montego Bay (Made in Wisconsin) Pontoons & Sea-Legs
715-478-1264
WE SERVICE ALL MAKES & MODELS
OF SNOWMOBILES & ATV's
FOR SALE: 550 gallon fuel
oil tank, $300 or best offer. /
7 foot snowblower for rear
of a tractor, $650 or best
offer. Call 715-219-0305.
Betc33
MANY BELTS, SLIDES &
CARBIDES IN-STOCK
USED ATV'S & UTV's & SNOWMOBILES
• 1996 Polaris Explorer 300 - 4x4 • 1986 Yamaha SRV
•1993 Ski-Doo Mach 1 670 • 2005 Yamaha Rage 973
• 1990 Arctic Cat Cougar • 1993 Polaris Indy 500
EZ DOCK
SNOW
PLOWING AVAILABLE
N10306 St. Hwy 55, Pearson, WI•(715)484-2106
Paying Top Dollar for guns, gold,
coins, tools, sporting goods & more!
Check with us before selling
Hodag Gun & Loan LLC
2261 Lincoln St. • Rhinelander, WI
Phone: (715) 369-4884
WANTED:
OLD STEEL
TRAPS.
608-489-4530
P49
FOR SALE: Two 2001
Polaris 550 Super Sports.
6,200 miles, excellent
condition, $1,800.00 each.
Call 715-276-6569.
P47
Big House Dirt Riot Cont. from pg. 1
Buggies, Modified & Stock Trail Rigs), along with a popular
UTV class.
"Everyone at Crandon is geared up to try out our
new Playground 4x4 off-road terrain park with these rock
crawlers from W.E. ROCK's Dirt Riot Series," said Cliff
Flannery, President of Crandon Raceway. "We've worked
hard to get the Playground ready for an event like this, and
look forward to the Mid-States Dirt Riot Series opening the
door for this new type of off-road competition here at
Crandon."
Depending on the facility, W.E. ROCK Dirt Riot Series race
courses are four to eight miles of rugged terrain where
you'll find various obstacles of rock, concrete and wood,
high-speed sections, natural climbing sections, trees and
frame/body-twisting sections. The Crandon event, which
will have the Dirt Riot vehicles running on the short course
race track as well as in the Playground, is the final event of
a three-event series that includes similar events in
Pennsylvania and Kentucky.
"Everyone at W.E. ROCK and the Dirt Riot Series
are pumped to open new courses and introduce new
spectators and new competitors to our style of off-road
racing," added W.E. Rock Events founder Rich Klein.
"Crandon is a legendary facility with roots dug deep in the
sport of off-road. Our Dirt Riot Series competitors were
beyond thrilled when we told them of our partnership with
Crandon Raceway for 2014 and beyond. So expect a big
turnout at Crandon this August 2nd and 3rd and be ready
to check out some amazing off-road action for the first time
in Crandon's new Playground off-road terrain park."
Joining the W.E. ROCK Dirt Riot Series to make
for an unforgettable weekend of off-road action at Crandon
Raceway will be the stars of MORR, racing two rounds of
TORC-sanctioned points series in all of its truck bashing,
buggy flying far out racing action ... the same local racing
legends that share the track with TORC Series PRO
division at Crandon and Bark River events)! And, as an
added bonus, the side-by-side high horsepower blower &
injected mud drag racers return to action to blast down
Crandon's famed Forest County Potawatomi Land Rush
Start straight at unheard of speeds through the dirt.
With racers and trucks/buggies, crews and offroad fans converging from all points on the U.S. map, the
small logging town of Crandon, Wisc., (population: 1,961),
is awash in activity. And since 1970 the off-road
phenomenon has played out in Crandon, celebrating 45
years and making it the nation's longest-running short
course off-road competition.
For more information on W.E. ROCK and Dirt Riot,
check out their website at: www.werocklive.com For
schedule, camping, grandstands and ticket information
please visit www.crandonoffroad.com
FOR SALE: 2006 Arctic Cat
570, fan cooled, 2,700
miles, excellent condition.
Call 715-275-4597.
P45
•Floating Dock Systems
•Wave Runner & Boat
Lifts •Call For
Appointment
•Info - Displays
EZ DOCK
8227 Cty Hwy DD,
Pickerel, WI 54465
715-484-2277
Pickerel, WI
LLC
715-219-1152
Service at your
location! No need to
load and unload your
equipment. We are just
a phone call away! 20% Off for Vets!
FOR SALE:
•2002 Polaris
Classic 550
• 2006 Ski-Doo MXZ
500SS
• 2006 Polaris 600
Classic
•2 place 10 ft. Triton
Trailer - Enclosed
Servicing all makes and
models of snowmobiles,
ATV's, snowblowers, ice
augers and all other
small engines!
Many different snowmobile and ATV accessories!
Fully Insured
SNOWMOBILERS!!!
ARCTIC CAT PARTS AND SERVICE.
WE SPECIALIZE IN ARCTIC CAT
Belts, carbides, spark plugs, hyfax, batteries
and light bulbs for most makes of snowmobiles.
KOCHENDERFER SPORTING GOODS
5280 East Silver Lake Rd. • Laona, WI
OVER 100 CROSSBOWS
IN-STOCK!!!!
ACCESSORIES
GALORE!
OVER 30 Years
Experience with
Crossbows!
Certified Bow Technician
FRIENDLY &
HONEST
SERVICE!
Adam's Mobile Marine Service
(715) 674-2403 or (715) 889-1717
Loaded and Ready
to Go with Crossbows
•Parker
•Ten Point
•Mission
& More!
PIONEER EXPRESS PAGE 15, FEBRUARY 24, 2014
Our 40th Year
GRUNST ARCHERY, INC.
3184 Boyce Dr., Rhinelander
(715) 369-1419
Mon -Fri 9-5, Sat. 9-2
Red Arrow 39th Annual
Fish A Ree was Huge Success
The Saturday and Sunday prior to Valentine's
Weekend (Feb 8-9) was cold but clear. This brought huge
crowds to our annual winter fundraiser event as folks
looked for ways to have fun despite the cold weather.
Many local and weekend snowmobilers helped support
the event while enjoying the trails which are in ideal
condition this winter.
Everyone enjoyed raffles, music, liquid
refreshments and lots of good food. Club President Joe
Kampf wants to express a great big thank you to all the
club members who worked at the event and the many
businesses who contributed prizes for our raffles. Most
every business from Wabeno to Mountain helped us and
we appreciate it…return the favor by shopping locally!
Special guest AWSC Miss Snowflake Chelsie
Popp of Tomah was our special guest and she picked all of
the raffle prize winners. First Prize $750.00 cash was
Robert Derks of Lakewood. The 2nd prize Samsung
Galaxy Note 10.1 donated by Townsend Self Storage was
Richard Hieberg of Townsend and Pat Weidner of Casco
won the won the 3rd prize 42 inch TV partially donated by
Forest TV of Lakewood. The 4th prize Ice Auger partially
donated by Pintsch's Hardware/Bait was won by Jim
Weyers of Townsend and the fifth prize shotgun donated
by Jim Griesinger was won by Joe Harrison off Little
Suamico. The 6th prize lap quilt made by Carol Renteria
was won by Patrick Weyenberg of Lakewood and Al
Ehlenbeck of Elkhart Lake won the 7th prize $300.00 cash
provided by Red Arrow. Tom Karagianis of Townsend won
the 8th prize Northwoods Print donated by First Merit
Bank of Townsend and Paul Heimmerman of Riverview
won the 9th prize rooms from Best Western of Ishpeming,
Mi. The 10th prize 100.00 gift card partially donated by
Townsend Shell was won by Mark Stehula of Appleton.
11th thru 16th Prizes were $50.00 gift certificates
donated by Mikes Supermarket, Lakewood Super Valu,
Sunset Resort and Maiden Lake Supper Club and were
won by John Royce of La Crosse, Tammy Michalkeiwicz of
Neenah, Deanna Tachhick of Breed, Vince McCabe of
Townsend and John Kasel of Green Bay. The 17th prize
$50.00 gas card from Townsend Shell was won by Lisa
Pankow of Townsend and the 18th prize. 50.00 gift
W A N T E D T O B U Y:
Browning Rifle BAR.
Excellent condition only.
W A N T E D T O B U Y:
Alaskan Ivory Carvings.
Call Jeff at 239-860-8177.
P45
Bows & Guns
WE BUY GUNS!
WANTED TO BUY: Rifles,
shotguns, handguns and
misc. ammo. Call 715-8891266.
etc43
Will buy Reloading equipment
& supplies for rifle or shotgun
Will also buy antique gunsShotguns, Rifles or Pistols
Give me a call, we might make a deal!
715-478-3660 or 715-889-0811
certificate partially donated by Mikes Supermarket was
won by Mike of Animal's Bear Trail. Finally the 19th and
20th prize 25.00 gas cards from Townsend Shell were won
by Bill Dersnoh and Bob Mengel…both of Lakewood. Dan
Hoppe of Kaukauna won the Packer Football donated by
the Packers, Dan Franzen won the money basket, Larry
Market the big basket of booze, Diane Fitzpatrick the small
basket of booze and Julie Pommering the gift certificate
from the Beach Club.
Saturday first prize fishing contest winners were
Bill Gleffe, Townsend with a 5lb, 4oz northern , Mike
Clapps, Milwaukee with a 3lb,12 oz bass and Erin
Kiszalinski, Townsend with a 1lb,14 oz panfish. No
Walleyes were registered. Other Saturday winners
included Bailey Van Eperen, Willy NanNoer, Cade Radish,
Chuck Wagner, and Rick Nitecksi. Sunday winners were
Jake Kroll of Townsend with a 5lb, 12 oz. Northern (biggest
fish of the weekend), Allen Wendt of Gillett with a 5lb, 1 oz.
Walleye and a 4lb 0oz Bass. Allen also had the biggest
pan fish at 1 lb., 4oz. making him a triple first prize
winner…wow!!! Other Sunday winners included Chad
Pantz of Townsend and Bruce Beno of Green Bay.
A best ever event profit will help the Red Arrow
Snowmobile ATV Club maintain their record of having
some of the finest snowmobile and ATV trails in this part of
the state. Aur appreciation to all who helped make this
event such a success. Red Arrow club meetings are held
on the 2nd Wednesday evenings of the month. Check our
website for meeting locations and up to date club
information.
PIONEER EXPRESS PAGE 16, FEBRUARY 24, 2014
Services
SAMZ
CONCRETE
All Types of Concrete Flat Work, Stamped & Colored
Concrete Poured Concrete Foundations
FULLY INSURED • FREE ESTIMATES
Matt Samz
8938 Balsam Lane, Argonne, WI
New Construction • Additions • Remodeling
Roofing • Storm Repair • Consulting
715-902-0296
715-649-3933
(715)484-3606 - Pickerel / (920)858-2875 - Rick Cell
(920)759-0400 - Fox Valley
General Contractor
KEVILUS
CONSTRUCTION
Argonne, Wisconsin
•New Homes •Additions
•Remodeling •Siding •Decks
•Windows •Pole Buildings
•Garages •Certified Roofing
FULLY INSURED - FREE ESTIMATES
For Inquiries Call Rob Kevilus at
715-889-1534
Come See Mark at
C.A.R.S., LLC
ROLL-RITE OVERHEAD DOORS
23Years
Years
24
of
Building
of Building
Expertise!
Expertise!
GARAGE DOORS • OPENERS
SALES • SERVICE • INSTALLATION
RESIDENTIAL & COMMERCIAL
OVER 20 YEARS EXPERIENCE
(715) PICKEREL,
216-0100
WI
Member VHBA • Licensed & Insured
Our Customers Are Our
www.ruconhomes.com
Best References!
•Tree & Shrub Trimming and Removal
•Lot & Driveway Clearing
•Free prompt estimates
•Services within 150 - miles •Emergency Storm Damage
•Fully Insured
•Portable Stump Grinder
Seils Auto Body
9375 Seils Lane •Free Estimates
Argonne, WI 54511 •Insurance Claims
(715)478-3482 •Custom Paint & Body
Ron Seils
C
•Auto Collision Repair
VISIT OUR WEBSITE! www.toddstiptop.com
715-282-5858 • 800-816-5619 Rhinelander, WI
TIRES & Rims
For ALL Vehicles - Light to Heavy Duty
Snowplows
Tire Repair, Computerized Balancing & Alignment
reative
Pitt's Bus Service Inc.
Screenprinting
& Embroidery
Tire & Brake Center
608 E. Madison St, Crandon
715-478-2780 or 715-616-2285
715-478-1075
119 N LAKE AVE, CRANDON, WI
www.creativecrandonwi.com
for Tires &
Computerized Alignment
600 E Pioneer, Crandon
(715)478-5500
BUILDER/CONTRACTOR
Sam Marvin - Owner/Contractor
Projects from start to finish
or anywhere in-between
THE GLASS COMPANY
GIVE US A BREAK
Custom Built Homes, cabins
& Additions, All types of
renovations - interior & exterior
garages, decks, roofing, siding
For a FREE Estimate Call: 715-478-1258 Office or
Commercial*Residential*Auto Glass
715-889 -1289 Cell
1045 South Superior Street* Antigo, WI 54409
715-623-3751 * Fax 715-627-4896
Toll Free 1-866-334-7673
All Types of Painting:
• Interior • Exterior •
All Types of Staining!
Residential & Commercial
Fully Insured
Home of Quality
715-478-3147
ELECTRICAL CONTRACTOR JIM LANGDON, Owner
STORAGE CITY
1832 Oconto Ave.
(715) 927-3502 Wabeno,
WI 54566
West of Crandon on Hwy. 8
(Across from the Brush Run track)
ALLRED PAINTING
"Enjoy a Fresh New
Look"
Langdon 'Lectric
Repair & service on all makes.
Complete stock of all parts. New,
used and rebuilt vacuums.
AVCO VACUUM
CLEANER CO.
STORAGE SPACE FOR BOATS, CARS, SNOWMOBILES,
FURNITURE, MOTOR HOMES AND MORE!
as
10 x 24
low
Granite Floor as
We Fix
Storm Windows
& Screens and make
Storm Windows
& Screens
$485 a year
Call us for all your storage needs!
OR 715-478-2085
1-800-698-2535
Sales and Service
Ron Platek
10 W. Keenan
715-362-3376 Rhinelander, WI
Automotive & Welding
Conway
l
al e
Sm gin
En
Dr. Becker, Optometrist
Hours: Mon., Tues., Thurs. & Fri. 8 a.m.-5 p.m.
810 5th Ave., Antigo • 715-623-3620
Universal
/
to ne
Au ari
M
ile
ob
m TV
ow d A
Sn an
ANTIGO EYE CARE CENTER
PORTABLE WELDING
Hwy 8 East
Pioneer Plaza, Crandon
y
av ip.
He qu
E
WINTER HAS ARRIVED,
BE PREPARED FOR THE
UNEXPECTED!
Heavy Duty Equipment, Diesel, Light Truck
& Domestic Repair and Maintenance
Transmission & Chassis Specialist
24 HOUR EMERGENCY SERVICE
Rick or Tina Pease
(715)889-2323
207 Railway Ln.
(715)478-2741 Crandon, WI 54520
- At the Corner of Railway Ln. & Hwy 8 -
Mon. - Fri • 8 am - 5 pm •
F
In
ully
sur
478-3617
ed
MIKE
DREHER
CONSTRUCTION
LLC
New Homes • Garages
Decks • Siding • Remodeling
5101 State Hwy. 52, Wabeno, WI 54566
Phone: 715-850-0403
Dale Gretzinger
Contractor
Experienced, Dependable & Fully Insured
Custom Built Homes - Garages
Decks - Complete Remodeling
Hardwood Floors
Services
New Homes • Additions
Remodeling • Roofs • Garages
Decks • Windows & Doors
Wood Flooring / Paneling
PIONEER EXPRESS PAGE 17, FEBRUARY 24, 2014
Northwood's Towing
& Snowplowing
24 Hour Towing • Roof Shoveling
(In Forest County & Surrounding Areas)
7961 Maple St. • Argonne
(715) 649-3387 or
(715) 902-0833
For Roofing Needs- Serving Northern Wisconsin
Josh Pieper, Contractor
FULLY INSURED • LICENSED • FREE ESTIMATES
Call Mike Kegley 715-649-3346
Cell: 715-784-0332
(715)
484-2911
Frank Erler Concrete, Inc.
Solid Poured Concrete Walls
All Types of Flat Work
• Driveways - Lot Clearing • Bulldozing • Materials
16552 Pine Ridge Rd. Townsend, WI 54175
(715) 276-6083
Free Estimates
(715) 850-0417 • Frank's Cell
(715) 850-0149 • Rob's Cell
Fully Insured
Commercial - Residential - New Construction Industrial - Electrical Repairs
(715) 784-0134
(715) 478-2618
SIEBERT
CONSTRUCTION, LLC
Argonne, WI
Home & Cabin Repair,
Remodeling, Decks,
Garages, Siding, Interior
& Exterior and More
•Fully Insured
• 10 years experience
• Free Estimates
Contact: Bruce Siebert
920-629-1119
ANTIGO
BLOCK CO.
CONCRETE &
LIGHTWEIGHT BLOCKS
PRE-CAST STEPS
CULTURED STONE®
Septic Tanks
Retaining Wall Block
Patio Blocks
Chimney Blocks
Natural Stone Veneer
Hearth & Sill Stones
Mortars • Pavers
Face Bricks
230 Milton St., Antigo
715-623-4837Betc9
P2
JACOBS EQUIPMENT
Elcho - Chain saw
supplies, bars, chains,
sprockets and rims. Used
chain saws. Repair service
available.
Prices too
reasonable to quote. See
the latest in new saws on
Saturdays, 10:00 am to 6:00
pm. Trade in accepted. 715275-3530.
P26Etc27
Keith's Carpet
Installation Service
You buy it, I'll install it!
30 Plus Years Experience
• Fully Insured •
• Free Estimates •
Call Keith at
715-674-2506 or
Cell: 262-689-6109
Dart Tournament to Benefit Hospice
(RHINELANDER, WI) – On Saturday, March 1, the
annual Chicago Style Dart Tournament, "On Target for
Quality of Life," will be held to raise funds for Ministry
Home Care's hospice program.
This fun event will be held at Bucketheads Sports
Bar & Grill, located at 46 North Brown Street in
Rhinelander. Registration will begin at 11:30 a.m., and the
tournament starts at noon.
The tournament will feature a women's
doubles/luck of the draw, men's doubles/luck of the draw;
as well as open luck of the draw to follow. Cost is $10 per
person, per tournament, and five dollars from each entry
fee will be donated to Ministry Home Care's hospice
program. In addition, there will be a raffle with prizes
donated by local businesses and plenty of action for
everyone in the community to enjoy. All raffle proceeds will
support hospice services.
While the tournament is in progress, there will be
a bake sale at Sacketts Bar, located at 66 North Brown
Street in Rhinelander, to support Ministry Home Care
hospice. Please drop off donated baked goods at Sacketts
Bar by 10:00 a.m. on Saturday, March 1.
Spectators and competitors are welcome to
attend this fun event. For more information, please contact
Trisha Schultz at 715.493.7119, or Melissa Houg at
715.361.2263.
Hospice is end-of-life care for people of all ages,
of any diagnosis, provided in the place they call home.
While the majority of hospice care occurs in private
homes, Ministry's team also supplements the care
provided by the residential staff at nursing homes,
assisted living facilities and other community-based
residences. Their expertise in pain and symptom control,
as well as their ability to provide extended support to the
family members, brings great value to these
collaborations. Medicare, Medicaid and most private
insurance companies provide some funding for this
comprehensive care, but many who need it are underinsured or uninsured. As part of their mission, Ministry
provides this important end-of-life care to anyone who is
medically eligible, regardless of their ability to pay.
JEFFREY VANCLEVE
CONSTRUCTION
•Window & Door
Replacement
•Roofing •Siding
•Decks •Additions
•Dry Wall •Re-modeling
•Cultured Stone
•Tuck Pointing
•Hardwood Flooring
•Bathrooms
•Kitchens
Fully Insured
11 Years Experience
715-784-1084
P29
GEITER
SEPTIC
PUMPING, INC.
Sanitary Lic. #18
IN BUSINESS
OVER 50 YEARS
SEPTIC TANKS
HOLDING TANKS
(715)473-3901
WABENO
621 SOUTH FOREST
CRANDON, WI 54520
MARK BROCKWAY
BUILDER
Kitchen & Bath
Remodeling
Additions
Basement Finishing
Windows & Doors
Siding
Hardwood & Laminate
Floors
Garages
Decks
Design Service Available
Over 30 Years
Experience
Licensed & Insured
715-478-2693
10% Labor Discount
for Seniors Betc13
SCRAP
METAL
We'll Pick It Up
Prompt Service - Fair Prices
Clam Truck Service • Dumpster Service
Buying Cars and Trucks
Serving Central & Northern WI for over 50 years
COUSINEAU RECYCLING
Hwy. 45 South • Antigo, WI
Toll Free 866-330-3730
C & D Restoration
Commercial, Residential,
Log Homes
Culture stone,
tuckpointing, masonry
caulking, pressure
washing, staining,
painting, chinking, roofing.
Call Dan (715)478-0756.
Betc23
LAZZERONI
PAINTING
Interior Paining
Expert
20+ Years Experience
Call for your FREE Estimate
715-889-2938
or
715-623-2372
SALE! CENTRAL
BOILER OUTDOOR
WOOD FURNACES!
Buy now and Save big!
No Interest Financing
available
25 yr. warranty
We install up to 75 miles
*We Beat Anyone's Price!
Call 715-627-COOL
today for a free estimate
or visit
www.SchulzHeat.com
See us at our new location
at Hwy 45/64
Schulz Heating &
Cooling
2238 Neva Road
Antigo, WI 54409
When you want it done
right the first time, Call Us!
Betc32
Laona Lions Peace Poster Winner
Peace Poster Chair Lion Sue Laskowski and Rebekah Nevala
The Laona Lions Club presented Rebekah
Nevala with a certificate and $50.00 for winning the 201314 Laona Lions Peace Poster Contest. Rebekah received
her award at the Lions dinner meeting held Monday
February 10th at Mudslingers .This years theme was Our
World, Our Future. Rebekah is a 6th grade student in
Laona.
Congratutions!
PIONEER EXPRESS PAGE 18, FEBRUARY 24, 2014
TheON DECK
Sushi
Pizza ,
& Mo 's
re !
PLATTER
123 N. Lake Ave
715-478-0077
200 S Lake Ave.
Soup, Song
& Sandwiches
What's New at the On Deck Platter?!
FREE!
Fish Fry Fridays - Our very own sweet, crunchy batter on 3
tender haddock fillets. Served with slaw, rye bread and choice of fries
or Yuna's delicious potato salad!
$7.95
THURSDAY NIGHTS:
35¢ CHICKEN WINGS
Available at the Bar, Only.
No Carry-outs
SATURDAY SUPPER
CLUB SPECIALS:
RIBEYE $14.95 FISH
FRY WITH FULL SALAD
BAR $11.75
Downtown
Crandon
478-1010
Robert Kimberling
Saturday,
& Accompaniment
February 22nd
will lead us in a great
1:00-3:00 p.m.
time of Fellowship
EVERYONE Get on Out, Come on In,
INVITED! Relax & Have a Great Time!
WEEKLY SPECIALS: February 24 - March 2
Mon: TLT (Turkey, Lettuce, Tomato) $5.25 • Tues: Beer Battered Chicken Hoagie $5.95
Wed: Baby Back Ribs & Chicken $8.95 • Thu: Shrimp Basket $7.95
Fri: Fish Fry $8.25... Catfish Dinner $10.95
Hotel Crandon
North Lake Avenue Downtown Crandon
715-478-2414
OPEN WED. & THURS. EVENINGS 4:30 - 8 P.M.
Breakfast: Mon. - Sat., 6 - 11 a.m.; Lunch: Mon. - Fri., 11 a.m. - 1:30 p.m.
Friday Dinner: 4-8 p.m., Saturday Dinner: 5-8 p.m., Sundays: 7 a.m. - 1 p.m.
Daily
Specials
Monday
County W, Wabeno
715-473-2129
50¢ WINGS
EVERY THURSDAY!
Hours: Wed. - Mon.
11 a.m. - Close;
Tuesday Closed
$2.00 Domestic Tappers
Wednesday
$3.00 Cheeseburgers
and $2.00 Domestic
Bottles
Thursday
$2 Rails & $2 off Beer Pitchers
Friday
$3.00 Old Fashioned
Saturday
Captain Mixers
$4 Doubles/$3 Single
$2 Vodka Mixers
Sunday
$5.00 Bloody Marys
HILL'S STILL
SUPPER CLUB & CATERING
OUR WILDLIFE SCENE INCLUDES THE 2010 RECORD
BLACK BEAR FROM BRYANT, WI!
SUNDAY CABIN FEVER
BONANZA BUFFET
from 11 a.m. - 5 p.m.
ONLY $7.95 • Senior $6.95
11 & Under $4.50 • Under 3 FREE
7 MEAT ENTREES WITH ALL THE
TRIMMINGS, DESSERT & SALAD BAR
ALSO $3 Bloody Marys,
Old Fashions & Screwdrivers!
(715) 484-3211 or 484-2100
Highway 55, Pearson • 5 miles past Mole Lake Casino
ALL FULL DINNERS INCLUDE SOUP & FULL SALAD BAR
HOURS: CLOSED TUESDAY & WEDNESDAY
Thursday - Monday 4:30; Sunday 11 a.m.
DAILY SPECIALS & FULL MENU
POST
LAKE
INN
FRIDAY
FISH FRY
• HOMEMADE PIZZAS Including:
BLT & Memphis Pulled Pork
• BROASTED CHICKEN DAILY
• AWESOME BLOODY MARYS
• FREE WIFI
SAT & SUN AT 8 A.M. FOR BREAKFAST,
WEEKDAYS AT 11 A.M. - CLOSED TUESDAYS
Located in Beautiful Downtown
Post Lake • 715-275-3611
FRIDAY
SERVING:
FISH FRYS $10
SLING IT HAPPY HOUR MON. & THURS. 4-6
Hours: Thurs. - Mon. 11 a.m. - Close
CLOSED TUESDAY & WEDNESDAY
4298 Hwy. 8, Cavour, WI • 715-674-MUDD (6833)
CALL Pioneer Express
715-478-3640
And order your CUSTOM DESIGNED
Graduation Announcements
The Simple Secret
to Great Sleep
Sweet dreams at every age
You already know that pregnancy pains and hot
flashes can keep you tossing and turning at night. But
there's a host of other, less-heralded health concerns that
may be silently interfering with your shut-eye. Here's how
to deal with these stealth sleep stealers, decade by
decade.
Your 20s and 30s: Check your thyroid
New moms usually blame sluggishness or
insomnia on the demands of parenthood, says Laura
Corio, MD, an OB-GYN in private practice in New York City
and attending physician at Mt. Sinai Medical Center. But
the true culprit may be postpartum thyroiditis, which 5 to
10 percent of women develop in the year following
delivery.
Typically, it starts with mild hyperthyroidism
(overactive thyroid), which can rev you up and set off
insomnia. After a couple of months, the condition may
swing to hypothyroidism, in which a lack of thyroid
hormone slows your body's functions, leaving you feeling
constantly tired. If you're too jumpy to sleep or have
extreme fatigue postpartum, see your doctor.
Your 20s and 30s: Say goodbye to sadness
Feeling blue can pack a double whammy when it
comes to sleep: Not only can depression cause sleep
problems such as insomnia, but some antidepressant
medications may have sleep-related side effects.
Donna Arand, PhD, clinical director of the
Kettering Sleep Disorders Center in Dayton, Ohio, and an
American Academy of Sleep Medicine spokeswoman,
recommends a two-fold treatment for insomnia with
depression: cognitive behavioral therapy, a therapeutic
approach which can be used specifically to target
insomnia and bad sleep habits, plus talk therapy aimed at
alleviating depression, adding or adjusting medication as
appropriate. (The antidepressant trazodone may help with
both insomnia and depression.)
Your 40s: Notice when you go at night
If you're waking up to pee a lot more lately, don't
assume it's a sign of aging—you might actually have a
urinary tract infection (UTI). "Decreasing estrogen levels in
the mid-40s leads to a thinning of the lining of the vagina
and bladder, which makes perimenopausal women more
prone to infection," says Dr. Corio, author of The Change
Before The Change. Corio adds that women in their early
40s are often very sexually active, which can also lead to
more UTIs. Talk to your doc if you notice a change in your
bathroom habits.
Your 40s: Deepen zzz's with exercise
Deep, restorative sleep (called delta or slowwave sleep) decreases in your late 40s, making nighttime
awakenings more frequent. Working out more may help.
Your muscles and tissues are repaired during slow-wave
sleep, Arand explains. When you give your body more
repair work to do thanks to increased physical exertion, it
responds by stepping up the amount of slow-wave sleep
you'll get.
The type of exercise that's best for triggering
slow-wave sleep isn't clear, but aim for 30 minutes of
moderate aerobic activity on most days, suggests Wilfred
R. Pigeon, PhD, director of the Sleep and
Neurophysiology Research Lab at the University of
Rochester Medical Center.
Your 50s+: Mind your meds
Prescription drugs you may be taking for high
blood pressure and cholesterol could affect your pillow
time. Diuretics (used to treat hypertension) can
necessitate nighttime visits to the bathroom, says
Annabelle Volgman, MD, a cardiologist and the medical
director of the Heart Center for Women at Rush University
Medical Center in Chicago.
If your doc says it's OK, try taking your pills in the
morning instead of the evening. And statins for
cholesterol-control can deplete your body's muscles of
co-enzyme Q10, a natural protein required for normal
functioning of muscle cells; the resulting muscle aches
might make falling asleep a challenge. If that sounds like
you, Dr. Volgman suggests asking your doctor if you might
benefit from taking a co-Q10 supplement.
Your 50s+: Saw less wood
Chronic snoring is a major sign of obstructive
sleep apnea (OSA), a disorder in which breathing briefly
stops periodically while you sleep, interrupting and
worsening the quality of your snooze time.
OSA can have some heavy consequences, such
as worsening or increasing the risk of developing
diabetes, hypertension, or stroke. "The risk of developing
sleep apnea increases after menopause when
progesterone levels drop," Arand says—possibly because
progesterone may help the muscles of the upper airway
stay open. Being overweight is also a big risk factor for
OSA (and weight gain is a common occurrence during
menopause); in some cases, slimming down can actually
cure the disorder.
http://www.health.com/health/gallery/0,,20432140_last,00.html
PIONEER EXPRESS PAGE 19, FEBRUARY 24, 2014
Are you looking for an Insurance Agency that
can shop several Companies for you?
We represent over 20 Insurance Companies
& are only a phone call away.
15626 State Hwy 32, Lakewood, WI 54138
715-276-9498
Wisconsin Invasive Species Council calls
for 2014 Invader Crusader Nominations
MADISON - The Wisconsin Invasive Species
Council is calling for nominations for the 2014 Invader
Crusader awards to take place during Invasive Species
Awareness Month in June.
Invader Crusader Awards honor Wisconsin
citizens and organizations -- both volunteer and
professional -- for significant contributions to the
prevention, management, education, or research of
invasive species that harm Wisconsin's land and waters.
The award recognizes efforts working at all scales - from
neighborhoods to statewide parks, lakes, and forests.
Last year, five awards were given to various individuals
and groups statewide for their efforts. The nomination
form can be found on the Wisconsin Invasive Species
Council website . The deadline for nominations is April 18.
2014 marks the 10th anniversary of Invasive
Species Awareness Month, a statewide effort to teach
people about invaders in our landscape and our
waterways.
"Invasive plants and animals threaten
Wisconsin's water and land by outcompeting native plants
and animals and by disrupting natural habitat
systems,"said Jennifer Feyerherm, invasive species
coordinator for the Department of Natural Resources.
"They also threaten the productivity and economic viability
of Wisconsin's agricultural lands by creating
overwhelming competition with crops. Millions of dollars,
both public and private, are spent each year for the control
of invasive plant and animal species in Wisconsin's
waters, natural areas and agriculture lands."
Invasive Species Awareness Month brings many
opportunities to help raise awareness about invasive
species as well as help control them. In addition to Invader
Crusader Awards, there will be a video contest offering
everyone the opportunity to show how easy and even fun
invasive species prevention can be. For more information,
check out: University of Wisconsin Sea Grant Institute
website. There will be events throughout Invasive Species
Awareness Month where you can learn more and lend a
helping hand. Check the Wisconsin Invasive Species
Council website to find an event.
The Wisconsin Legislature created the Wisconsin
Invasive Species Council in 2001. The Council is charged
with providing recommendations to the Wisconsin
Department of Natural Resources on invasive species
classification and allocation of funds of invasive species
control, and conducting studies of issues related to
controlling invasive species.
Northwoods Saves participates in
America Saves Week
America Saves Week (February 24 – March 1,
2014) is a national movement for promoting healthy
savings habits. Locally, Northwoods Saves, a personal
financial coaching nonprofit, encourages community
members and organizations to by making a personal
savings plan, pledging to save money or increasing
contributions to retirement accounts.
Tracy Beckman, Program and Volunteer
Coordinator explained that educators, nonprofits,
governments, civic groups, businesses and financial
institutions can help promote saving. Beckman stated,
"America Saves Week is a great opportunity to help people
in our community Set a Goal, Make a Plan, and Save
Automatically. Savers make better employees, better
customers, better borrowers and are overall less stressed
about day-to-day life."
Most Americans do not have adequate savings to
meet major emergencies, let alone accumulate enough for
retirement. The typical American household has less than
$100,000 in net wealth, including home equity and 401k
Help Wanted
EMPLOYMENT OPPORTUNITY
FO. CO. VETERAN'S SERVICE OFFICER
Forest County is currently accepting applications for the full-time
position of County Veteran's Service Officer (CVSO). The CVSO is
responsible to provide services to Veterans as outlined in Section 45 of
Wisconsin Statues.
Any interested Veteran who meets the statutory criteria for
the position is encouraged to apply. Application materials, including the
position description, eligibility criteria, and summary of benefits may be
obtained at www.co.forest.wi.gov or in the County Clerk's Office,
Forest County Courthouse, 200 E Madison Street, Crandon, Wisconsin
54520 or by calling (715) 478-2422. The deadline for applications
returned to the County Clerk is Monday, March 3, 2014 by 4:30 p.m.
WORK
WANTED
12 inches - 12-19 Lb. per sq/ft
16 inches - 18-24 Lb. per sq/ft
24 inches - 24-36 Lb. per sq/ft
We can help remove ice build-up!
ROOF SHOVELING FREE ESTIMATES
Call Dan -
715-587-1088
SEEKING
EMPLOYMENT
Looking to do cleaning
services for commercial
or private businesses or
home. Looking for
opportunity within City of
Crandon. I am interested
in full or part time.
Call 715-367-3298.
Can offer references
P45
WORK WANTED:
I SHOVEL ROOFS!
FOR MORE INFO
CALL 715-889P45
0163
accumulations. By helping to promote healthy savings
habits, Northwoods Saves hopes to help local residents
improve personal financial stability.
During America Saves Week, Northwoods Saves
will focus on youth by partnering with educators at the
grade-school level and by participating in Mad City Money
on February 25th at the Rhinelander High School.
Northwoods Saves is also offering a Teller Contest at
participating financial institutions.
Participating
institutions are First National Bank of Eagle River, Three
Lakes, Phelps and St Germain; BMO Harris Bank Eagle
River and Three Lakes; River Valley Bank Eagle River; Park
City Credit Union Rhinelander and Minocqua; Co-Vantage
Credit Union Rhinelander and Crandon. Institutions
continue to sign up so residents are asked to call for a
current list.
America Saves was founded in 2001 to encourage
Americans to save through a social marketing approach.
About 2000 organizations in over 50 local areas participate
in America Saves Week and have successfully encouraged
and assisted hundreds of thousands of savers.
America Saves Week is coordinated by America
Saves and the American Savings Education Council.
Northwoods Saves received a grant from Bank of America
Foundation in order to help promote America Saves Week.
To participate or to sign up as a saver visit
w w w. A m e r i c a S a v e s W e e k . o r g o r
www.NorthwoodsSaves.org or call 715.362.2752.
University of Wisconsin-Extension provides equal
opportunities in employment and programming, including
Title IX and ADA requirements.
478-3640
r
ou s
y
ce th u
a
l
P wi ach
ad d re cats
a n or e ou
m an y unt!
th co
ca n
Pioneer Express
PIONEER EXPRESS PAGE 20, FEBRUARY 24, 2014
From the net...
Bill & Hillary Clinton
The younger years....
Vehicles & Heavy Equipment
FOR SALE
2008 Chevy Trailblazer,
4.2 liter, 6 cylinder, 4 door,
dual heat, power driver
seat, mileage 129,559, very
good condition, asking
$7200 OBO. Please call
Tina @ 715-889-9084. P45
NEED
A
VEHICLE?
Make Tracks
To These Super
Deals!
2013 Buick LaCrosse Premium 1 - Full Size Luxury
2013 Dodge Grand Caravan SXT - Power sliding doors
and seat, Nice Color!
2013 Chevy Impala LTZ - Sunroof, heated seats, nice!
2013 Toyota Prius Hybrid - Low Miles, Great M.P.G.!
2013 Nissan Altima - 2.5S, low miles, Just In!
2013 Chevy Impala LTZ - Heated Seats, Sunroof
2013 Chevy Cruze LT - 39K, Priced Right!
2013 Ford Escape SEL - AWD, Eco Boost, Great MPG!
2012 Chevy Malibu LT - 27K Miles, One Owner!
2012 Toyota Corolla LE - Sharp Car!!
2006 Buick Terraza CXL - Local Trade, 102K Miles
1998 Toyota Tacoma - 4x4, High miles, Great Condition $5,995
www.getauto.com/clarkss
CLARK'S AUTO
SALES & SERVICE
935 Superior St., Antigo
Call the Fresh Start
Program, we know
bad things can
happen to good
people. So, here
at Fresh Start we
can tailor your
financing to fit your
needs.
WE CAN
HELP!
715-623-7314
(715) 623-6444 • 1-800-757-6444
Wanted
WANTED: All used or used
up 3 point equipment. 715623-5678 or 715-623-6707.
Petc1
Executive meeting
Cont. from pg. 1
proposed ORV park. Recently, Dick Steffes, a retired DNR
employee, has let it be known to County Forester Dave
Ziolkowski that he had a contract to buy land for Forest
County and the ATV park, and that Ziolkowski was also
dealing on some of the same property so they were
working at cross-purposes. Ziolkowski explained that he
couldn't have a contract with the county without it being
approved by the county board, but that his efforts at land
acquisitions through the County Forest offices were
approved. This brought on speculation that a contract
had been signed by Chairman Millan.
Millan was explicit in saying that he hadn't signed
a contract with Steffes. Further inquiry into the issue by
attendees of the meeting were directed at Supervisor
Albrecht, who said that he had present at a meeting
between Steffes, Millan, FCEDP Director Schuessler and
himself, but wasn't aware of any contract signing.
This issue was left hanging in the air until further
information is obtained.
Other issues were raised on the proposed park
by Supervisor Bunda, who as Chairman of the Off-road
Park Oversight Committee isn't happy about the lack of
information supplied by the Wisconsin Off Road Vehicle
Park Inc. (WORVPI). According to Bunda, a list of 14
questions was presented to WORVPI last month, and to
date, he has had no answers, which he says makes it hard
to chair an oversight committee.
Supervisor Albrecht made a surprise suggestion
when he said that Forest County should make its own
study of the proposed park even if it costs some money,
and not rely on the Ripon College study of the enterprise.
There were a number of supervisors who expressed some
positive thoughts on this proposal, and it will likely be
brought up for further consideration at following meetings.
A proposal by WORVPI to help with the ongoing
task of acquiring an ATV trail from the raceway to town was
instantly and forcefully shot down by Supervisor Chaney,
who said that no help was needed, and that work on
getting the trail was moving ahead.
Further discussion took place on the ORV park,
much of it negative, but some positive. A citizen made an
argument that there wouldn't be enough customer base to
support a park. There were some comments on how
secrecy of facts pertaining to the park are turning the
public against the idea, and there was an emotional
comment from Supervisor Kincaid supporting the park
and asking for patience on the issue.
Townsend Cribbage
The winners of the Townsend Cribbage
Tournament for Sunday, February 16, 2014 are 1st placeRay Wolff, 2nd place-Jerry Fischer and 3rd place-Jim
Bursek. The 24-hand jackpot winner was Dan Keso. Door
prize winners were Norm Wilda and Milt McPherson. The
tournament will be held on Sunday February 23rd and
March 2,9,23 and 30th. Play begins at 1:00 PM sharp at the
Townsend town hall, 16564 Elm Street , Townsend.
Everyone is welcome to play so come join us. For
more information, please call 715-276-3603.
E
F
E
R
!
E
F
R
E
!
ANY PERSONAL CLASSIFIED, UP TO THIRTY WORDS, IS ON US FOR
THE MONTHS OF FEBRUARY & MARCH - BRING YOUR CLASSIFIED
INTO THE PIONEER EXPRESS OFFICE LOCATED AT
125 N. LAKE AVE., CRANDON OR CALL 715-478-3640
COUPON
MISSING IN ARGONNE
Have you seen me? My name
is Olivia and I am missing from
my home since 1/29/14.
Female Black Great Dane
(spayed) with black & white
collar, 150lbs, very friendly.
Name is Olivia
(nickname Lovey). Reward
offered!! Please, if you see
me, contact Scott at 715-8894504 or Erin at 715-889-2404.
Or someone at Main Street
Ed's at 715-649-3810. P45
Bring in this coupon to enjoy $5.00
OFF on a full groom spa treatment
for your dog and/or cat
Offer good one time only for EACH dog
and/or cat in your family.
Cash refund will not be given for services
less than $5.00 NO EXCEPTIONS
Full Service
Salon Certified, Experienced
Professional
(715) 478-2129 • Crandon, WI
DOG BOARDING
& GROOMING
FARRIER!
Call Steve Packard.
Professional, reliable hoof
care. References
available upon request.
715-630-0298.
P47
Large Cageless Kennels • Outdoor Runs
Heated & Air Conditioned • Exercise Yards
FOR SALE: 6 African
Geese, 4 Rouen Ducks, 6
Guinea Hens, make offer.
Call 715-478-3500.
P45
Linda Mihalko • 715-902-1351 • Argonne, WI
From the Net
Railroad overlook
PIONEER EXPRESS PAGE 21, FEBRUARY 24, 2014
CUSTOMIZED
GRADUATION
INVITATIONS
NOW IS THE
TIME TO ORDER!
Pets, Pet Care
& Farm
PERSONALIZED
ECONOMICAL
UNIQUE
PIONEER EXPRESS
715-478-3640
PIONEER EXPRESS PAGE 22, FEBRUARY 24, 2014
Wabeno Junior High Forensics a Success!
NORTHWOODS
INSURANCE AGENCY
100 S. Lake Ave., Crandon WI 54520
715-478-2215 or 1-800-365-6258
Students at Wabeno Jr. High recently participated in two levels of Forensics
competition. Forensics is a public speaking activity in which students choose from a
variety of categories to demonstrate their skills. Public speaking has long been
considered a dreaded task and one that many people avoid. Forensics allows kids the
opportunity to overcome fear, hone their skills, and prepare for future speaking activities.
Events range from play acting and poetry to radio announcing and demonstration. It is a
challenging activity that builds teamwork, and a lot of credit goes out to those who try it.
Students at Wabeno participated in the Level 1 contest held in Crandon on February 1st. A
solid performance by the students earned them the opportunity to perform at the Level 2
contest held in Tomahawk on February 10th. All of the students performed well and
earned blue ribbons for their efforts. Congratulations to the team on a job well done.
Still Smoking
207 N. Lake Ave.
Crandon
GET YOUR
E-CIGARETTE
TODAY!
We are your local E-Cig
headquarters.
Rechargeable, refillable
starter kits at only
$10.00! Over 50 flavors
available!
Still Smoking
on Main Street
Crandon, between
Duck's and Pickers.
(715) 478-4059
Betc22
PIONEER EXPRESS PAGE 23, FEBRUARY 24, 2014
Submitted by Kate Schultz
Helpful Hints To Become Healthier
Lift Blue Moods
You're already: Eating breakfast. A morning
meal cuts your risk of the blues by 75 percent, Harvard
University research shows. The reason: Eating in the
morning signals the brain to produce mood-lifting
serotonin.
Even Better: Adding a banana. The fruit is rich in
compounds that amp up serotonin output, boosting
happiness and focus for 4 hours, say British researchers.
Dodge Diabetes
You're already: Brushing your teeth. Taking
steps to avoid gum disease can slash your diabetes risk.
That's because when gum inflamation spreads body-wide, it
triggers insulin resistance.
Even Better: Starting without toothpaste.
Brushing with only water for 1 minute before adding
toothpaste removes 6 percent more plaque, say Amsterdam
scientists. That's because toothpaste makes bristles less
abrasive.
Ease Aches and Pains
You're already: Taking fish oil. Dozens of
studies, including one at the University of Pittsburgh
Medical Center, prove that supplementing with 2,000 mg of
anti-inflammatory fish oil each day can cut the risk or back,
joint, head and muscle pain in half.
Even Better: Supplementing at dinnertime.
Studies at the University of Texas show that fish oil is 22
percent more effective at fighting pain when taken in the
evening as opposed to earlier in the day, since the body is
best able to absorb oils while you sleep.
Banish Belly Fat
You're already: Making most meals. Homemade
dishes are less likely to be packed with trans fats, which fuel
belly fat. That means eating at home most of the time can
help you trip 16 pounds from your belly in 7 months, asserts
Howard M. Shapiro, M.D., author of Dr. Shapiro's Picture
Perfect Weight Loss.
Even Better: Spicing them up. Antioxidant-rich
ginger, basil, cloves and other spices switch on genes that
burn belly fat. Stanford University researchers say that helps
women flatten their tummies 18 percent faster than those
who skip the seasonings.
Outsmart Colds and Flu
You're already: Washing your hands. Canadian
research shows that sudsing up 7 times a day can cut your
risk of colds, flu and sinus infections by 75 percent.
Even Better: Using a nail brush, too. In a study
published in The American Journal of Surgery, even diligent
hand-washing didn't make a dent in the germ count under
the nails. But follow-up research suggests that scrubbing
with a nail brush can eradicate these germy troublemakers
in as little as 15 seconds.
TOPIC OF THE MONTH
"Color Meals Red"
MEAL SCHEDULE
CRANDON, WABENO, LAONA
Monday - February 24 - Ham, breakfast potatoes, fruit,
pancakes with praline topping, applesauce
Monday - March 3 - Chicken Ala King, brown rice, tossed
salad, biscuit, peach cobbler
CRANDON, WABENO, LAONA
Tuesday - February 25 - Beef pot roast, mashed potatoes,
Monte Carlo blend vegetables, sunflower flax bread, ice
cream
Tuesday - March 4 - Pork chop, parsley potatoes, herbed
carrots, wheat bread, spice cake
CRANDON
Wednesday - February 26 - Tuna salad sandwich on whole
wheat, cucumber salad, fruit, brownie
Wednesday - March 5 - Spaghetti w/meatballs & sauce,
tossed salad, fruit, garlic bread, chocolate chip cookie
LAONA
Thursday - February 27 - Tuna salad sandwich on whole
wheat, cucumber salad, fruit, brownie
Thursday - March 6 - Spaghetti w/meatballs & sauce,
tossed salad, fruit, garlic bread, chocolate chip cookie
ARMSTRONG CREEK
Tuesday - February 25 - Beef pot roast, mashed potatoes,
Monte Carlo blend vegetables, sunflower flax bread, ice
cream -BINGOTuesday - March 4 - Pork chop, parsley potatoes, herbed
carrots, wheat bread, spice cake -MUSICALVIN
Thursday - February 27 - Lasagna noodles, salad, pears,
garlic bread, birthday cake
Thursday - March 6 - Pork, potatoes, sauerkraut,
pineapple, dinner rolls, bars
WABENO HOME DELIVERED MENU
MONDAY, TUESDAY same as CRANDON
THURSDAY same as LAONA
Please register with Commission on Aging - 715-478-3256
Crandon site manager Pat Raml is at 715-478-0742
(home) or 715-478-3040 (site). Serving at 12:00 p.m. On
Monday, Tuesday and Wednesday.
Alvin site manager Florence Kostka at 715-5454063 (home) or 715-545-3323 (site). Meal served at 4:30 p.m.
on Thursday.
Laona site manager Peggy Alderton at 715-8893116 (cell). Meal served at 12:00 p.m. Monday, Tuesday and
Thursday.
Wabeno site manager Diana Reed at 715-850-0626
(home) or 715-473-4333 (site). Meal served at 11:30 a.m. on
Monday and Tuesday. Home delivered on Monday, Tuesday
and Thursday.
Armstrong Creek site manager Jill Criel at 715-3363178 (home) or 715-336-2218 (site). Meal served at 11:30
a.m. on Tuesday.
NEED MEDICAL EQUIPMENT SUCH AS A WALKER
CANE, WHEEL CHAIR ETC.?
AGI Healthcare of Crandon has a loan closet with
these items and more. For a minimal rental
fee, you may use these items for as long as
you need them.
If you are in need, call Rita at 715-478-3324
AGI Healthcare is now offering meals to dine in or
take out. Advanced notice and payment
would be expected.
If interested, call Casey at 715-478-3324
Better-for-you Sweets
These all-natural treats are made with real sugar
instead of health-harming high-fructose corn syrup.
What frightens us most at this time of year are the
candy displays lurking around every corner. Those
goodies are hard to resist, but we know we should steer
clear since most are loaded with the Frankenstein of
sugars: high-fructose corn syrup. This man made
sweetener has been shown to hinder memory and
increase diabetes risk. Even scarier: In a Princeton
University study, subjects consuming a diet rich in highfructose corn syrup gained 48 percent more weight than
those favoring foods made with table sugar. So this year
we've set a goal of satisfying our cravings with sweets
made from real sugar and other natural ingredients. Bring
on the candy bowl!
Today we have found a healthier offering than
those peanut-buttery sweets: Funley's delicious peanut
butter sticks in the mud chocolate clusters. In addition to
being free of man-made sugar, these crunchy, creamy
nibbles contain half the sugar grams of our former pick.
Now that's sweet!
Our secret weapon for instant pep: sour
gummies. When we start to drag, it takes just one tangy
bite to give our senses a jolt. Plus, science shows that a
small dose of real sugar triggers the release of feel-good
brain chemicals to perk us up. But when we saw that our
go-to treat is laced with high-fructose corn syrup, trans
fats and artificial colors, our mood faded fast. Luckily, we
found Surf Sweets Sour Worms, at health-food stores.
These tart chews are made with organic sugar and real
fruit juice - and each serving has 100 percent of the daily
value of stress-relieving vitamin C. Why stop at one bite?
Apples, vanilla ice cream, lattes...a hit of caramel
ups the yum factor of just about everything. And when
chewy nuggets of this confection are combined with
chocolate, we're in sweet heaven. We found out that our
favorite chocolate-caramel bites are made with highfructose corn syrup, though, so we ditched them in favor of
a new discovery: Natural Nectar Nugget Milk Chocolate
Caramel Cups. This treat is sweetened with real cane
sugar, and the combination of rich chocolate and sea Salt
delivers magnesium, a mineral shown to balance blood
sugar. Perfection!
BUYING NOW
Aluminum
Cans!
49¢/lb
Complete Autos.................$190/GT
Auto Bodies......................$165/GT
Tin/Appliances..................$140/GT
No. 1 Copper......................$2.50/lb
No. 2 Copper......................$2.30/lb
Misc. Aluminum...................$.43/lb
Yellow Brass......................$1.53/lb
Clean Copper Radiators.....$1.54/lb
Aluminum Rims...................$.53/lb
Clean Cast Brake Drums
& Rotors.........................$240/GT
Prices Subject to
Change Without Notice
Automotive
Batteries
$5.80 Minimum
or 20¢ lb.
D.J.'S RECYCLING
Hours: Mon. - Fri., 7:30 a.m.-3:00 p.m.; Sat. 8 - Noon
6516 Cty G, Cavour, WI, 715-649-3223
Lakewood Area Chamber
Sock Drive
The Lakewood Area Chamber of Commerce held
a Sock Drive recently to benefit local children. Over 10
dozen pairs of warm socks were collected and distributed
to the Wabeno Elementary School and the Riverview Park
and Recreation Department Skate Rink.
Pictured here are Chamber Board Member Gigi
Bartels of Coldwell Banker Bartels Real Estate and Chip
Maule, Chamber President.
PIONEER EXPRESS PAGE 24, FEBRUARY 24, 2014
Coats for NewCap
PIONEER
PRINTING
Downtown Crandon
See us for
your printing
needs!
We do most
types of printing
at competitive
rates
478-3640
Representatives of the Mission/Evangelism
Committee of Forest Larger Parish (Lakewood, Laona,
and Wabeno) are pictured with the 27 winter coats
purchased for the clients of NewCap in Crandon for
distribution Fall of 2014. Kohls East of Green Bay helped
the shoppers to maximize their bargain hunting.
Pictured are Suzanne Bell, Joanne Gipp, Pam
Mcculloch, Linda Mentz and Karen Prueter.