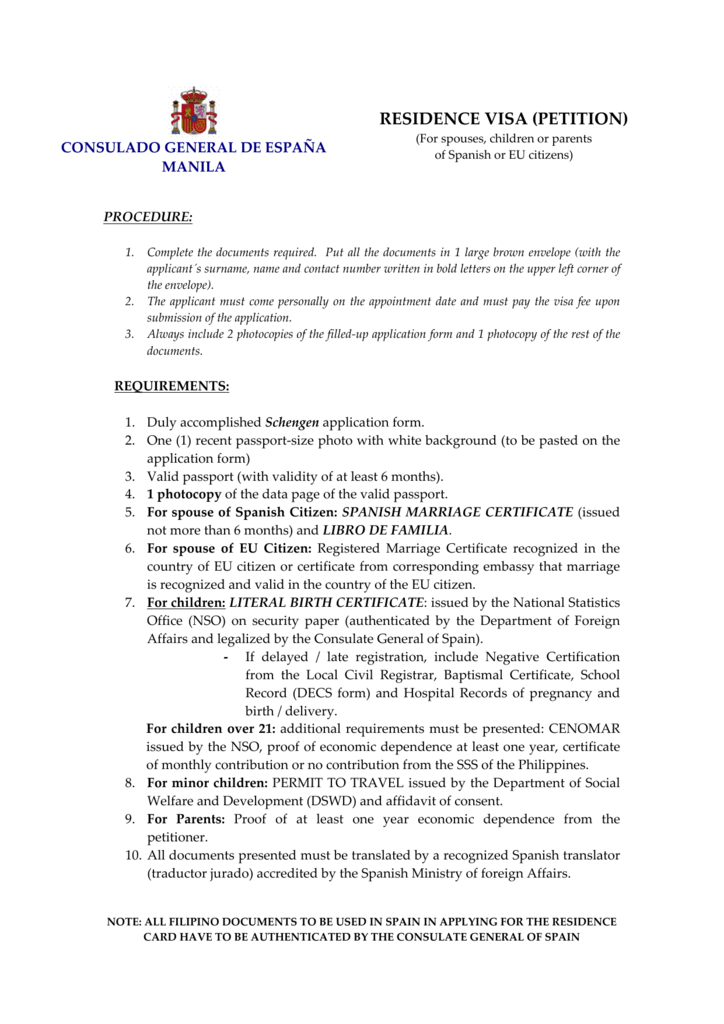 CONSULADO GENERAL DE ESPAÑA MANILA RESIDENCE VISA (PETITION) (For spouses, children or parents of Spanish or EU citizens) PROCEDURE: 1.
2.
3.
Complete the documents required. Put all the documents in 1 large brown envelope (with the applicant´s surname, name and contact number written in bold letters on the upper left corner of the envelope). The applicant must come personally on the appointment date and must pay the visa fee upon submission of the application. Always include 2 photocopies of the filled‐up application form and 1 photocopy of the rest of the documents. REQUIREMENTS: 1. Duly accomplished Schengen application form. 2. One (1) recent passport‐size photo with white background (to be pasted on the application form) 3. Valid passport (with validity of at least 6 months). 4. 1 photocopy of the data page of the valid passport. 5. For spouse of Spanish Citizen: SPANISH MARRIAGE CERTIFICATE (issued not more than 6 months) and LIBRO DE FAMILIA. 6. For spouse of EU Citizen: Registered Marriage Certificate recognized in the country of EU citizen or certificate from corresponding embassy that marriage is recognized and valid in the country of the EU citizen. 7. For children: LITERAL BIRTH CERTIFICATE: issued by the National Statistics Office (NSO) on security paper (authenticated by the Department of Foreign Affairs and legalized by the Consulate General of Spain). ‐ If delayed / late registration, include Negative Certification from the Local Civil Registrar, Baptismal Certificate, School Record (DECS form) and Hospital Records of pregnancy and birth / delivery. For children over 21: additional requirements must be presented: CENOMAR issued by the NSO, proof of economic dependence at least one year, certificate of monthly contribution or no contribution from the SSS of the Philippines. 8. For minor children: PERMIT TO TRAVEL issued by the Department of Social Welfare and Development (DSWD) and affidavit of consent. 9. For Parents: Proof of at least one year economic dependence from the petitioner. 10. All documents presented must be translated by a recognized Spanish translator (traductor jurado) accredited by the Spanish Ministry of foreign Affairs. NOTE: ALL FILIPINO DOCUMENTS TO BE USED IN SPAIN IN APPLYING FOR THE RESIDENCE CARD HAVE TO BE AUTHENTICATED BY THE CONSULATE GENERAL OF SPAIN FROM PETITIONER 1. Petitioner´s original Spanish literal birth certificate (CERTIFICADO LITERAL DE NACIMIENTO) issued by the Spanish Civil Registry. 2. Certified true copy of petitioner´s D.N.I. (Documento Nacional de Identidad). 3. Certified true copy of petitioner´s Spanish Passport. 4. Notarized document confirming the petition of the EU citizen. 5. For non‐Spanish EU CITIZENS: Document with NIE number issued by the Spanish authorities that proves his/her residence in Spain. NOTE: OTHER DOCUMENTS NOT INDICATED MAY BE REQUIRED * * * * Important Reminder:
FOR SECURITY REASONS, CELLPHONES AND BAGS ARE NOT ALLOWED INSIDE THE CONSULATE
GENERAL. THEREFORE IT IS ADVISED NOT TO CARRY ANY DURING YOUR VISIT. IN CASE
VISITORS COME WITH A BAG OR CELLPHONE TO THE CONSULATE PREMISES, THEY WILL HAVE TO
LEAVE THEM OUTSIDE. THE CONSULATE GENERAL WILL NOT BE HELD LIABLE FOR ANY LOSS OF
OR DAMAGE TO PERSONAL BELONGINGS.