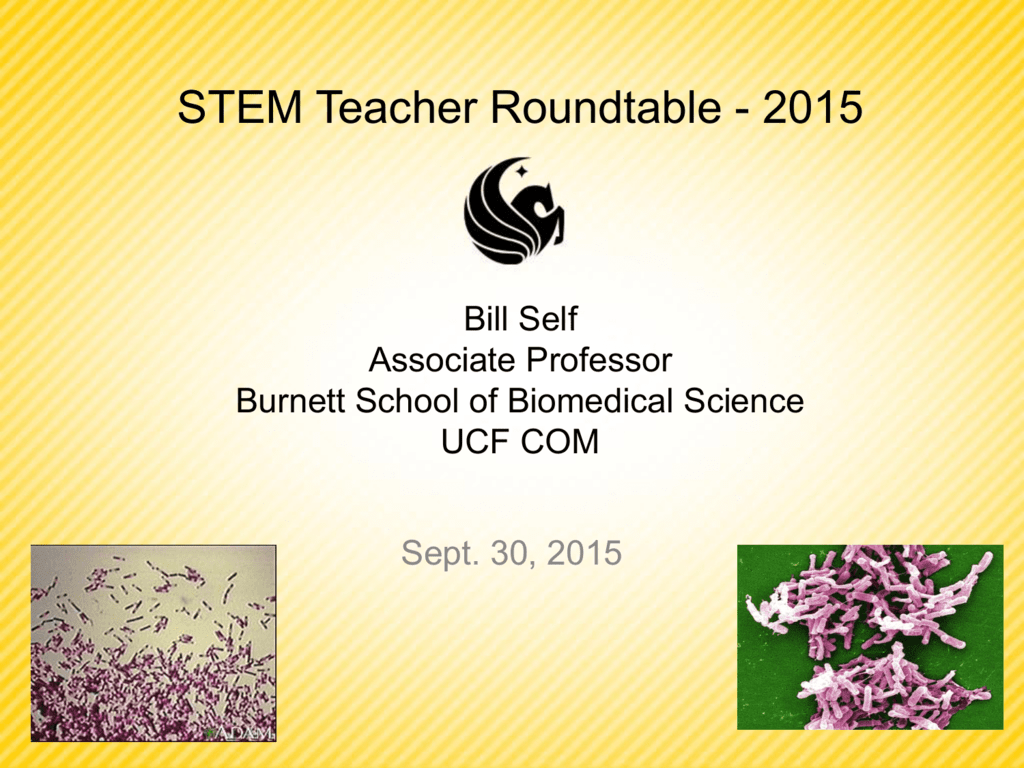 STEM Teacher Roundtable - 2015
Bill Self
Associate Professor
Burnett School of Biomedical Science
UCF COM
Sept. 30, 2015
Career background
• Merritt Island High School, Class of 1989
• B.S. Microbiology – University of Florida 1993
• 1.5 years at FDOACS – Food Microbiologist
Marianne – married June 1995
• Ph.D. Microbial Physiology – University of Florida 1998
Zach – born in Gainesville Sept 1998
• Post Doc (Staff Fellow), Laboratory of Biochemistry, NIH (Bethesda, MD)
Ryan (2000), Matthew and Michael (2002)
• Came to UCF Fall 2003
• Promoted and granted tenure in 2009
• I-STEM Fellow in 2014-2015
• Currently also a Provost Faculty Fellow (2015-2016)
Current projects – Bacteriology
• Expertise in metalloenzymes (hydrogenases, formate
dehydrogenases, selenoenzymes) in model organisms like E.
coli – primary function in energy metabolism
• Current projects on metalloenzymes in pathogens –
Clostridium difficile – glycine and D-proline reductase
('breathing amino acids')
• Also screening compounds to identify novel potential
antimicrobials to treat C. difficile
• Collaboration with Dr. Kyle Rohde on metalloprotein in Mtb
Research – Nanoscience
• Studying the catalytic activities of cerium oxide nanoparticles
(with Dr. Seal, Nanoscience Technology Center)
• These nanoparticles have been shown to have interesting
'anti-inflammatory' effects in test tube (in vitro), in cultured
human cell models and in animal models
• Now working on building 'biomaterials' that have an antiinflammatory coating to prevent inflammation after insertion
• Currently collaborating with Dr. Dwight Towler (M.D., Ph.D.)
from Univ. of Texas Southwestern Medical School
A note on Janet Dowding, Ph.D.
• Met Janet at a Science Chair meeting for an outreach program
for Scripps Florida
• Entered Ph.D. program in Biomedical Science after teaching at
OCPS for a number of years (M.S. in Colorado)
• Studied the reactivity of cerium oxide nanoparticles on
reactive nitrogen species
• Currently a tenure track Assistant Professor at Miami Dade
College
STEM Education interests
• Recruited into EXCEL program by Dr. Cynthia
Young in 2006 – still contributing as mentor
and speaker in courses
• Also contributing faculty for COMPASS
program – mentor and speaker
• I-STEM fellow in 2014-2015 based on interests
developed in EXCEL and COMPASS
I-STEM proposals
1.) Collaboration between Valencia College,
Education Testing Service (ETS) and UCF
2.) BRIDGES proposal between Valencia College
and UCF (pending NIH)
3.) SEPA (Science Education Partnership Award)
between OCPS and UCF – pending NIH)
Thank You
Questions?