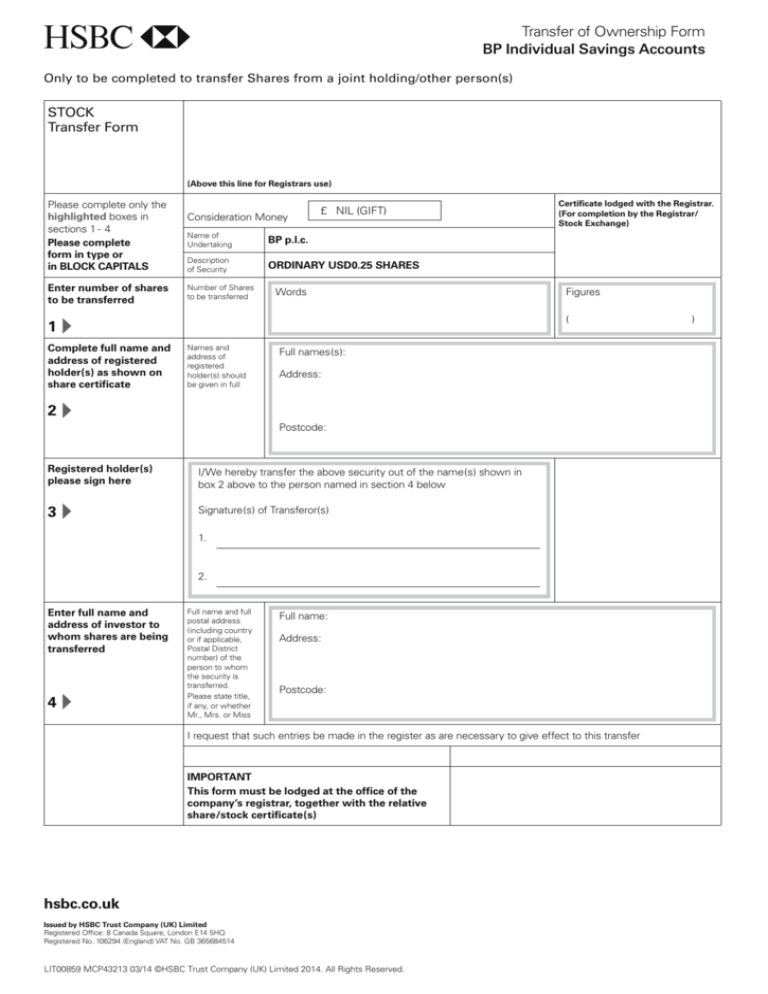 Transfer of Ownership Form
BP Individual Savings Accounts
Only to be completed to transfer Shares from a joint holding/other person(s)
STOCK
Transfer Form
(Above this line for Registrars use)
Please complete only the
highlighted boxes in
sections 1 - 4
Please complete
form in type or
in block capitals
Enter number of shares
to be transferred
Consideration Money
£ NIL (GIFT)
Name of
Undertaking
BP p.l.c.
Description
of Security
ORDINARY USD0.25 SHARES
Number of Shares
to be transferred
Words
Figures
()
1}
Complete full name and
address of registered
holder(s) as shown on
share certificate
Certificate lodged with the Registrar.
(For completion by the Registrar/
Stock Exchange)
Names and
address of
registered
holder(s) should
be given in full
2}
Full names(s):
Address:
Postcode:
Registered holder(s)
please sign here
I/We hereby transfer the above security out of the name(s) shown in
box 2 above to the person named in section 4 below
3}
Signature(s) of Transferor(s)
1.
2.
Enter full name and
address of investor to
whom shares are being
transferred
4}
Full name and full
postal address
(including country
or if applicable,
Postal District
number) of the
person to whom
the security is
transferred.
Please state title,
if any, or whether
Mr., Mrs. or Miss
Full name:
Address:
Postcode:
I request that such entries be made in the register as are necessary to give effect to this transfer
IMPORTANT
This form must be lodged at the office of the
company's registrar, together with the relative
share/stock certificate(s)
hsbc.co.uk
Issued by HSBC Trust Company (UK) Limited
Registered Office: 8 Canada Square, London E14 5HQ
Registered No. 106294 (England) VAT No. GB 365684514
LIT00859 MCP43213 03/14 ©HSBC Trust Company (UK) Limited 2014. All Rights Reserved.