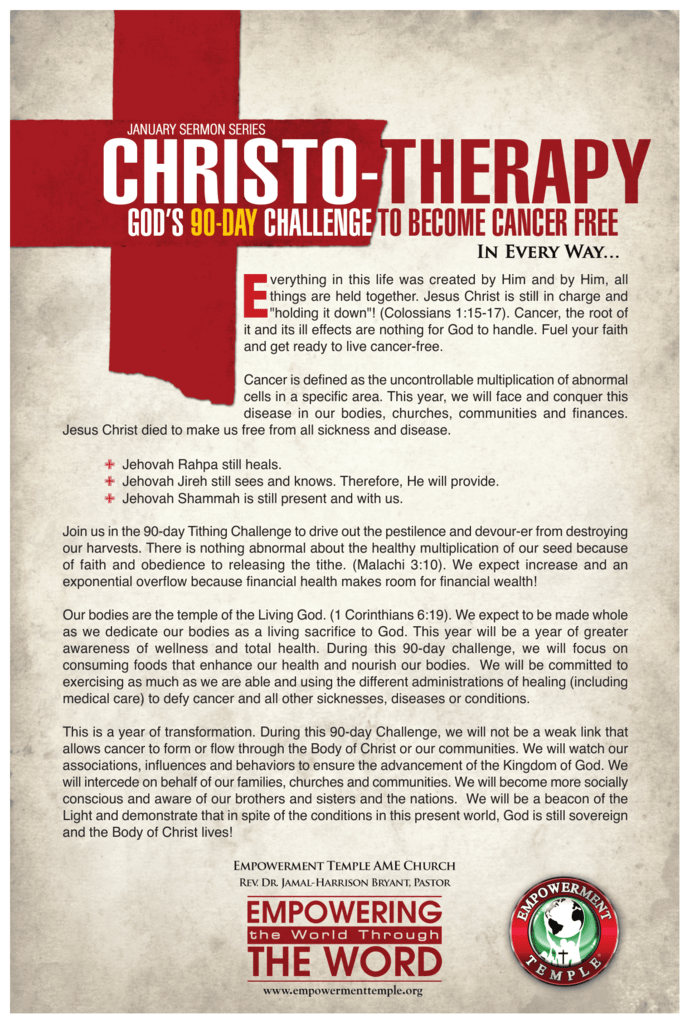 verything in this life was created by Him and by Him, all
things are held together. Jesus Christ is still in charge and
"holding it down"! (Colossians 1:15-17). Cancer, the root of
it and its ill effects are nothing for God to handle. Fuel your faith
and get ready to live cancer-free.
E
Cancer is defined as the uncontrollable multiplication of abnormal
cells in a specific area. This year, we will face and conquer this
disease in our bodies, churches, communities and finances.
Jesus Christ died to make us free from all sickness and disease.
✙ Jehovah Rahpa still heals.
✙ Jehovah Jireh still sees and knows. Therefore, He will provide.
✙ Jehovah Shammah is still present and with us.
Join us in the 90-day Tithing Challenge to drive out the pestilence and devour-er from destroying
our harvests. There is nothing abnormal about the healthy multiplication of our seed because
of faith and obedience to releasing the tithe. (Malachi 3:10). We expect increase and an
exponential overflow because financial health makes room for financial wealth!
Our bodies are the temple of the Living God. (1 Corinthians 6:19). We expect to be made whole
as we dedicate our bodies as a living sacrifice to God. This year will be a year of greater
awareness of wellness and total health. During this 90-day challenge, we will focus on
consuming foods that enhance our health and nourish our bodies. We will be committed to
exercising as much as we are able and using the different administrations of healing (including
medical care) to defy cancer and all other sicknesses, diseases or conditions.
This is a year of transformation. During this 90-day Challenge, we will not be a weak link that
allows cancer to form or flow through the Body of Christ or our communities. We will watch our
associations, influences and behaviors to ensure the advancement of the Kingdom of God. We
will intercede on behalf of our families, churches and communities. We will become more socially
conscious and aware of our brothers and sisters and the nations. We will be a beacon of the
Light and demonstrate that in spite of the conditions in this present world, God is still sovereign
and the Body of Christ lives!
90 Day War
On Cancer
Grains (oats, wheat, bran)
Greens (broccoli, cabbage, spinach, cauliflower, Brussels sprouts, asparagus)
Garlic (instead of salt, boost immune system)
Legumes (lentils, red beans, chickpeas)
Spring Water (not tapped because of contaminants)
Juice (beet, carrot, celery, cabbage)
Fruit (apples, cantaloupe, cherries, grapes)
No Grease (fried food)
No Caffeine
The information contained on www.empowermenttemple.org (the "Site") is provided for informational purposes
only and is not meant to substitute for advice from your doctor or health-care professional. This information should
not be used for diagnosing or treating a health problem or disease, or prescribing any medication. Always seek
the advice of a qualified health-care professional regarding any medical condition.