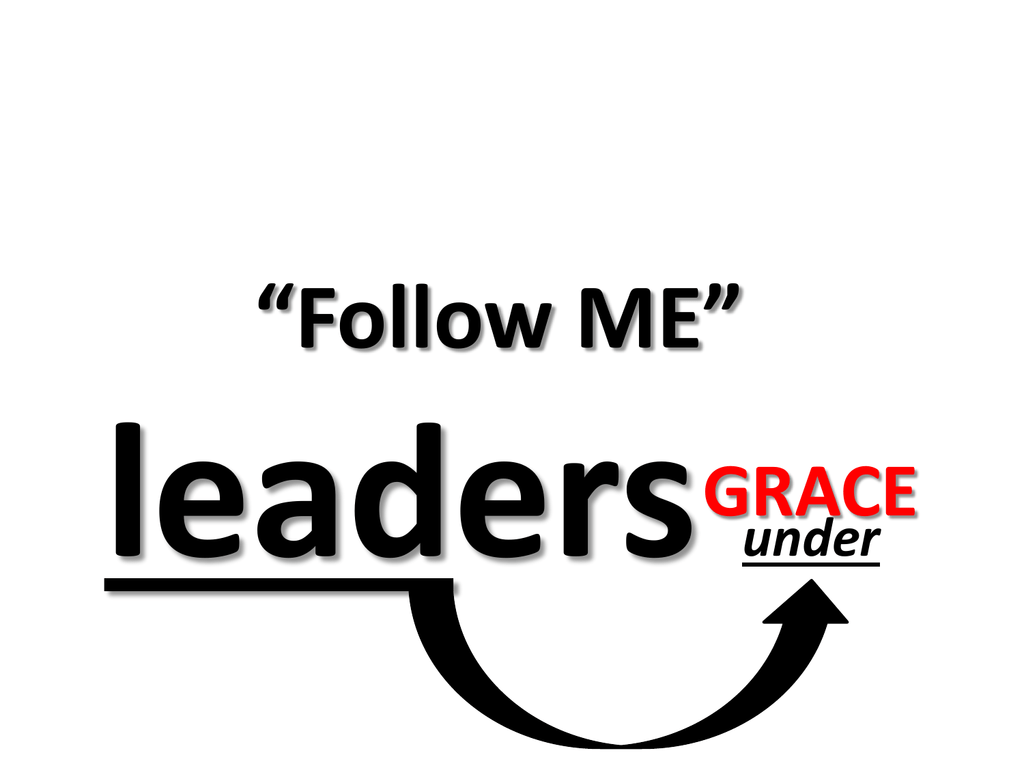 "Follow ME"
leaders
GRACE
under
Matthew 8:8-13
• Only speak a word, and my servant will be healed.
• For I also am a man under authority, having soldiers under
me. I say to this one, 'Go,' and he goes; and to another,
'Come,' and he comes; and to my servant, 'Do this,' and
he does it."
• When Jesus heard it, He marveled, and said to those who
followed, "Assuredly, I say to you, I have not found such great
faith, not even in Israel!
• And I say to you that many will come from east and west, and sit
down with Abraham, Isaac, and Jacob in the kingdom of heaven.
• But the sons of the kingdom will be cast out into outer darkness.
There will be weeping and gnashing of teeth."
• Then Jesus said to the centurion , "Go your way; and as you have
believed, so let it be done for you." And his servant was healed
that same hour.
The Leadership Equation
LORD (LEADER)
Follower/Leader
Follower(s)/Leader(s)
LORD
E M P OW E R M E N T
A LIGNMENT
D IRECTIONAL
E FFECTUAL
R ELATIONAL
S E R V A NT H O O D
Leadership is influence nothing more, nothing less.
John Maxwell
Leadership is influence,
the ability of one person to influence others
Oswald Sanders
Spiritual Leadership
The central task of leadership is influencing
God's people toward God's purposes.
Robert Clinton
The Making of a Leader
Spiritual leadership is
moving people on to God's agenda.
Henry & Richard Blackaby
Spiritual Leadership
Leadership is Influence
In-fluere
into – to flow
Influentia
inflow
(back burner)
Psalms 23:1-3
The LORD is my shepherd;
I shall not want.
He makes me to lie down in green pastures;
He leads me beside the still waters.
He restores my soul;
He leads me in the paths of righteousness
for His name's sake.
Psalms 25:4-5
Show me Your ways, O LORD;
Teach me Your paths.
Lead me in Your truth and teach me,
For You are the God of my salvation;
On You I wait all the day.
Psalms 139:23-24
Search me, O God, and know my heart;
Try me, and know my anxieties;
And see if there is any wicked way in me,
And lead me in the way everlasting.
2 Corinthians 2:14
Now thanks be to God
who always leads us
in triumph in Christ.
3 Basic Categories of Influence
Principle-Centered Leadership, Stephen R. Covey
• Model by example (others see)
– The Word became flesh…dwelt among us, and we beheld His glory (John 1:14)
– Christ lived as "an example , that you should follow His steps" (1 Pet 2:22)
• Build caring relationships (others feel)
– Christ came "to redeem those who were under the law, that we might receive
the adoption as sons. And because you are sons, God has sent forth the Spirit
of His Son into your hearts, crying out, "Abba, Father!' (Gal 4:5-6)
• Mentor by instruction (others hear)
– All Scripture is given by inspiration of God, and is profitable for doctrine, for
reproof, for correction, for instruction in righteousness, that the man of God
may be complete, thoroughly equipped for every good work. (2 Tim 3:16-17)
"Follow ME"
• "Follow Me , and I will make you fishers of men." (Matt 4:19)
• "Follow Me , and let the dead bury their own dead." (Matt 8:22)
• He saw a man named Matthew sitting at the tax office. And He said to him, "Follow
Me." (Matt 9:9)
• "If anyone desires to come after Me, let him deny himself, and take up his cross,
and follow Me." (Matt 16:24)
• "If you want to be perfect, go, sell what you have and give to the poor, and you will
have treasure in heaven; and come, follow Me ." (Matt 19:21)
• Jesus wanted to go to Galilee, and He found Philip and said to him, "Follow Me ."
(John 1:43)
• "My sheep hear My voice, and I know them, and they follow Me." (John 10:27-28)
• "If anyone serves Me, let him follow Me." (John 12:26)
• "Where I am going you cannot follow Me now, but you shall follow Me afterward."
(John 13:36)
• He spoke, signifying by what death he would glorify God. And when He had spoken
this, He said to him, "Follow Me." (John 21:19)
• "If I will that he remain till I come, what is that to you? You follow Me." (John
21:22)
1 Corinthians 12:3
No one can say that
Jesus is Lord
except by the Holy Spirit.
the influence of
JEHOVAH TSIDKENU
JEHOVAH JIREH
JEHOVAH RAPHA
YHWH
JEHOVAH NISSI
JEHOVAH SABOATH
JEHOVAH RAPHA
LORDJEHOVAH
JEHOVAH SHALOM
ADONAI
JEHOVAH SHAMMAH
YAHWEH
I AM
JEHOVAH ROHI
I AM THAT I AM
Are You A Follower?
Are You A Follower…
Of The LORD?
Where He Leads Me
Ernest W. Blandley
Where He leads me I will follow;
Where He leads me I will follow;
Where He leads me I will follow;
I'll go with Him…with Him
All the way.
I Want To Be A Follower Of Christ
Pastor Joseph Harris
I want to be a follower of Christ.
I want to be one of His disciples.
I want to walk in the newness of life,
so let me be a follower of Christ.
What do I have to do?
What do I have to say?
How do I have to walk each and every day?
Tell me what does it cost, just to carry the cross?
So let me be a follower of Christ.