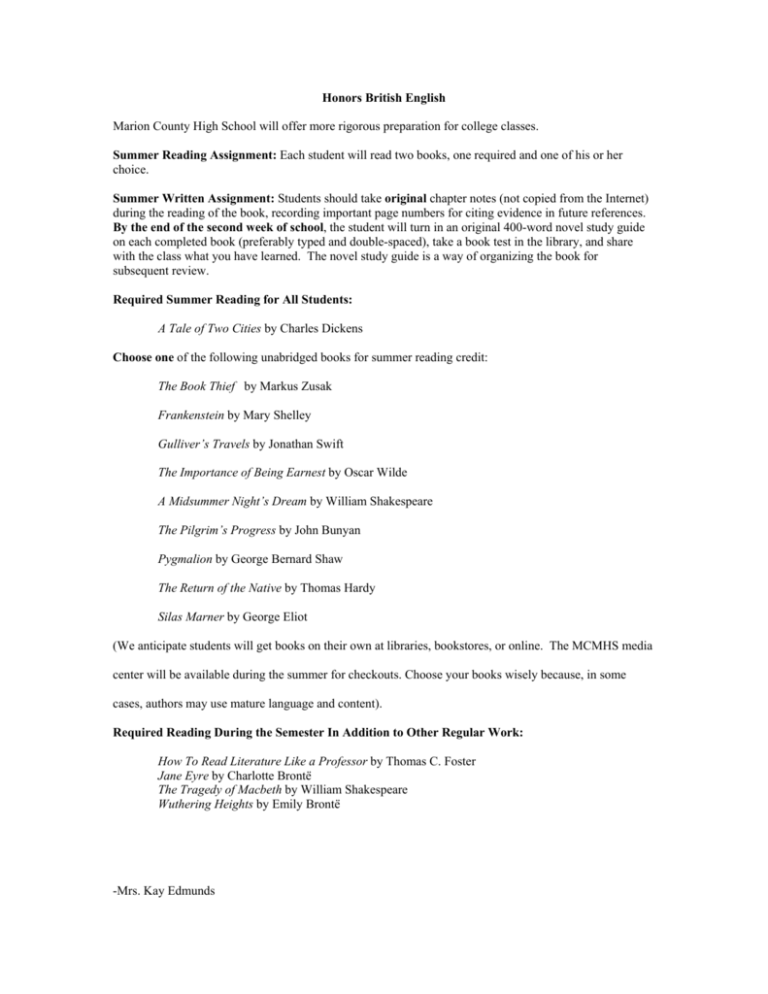 Honors British English
Marion County High School will offer more rigorous preparation for college classes.
Summer Reading Assignment: Each student will read two books, one required and one of his or her
choice.
Summer Written Assignment: Students should take original chapter notes (not copied from the Internet)
during the reading of the book, recording important page numbers for citing evidence in future references.
By the end of the second week of school, the student will turn in an original 400-word novel study guide
on each completed book (preferably typed and double-spaced), take a book test in the library, and share
with the class what you have learned. The novel study guide is a way of organizing the book for
subsequent review.
Required Summer Reading for All Students:
A Tale of Two Cities by Charles Dickens
Choose one of the following unabridged books for summer reading credit:
The Book Thief by Markus Zusak
Frankenstein by Mary Shelley
Gulliver's Travels by Jonathan Swift
The Importance of Being Earnest by Oscar Wilde
A Midsummer Night's Dream by William Shakespeare
The Pilgrim's Progress by John Bunyan
Pygmalion by George Bernard Shaw
The Return of the Native by Thomas Hardy
Silas Marner by George Eliot
(We anticipate students will get books on their own at libraries, bookstores, or online. The MCMHS media
center will be available during the summer for checkouts. Choose your books wisely because, in some
cases, authors may use mature language and content).
Required Reading During the Semester In Addition to Other Regular Work:
How To Read Literature Like a Professor by Thomas C. Foster
Jane Eyre by Charlotte Brontë
The Tragedy of Macbeth by William Shakespeare
Wuthering Heights by Emily Brontë
-Mrs. Kay Edmunds
Novel Study Guide
Student_________________
Title ___________________
Author _________________
Course _________________
Date Due _______________
1. SETTING – Give the time, place, and general background of the story. Think not
only of clocks, but also of calendars, seasons, and historical context.
2. CHARACTERS –List significant characters, state the page on which they are
introduced, and give a brief physical or psychological description of each.
Analyze the effects of the author's choices in language (e.g., imagery, figurative
language, etc.) for describing the main character. Consider the character's place in
society, relationships or conflicts with others, and distinctive development over
time.
3. PLOT – For works of fiction, list the major events of the story only and do not go
into very much detail. For works of nonfiction, study the structure (e.g.
chronological order, order of importance, flashback, etc.). Explain how the
structure affects the overall message or argument in the book.
4. THEME – State the point or message of the story. There may be more than one.
5. QUOTES – Identify several important quotes from the story that are memorable
and explain why.
6. VOCABULARY – Look up the definitions of ten to twenty unfamiliar words or
those used in a different context.
7. DISCUSSION – Think of ways you can relate the story to your life
circumstances. Look for important literary elements used in this work like
symbolism, irony, satire, or allusions, etc. Consider the author's purpose, tone,
and intended audience.