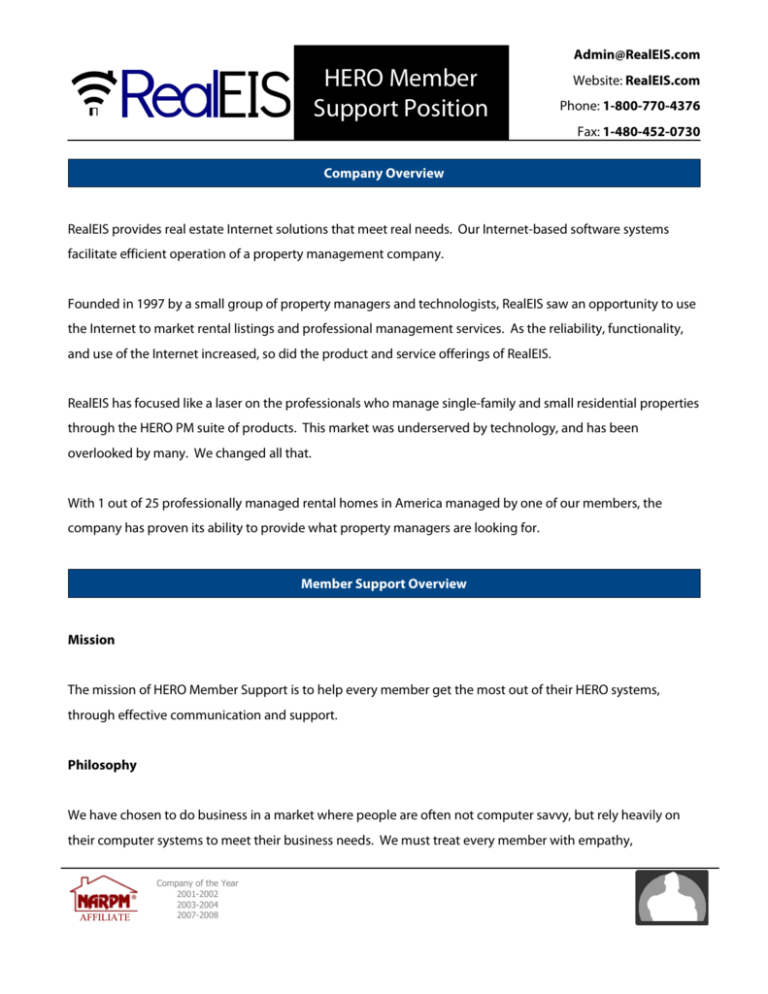 HERO Member
Support Position
Admin@RealEIS.com
Website: RealEIS.com
Phone: 1-800-770-4376
Fax: 1-480-452-0730
Company Overview
RealEIS provides real estate Internet solutions that meet real needs. Our Internet-based software systems
facilitate efficient operation of a property management company.
Founded in 1997 by a small group of property managers and technologists, RealEIS saw an opportunity to use
the Internet to market rental listings and professional management services. As the reliability, functionality,
and use of the Internet increased, so did the product and service offerings of RealEIS.
RealEIS has focused like a laser on the professionals who manage single-family and small residential properties
through the HERO PM suite of products. This market was underserved by technology, and has been
overlooked by many. We changed all that.
With 1 out of 25 professionally managed rental homes in America managed by one of our members, the
company has proven its ability to provide what property managers are looking for.
Member Support Overview
Mission
The mission of HERO Member Support is to help every member get the most out of their HERO systems,
through effective communication and support.
Philosophy
We have chosen to do business in a market where people are often not computer savvy, but rely heavily on
their computer systems to meet their business needs. We must treat every member with empathy,
AFFILIATE
Company of the Year
2001-2002
2003-2004
2007-2008
understanding the magnitude of frustration and business disruption that computer systems can cause. Our
business model mandates that we keep our members happy and using our systems effectively, in order to
continue renewal income.
Objectives
We work to proactively anticipate member needs, and address them with effective support and informational
tools. We react quickly to member requests, providing them answers to their problems with a high degree of
accuracy and low likelihood of misinterpretation. We strive to turn our members into raving fans by
supporting and helping them on our systems to the fullest extent possible.
Member Support Representatives answer members' questions, provide information for solving members'
problems, perform simple editing changes to members' websites, and assess members' satisfaction and
possible upgrade needs. Member Support team members set projects and follow ups for those inquiries that
are beyond the scope of Member Support and have a responsibility to see that the members' receive a timely
response. The Member Support Team has the most opportunities for personal contact with members and can
help set the tone for a member's long term satisfactory relationship with our company and product.
As Member Support, we work as a team. Each one of us has responsibilities, but ultimately the team is
responsible to make everything happen.
Member Support Position Overview
Duties and Responsibilities

Answers technical support requests directly from members and through other team members.

Performs follow ups to ensure problems are resolved to members' satisfaction.

Provides information and training to help members get the most our of their systems.

Other duties as required.
Selection and Expectations
The ideal candidate for this position will:

Work in unity with the RealEIS team.

Have a high level of respect for others on the team, members, prospects, and vendors.

Have a strong desire to learn and improve in areas of process and procedure, technical knowledge,
and industry knowledge.

Communicate effectively in plain English with both members and the RealEIS team.

Work well inside the parameters set by RealEIS.

Work well from home and/or unsupervised.

Be willing and confident in making suggestions and recommendations for improvement.

Pitch in and help where needed, even if it falls outside of stated responsibilities.

Have or obtain a basic knowledge of computers and the Internet; including the HERO PM systems and
chosen tools.

Have or obtain knowledge about the real estate and property management industry.
Required Tools

A computer connected to high speed Internet.

The HERO Member Services system (provided) for internal communication and project management.
Compensation
This is a contract position, and you will be required to complete an independent contractor agreement.
Member Support compensation is structured to provide an incentive for handling support requests well.
Support Representatives are awarded points for successfully performing the requirements of the position,
which are multiplied by the level of the position. In addition to earning points, each member of the RealEIS
team earns an $9-10 per hour override. It is expected that an effective Member Support Team Member will
earn from $12 to $18 per hour.
Written Interview
Please answer these questions in an email and send them to Admin@RealEIS.com.
1) There are times when customers don't need to know everything. Can you tell me about a time when
you didn't tell the whole story.
2) To correct or prevent a problem, sometimes someone may need to take responsibility or the project
won't be completed. Can you give me an example of a time when you took this kind of action?
3) Are you the type of person for whom things never seem to fall through the cracks?
4) In your last job, what was the most interesting thing about the people with whom you worked? Can
you tell me about one or two specific individuals?
5) Many companies and individuals like to describe themselves as customer oriented. Have you ever had
occasion to make a special effort when the end result would benefit the customer?
6) Think of a recent technical problem that you faced. Did you set out to solve it with a hypothesis or did
you try a battery of solutions to find the best answer? Could you tell me about this experience?
7) Some people seem to have a natural ability to easily explain things to others through the use of
analogies or examples. Do you find that you have this kind of ability? Have others told you that you
get information across clearly? Can you give an example of when you did that?
8) Some people plan everything ahead of time while other people like spontaneity. Which best describes
you and why?
9) Have you ever made up your mind about something too quickly? How did you know it was too quickly
and what were the results? What would you do differently if you were in a similar situation again? (If
no) How have you avoided such situations?
10) Some people eagerly await the latest versions of software and study information as soon as it
becomes available. Is this true of you? Can you give me a specific example?