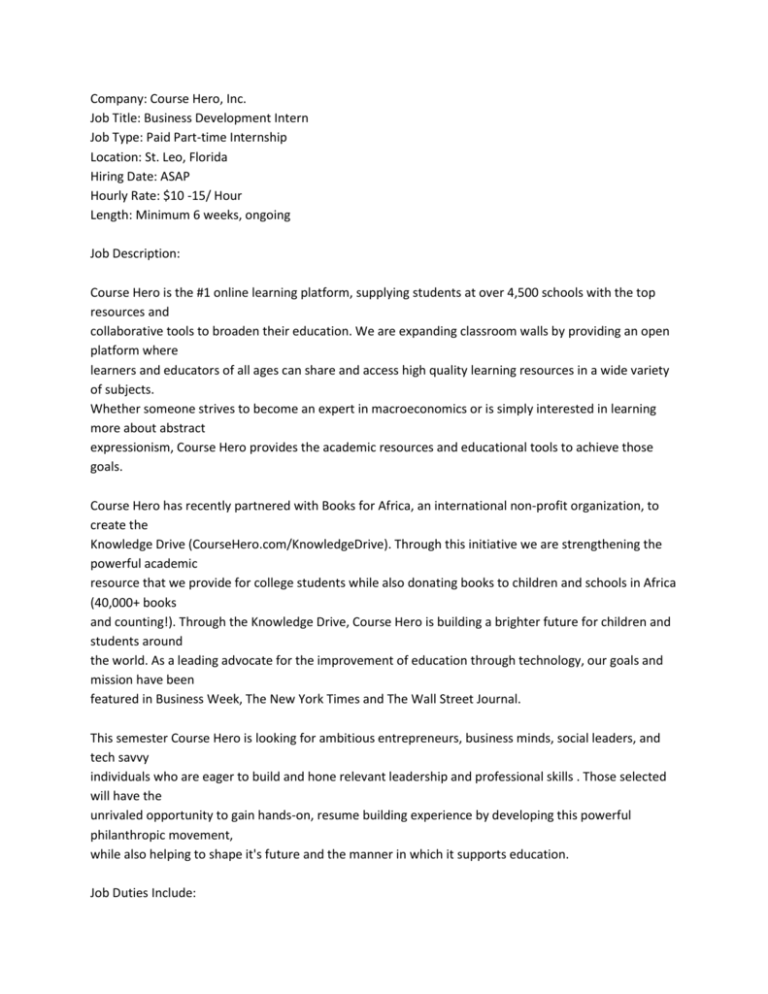 Company: Course Hero, Inc.
Job Title: Business Development Intern
Job Type: Paid Part-time Internship
Location: St. Leo, Florida
Hiring Date: ASAP
Hourly Rate: $10 -15/ Hour
Length: Minimum 6 weeks, ongoing
Job Description:
Course Hero is the #1 online learning platform, supplying students at over 4,500 schools with the top
resources and
collaborative tools to broaden their education. We are expanding classroom walls by providing an open
platform where
learners and educators of all ages can share and access high quality learning resources in a wide variety
of subjects.
Whether someone strives to become an expert in macroeconomics or is simply interested in learning
more about abstract
expressionism, Course Hero provides the academic resources and educational tools to achieve those
goals.
Course Hero has recently partnered with Books for Africa, an international non-profit organization, to
create the
Knowledge Drive (CourseHero.com/KnowledgeDrive). Through this initiative we are strengthening the
powerful academic
resource that we provide for college students while also donating books to children and schools in Africa
(40,000+ books
and counting!). Through the Knowledge Drive, Course Hero is building a brighter future for children and
students around
the world. As a leading advocate for the improvement of education through technology, our goals and
mission have been
featured in Business Week, The New York Times and The Wall Street Journal.
This semester Course Hero is looking for ambitious entrepreneurs, business minds, social leaders, and
tech savvy
individuals who are eager to build and hone relevant leadership and professional skills . Those selected
will have the
unrivaled opportunity to gain hands-on, resume building experience by developing this powerful
philanthropic movement,
while also helping to shape it's future and the manner in which it supports education.
Job Duties Include:
-Contributing to a variety of Knowledge Drive facets, from product design to development.
-Organize meetings and presentations on the Knowledge Drive.
-Brainstorm ideas with the Knowledge Drive team to effectively reach the community.
-Participate in the Course Hero Professional Development Program for weekly lessons on
communication, time
management, and resume building.
-Work with Program Directors to enhance specific features and elements of Course Hero
Qualifications:
-Social, energetic, and outgoing
-Interested in business, communications, technology, and or entrepreneurship
-Involved with multiple groups at their university, leadership experience is a plus!
-Expert in social media tools like Facebook and Twitter
-Well spoken, outgoing, creative, and confident
How to Apply:
All applicants must be current students. If you are confident that you'd be a powerful addition to the
team, please send
your resume to Vicki Kuan at Vkuan@CourseHero.com. We're excited to see what you have to offer!