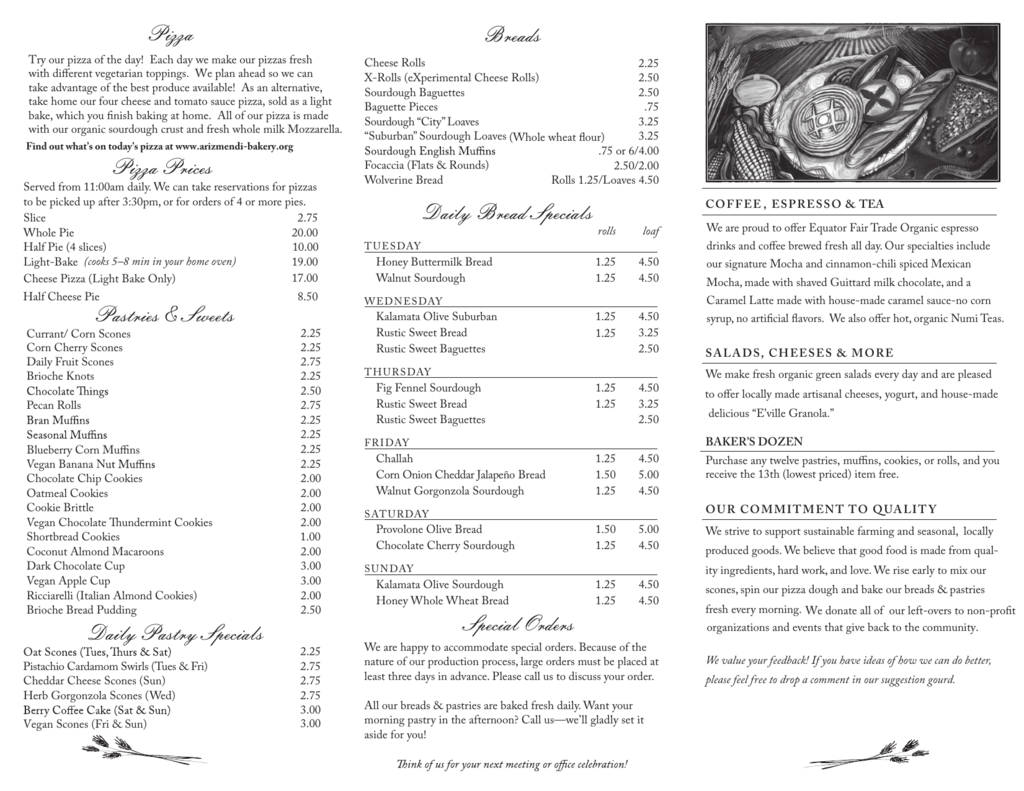 Pizza
Breads
Try our pizza of the day! Each day we make our pizzas fresh
with different vegetarian toppings. We plan ahead so we can
take advantage of the best produce available! As an alternative,
take home our four cheese and tomato sauce pizza, sold as a light
bake, which you finish baking at home. All of our pizza is made
with our organic sourdough crust and fresh whole milk Mozzarella.
Find out what's on today's pizza at www.arizmendi-bakery.org
Pizza Prices
Served from 11:00am daily. We can take reservations for pizzas
to be picked up after 3:30pm, or for orders of 4 or more pies.
Slice
2.75
Whole Pie
20.00
Half Pie (4 slices)
10.00
Light-Bake (cooks 5–8 min in your home oven)
19.00
17.00
Cheese Pizza (Light Bake Only)
Half Cheese Pie
8.50
Currant/ Corn Scones
Corn Cherry Scones
Daily Fruit Scones
Brioche Knots
2.25
2.25
2.75
2.25
2.50
2.75
2.25
2.25
2.25
2.25
2.00
2.00
2.00
2.00
1.00
2.00
3.00
3.00
2.00
2.50
Pastries & Sweets
Pecan Rolls
Blueberry Corn Muffins
Vegan Banana N
Chocolate Chip Cookies
Oatmeal Cookies
Cookie Brittle
Vegan Chocolate Thundermint Cookies
Shortbread Cookies
Coconut Almond Macaroons
Dark Chocolate Cup
Vegan Apple Cup
Ricciarelli (Italian Almond Cookies)
Brioche Bread Pudding
Daily Pastry Specials
Pistachio Cardamom Swirls (Tues & Fri)
Cheddar Cheese Scones (Sun)
Herb Gorgonzola Scones (Wed)
Vegan Scones (Fri & Sun)
2.25
2.75
2.75
2.75
3.00
3.00
Cheese Rolls
2.25
X-Rolls (eXperimental Cheese Rolls)
2.50
Sourdough Baguettes
2.50
Baguette Pieces
.75
Sourdough "City" Loaves
3.25
"Suburban" Sourdough Loaves (Whole wheat flour)
3.25
.75 or 6/4.00
Focaccia (Flats & Rounds)
2.50/2.00
Wolverine Bread
Rolls 1.25/Loaves 4.50
Daily Bread Specials
T U ES DAY
Honey Buttermilk Bread
Walnut Sourdough
W ED N ES DAY
Kalamata Olive Suburban
Rustic Sweet Bread
Rustic Sweet Baguettes
T H U R S DAY
Fig Fennel Sourdough
Rustic Sweet Bread
Rustic Sweet Baguettes
F R I DAY
Challah
Corn Onion Cheddar Jalapeño Bread
Walnut Gorgonzola Sourdough
S AT U R DAY
Provolone Olive Bread
Chocolate Cherry Sourdough
S U N DAY
Kalamata Olive Sourdough
Honey Whole Wheat Bread
Special Orders
CO F F EE , E S P R E S S O & TEA
rolls
loaf
1.25
1.25
4.50
4.50
1.25
1.25
4.50
3.25
2.50
We are proud to offer Equator Fair Trade Organic espresso
drinks and coffee brewed fresh all day. Our specialties include
our signature Mocha and cinnamon-chili spiced Mexican
Mocha, made with shaved Guittard milk chocolate, and a
Caramel Latte made with house-made caramel sauce-no corn
syrup, no artificial flavors. We also offer hot, organic Numi Teas.
S A L A D S , C H EE S E S & M O R E
We make fresh organic green salads every day and are pleased
1.25
1.25
4.50
3.25
2.50
1.25
1.50
1.25
4.50
5.00
4.50
Purchase any twelve pastries, muffins, cookies, or rolls, and you
receive the 13th (lowest priced) item free.
1.50
1.25
5.00
4.50
We strive to support sustainable farming and seasonal, locally
1.25
1.25
4.50
4.50
We are happy to accommodate special orders. Because of the
nature of our production process, large orders must be placed at
least three days in advance. Please call us to discuss your order.
All our breads & pastries are baked fresh daily. Want your
morning pastry in the afternoon? Call us—we'll gladly set it
aside for you!
to offer locally made artisanal cheeses, yogurt, and house-made
delicious "E'ville Granola."
BAKER'S DOZEN
O U R CO M M I T M EN T T O Q UA LI T Y
produced goods. We believe that good food is made from quality ingredients, hard work, and love. We rise early to mix our
scones, spin our pizza dough and bake our breads & pastries
fresh every morning. We donate all of our left-overs to non-profit
organizations and events that give back to the community.
We value your feedback! If you have ideas of how we can do better,
please feel free to drop a comment in our suggestion gourd.