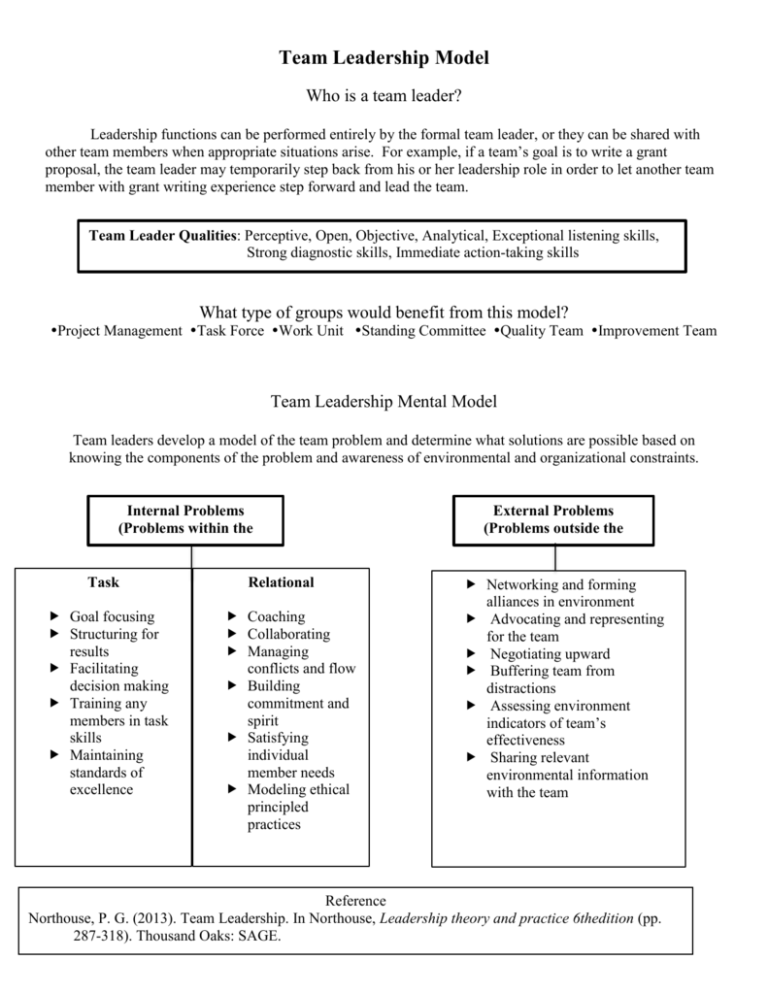 Team Leadership Model
Who is a team leader?
Leadership functions can be performed entirely by the formal team leader, or they can be shared with
other team members when appropriate situations arise. For example, if a team's goal is to write a grant
proposal, the team leader may temporarily step back from his or her leadership role in order to let another team
member with grant writing experience step forward and lead the team.
Team Leader Qualities: Perceptive, Open, Objective, Analytical, Exceptional listening skills,
Strong diagnostic skills, Immediate action-taking skills
What type of groups would benefit from this model?
Project Management Task Force Work Unit Standing Committee Quality Team Improvement Team
Team Leadership Mental Model
Team leaders develop a model of the team problem and determine what solutions are possible based on
knowing the components of the problem and awareness of environmental and organizational constraints.
Internal Problems
(Problems within the
team)
Task
 Goal focusing
 Structuring for
results
 Facilitating
decision making
 Training any
members in task
skills
 Maintaining
standards of
excellence
Relational
 Coaching
 Collaborating
 Managing
conflicts and flow
 Building
commitment and
spirit
 Satisfying
individual
member needs
 Modeling ethical
principled
practices
External Problems
(Problems outside the
team)
 Networking and forming
alliances in environment
 Advocating and representing
for the team
 Negotiating upward
 Buffering team from
distractions
 Assessing environment
indicators of team's
effectiveness
 Sharing relevant
environmental information
with the team
Reference
Northouse, P. G. (2013). Team Leadership. In Northouse, Leadership theory and practice 6thedition (pp.
287-318). Thousand Oaks: SAGE.