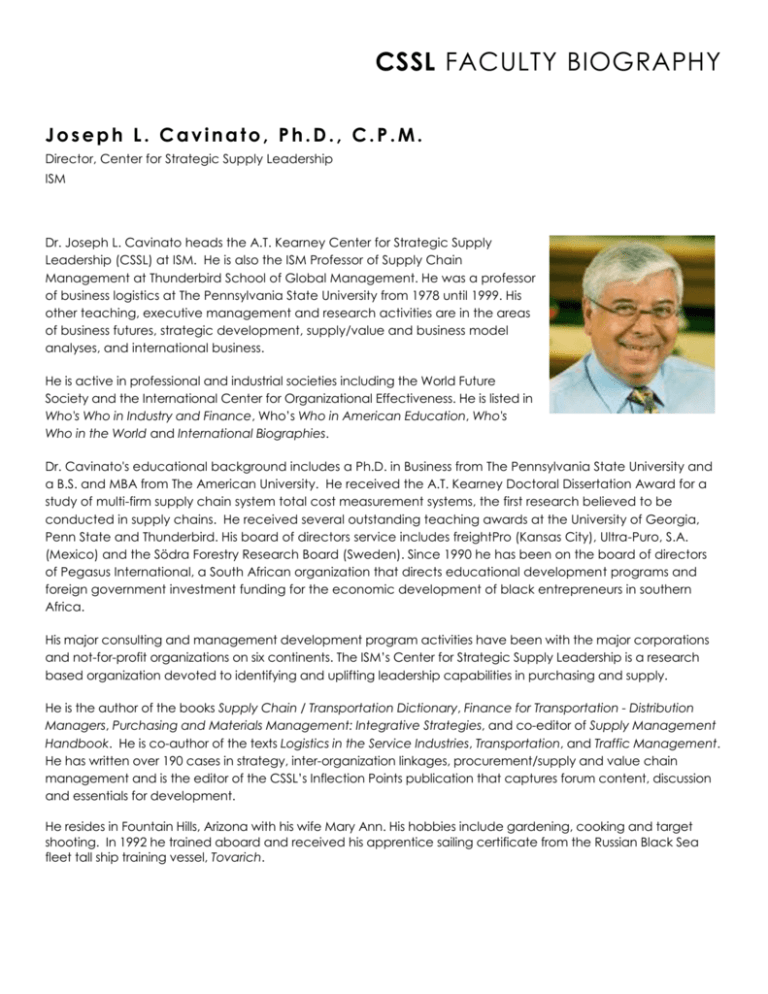 CSSL FACULTY BIOGRAPHY
Joseph L. Cavinato, Ph.D., C.P.M.
Director, Center for Strategic Supply Leadership
ISM
Dr. Joseph L. Cavinato heads the A.T. Kearney Center for Strategic Supply
Leadership (CSSL) at ISM. He is also the ISM Professor of Supply Chain
Management at Thunderbird School of Global Management. He was a professor
of business logistics at The Pennsylvania State University from 1978 until 1999. His
other teaching, executive management and research activities are in the areas
of business futures, strategic development, supply/value and business model
analyses, and international business.
He is active in professional and industrial societies including the World Future
Society and the International Center for Organizational Effectiveness. He is listed in
Who's Who in Industry and Finance, Who's Who in American Education, Who's
Who in the World and International Biographies.
Dr. Cavinato's educational background includes a Ph.D. in Business from The Pennsylvania State University and
a B.S. and MBA from The American University. He received the A.T. Kearney Doctoral Dissertation Award for a
study of multi-firm supply chain system total cost measurement systems, the first research believed to be
conducted in supply chains. He received several outstanding teaching awards at the University of Georgia,
Penn State and Thunderbird. His board of directors service includes freightPro (Kansas City), Ultra-Puro, S.A.
(Mexico) and the Södra Forestry Research Board (Sweden). Since 1990 he has been on the board of directors
of Pegasus International, a South African organization that directs educational development programs and
foreign government investment funding for the economic development of black entrepreneurs in southern
Africa.
His major consulting and management development program activities have been with the major corporations
and not-for-profit organizations on six continents. The ISM's Center for Strategic Supply Leadership is a research
based organization devoted to identifying and uplifting leadership capabilities in purchasing and supply.
He is the author of the books Supply Chain / Transportation Dictionary, Finance for Transportation - Distribution
Managers, Purchasing and Materials Management: Integrative Strategies, and co-editor of Supply Management
Handbook. He is co-author of the texts Logistics in the Service Industries, Transportation, and Traffic Management.
He has written over 190 cases in strategy, inter-organization linkages, procurement/supply and value chain
management and is the editor of the CSSL's Inflection Points publication that captures forum content, discussion
and essentials for development.
He resides in Fountain Hills, Arizona with his wife Mary Ann. His hobbies include gardening, cooking and target
shooting. In 1992 he trained aboard and received his apprentice sailing certificate from the Russian Black Sea
fleet tall ship training vessel, Tovarich.