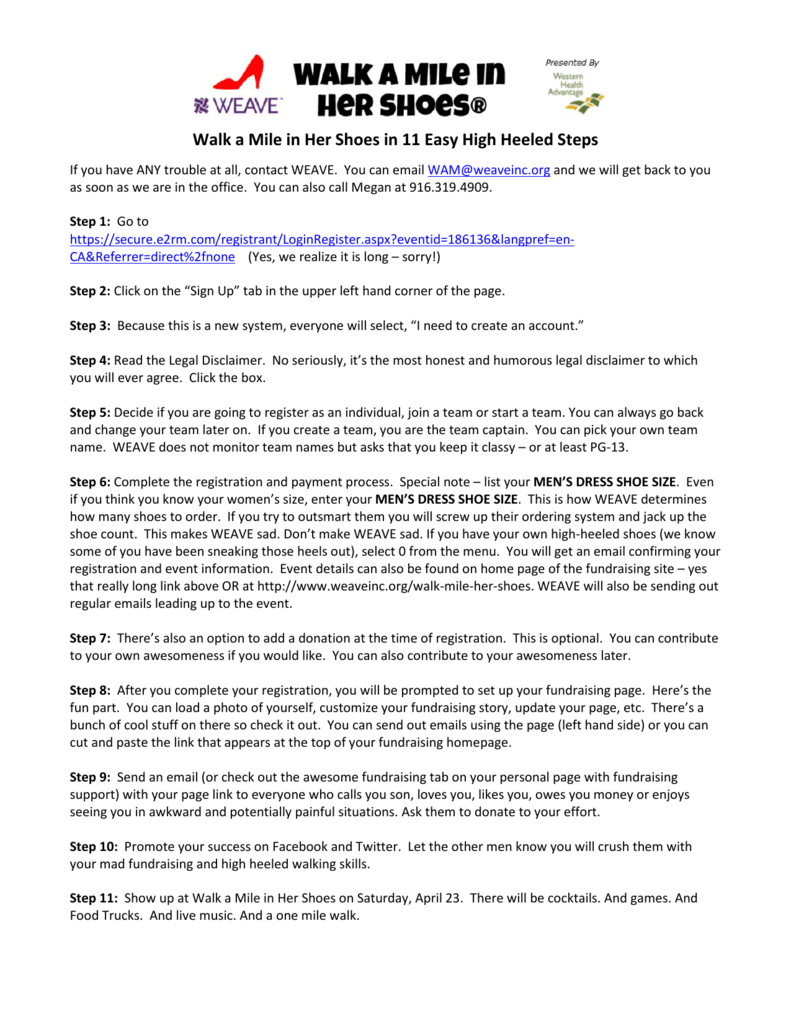 Walk a Mile in Her Shoes in 11 Easy High Heeled Steps
If you have ANY trouble at all, contact WEAVE. You can email [email protected] and we will get back to you
as soon as we are in the office. You can also call Megan at 916.319.4909.
Step 1: Go to
https://secure.e2rm.com/registrant/LoginRegister.aspx?eventid=186136&langpref=enCA&Referrer=direct%2fnone (Yes, we realize it is long – sorry!)
Step 2: Click on the "Sign Up" tab in the upper left hand corner of the page.
Step 3: Because this is a new system, everyone will select, "I need to create an account."
Step 4: Read the Legal Disclaimer. No seriously, it's the most honest and humorous legal disclaimer to which
you will ever agree. Click the box.
Step 5: Decide if you are going to register as an individual, join a team or start a team. You can always go back
and change your team later on. If you create a team, you are the team captain. You can pick your own team
name. WEAVE does not monitor team names but asks that you keep it classy – or at least PG-13.
Step 6: Complete the registration and payment process. Special note – list your MEN'S DRESS SHOE SIZE. Even
if you think you know your women's size, enter your MEN'S DRESS SHOE SIZE. This is how WEAVE determines
how many shoes to order. If you try to outsmart them you will screw up their ordering system and jack up the
shoe count. This makes WEAVE sad. Don't make WEAVE sad. If you have your own high-heeled shoes (we know
some of you have been sneaking those heels out), select 0 from the menu. You will get an email confirming your
registration and event information. Event details can also be found on home page of the fundraising site – yes
that really long link above OR at http://www.weaveinc.org/walk-mile-her-shoes. WEAVE will also be sending out
regular emails leading up to the event.
Step 7: There's also an option to add a donation at the time of registration. This is optional. You can contribute
to your own awesomeness if you would like. You can also contribute to your awesomeness later.
Step 8: After you complete your registration, you will be prompted to set up your fundraising page. Here's the
fun part. You can load a photo of yourself, customize your fundraising story, update your page, etc. There's a
bunch of cool stuff on there so check it out. You can send out emails using the page (left hand side) or you can
cut and paste the link that appears at the top of your fundraising homepage.
Step 9: Send an email (or check out the awesome fundraising tab on your personal page with fundraising
support) with your page link to everyone who calls you son, loves you, likes you, owes you money or enjoys
seeing you in awkward and potentially painful situations. Ask them to donate to your effort.
Step 10: Promote your success on Facebook and Twitter. Let the other men know you will crush them with
your mad fundraising and high heeled walking skills.
Step 11: Show up at Walk a Mile in Her Shoes on Saturday, April 23. There will be cocktails. And games. And
Food Trucks. And live music. And a one mile walk.