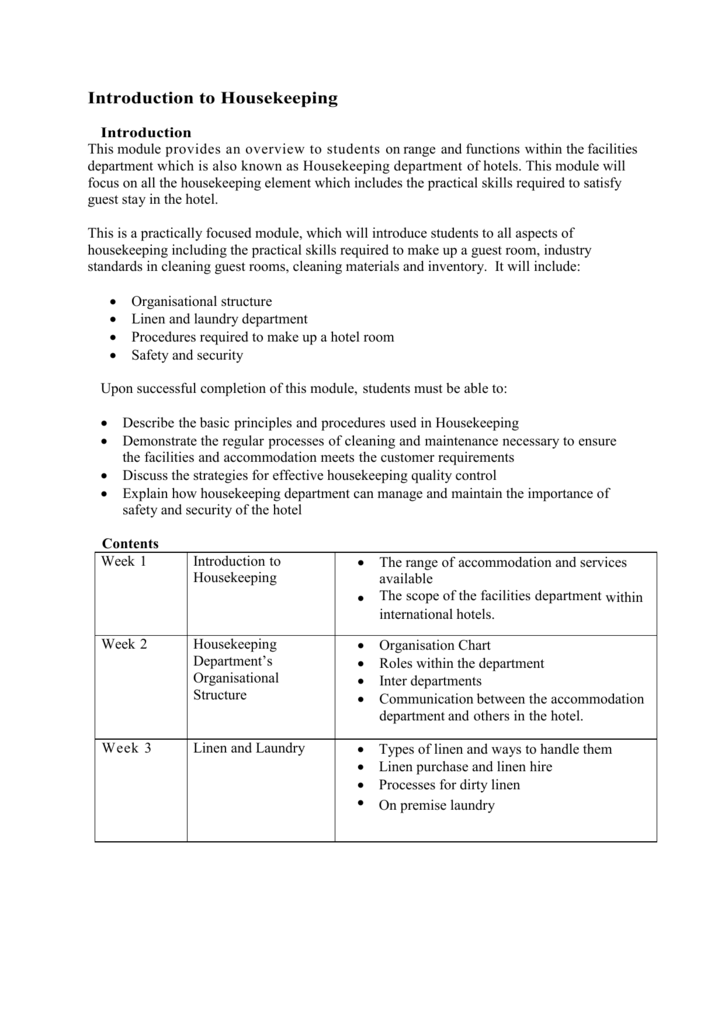 Introduction to Housekeeping
Introduction
This module provides an overview to students on range and functions within the facilities
department which is also known as Housekeeping department of hotels. This module will
focus on all the housekeeping element which includes the practical skills required to satisfy
guest stay in the hotel.
This is a practically focused module, which will introduce students to all aspects of
housekeeping including the practical skills required to make up a guest room, industry
standards in cleaning guest rooms, cleaning materials and inventory. It will include:




Organisational structure
Linen and laundry department
Procedures required to make up a hotel room
Safety and security
Upon successful completion of this module, students must be able to:




Describe the basic principles and procedures used in Housekeeping
Demonstrate the regular processes of cleaning and maintenance necessary to ensure
the facilities and accommodation meets the customer requirements
Discuss the strategies for effective housekeeping quality control
Explain how housekeeping department can manage and maintain the importance of
safety and security of the hotel
Contents
Week 1
Introduction to
Housekeeping


The range of accommodation and services
available
The scope of the facilities department within
international hotels.
Week 2
Housekeeping
Department's
Organisational
Structure




Organisation Chart
Roles within the department
Inter departments
Communication between the accommodation
department and others in the hotel.
Week 3
Linen and Laundry




Types of linen and ways to handle them
Linen purchase and linen hire
Processes for dirty linen
On premise laundry
Week 4
Week 5
Procedures in handling
equipment, furniture,
fixture and fabric

Making up guest room
and public area






Week 6
Housekeeping and
maintenance

Equipment used in laundry and laundry
department
Equipment used in guest room cleaning
Chemicals
Floorings, carpets and wall coverings
Bedding, bathroom fitments and
accessories
The procedures involved in cleaning
accommodation and public areas of a hotel.
Do's and don'ts in guest rooms

Relationship between housekeeping and
maintenance
What is a work order?
Week 7
Safety and Security






Accidents
How to prevent accidents?
FIRE
Signage and PPE
Security of guest room
Legal responsibilities and requirement
Week 8
Practical on how to
make a guest room

Students must be able to make up guest room
from the scratch using the standard procedure.
Week 9
Practical procedures on
cleaning

Students must be able to demonstrate the
proper sequence of cleaning procedure for
:
public area
guest room toilet
guest room corridors



Week 10
Revision


Week 11
Revision


Week 12
Revision – prepare students for their final
exam
Mock test or Quiz, Q&A et al
Revision – prepare students for their final
exam
Mock test or Quiz, Q&A et al
Exam
Recommended Text
• Hotel, Hostel and Hospital Housekeeping (5th Edition) Branson & Lennox,
Published by Hodder and Stoughton
• Housekeeping Management by Matt. A Casado (Second Edition 2011)
Assessment
The module will be formally assessed by means of:


Written Examination (50%) – 1.5 hours
Practical Assessment (50%) – 1.5 hours
Contact Hours
3 hours per week (10 weeks of formal classes) + 1 week of revision (3 hours) + assessment
(mix of practical and exam) 3 hours = 36 hours.