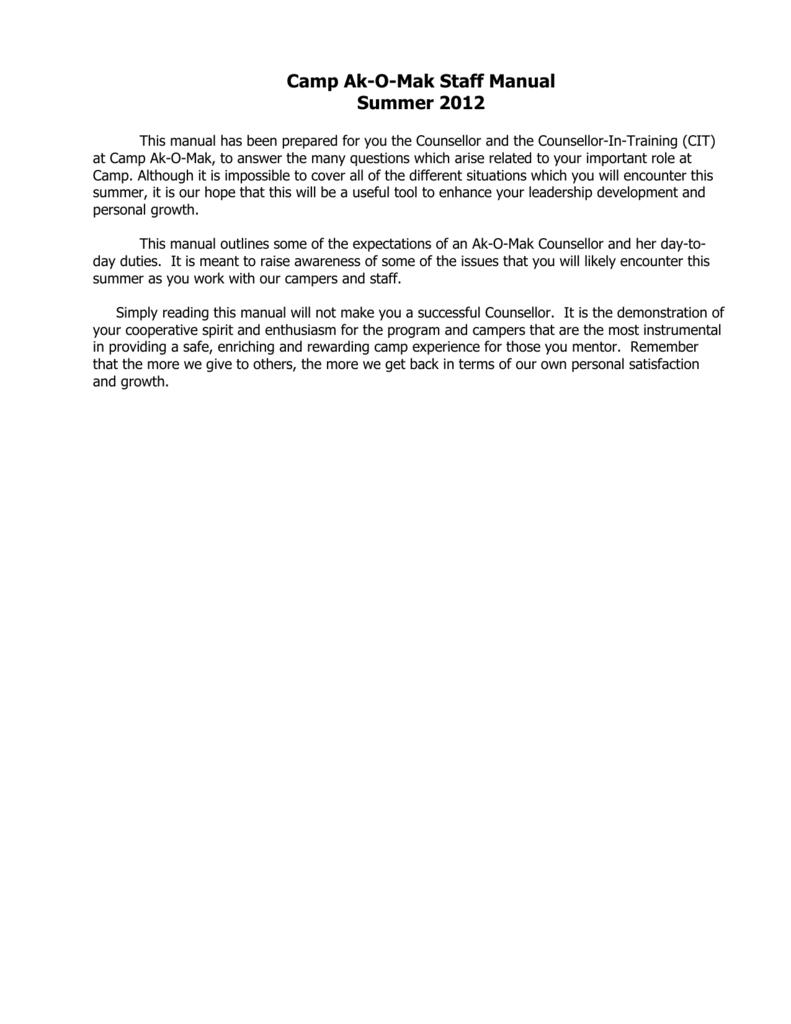 Camp Ak-O-Mak Staff Manual
Summer 2012
This manual has been prepared for you the Counsellor and the Counsellor-In-Training (CIT)
at Camp Ak-O-Mak, to answer the many questions which arise related to your important role at
Camp. Although it is impossible to cover all of the different situations which you will encounter this
summer, it is our hope that this will be a useful tool to enhance your leadership development and
personal growth.
This manual outlines some of the expectations of an Ak-O-Mak Counsellor and her day-today duties. It is meant to raise awareness of some of the issues that you will likely encounter this
summer as you work with our campers and staff.
Simply reading this manual will not make you a successful Counsellor. It is the demonstration of
your cooperative spirit and enthusiasm for the program and campers that are the most instrumental
in providing a safe, enriching and rewarding camp experience for those you mentor. Remember
that the more we give to others, the more we get back in terms of our own personal satisfaction
and growth.
Counsellor Training Week
Objectives:
• To enable staff to develop a bond with one and other and to give them the opportunity to work with
each other to achieve different goals.
• To enable staff to determine their strengths and weaknesses before the campers arrive.
• To familiarize staff members with:
o Camp history
o Camp philosophy
o Camp surroundings – buildings, trails, equipment, program, etc.
o Cabin assignments
o Understanding campers and how to deal with them
o Rules and regulations
• To develop teaching/program skills through demonstrations and workshops.
• To provide opportunities for the staff to review their programs for the summer.
You the Counsellor
The Ak-O-Mak Counsellor is on duty 24 hours a day. You are a mentor, role model, friend and hero to
every camper. You are constantly in the spotlight. Leadership brings many awesome opportunities and
responsibilities. The Ak-O-Mak counsellor has the ability to influence campers' lives and is in a position to
motivate, challenge and facilitate achievements.
It is important that you gain the trust of those Counsellors with whom you live and work. You need to
know that you can rely on each other to ensure the safety and well-being of the campers entrusted to us as
this is our primary responsibility.
Openly communicating concerns and ideas with each other will strengthen you as a group. Be willing to
offer to lighten your co-counsellor's load or pitch in if you see a job around camp that needs to be done.
Practise "listening"…especially when you are convinced you are right. Balance fairness and firmness and if
you are unsure then seek advice before acting. Play by the rules…camp's and sports. Give of yourself because
your "uniqueness" is why we hired you! Show praise and celebrate the campers' and your own achievements.
All these things will help you bond as a staff and make for a more enjoyable summer.
Ak-O-Mak Legacy
The Ak-O-Mak legacy began with one man's love for coaching and the sport of swimming. He was
Matt Mann II, one of the United States first full-time swimming coaches. His impressive list of wins still graces
the pages of collegiate sports history books today. He was given the title of the "Greatest Coach Who Ever
Lived" by his former Michigan Athletic Director, Fritz Crisler. Matt won eight successive NCAA swim team
championships, 12 in 15 years and 13 overall, to stamp him the USA's most successful college coach. In 1952
his U.S. swim team won the Olympics. When he retired from Michigan at the age of 70 he went on to coach
eight more years at Oklahoma University, never losing a Big 8 swimming meet.
Soon after he became University of Michigan's first full-time swimming coach, Matt began looking for
a place to train his swimmers during the summer months. In 1920 he and approximately a dozen of his
swimmers cleared some farmland on Ahmic Lake in Northern Ontario. This site became Camp Chikopi, a
summer sports training camp for boys.
Several parents were so pleased with Chikopi that they began requesting something similar for their
daughters. When Matt's own daughter RoseMary was seven years old, he bought property across the lake
from Chikopi and established a summer sports camp for girls. He named it Ak-O-Mak, an Indian word
meaning, "across the water".
RoseMary began running Ak-O-Mak in 1942. She and her husband Buck Dawson carried on the family
tradition of providing a great summer experience, which had helped to provide a foundation of growth for
thousands of children. In 1990, Buck and RoseMary retired from the day-to-day operations of camp and
turned the reins over to their daughter Marci and her husband, Buddy Williams. RoseMary and Buck
continued to live on campus and participate in the planning and the implementation of the camp program.
At present Camp Ak-O-Mak is operated by a board of directors. The summer program is under the
leadership of the Executive Director Dianne Young.
Philosophy
Ak-O-Mak is a swimming and sports camp for young girls. We believe that participation in the unique
challenges of the Ak-O-Mak program leads to the development of increased physical and mental strength, selfesteem and positive values. Our program encourages setting meaningful, challenging and achievable goals
not only in sports, but also in one's non-camp life.
The values and discipline learned at camp provide a positive base for assuming the responsibilities of
adulthood. It is our hope that each girl will leave camp with a sense of achievement.
Ak-O-Mak Goals and Values
Goals:
•
•
•
•
•
•
•
•
•
Values:
•
•
•
•
•
•
To develop positive attitudes.
To cultivate leadership potential.
To provide a positive environment to acquire sports skills.
To create lasting friendships with girls from all over the world.
To give a fun-filled experience to each camper.
To encourage girls to believe in themselves and that they can achieve anything to which they put
their minds.
To promote an active, healthy lifestyle.
To help the girls appreciate their bodies & their uniqueness.
To enjoy a traditional summer camp experience in a wilderness environment.
To instil a sense of belonging in every camper and staff member.
To promote the importance of loyalty to family, friends and camp.
Good sportsmanship.
Leadership.
Respect for each other.
Respect for one's self.
The Counsellor's Job
Each Counsellor will be assigned various responsibilities including events, teaching classes or
administrative duties such as camp store. Those persons responsible for each of these jobs/duties shall
establish goals for a safe and effective performance of those tasks.
Past campers and counsellors at Ak-O-Mak already possess an understanding of the program,
equipment, personnel, the geography and the overall "milieu" of the camp. Counsellors new to the program
will learn this throughout the summer.
It is now time to familiarize yourself with the mission of Ak-O-Mak. As CIT's/Counsellors, you are now
the "face" or "frontline" of a very important and historic business. Camp Ak-O-Mak's paying clients are the
campers and their parents/guardians. They have entrusted to us that which is most precious to them….their
children! Your interactions with campers and your leadership should always bear this in mind.
The Ak-O-Mak Counsellor should draw upon available sources of information about each camper in
order to achieve an understanding of her needs, interests and personality as a basis for effective leadership.
The Counsellor should especially be alert during the first few days of camp to the adjustment of each
camper in the cabin group and the overall camp environment. Loneliness, missing home and aggressive
behaviour should be identified as quickly as possible and managed appropriately.
The Counsellor should become thoroughly familiar with the principles of basic psychology we'll cover
during this pre-camp training. This should help you, the Counsellor; become less concerned with the
problems you may have than with the needs and problems of the campers themselves. A good Counsellor is
free from emotional entanglements, whether with yourself or others; does not become alarmed or shocked or
angry, and has the ability to remain objective in dealing with situations. The calm and poise of a competent
Counsellor reflects a mature personality and intelligent understanding of the Counsellor's job. (Talks to
Counsellors, Taylor Statten c. 1943).
A Day in the Life of an Ak-O-Mak Counsellor
Wake-Up and Early Bird
Early Bird is a compulsory activity. The Counsellor's main role is the supervision and execution of the early
bird activities. There will be some days when you will not have a specific duty; use these days to achieve your
own personal goals.
Please ensure that campers are up and out of the cabin promptly with the required equipment for their early
bird activity. A Counsellor MUST always be the last one out of the cabin.
The Swim and Paddle
• Counsellors will be given at least two days per week when they will be responsible for paddling
alongside the swimmers and coordinating the paddlers for that specific morning
• There will be 4 Counsellors assigned to the swim:
o Counsellor #1 – lead canoe
o Counsellor #2 – final canoe
o Counsellor #3 – canoe for bay swimmers
o Counsellor #4 – main dock recording times
• The Counsellor in the lead canoe is responsible for leading the first swimmers, carrying the clothes for
the 1-mile swimmers to the Rocky Reef dock and recording swimmers' times.
• The Counsellor on the main dock is responsible for taking both the two-mile times as well as the times
for the bay swimmers. This Counsellor must also ensure that ALL swimmers place lifejackets into
canoes.
•
•
•
•
The Counsellor in the final canoe is to account for swimmers and supervise the other boats ahead of
her on the water. She is also responsible for the coordination of boats on the dock prior to departure
(ensuring that each canoe has a capable sternsperson).
Counsellors are also expected to help maintain peace and quiet throughout the morning swim,
particularly as the swimmers pass the Rocky Reef cottages.*
All paddlers and Counsellors must remain on the water until each swimmer has a boat that can
account for her. Likewise, all paddlers should turn around and pick up additional swimmers before
heading too close to the finishing dock.
Unassigned Counsellors may choose to swim either individually for exercise purposes, or alongside a
camper who may need additional support and encouragement.
*Noise will be encouraged if/when we swim to Monster Rock for Early Bird.
The Run
The traditional options for the morning run include:
• Option #1 – Long run along the road either in the direction of Ahmic Harbour or Bert's
• Option #2 – Run along the cross-country trails
• Option #3 – Stop sign and back (new campers)
It is our goal that the morning runs be an enjoyable, safe experience for campers while working towards
individual goals and preparing for the 12km road race. There will be one Counsellor assigned to each option.
Early Early Bird
Early Early Bird is typically for those who are striving for distance awards. It is imperative that a
Counsellor accompanies any swimmer in a canoe or any camper running along the main roads. If they choose
to run the cross-country trails they do not require accompaniment, however, they must report to a Counsellor
prior to their run and upon their return.
It is important that Early Early Bird activities NOT adversely affect the participation of campers and
Counsellors throughout the rest of the day.
Meals
•
•
•
•
•
•
•
•
•
•
•
•
•
•
At the 15 minute bell, everyone cleans up and assembles on the Mainhouse front porch prior to the
meal.
No hats or bathing suits worn to the table (except breakfast).
Upon entering the Mainhouse everyone stands by her assigned seat that is changed weekly.
Everyone may sit following grace.
Campers may not get up during meals.
We stress family style meals, which means that the Counsellors will serve the campers' first plate of
food, putting at least something of EVERY food onto the plate. Distribute the food evenly so you don't
need to get more food until it is time for seconds.
Please ensure that the campers stay hydrated and are drinking enough.
Each table begins eating only when everyone at the table has been served.
Everyone must be finished her main course before the Counsellor goes up for dessert. The table must
be cleared of main course dishes before dessert is eaten.
The Counsellor should encourage conversation and singing.
The Counsellor at each table is to make sure that the campers are listening and paying attention when
announcements are being made. There is to be NO TALKING during announcements.
Proper table manners are a must. Encourage the campers to ask for foods to be passed rather than
reaching across the table, sit up straight, please and thank you, proper use of knife & fork, etc.
Please try to keep your ups and downs to a minimum.
We will have a quick Counsellor meeting everyday after breakfast to run through the day's activities.
Inspection
• Try and develop a sense of pride for your cabin and its cleanliness.
• This is a time for Counsellors to nonchalantly inspect the campers – skin, cleanliness, brushing of
teeth and hair, etc.
• Cabin clean up and camp jobs.
• Lead by example. This is not a time for you to sit back and relax while your campers clean.
Classes for the Day
• Make sure sunscreen is being applied and the campers are taking the proper equipment with them to
their morning activities.
• Basis instruction in sport/activity = competence = fun
• No scrimmage rule for the first class.
• Step by step progressions are the key to obtaining game skills.
• Make sure your classes are organized (more on this during training).
• BE ON TIME; encourage campers to move quickly from activity to activity.
• Drills should be planned to involve everyone as much as possible, rather than 1:1 with the rest of the
group standing around watching. Standing around = boring!
Rest Hour
• Rest hour is a time for relaxation, letter writing, reading, sleeping and other quiet activities. You
belong in your cabin with your campers.
• Sleep is vital – especially for Counsellors. Rest if you are tired.
• There will be an activity available for those who choose not to rest. If campers are not quiet in the
cabin please send them to the activity.
• The library is open for games and reading under supervision.
• Mandatory rest hours require everyone to be in their own bunks with NO chatting. There will be no
optional activity during mandatory rest hour.
• Sun tanning is only allowed on Sandy Beach and with Counsellor supervision. Please make sure that
there is always at least one Counsellor in the cabin with the other campers.
• The main dock, diving tower and water polo dock are all off limits during rest hour.
Team Competition
• Sportsmanship
• Teamwork – as a team leader it is important to make sure everyone is included.
• Spirit, enthusiasm, be crazy, go nuts!
Team Practices and Elective Time
• Swimming, running, paddling, soccer and softball team practices.
• Group activities on some afternoons. If you are not coaching a team practice, you are expected to be
participating or helping lead the other activity being offered to the other campers.
• Elective time requires Counsellors to supervise different areas (this is not free-time).
• If you need some time off, please let the Director know.
• Evening Activities – camp wide activities (e.g. Smugglers and Spies, Speedball) are essential for
burning off additional energy.
• Winding down before bed may include bathing time or campfires.
• Phone night will begin either during or after completion of the evening activity.
• ALL Counsellors are expected to participate in evening activities unless they are otherwise excused.
• Activities will end at 9:00 p.m. to allow enough time to get ready for bed and to enjoy snack before
10:00 p.m. lights out.
• The youngest cabin must get to bed even earlier; lights out by 9pm.
• Tired campers – tearful early birders and homesickness.
Bedtime and Mainhouse Late Nights
• Counsellors are expected to be with their campers unless otherwise excused.
• If you are the last one to leave the Mainhouse make sure the back door and ALL windows are shut.
•
•
•
Nights
•
•
•
•
Turn off ALL lights.
Bedtime is 8:00pm & lights out by 8:30pm for cabins 5,6 & 7.
Bedtime and lights out is for EVERYONE, Counsellors included. Please let the Senior Staff know if you
need to use this time for something else.
Off
You will have the opportunity to have an afternoon/evening off each session or whenever you desire.
Please provide at least 24 hours notice when requiring time off. Notify the Program Director.
You must have a driver with you/someone to drop you off and pick you up.
If you would just like a night off from your cabin, please consult the Senior Staff and we will find a
place for your to sleep
Cabin Outings
• All overnight trips must be approved by the Director.
• Other cabin outings such as biking to Ahmic Harbour for ice cream should be arranged through the
General Manager.
Camp Outings
• When going on afternoon trips there should always be a Counsellor in the lead as well as at least
TWO Counsellors bringing up the rear. Prior to the outing Senior Staff will assign these
responsibilities.
• When on out of camp trips we are representing Camp Ak-O-Mak, so be mindful of clothing (campers
must be in uniform), language, no two-piece suits, etc.
• When off campus, staff must wear their uniforms (staff shirt and khaki shorts).
• It is important to be extra vigilant regarding campers whereabouts when out of camp.
• All Counsellors will be assigned a group of campers for whom they are responsible while we are out of
camp. These groups will be assigned prior to each outing.
• All campers 12 and under must be accompanied by the assigned Counsellor. Each group will consist
of at least four campers.
Use of
•
•
•
•
•
•
•
•
•
Phone, Fax and Computer
The office in the Director's Cabin is off limits.
Phone cards or collect calls are to be used for ALL personal calls.
There is a computer and printer in the Counsellor room for your use.
You will have the opportunity to check your email on the computer. Email may be checked after
lunch until 9:00 p.m. when you are not assigned to any other activity and when not in use by office
personnel.
Please keep your internet time to 30 minutes. If you require more time for registering for classes let
us know.
Instant messaging is NOT permitted.
Camp functions on dial-up internet. Please make 100% sure you have disconnected from the
internet; incoming phone calls/faxes cannot be received if the internet is not disconnected after use.
Counsellors may only use their cell phones in the Counsellor room, out of sight and earshot from
campers. DO NOT carry your cell phone around. All cell phones must remain off when not in use
and on vibrate when they are turned on. Please use the camp line to receive calls. Phone messages
will be placed in your pigeon hole in the Counsellor room.
PLEASE KEEP THE COUNSELLOR ROOM NEAT AND TIDY! Do not expect others to clean up after you.
The Counsellor room will be subject to periodic unannounced inspection. Failure to maintain the
Counsellor room to the satisfaction of the Director will result in its closure.
Use of
•
•
•
•
•
Camp Vehicles
Due to strict insurance regulations, only approved drivers may drive camp vehicles.
ABSOLUTELY, POSITIVELY NO SPEEDING.
Seat belts must be worn and lights are to be on at all times.
There may not be more campers in the vehicle than there are seat belts.
Under no circumstances are campers to be transported in personal vehicles (except in cases of
emergency).
Use of Tools and Other Camp Equipment
• Mowers and other motorized equipment should only be used with permission of the GM or
maintenance person. Make sure to ASK before refuelling any equipment to ensure the proper mix is
used.
• If it is your first time using a piece of equipment, please ask for instruction.
• IF YOU USE IT, RETURN IT TO ITS PROPER PLACE!!!
• If you use oil based paints the brushes must be cleaned with paint thinner. Latex paint brushes can
be cleaned with soap and water.
Events
•
•
•
•
•
•
with Chikopi
Be sure to integrate as much as possible with the campers. Learn their names etc.
Be consistent; make sure the campers are behaving.
Appropriate attire (camper/counsellor uniforms) must be worn at all times.
No public displays of affection.
NO TALKING during awards and announcements.
Please be aware that your campers are watching and judging your every move and talking about it
afterwards.
Spanish Speaking Campers
• Encourage campers to speak as much English as possible.
• English should be the only language spoken during meals. Mealtime is the perfect opportunity to
campers to practice English and learn new words. It is also an opportunity for Anglophones to learn
Spanish words as well.
Visitors
• All visitors must be approved at camp. Visits must be arranged through the office.
• Campers are not permitted to leave camp – even with their own family members. Visitors are
encouraged to join in and participate in our program.
• Family members are permitted to visit camp, however, please ensure pets are left at home.
Risk Management
• Camper safety is your/our #1 priority. If you cannot call home and explain to a parent why their child
has been injured, then you should not be doing the activity.
• Lifejackets/PFDs must be worn in ALL boats, including the motorboat. The exception to this rule is
during competitive paddling practice.
• Swimmers must have their lifejackets/PFDs in a canoe.
• Make sure campers are re-applying their sunscreen (should be SPF 15 or above) throughout the day
and are keeping well hydrated.
• If the diving tower is in use there must be a lifeguard present out on the tower. The lifeguard is
there to observe the campers and is not jumping herself.
• When going out of camp, make sure that you are thinking ahead of possible hazards and emergency
exit routes. Always know the location of the campers you are supervising.
• Counsellors will be provided with a First Aid kit that they must carry at all times in their backpacks.
You are expected to keep your First Aid kits stocked through the Health Care Provider in the infirmary.
•
Be sure to carry a water bottle for yourself.
• Counsellors must have a whistle on her person at all times.
Counsellor Behaviour/Etiquette
• With the exception of the start of each session and out of camp trips, Counsellors are permitted to
wear their choice of clothing.
• Your attire must be appropriate (sporty).
• As with campers, full piece bathing suits must be worn out of camp.
• Campers have sensitive hearing and are VERY impressionable. Make sure that you are always using
appropriate language. NO swearing or use of other inappropriate words (e.g. – fag, retard, gay, etc.).
• When conversing with campers it is our policy that you do not discuss drinking, drugs, sex or religion.
• Please be aware that how you act rubs off on your campers. It is important that we are excited for all
activities, visiting coaches, outtrips, etc.
• DO NOT talk about your personal weight issues around campers. We would like to instil positive body
images in all of our campers.
• The consumption of alcohol, non-prescription drugs or smoking cigarettes at any time at camp or on
nights off is strictly prohibited. Use of these substances will result in immediate dismissal.
• We recommend that there are no camp raids. Any destruction of camp property will result in fines to
cover the cost of damages. "Counsellors busy raiding" is not supervising the campers, which is their
number one job.
• Do not photograph anyone (campers or staff) engaging in any behaviour unflattering to Camp Ak-OMak or themselves.
Please be:
• Sensitive of the feelings of others, aware, objective, good communicator/listener, courageous, unique,
charismatic, positive, a goal setter, practical, humorous, sincere, calm, willing to accept constructive
criticism, willing to take initiative, YOU!
Problem Solving
Telling Campers What You Expect
•
Setting expectations for campers helps them take responsibility for their own actions and lets them
determine their own fate. Together, counsellors and campers should agree on what is appropriate
behaviour and what they should expect of others and themselves. Choices should be geared to age
level, and you need to be constantly guiding this process. It should be clear to the campers that
coming through on expectancies leads to a response of positive reinforcement, while not coming
through on these expectancies will lead to consequences such as sitting out of an activity, stopping
the activity, or not planning an activity until agreed upon criteria are met.
Enforce the Consequences
•
•
•
Don't overreact to minor misbehaviour, which is a common goof that can actually reinforce the
negative behaviour and sidetrack us from focusing on bringing about and reinforcing the good
behaviour that we do want. However, be sure to follow through when campers don't meet the
agreed upon expectations. Avoid indulgence, or you'll lose control. (Usually indulgent leadership is
simply the easy way out due to lack of courage to follow through on previous statements/agreements;
and it unfailingly leads to further complications.)
The better you get at setting up situations so that campers determine their own fate, the less
discipline you'll be dolling out. Campers will know, understand, and appreciate how their behaviour
affects others. They will increasingly take responsibility for their own actions. Therefore, know what
you want, make a plan, and actively pursue it. Have clear understandings and agreement, be
consistent, follow through, reinforce the good behaviours, and you'll be great.
Congratulations! You are on your way to becoming a super person. Maybe none of us will really get
there, but we will all have the fund and benefit of trying. You've got what some of us think is the
best job in the world-working with kids at camp-and you've got the opportunity to help them
experience and identify with the earth in unusual ways. The better you do at this, the more likely you
will develop youth who will influence life-saving, earth-care practices.
•
Put yourself into it, and live up to what's expected of you. You'll have the most fun and beneficial
summer of your life.
Guide Positive Behaviour
Camp provides an environment where all kids can do well at something and have some degree of
success and enjoyment. In a real sense, you are the main provider of creating these
circumstances and reinforcing good behaviour. You need a plan of attack and methods in mind.
• Some simple statements will help you guide campers to desired behaviour by creating
circumstances where kids individually and/or as a group determine their own fact. Some
examples:
"If you do well at our own campfire tonight, we can invite another group next week…."
"When you're quiet, I'll start reading the story…."
"To use the swimming area, we need to follow certain rules…"
"We'll meet at the cabin and when everyone has arrived, we'll walk to the campfire…"
•
You have the charge of not only making sure campers are safe, but of nurturing their own development.
•
1.
2.
3.
4.
5.
Nurturing campers' development includes having clear ideas of the kinds of behaviours you want
to encourage. Some positive behaviours that can be taught at camp are:
Getting along with others by doing one's part, supporting others, developing relationships,
accepting others, being part of a community, sharing, and being a team player.
Being part of a group, cooperating, group decision-making, and comparing self-interest in
relationship to the best interests of others.
Increasing self-sufficiency and self-reliance – the more self-sufficient campers are the better they
relate to others, develop confidence, and learn skills with minimal direction, all of which build selfesteem.
Just being a kid, experiencing new things, exploring, observing nature, and participating in
worthwhile activities.
Increasing the concern about natural surroundings through outdoor living experiences and
improving campers' conservation attitude and practices.
Things to Keep in Mind Throughout the Summer
•
•
•
•
•
•
•
•
•
•
•
•
•
•
•
•
Be Flexible
Truly like and care for each and every camper. If a camper is difficult find out why. Look until
you find something likeable.
Be a role model. Lead by example.
Under everyone's hard shell there is someone who wants to be loved and appreciated.
It takes effort, thought, and caring to be a great counsellor.
Give 100%. Give of yourself and you will be rewarded.
Lead campers to their own answers.
Be consistent. Don't change your standards.
Never be afraid to admit that you're having difficulty. Seek advice.
It is a counsellor's role to discipline, not punish. The goal of discipline is to guide and help the
camper develop self-discipline: whereas punishment evokes anger and further aggression.
Inform director of problems.
Reinforce the positive.
Campers have the right to say 'no'. Encourage them to participate but do not force them.
Show campers respect and you will receive respect.
Use your common sense.
Take good care of yourself. You will find rewards each day if you keep your eyes open.
Common Sense Rules at Ak-O-Mak
1.
2.
3.
4.
5.
6.
7.
8.
9.
10.
11.
12.
13.
Shoes on at all times.
No hats/bathing suits on at meals. Blues and whites are required.
Campers may not enter the water unless a staff member is present.
No swimming after dark.
The following areas are out-of-bounds for campers without permission and/or supervision: Red
Guesthouse, White Trailer, the Programs Director's Cabin, Greenhouse, Kitchen, Infirmary, Tool Trailer
and Camp Store.
A staff member MUST be present for the following activities: archery, canoeing, swimming, sailing,
windsurfing, kayaking, mountain biking, ropes course/climbing wall, trampoline, diving tower and golf.
There must be a minimum of one Counsellor and four spotters to use the trampoline (the Counsellor
does not count as a spotter).
Helmets must be worn at all times when using the mountain bikes.
There must be one Counsellor in the cabin at all times with the campers, especially at night & during
counsellor meetings.
The Mainhouse is closed to campers at 9:30 p.m.
Campers are not permitted in the cabin line during morning, afternoon and evening activities.
Chewing gum is NOT permitted at camp.
There is to be no writing on the bunks or HOP walls.
The Little Things
•
•
•
•
•
•
•
•
•
•
•
•
•
•
•
•
•
•
Sports equipment taken from the equipment sheds must be returned immediately after use.
Socks and shoes are encouraged to reduce the number of sprained ankles.
Respect other's possessions and personal space. Do not hang out in other cabins without permission.
One person on each level of the tower at a time. There is only one way down!
Orange Rock swimmers must be accompanied by a canoe.
No tows from motorized boats (or free rides).
If a thunderstorm occurs when paddling on the lake, get to the closest shore possible and get off the
water.
Always have your whistle on and be aware of the different signals.
Counsellors should always be the last person out of the cabin for all activities.
Visitors, men in particular, are only allowed down the cabin line on move-in day and during inspection.
All visitors must be accompanied with a staff member while in the cabin line.
Please always let someone know where you are going when you leave campus.
If you find something out of place fix it if you can, report to the General Manager it if you cannot.
Please help to keep camp looking good.
Maintenance problems in cabins/HOPs should be reported to the General Manager or Program
Director.
No tampons, wrappers or pads down the toilets. Please use the newspaper provided to dispose of
these items.
Always report any sort of injury, rash, etc. to the infirmary, Program Director, General Manager or a
Senior Staff member.
Always obtain a receipt if purchasing items for camp. This is essential for reimbursement when using
your own money. Most expenditures require pre-approval by the General Manager or Executive
Director.
Cabin/HOP garbage must be deposited directly in the garbage trailer.
Valuables, medications, money, travel tickets and identification are to be collected during the first day
of camp.
HOMESICKNESS
Homesickness is something that affects us all. Homesickness can be caused by several different
factors. The easiest way to deal with homesickness is prevention. In studies it was found that 95% of boys
and girls who were spending at least two weeks at overnight camp felt some degree of homesickness. It is
typically mild, as everyone misses something about home. However, the vast majority of campers have a
great time at camp and are not bothered by mild homesickness. Overcoming a bout of homesickness and
enjoying time away from home nurtures children's independence and prepares them for the future (Thurber).
Check the "How to be a Camp Counsellor" book for more homesickness thoughts.
Causes:
• Strange and new surroundings.
• Away from family and friends.
• Campers sent to camp against her wishes.
• Physical ailment (cold, flu, etc).
• Inability to join into the activities.
• New food.
• Fear or lack of security.
• No mail from home.
• A feeling that nobody cares.
Remedies:
• Make campers feel at home from the moment they arrive at camp.
• Know every camper's name as soon as possible.
• Take the time to get to know your campers. Find out their interests, talk about activities, special
events, favourite foods, etc.
• Give each camper a sense of responsibility. Keep them busy.
• Listen. Allow the camper to talk about their problems/feelings.
• Give a lot of positive feedback. Make the campers feel proud of their accomplishments.
• Encourage integration of new and returning campers. Making new friends is a perfect antidote to
homesickness.
• Stay positive. Remind campers that they are not at camp forever, just a few weeks. Encourage them
to enjoy the time and opportunities they have while they are at camp.
At the OCA conference one of the Key Note speakers – stated that the key times at camp are the "in between
times" (used the brick and mortar statement). The time spent going to class, waiting for meal etc. are golden
opportunities for counsellors to create magical memories i.e.: playing a fun game, having a special chat etc.
DISCIPLINE
When disciplining a camper, remember that each camper is a different individual and should be treated as
such. A camper who is busy, happy and socially accepted rarely presents a problem. A camper who causes
trouble is usually trying to tell you something or crying out for attention. It is important that campers are
made aware of all rules and appropriate behaviour at the beginning of camp. It is imperative that discipline
be consistent among the staff. The following are some disciplinary guidelines:
• Be consistent with fellow staff members.
• Never dispute disciplinary decisions in front of campers. You must follow through with any decision a
fellow Counsellor makes.
• Treat campers with the same degree of courtesy with which you would expect to be treated.
• Expected the best from every camper.
• Try to find at least one thing to love in every camper.
• Do not establish rules you cannot enforce.
• Avoid telling a camper that she is bad. A camper who is constantly told that she is bad will soon find
it necessary to live up to her reputation.
• Do not give choices where there is no choice.
• Do not be afraid to admit that you have made a mistake. Campers will respect you for it.
• Strict discipline must be maintained and enforced in specific areas (e.g. – ropes course).
• When disciplining a camper, get down to their level so that you can look them in the eye. Speaking
calmly is especially important if you are taking a camper aside to discuss inappropriate behaviour.
• Try to explain rules in a positive language instead of negative.
The following is a list of UNACCEPTABLE BEHAVIOURS for an Ak-O-Mak Counsellor:
• Disciplining in anger.
• Public condemnation of the camper.
• The use of derogatory terms.
• An attacking, blaming approach.
• Driving the camper away from the group.
• Loss of communication and contact with the camper.
• Threatening punishment.
• Using sporting activity as punishment.
• Under NO circumstances may a Counsellor strike a child, this will result in immediate dismissal from
camp.
• No more than 2 counsellors disciplining a camper at the same time. "Kangaroo court" scenarios are
unacceptable.
Serious behavioural problems (e.g. – disrespect, breaking of camp rules) will be dealt with in the following
manner:
• The camper will receive two warnings from staff members. Warnings must be documented and
turned into the Program Director, General Manager and/or Executive Director
• The camper will have a one-on-one talk with the Program Director.
• The camper's parent(s)/guardian(s) will be called.
• Remember to use resources like the General Manager, Executive Director or Camp Doctor/Nurse for
advice on communicating in difficult situations. They are here to assist you.
Acceptable "Consequences" for unacceptable behaviour:
• Cleaning Mainhouse windows
• Scrubbing Mainhouse floor
• Cleaning the shower house
• Missing out on camp events/special activities
A counsellor needs to be prepared to supervise her camper(s) if she chooses "consequences" #4 (missing
a camp event/special activity).
This consequence needs to be approved by the General Manager or Executive Director.
Any behaviour requiring a consequence must have a discipline report completed and submitted to the GM.
EATING DISORDER AWARENESS
The following are signs and/or behaviours that may suggest an eating disorder:
• Repeated expressed concerns about being or feeling fat even when weight is below average
• Expressions of fear of being or becoming obese that do not diminish as weight loss continues
• Consumption of huge amounts of food not consistent with weight
• Clandestine eating or stealing of food (e.g., candy wrappers, food containers, etc found in trunk or
around bunk)
• A pattern of eating substantial amounts of food followed promptly by trips to the HOP and resumption
of eating shortly after
• Bloodshot eyes, especially after trips to the bathroom
• Complaints of light-headedness or disequilibria not accounted for by other medical causes
• Complaints or evidence of bloating or water retention not accounted for by other medical causes
• Laxative packages seen in trunk or cabin garbage
• Periods of severe caloric restriction or repeated days of fasting
• Evidence of purposeless, excessive physical activity (especially in this athletes) that is not part of the
training regimen
• Depressed mood and self-deprecating behaviour of other people
• Preoccupation with the eating behaviour of other people
• Certain changes in physical appearance – rounding or pouch-like dilation at or just under the angle of
the jaw, ulceration sores at the corners of the mouth or on the tongue, thinning or loss of hair
• Known or reported family history of eating disorders or family dysfunction
If you suspect that one of your campers or co-Counsellors has an eating disorder report ALL concerns to
the Director or the Health Care Provider on site.
DO NOT do any of the following:
• Question other campers about the suspected camper's behaviour
• Discipline the camper if you find the problem exists
• Conclude that if the camper really wants to be okay she will make it happen and failure to improve
shows a lack of effort
• Force a camper to eat.
Typical Behaviour Patterns and Characteristics
7 Through 10 Years
• Beginning readiness for leaving home and parents
• Lengthening interest span
• Growing awareness of others and their wants
• Willingness to share
• Desire for acceptance from own age group
• Need for close friendship with playmate
• Ability to express selves freely in art forms and play
• Beginning interest in competition related to one's standing in the group
• Growing desire for better performance in skills
• Developing interest in group games and activities
• Want for everyone to obey stated rules and regulations
• Strong identification with own sex and age group
They respond affectionately to counsellors who look after their needs, show interest in them and who are fair
and capable of humour and imagination. The nature of the counsellor is most important.
10 Through 12
• Strong desire for live away experience
• Want to be together in groups, teams and clubs
• Have longer attention span, patience to work for short-term goals
• Form cliques and friendship with own sex and age group
• Like to make, do and collect things
• Need to seek status through excellence in skills and knowledge of grown-up things
• Fairly competitive in team and individual activities
• Enjoyment in being mischievous and daring
• Growing concern with physical size and appearance
• Girls at upper age level develop interest in boys
They respond enthusiastically to counsellors who can understand and guide their tremendous energy and
mischievousness; tend to idolize their counsellor if she measures up to this task.
12 Through 16
• Growing away from family ties and influence
• Still want reassurance of adult supervision and attention to daily needs
• Strong drive for conformity with own age group
• Intensity for feelings and emotions
• Greatly influenced by popular adults and teenaged idols (hero worship and crush stage)
• Rapidly changing interest and ambitions
• Long interest span and increasing capacity for self-discipline
• Competition with outside groups often preferred to competition with friends in own group
• Idealistic about the world at large
• Serious concerns with personal appearance, frequently self-conscious and inhibited
• Puberty, the stage when girls begin to menstruate
They respond best to counsellors with ability to identify and understand their individual conflicts, concerns and
ambitions.
Emergency Procedures
for Counsellors
Recognize the emergency situation
3 long and loud whistle blasts
Ooooga, bell or air horn sounded if required
Alert a Senior Staff member immediately so EMS
can be called (9-1-1) if necessary
Our fire number is #240 Ak-O-Mak Road
Meet with the whole camp at the basketball court
Assemble by cabin groups and perform a head
count of your cabin. If there is a camper missing
inform a Senior Staff member
Put into action: Search and Rescue Plan, Fire Plan
or Emergency Action Plan as necessary
FOLLOW UP: Incident and accident reports
Mag Swim Requirements
• 7 weekers only
• Must be 13 years of age or older
• Must have swum 2 miles under 50 minutes at least once prior to Mag Swim
• Campers must average 10 miles of swimming per week
• Counsellors and Staff must average 6 miles of swimming per week
• Senior Staff/Director have the final decision on any swimmer wanting to participate
in the Mag Swim
Distance Running Requirements
• 7 weekers only
The Mag
• Must be 13 years of age or older
• Must average 20 miles or running per week
Around the Lake
• Must be 13 years of age or older
• Must follow a specific marathon type running schedule as determined by Staff at the
beginning of the summer
Ak-O-Mak Mileage
•
•
•
•
•
•
•
•
•
•
•
Swimming/Paddling
Rocky Reef = 1 mile
Rocky Reef return = 2 miles
Ahmic Harbour = 3 miles
Monster Rock return = 1 mile
Orange Rock = ⅓ mile
Ahmic Lake Lodge = 1.5 miles
Chikopi = 1.5 miles
Ak-O-Mak to Knoepfli = 2 miles
Chikopi to Knoepfli = 1 mile
Gulls Rock = 1 mile
The Mag = 9 miles
•
•
•
•
•
•
•
•
•
•
•
•
•
Running
Rocky Reef = 1 mile
Rocky Reef return = 2 miles
Short Cross Country = 2.5 miles
Long Cross Country = 3 miles
Bert's return = 3 miles
Bridge return = 5 miles
Ahmic Harbour = 3 miles
Ahmic Harbour return = 6 miles
Ak-O-Mak to Ted White sign = 8 miles
Chikopi to Ak-O-Mak = 7.5 miles
Knoepfli to Chikopi = 1.5 miles
Around the Lake = 26 miles
The Mag = TBD
End of Summer Awards
Major Awards:
Matt Mann Award: goes to the camper who has swum the most miles over the summer.
Susie Urban Award: goes to the camper who has run the most miles over the summer.
Fletcher Gilders Award: goes to the most improved camper over the course of the summer
or several summers. This is usually awarded to someone with a significant change in
attitude, physical skill and willingness to participate.
Marci Dawson Award: goes to a strong silent leader. This is typically someone who is
involved in all camp life. Always encouraging others and setting a good example.
Aunt Carol Award: goes to the camper who is always positive and upbeat; enthusiastic
about trying everything, regardless of whether or not she is good at it; always willing to
help others; a girl with a wonderful sense of fun.
Aunt Carol used to live out at Rocky Reef. It is her dock that the swimmers swim to each
morning. Aunt Carol loved life and the summers she spent in Canada on Ahmic Lake.
Aunt Carol was a special person to all who knew her, especially because she was so
much fun to be with.
Camper of the Year Award: goes to the camper who exhibits Ak-O-Mak's philosophy, goals
and values in all that they do. This camper is a very strong leader and enthusiastic
about everything. Both counsellors and fellow campers vote for this award.
Paddler of the Year: goes to the camper chosen by the paddling coaches who exhibits hard
work, leadership and determination.
Other Awards:
• Inspection
• Team Comp
• Non-Comp Swimming (Silver Swim Star and Golden Goggles)
• Comp Swimming Awards
Procedures for Management of Communicable Diseases
1. Be alert for any change in health status of a camper.
2. Report any unwell child to medical officer as soon as possible for assessment.
3. Any camper or staff member with either vomiting, diarrhea, fever or cough should be
isolated in the infirmary and assessed by the camp physician or nurse.
4. Hand sanitizer use should be encouraged in the cabin and before all meals/cookouts.
5. In the event of a cluster of cases with the same symptoms suggesting an "outbreak"
of a communicable disease, the medical team will notify the Executive Director and
the General Manager. The entire staff will be notified and instructions given.
6. Strict hand washing and spray-bleaching of all washroom facilities after use will
commence. Do not wipe down. Let air-dry.
7. If necessary, the camp physician will alert the local Public Health Unit for support.
8. If appropriate, the Executive Director will contact the Ministry of Labour.
9. The camp physician and the Executive Director will notify parents accordingly.
In the event of a severe outbreak, the Crisis Response Manual should be followed.
A Letter to My Child's Counsellor…
How strange it is I've never met you and in a few days you will become the most important person in my life. I
suppose you've been told that already; "These are other people's children – their most cherished loved ones; they'd
actually give up their own lives before they would let anything terrible happen to them…" But I hope you don't think it's
strange if I take a few moments to write down a few things I want you to know. Oh sure, there are those official camp
forms where I can tell you my daughter is allergic to a rare kind of wallpaper paste, loves volleyball but not when it's
cloudy (please keep an eye out for that) or has promised the parole officer not to set any more of those big fires. I want
to tell you some things that don't really belong on a form.
I've been thinking a lot the last few days about babysitters. Whenever I've hired them to look after my child, I've
interviewed them. I've had the chance to meet them and ask them questions. I watched how they interacted and played
with my child and how my child responded to them. I personally talked to people for whom they'd worked before. And
I've thought about school; I get to meet the teacher before it starts.
But when parents send their child to camp, odds are they've never met the people who will stand in their place.
If I understand right, at some camps you don't even know the counsellor's name until camp actually begins. All of this is
scary.
Please don't be insulted. I trust the Director who hired you and would never think of sending my child unless I
did. If the director trusts you, then I trust you. But I know the Director is not going to be taking care of my child
personally. You are. I want you to know what an extraordinary act of faith it is for me to put my child into your arms.
Please hold my child carefully.
I'm sending my child to camp with all the things the camp letter said to include. I feel absolutely certain I've
forgotten something and I have this fear my child will be the only one without it, whatever it is.
I still remember when my little brother and I went to sleep-over camp. Out second summer we showed up for
only the second four-week session. We didn't know that no one did that and we'd be walking into a place where everyone
already knew everyone else. We showed up proudly wearing our official camp T-shirts, the only kind we'd brought.
Unfortunately, no one had told us these shirts, which were considered the height of coolness our first summer, had been
declared the depths of dorkiness for the second summer. When we arrived it was dark. I remember being very grateful
for that. Everyone was in the dining hall watching a movie, so we snuck into a corner, away from the stares. I don't think
I felt so alone.
I remember the first counsellor who smiled at me. Who asked me lots of questions about what I like to do. Who
really listened without interrupting or correcting. I must have talked for three or four minutes with her just smiling and
nodding at me. I kept waiting for her to interrupt or something. Four minutes! That was a personal record. I had never
happened at home. I liked it, I like it a lot. And then the box of regular, ordinary, no dorky logo shirts arrived in an
emergency package from Mom and Dad. Things got much better after that…
There are a few more things: I don't expect you to be perfect. Heaven knows I'm not. (With any luck, maybe
heaven doesn't know…) I've brought my child up the best way I know how and I know I've made mistakes. I keep trying
to learn how to do better and just when I think I've got this parenting thing down, my child grows older, changes
considerably and send me back o the drawing board to figure it all out again. But I have learned one thing; if you don't
know, ASK. Read. Watch others. Invite help. I have good friends I talk to all the time about raising my child. I'd hate to
think you were suddenly trying to do this on your own when I can't do that myself.
Please know my child is not perfect either. I'm hoping you will forgive just as you would like to be forgiven
yourself and when my child does something that isn't right, you will focus on helping to show what should be done better
the next time. In other words, just treat my child exactly as you want to be treated if you mess up.
I know you've got a lot of children to take care of. They are all important. I hope very much you find something
special about mine. I don't mean better, I just mean something unique that sets my child apart as an individual.
You see, I love my child very much. And I tell my child so every day. But the problem is I've raised a reasonably
smart child who figures it's my job to say "you're smart" and "you look great" and "people really thing you're terrific."
From time to time, my child must wonder if I say these things because they're really true or because I'm supposed to say
them. Wouldn't it be great if my child met you, a complete stranger, and you discovered valuable things in my child all on
your own? See, if YOU find and talk about these positive things, my child can say, "Hey, people notice I've got good
things inside of me. I guess maybe I do…"
So I've sort of ended where I began; talking about strangers. Ironically, the very fact you are a stranger to my
child gives you, in some ways, even more power than I have.
One final thing. It just occurred to me: if you care for my child with love and patience and skill, then you're no
stranger. You've suddenly become my most important friend in the world.
Thank you friend. Have a most wonderful summer!
A Child's Grateful Parent
- Taken from CAMPS CANADA Newsletter. Vol.6, No.1. April 1998.
What is a Counsellor?
Somewhere between adolescence and adulthood there occurs in human development an age, which
is physically and psychologically impossible. It is that unfathomable stage know as the Camp
Counsellor, a creature undefined by psychologist, misunderstood by Camp Directors, worshipped by
campers, either admired or doubted by parents and unheard of by the rest of society.
A Camp Counsellor is a rare combination of doctor, lawyer, Indian and Chief. She is a competent
child psychologist with her sophomore textbook as proof. She is an underpaid babysitter, with
neither television nor refrigerator. She is a strict disciplinarian with a twinkle in her eye, a minister
to all faiths with questions about her own. She is a referee, coach, teacher and advisor. She is the
example of womanhood in worn-out sneakers, a sweatshirt two sizes too large and a hat two sizes
too small. She is a humorist in crisis, a doctor in an emergency, a song leader and entertainer. She
is an idol with her head in a cloud of wood-smoke and her feet in the mud. She is a comforter in a
leaky tent on a cold night and a pal who has just loaned her last pair of dry socks. She is a teacher
of the out-of-doors, knee deep in poison ivy.
A Counsellor dislikes getting up, waiting in line, cabin inspection and rainy days. She is fond of
sunbathing, sailing, teaching new games, snack and time of. She is handy for patching up broken
friendships, bloody noses or torn sweatpants. Good at locating lost bathing suits, fixing paths and
running from black flies; poor at crawling out of bed on raining or sunny mornings, remembering on
outtrips to take the salt and getting to bed early.
A Counsellor is a friendly guide in the middle of a cold, dark night on the windy trail to the cabin or
the HOP. She is a dynamo on a day off and exhausted the next day, but recuperated in time for the
net day off.
Who but she can cure homesickness, air out a wet bed, play 16 games of pickup sticks in
succession, be a monster at Halloween in July, carry two backpacks, speak Pig Latin in French,
harvest a garden, cook on an outtrip, sigh 48 camp songs every night and eat four helpings of
Sunday dinner?
A counsellor is expected to repair 10 years of damage to Cathy in 10 days, make Susie into a
woman, and help Karen adjust to the group. She is expected to lead the most prized possessions of
twelve adults much older than she. She is expected to lead them in fun and adventure… even when
her headaches; to teach them to live in the out-of-doors… even though she spends months a year in
Toronto, Vancouver or Montréal; to teach indigenous activities… when she can't even spell the
word; to guide youngsters in social adjustment… when she hasn't reached a legal age; to ensure
health and safety… with a sunburned nose, a band aid on her thumb and a blister on her heel.
For all this she is paid enough to buy her second text in Psychology, some aspirin, some new socks,
pay her candy card bill and enjoy gourmet meals on her day off. You wonder how she can stand
the pace and the pressure and you wonder if she really knows how much she is worth. And
somehow you realize that you can never pay her enough when, as she leaves at the end of August,
she waves goodbye and says, "See ya next year!"
STAFF GOAL SHEET
Goals must be attainable, specific and measurable in order to be successful. Please write 3
or more personal and work related goals you desire to achieve this summer.
Personal Goals: Goals are related to individual growth and development. They may be
athletic skills or personal attributes which you wish to improve this summer.
1.
2.
3.
Work Goals: Goals that contribute to effective job performance in the camp environment.
1.
2.
3.
HEALTH PROCEDURES
Allergic Reaction Risk Reduction
1. Counsellors should inspect campers' "care packages" for any items that potentially
contain nuts. Even questionable items should be removed and kept in a sealed
container in the Director's Cabin until the end of the camper's session, at which time
such items should be returned to the camper to take home.
2. Campers and Staff are encouraged to report any wasp nests to maintenance for
elimination.
3. Counsellors should encourage campers to apply bug repellent. Children who report a
"sensitivity" to bug repellents should be encouraged to wear long sleeves and pants
for protection.
4. Any camper known to have a potentially life-threatening allergy is required to carry
her epi-pen with her at all times. Most will require a reminder (and a spot check)
now and then by her counsellor.
5. Any USE of an epi-pen for an allergic reaction must be reported to the camp
physician or nurse IMMEDIATELY. This constitutes an EMERGENCY.
PROCEDURES FOR FIELD/COURT SPORTS
1. Ensure appropriate staff: camper ratio for adequate supervision.
2. Use appropriate safety equipment and footwear.
3. Evaluate the playing field or court for hazards. (ie: wet, rocks etc.)
4. Ensure that the participants are adequately spaced to prevent injury.
5. Equipment should be inspected pre and post activity.
PROCEDURE FOR WATER SPORTS
1. Ensure appropriate ratio lifeguards: swimmers.
2. The waterfront director will conduct daily inspections as per regulations.
3. Evaluate the area for hazards before commencing the water activity.
4. Evaluate and consider the impact of weather conditions on the activity and the safety
of the participants.
5. Inspect equipment pre and post activity. Report any damage to GM.
6. Head counts must be done before, during and after the activity.
PROCEDURES FOR CHALLENGE COURSES
1. Inspect equipment pre and post activity.
2. Ensure participants wear appropriate safety equipment and footwear.
3. Ensure appropriate staff: camper ratio for supervision.
4. Verify that all participants have understood instructions.
5. Assisting counsellor(s) should be properly trained.
6. Check area for hazards.
7. Ensure appropriate handling/management of equipment according to weather
conditions.