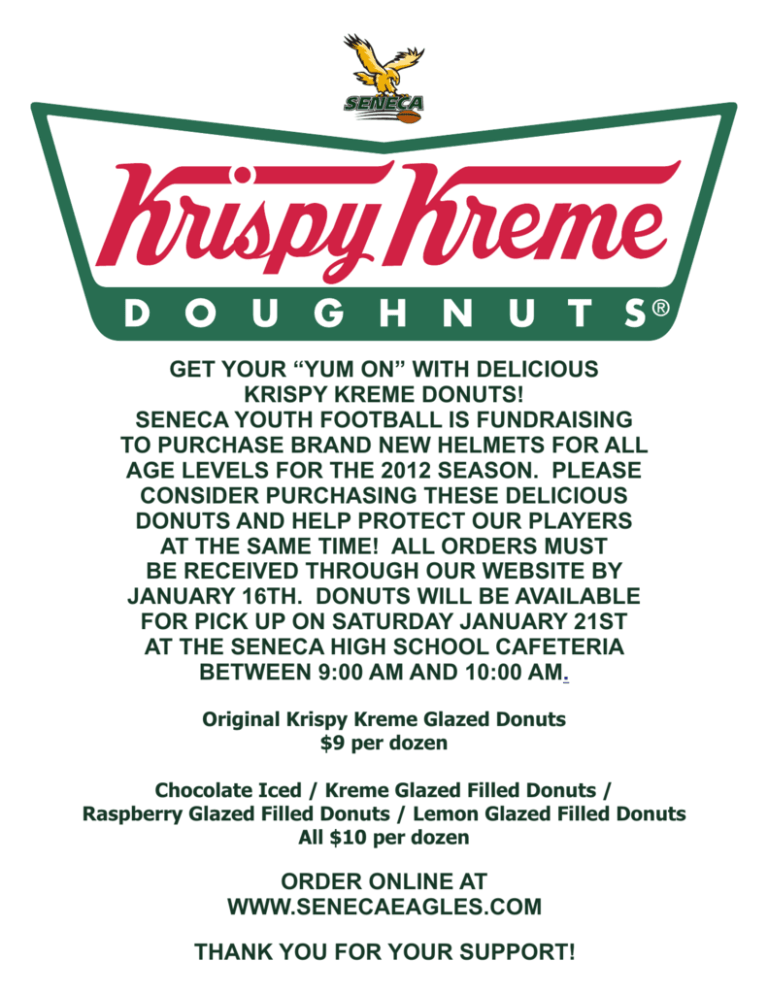 GET YOUR "YUM ON" WITH DELICIOUS
KRISPY KREME DONUTS!
SENECA YOUTH FOOTBALL IS FUNDRAISING
TO PURCHASE BRAND NEW HELMETS FOR ALL
AGE LEVELS FOR THE 2012 SEASON. PLEASE
CONSIDER PURCHASING THESE DELICIOUS
DONUTS AND HELP PROTECT OUR PLAYERS
AT THE SAME TIME! ALL ORDERS MUST
BE RECEIVED THROUGH OUR WEBSITE BY
JANUARY 16TH. DONUTS WILL BE AVAILABLE
FOR PICK UP ON SATURDAY JANUARY 21ST
AT THE SENECA HIGH SCHOOL CAFETERIA
BETWEEN 9:00 AM AND 10:00 AM.
Original Krispy Kreme Glazed Donuts
$9 per dozen
Chocolate Iced / Kreme Glazed Filled Donuts /
Raspberry Glazed Filled Donuts / Lemon Glazed Filled Donuts
All $10 per dozen
ORDER ONLINE AT
WWW.SENECAEAGLES.COM
THANK YOU FOR YOUR SUPPORT!