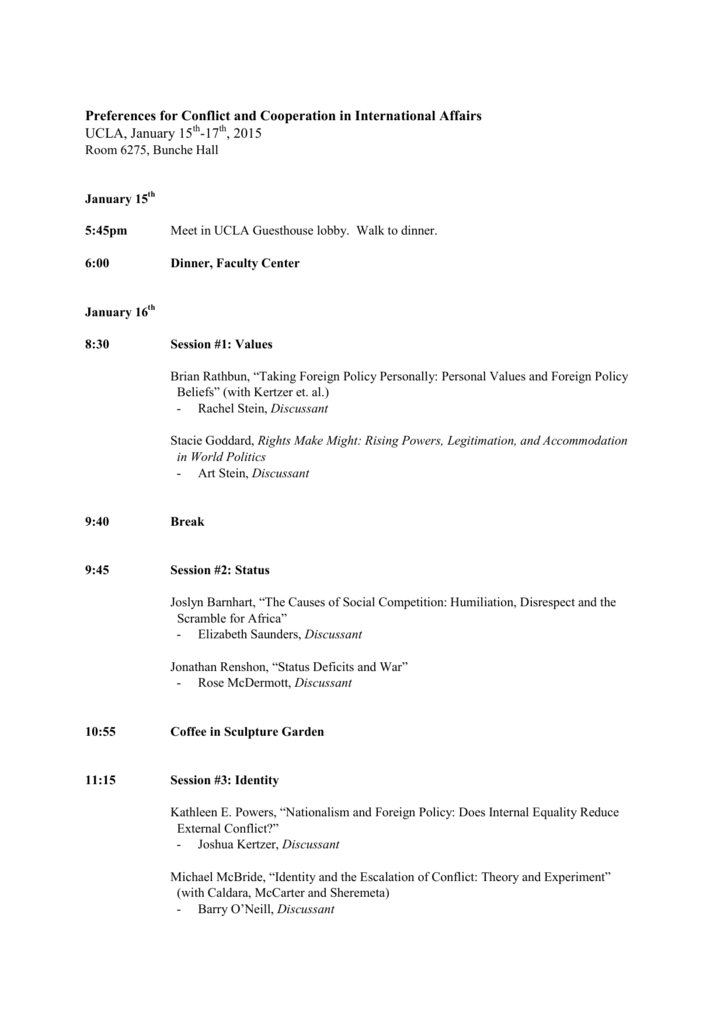 Preferences for Conflict and Cooperation in International Affairs
UCLA, January 15th-17th, 2015
Room 6275, Bunche Hall
January 15th
5:45pm
Meet in UCLA Guesthouse lobby. Walk to dinner.
6:00
Dinner, Faculty Center
January 16th
8:30
Session #1: Values
Brian Rathbun, "Taking Foreign Policy Personally: Personal Values and Foreign Policy
Beliefs" (with Kertzer et. al.)
- Rachel Stein, Discussant
Stacie Goddard, Rights Make Might: Rising Powers, Legitimation, and Accommodation
in World Politics
- Art Stein, Discussant
9:40
Break
9:45
Session #2: Status
Joslyn Barnhart, "The Causes of Social Competition: Humiliation, Disrespect and the
Scramble for Africa"
- Elizabeth Saunders, Discussant
Jonathan Renshon, "Status Deficits and War"
- Rose McDermott, Discussant
10:55
Coffee in Sculpture Garden
11:15
Session #3: Identity
Kathleen E. Powers, "Nationalism and Foreign Policy: Does Internal Equality Reduce
External Conflict?"
- Joshua Kertzer, Discussant
Michael McBride, "Identity and the Escalation of Conflict: Theory and Experiment"
(with Caldara, McCarter and Sheremeta)
- Barry O'Neill, Discussant
12:30
Lunch
2:00
Session #4: Honor and Revenge
Rachel Stein, "War and Revenge: Explaining Conflict Initiation by Democracies"
- Allan Dafoe, Discussant
Robert Trager, "Topology of a Gordian Knot: Honor and Endorsement in the
Construction of Intractable Conflict in Palestine" (with Philippe Assouline)
- Jonathan Renshon, Discussant
Rose McDermott, "The Psychology of Aggression"
- Marc Trachtenberg, Discussant
3:45
Coffee
4:00
Session #5: Domestic Politics
Elizabeth Saunders, "The Political Origins of Elite Support for War: How Democratic
Leaders Manage Public Opinion"
- Stacie Goddard, Discussant
John Zaller, "War, Presidents, and Public Excitation"
6:15
Meet in UCLA Guesthouse lobby for rides to Scheherazade
6:30
Dinner, Scheherazade
January 17th
8:00
Session #6: Modeling Agent and Structure
Joshua Kertzer, Resolve in International Politics
- Giacomo Chiozza, Discussant
Barry O'Neill, "Societal Theories of IR and Belief-dependent Utilities"
- Robert Trager, Discussant
Allan Dafoe, "Coercion, Provocation and Reputation Concerns" (with Sophia Hatz)
- Deborah Larson, Discussant
9:30
Discussion
10:00
Closing Brunch
This conference was funded by the Burkle Center for International
Relations and the UCLA Department of Political Science.