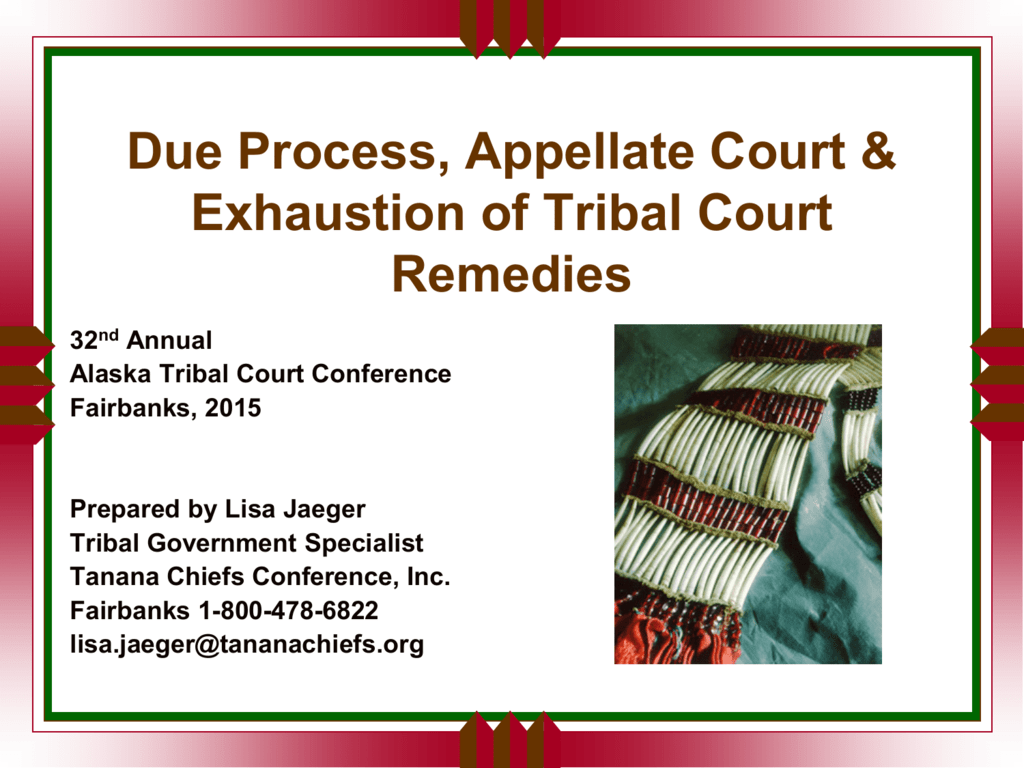 Due Process, Appellate Court &
Exhaustion of Tribal Court
Remedies
32nd Annual
Alaska Tribal Court Conference
Fairbanks, 2015
Prepared by Lisa Jaeger
Tribal Government Specialist
Tanana Chiefs Conference, Inc.
Fairbanks 1-800-478-6822
[email protected]
Due Process is the right of people
involved in a court case to have the
court proceed in steps that will be fair
to everyone.
The United States Constitution/Bill of Rights
requires the federal and state courts to
provide due process. The Indian Civil
Rights Act of 1968 requires tribal courts to
give due process.
Andy Harrington………Due Process
John v Baker
Alaska State Supreme Court
September 1999

"Do Alaska Native villages have inherent, non-territorial
sovereignty allowing them to resolve domestic disputes
between their own members?….we hold that Alaska Native
tribes, by virtue of their inherent powers as sovereign
nations, do possess that authority."

"Federal tribes derive the power to adjudicate internal
domestic matters, including child custody disputes over
tribal children, from a source of sovereignty independent of
the land they occupy."

"…state courts should afford no comity to proceedings in
which any litigant is denied due process….but this due
process analysis in no way requires tribes to use
procedures identical to ours in their courts"
Andy Harrington……..Best Practices for Tribal Courts
2014: Parks v Simmonds (Alaska
Supreme Court) Parties have to
'exhaust tribal remedies' before they
can run to the state or federal
government.
What is an Appellate Court?
The purpose of an appellate court is to review the tribal court
processes in a specific case to examine if the court was fair
and due process was provided:
•
•
•
•
Notice
Opportunity to be heard
Fair hearing
The court acted according to applicable
Tribal and federal laws
• Law was equally applied
They do not re-hear the case, but only look
at the process. They look for errors in
procedures, errors in facts, or due process.
• The judge/s made a mistake in the application
of tribal law
• There was some kind of misconduct such as a
conflict of interest
• The decision of the court was unreasonable to
make based on the evidence
Structures for Appellate Courts
 If
the tribal court is separated from the
tribal council, the tribal council is often
used as the appellate court.
 Other
ideas for appellate court structure:
• An inter-tribal court set up between villages
• An elected or appointed panel of judges who
do not sit on the regular tribal court
Procedures for Appellate Courts
Procedures are according to what the tribal judicial code says, but
typically the process is something like:
•
Appeal is filed within a set amount of time after a final court Order is
received by a party.
30 days is typical
•
Clerk notifies the appellate court judges and sets a time for the
appellate court judges to review the appeal and the tribal court
records.
•
The judges may decide to deny the appeal, or they may decide to hold
a hearing on it.
•
Hearing date is set, notice is sent out, and at the hearing, all parties
discuss the issues listed in the appeal.
•
Judges make their decision
What action can they take?
Describe it in your code!

For example:
Options for Decisions of the Appellate Court: After finishing
a hearing or hearings on a case, the Appellate Court shall
take one of the following actions:
1. Uphold the procedures and decision of the Tribal Court;
2. Order the Tribal Court to re-hear the case in a way that is
consistent with specific instructions written in the Decision
of Appeal; or
3. Dismiss the case in the most serious of circumstances.
One of the unique challenges to
operating appellate courts we have
experienced in the Tanana Chiefs
Conference Region is the infrequency
of their use.
In the situations where two or more
tribal courts combine together to hear
cases, the tribes should decide who's
rules will they be following, and what
will they do if a party wishes to appeal.
Due Process
•
•
•
•
Notice of Hearings
Opportunity to be heard
Fair and impartial judges
Fundamentally fair: treat people equally
– Best Practices
•
•
•
•
Following your own rules
Explaining your decisions
Keeping record of court proceedings
Having an appellate process
Alaska Tribal Courts are
fighting for respect from state
and federal courts as well as
from their own tribal members.
The path to gain that is to be
fair, provide due process in
the way that is appropriate to
the tribe, and provide an
appellate court to guarantee
basic due process.