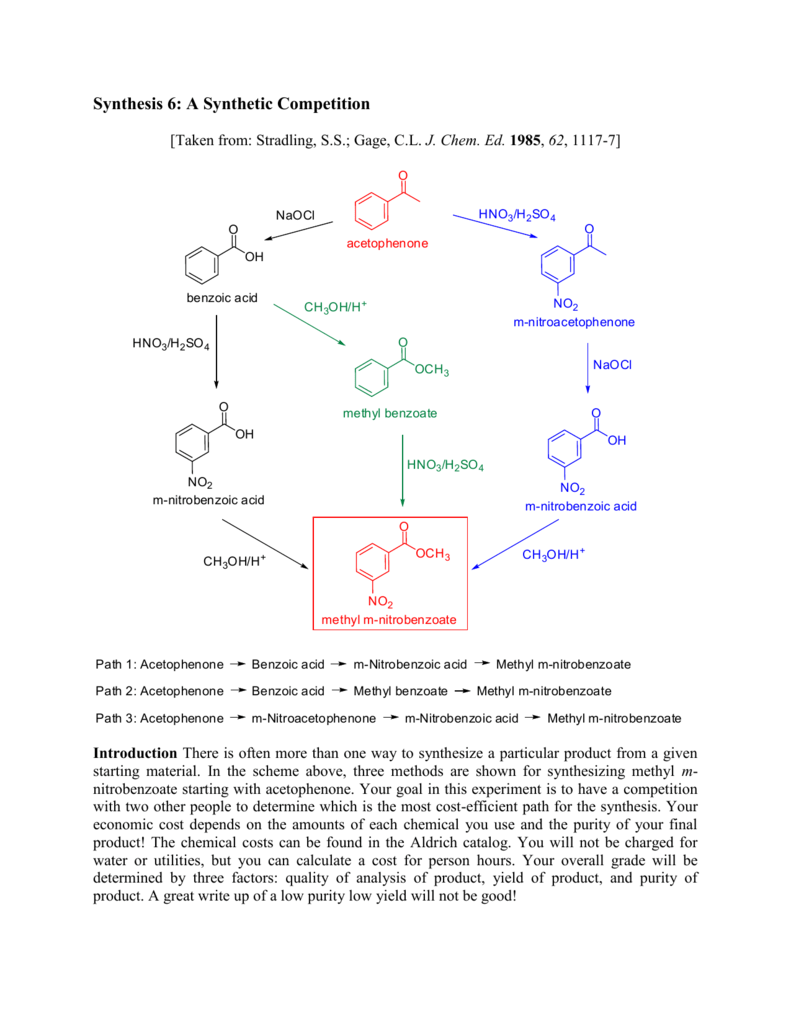 Synthesis 6: A Synthetic Competition
[Taken from: Stradling, S.S.; Gage, C.L. J. Chem. Ed. 1985, 62, 1117-7]
O
HNO3 /H 2 SO 4
NaOCl
O
O
acetophenone
OH
benzoic acid
NO2
m-nitroacetophenone
CH 3OH/H +
O
HNO3 /H 2 SO 4
NaOCl
OCH 3
O
methyl benzoate
O
OH
OH
HNO3 /H 2 SO 4
NO2
m-nitrobenzoic acid
NO2
m-nitrobenzoic acid
O
CH 3OH/H +
OCH 3
CH 3OH/H +
NO2
methyl m-nitrobenzoate
Path 1: Acetophenone
Benzoic acid
m-Nitrobenzoic acid
Path 2: Acetophenone
Benzoic acid
Methyl benzoate
Path 3: Acetophenone
m-Nitroacetophenone
Methyl m-nitrobenzoate
Methyl m-nitrobenzoate
m-Nitrobenzoic acid
Methyl m-nitrobenzoate
Introduction There is often more than one way to synthesize a particular product from a given
starting material. In the scheme above, three methods are shown for synthesizing methyl mnitrobenzoate starting with acetophenone. Your goal in this experiment is to have a competition
with two other people to determine which is the most cost-efficient path for the synthesis. Your
economic cost depends on the amounts of each chemical you use and the purity of your final
product! The chemical costs can be found in the Aldrich catalog. You will not be charged for
water or utilities, but you can calculate a cost for person hours. Your overall grade will be
determined by three factors: quality of analysis of product, yield of product, and purity of
product. A great write up of a low purity low yield will not be good!
Experimental
FOR THIS LAB YOU WILL HAVE THREE LAB PERIODS TO MAKE THIS TARGET
MATERIAL WITH ONE DAY OF WRAP-UP BEFORE SPRING BREAK.
Everyone starts with 8.0 mL acetophenone. The procedures listed below are the same
regardless of the particular step you are on. You need to decide if you want to purify things
after each step since that will cost you.
Conversion of a Methyl Ketone to a Carboxylic Acid. Place your weighed methyl ketone in an
800-mL beaker with 40 mL of 5% NaOCl (common bleach) and 2.5 mL of 10% NaOH per one
gram of methyl ketone (both reagents per 1 g methyl ketone!). Warm and stir (not boil!) the
contents of the beaker for 20-30 min. Slowly add 4 mL acetone to destroy excess NaOCl. Cool
the mixture slightly and add concentrated HCl slowly with stirring until the pH is 2-3. Cool in an
ice bath and vacuum filter the product. Characterize the product and/or purify it.
Preparation of a Methyl Ester from a Carboxylic Acid. Set up a reflux apparatus with an
appropriate round bottom flask. Add your carboxylic acid and 8 mL of methanol per one gram of
carboxylic acid. Add 1 mL of concentrated sulfuric acid per 20 mL methanol some boiling stones
and reflux for ~1 h. It is important that your starting material be dry. The workup steps that
follow are different since one product is a solid and the other a liquid.
If you are making methyl m-nitrobenzoate, pour the reaction mixture over ice water (use about 5
times the volume of alcohol used), stir, and allow the ice to melt. Vacuum filter the product and
characterize and/or purify it.
If you are making methyl benzoate, pour the reaction mixture onto a handful of ice and add 10%
NaOH until the solution is basic. Extract the aqueous solution twice with ether (use a volume of
ether for each extraction equal to one-half the volume of alcohol used). Dry the ether layer, filter
off the drying agent, and evaporate off the ether on the rotovap. Isolate the product by short-path
distillation.
Synthesis of m-Nitroacetophenone Prepare a nitrating mixture by slowly adding 8 mL of
concentrated H2SO4 to 5.3 mL of concentrated HNO3 in a small Erlenmeyer flask in an ice bath.
Cool this mixture to 0°C. Place 20 mL concentrated H2SO4 in a 500 mL Erlenmeyer flask and
cool to 0°C with swirling. Add the 8.0 mL acetophenone dropwise to the cold H2SO4 at such a
rate that the temperature does not exceed 5°C. Cool this mixture to below 0°C in an ice/salt bath
(ice + NaCl will bring down the temp to ~ -50C, you will need to add at least 5 g of NaCl to
your beaker containing ice and mix with stirring rod, You will need to replace this mixture
if you see ice melting as time proceeds!) and add the cold nitrating mixture dropwise, keeping
the temp at or below 0°C (it may take a good 15 mins for this addition step). After the addition,
maintain the temperature at 0°C for another 10-15 min with occasional swirling. Pour the
contents of the flask into a beaker containing ~100 g ice and ~150 mL water with vigorous
stirring. When the excess ice has melted, vacuum filter the solid and wash it well with cold water
(the product might be sticky!). Disconnect the vacuum and add 5 mL ice-cold ethanol to the
contents of the funnel. Let it stand for about a minute and then reattach to vacuum line to finish
the filtration. Spread the crude product out on some filter paper to allow it to dry. Characterize
and/or purify the product.
If you do not see solid product then you may need to extract the product (found in the ice/water
layer) with ethyl acetate. Dry the organic layer with Na2SO4 and then rotovap off the ethyl
acetate. If you do not see any solid at this point, then you did not successfully perform the
nitration!
Synthesis of m-Nitrobenzoic Acid and Methyl m-Nitrobenzoate For every gram of organic
starting material, use 1.0 mL of H2SO4 and 0.67 ml of HNO3. Prepare the nitrating mixture by
slowly adding 3 parts of H2SO4 to two parts of HNO3 with cooling. In a 500 mL Erlenmeyer
flask place concentrated H2SO4 (use 2.5 mL of H2SO4 per gram of starting material). Cool to
0°C, and then add the organic substrate with stirring. The temperature should not exceed 5°C.
Follow the directions in the acetophenone procedure above, but do NOT wash with cold
ethanol. Characterize and/or purify the product.