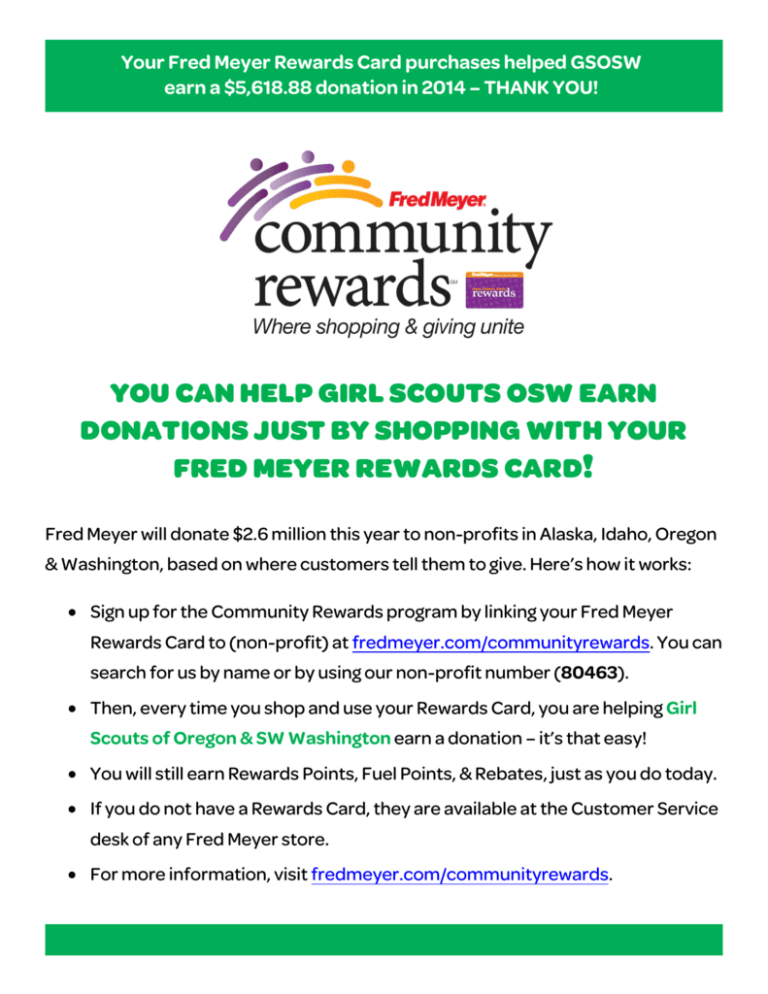 Your Fred Meyer Rewards Card purchases helped GSOSW
earn a $5,618.88 donation in 2014 – THANK YOU!
YOU CAN HELP GIRL SCOUTS OSW EARN
DONATIONS JUST BY SHOPPING WITH YOUR
FRED MEYER REWARDS CARD!
Fred Meyer will donate $2.6 million this year to non-profits in Alaska, Idaho, Oregon
& Washington, based on where customers tell them to give. Here's how it works:
• Sign up for the Community Rewards program by linking your Fred Meyer
Rewards Card to (non-profit) at fredmeyer.com/communityrewards. You can
search for us by name or by using our non-profit number (80463).
• Then, every time you shop and use your Rewards Card, you are helping Girl
Scouts of Oregon & SW Washington earn a donation – it's that easy!
• You will still earn Rewards Points, Fuel Points, & Rebates, just as you do today.
• If you do not have a Rewards Card, they are available at the Customer Service
desk of any Fred Meyer store.
• For more information, visit fredmeyer.com/communityrewards.