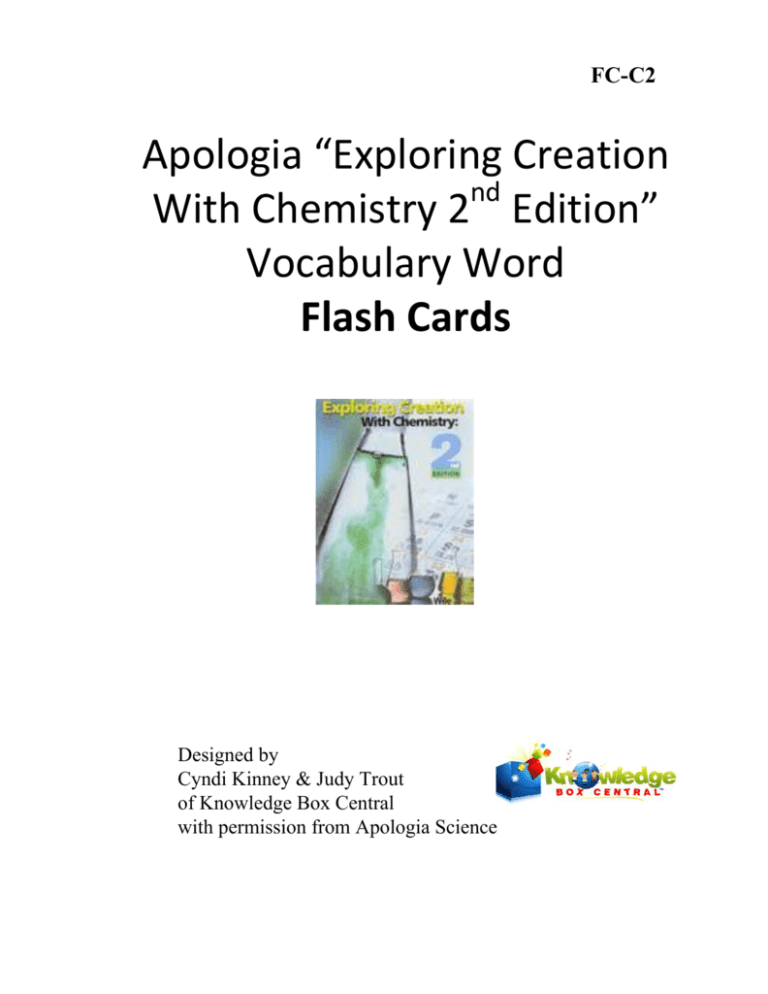 FC-C2
Apologia "Exploring Creation
nd
With Chemistry 2 Edition"
Vocabulary Word
Flash Cards
Designed by
Cyndi Kinney & Judy Trout
of Knowledge Box Central
with permission from Apologia Science
Exploring Creation With Chemistry 2nd Edition
Vocabulary Words Flash Cards
Copyright © 2012 Knowledge Box Central
www.KnowledgeBoxCentral.com
ISBN #
Ebook: 978-1-61625-385-1
CD: 978-1-61625-386-8
Printed: 978-1-61625-387-5
Publisher: Knowledge Box Central
http://www.knowledgeboxcentral.com
All rights reserved. No part of this publication may be reproduced, stored in a retrieval
system or transmitted in any form by any means, electronic, mechanical, photocopy,
recording or otherwise, without the prior permission of the publisher, except as provided by
USA copyright law.
The purchaser of the eBook or CD is licensed to copy this information for use with the
immediate family members only. If you are interested in copying for a larger group, please
contact the publisher.
Printed format is not to be copied and is consumable. It is designed for one student only.
Apologia "Exploring Creation With Chemistry 2nd
Edition" Vocabulary Word Flash Cards
The Vocabulary Words are the words within each module
that are underlined and that appear in Question 1 of the
Study Guide for that module.
PRINTING INSTRUCTIONS
If you are printing these Flash Cards, it is EXTREMELY IMPORTANT that you print
EXACTLY as we describe below, or your cards will NOT work for you.
You will notice when flipping through the pages of the Ebook and CD format of this
product that it APPEARS that the vocabulary words and definitions do not line up.
HOWEVER, I promise you that they do. When printed, everything will line up
properly. Make SURE that you print the cards beginning with page 4 of this
document. Page 5 should be printed on the BACK of page 4. Page 7 should be
printed on the BACK of page 6… and so on. See below:
Word 1
Word 4
Definition 4
Definition 1
Word 2
Word 5
Definition 5
Definition 2
Word 3
Word 6
Definition 6
Definition 3
Page 4
Page 5
These 2 pages will be printed
BACK-TO-BACK and will line up perfectly.