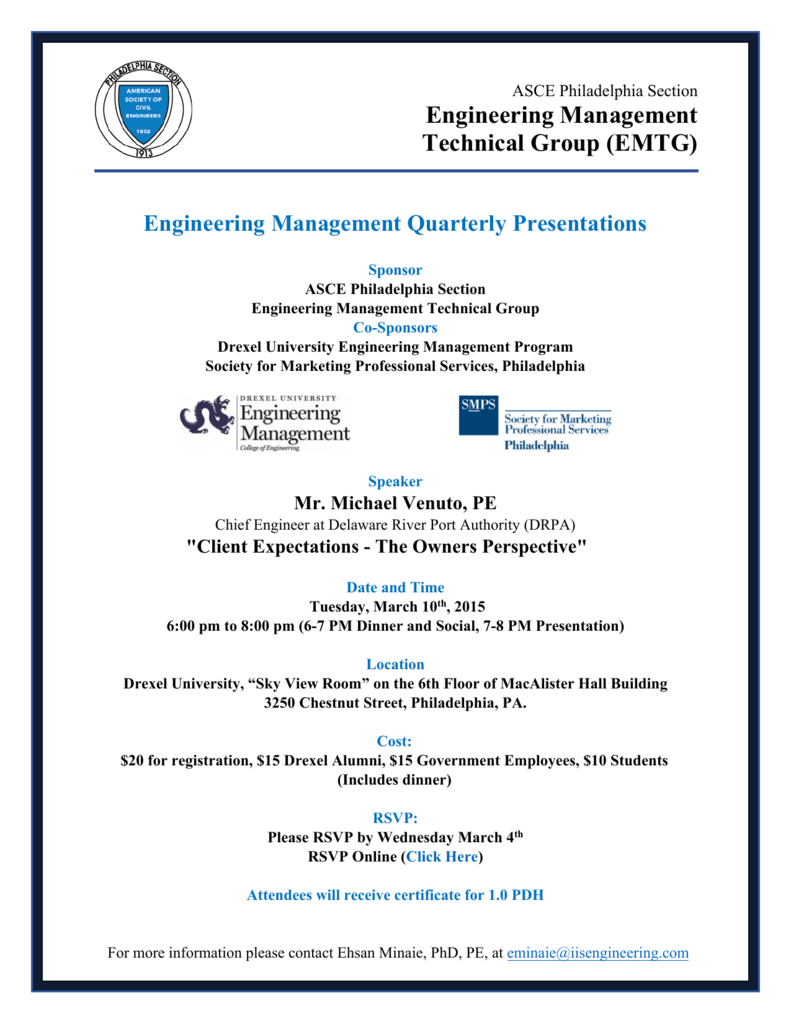 ASCE Philadelphia Section
Engineering Management
Technical Group (EMTG)
Engineering Management Quarterly Presentations
Sponsor
ASCE Philadelphia Section
Engineering Management Technical Group
Co-Sponsors
Drexel University Engineering Management Program
Society for Marketing Professional Services, Philadelphia
Speaker
Mr. Michael Venuto, PE
Chief Engineer at Delaware River Port Authority (DRPA)
"Client Expectations - The Owners Perspective"
Date and Time
Tuesday, March 10th, 2015
6:00 pm to 8:00 pm (6-7 PM Dinner and Social, 7-8 PM Presentation)
Location
Drexel University, "Sky View Room" on the 6th Floor of MacAlister Hall Building
3250 Chestnut Street, Philadelphia, PA.
Cost:
$20 for registration, $15 Drexel Alumni, $15 Government Employees, $10 Students
(Includes dinner)
RSVP:
Please RSVP by Wednesday March 4th
RSVP Online (Click Here)
Attendees will receive certificate for 1.0 PDH
For more information please contact Ehsan Minaie, PhD, PE, at [email protected]
ASCE Philadelphia Section
Engineering Management
Technical Group (EMTG)
Presentation Abstract:
This 1 PDH presentation will provide for a discussion from the owners perspective regarding
building project team relationships while leading teams toward a common goal. We will discuss
delivering quality projects, effective communication to manage expectations and project
schedules, and maintaining positive client-owner relationships for future growth. Attendees are
eligible for one (1) Professional Development Hours (PDHs) for attending this presentation. Light
food will be provided.
Speaker's Biography:
The Delaware River Port Authority plays an important role of stewards
of public transportation assets. Mr. Michael Venuto has been a
dedicated public service employee for the last fourteen years and
currently serves as the Chief Engineer at the DRPA. He is a NJ
Licensed Professional Engineer and Professional Land Surveyor. He is
a member of the American Society of Civil Engineers and New Jersey
Society of Professional Land Surveyors. Mike holds a Bachelor's
degree in Civil Engineering, a Bachelor's degree in Survey Engineering
Technology, and a Master's in Business Administration. He oversees the approximately $750M
five-year capital program focusing on maintaining, improving and protecting the DRPA/PATCO
transportation infrastructure.