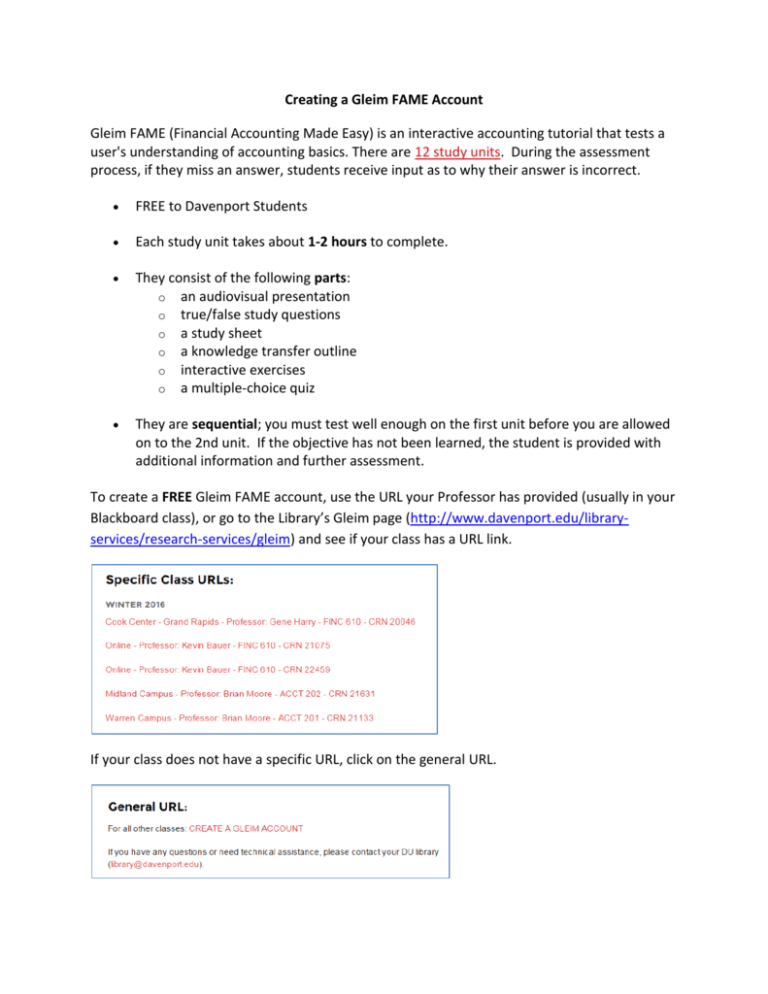 Creating a Gleim FAME Account
Gleim FAME (Financial Accounting Made Easy) is an interactive accounting tutorial that tests a
user's understanding of accounting basics. There are 12 study units. During the assessment
process, if they miss an answer, students receive input as to why their answer is incorrect.

FREE to Davenport Students

Each study unit takes about 1-2 hours to complete.

They consist of the following parts:
o an audiovisual presentation
o true/false study questions
o a study sheet
o a knowledge transfer outline
o interactive exercises
o a multiple-choice quiz

They are sequential; you must test well enough on the first unit before you are allowed
on to the 2nd unit. If the objective has not been learned, the student is provided with
additional information and further assessment.
To create a FREE Gleim FAME account, use the URL your Professor has provided (usually in your
Blackboard class), or go to the Library's Gleim page (http://www.davenport.edu/libraryservices/research-services/gleim) and see if your class has a URL link.
If your class does not have a specific URL, click on the general URL.
Make sure it says $0.00 and then click on "Checkout."
Returning Users:
If your DU e-mail is already associated with a registration for Gleim from a previous class,
contact the Library (library@davenport.edu) and let them know your name and student ID and
what class you are currently taking now, so they can move your login into that class group.
If you just made your login and are trying to login and start on the modules, please go to
http://www.gleim.com/ and login.
New Users:
1- Click on the New Customer Checkout button.
2- Fill in the information and click Continue. Your e-mail address will be your
username. You may use your DU Panthermail or a personal e-mail. The fields with
an asterisk by them are required. Leave the address type on the default of
Residential. Gleim requires all this information on your personal account and it will
only be used to contact you if there is a problem or if you contact them for technical
assistance.
Click Continue at the bottom of the form.
3- Click on Agree to Terms & Place Order.
4- You can click on Email this Receipt (a new window will open) or Print this page if you
would like a receipt.
5- Click on Continue to get more information on FAME and proceed to the modules.
6- Click on Go To My Personal Classroom Now to begin on the modules
7- Click on Access Professor-Led Courses to begin on the modules.
8- Click on Financial Accounting Made Easy. (You will only have one course to select
from on this screen).
9- Make sure you are in the correct course. If you are in the wrong one, contact the
library (library@davenport.edu).
and select one of the time zones listed in the center area and click on the Set Time Zone
button.
10- To begin, click on Study with Gleim at the top left of the screen.
11- Click on the sub menu choice Gleim Online.
12- The units are sequential (you must finish the first one and get a high enough score
that they feel you have mastered it before you can proceed to the second one), so
only the first Unit will be available to you at first.
13- If you elected to send yourself an e-mail receipt, you will receive that e-mail, as well
as an e-mail with your login information and a final one introducing you to your
personal counselor, should you need help.