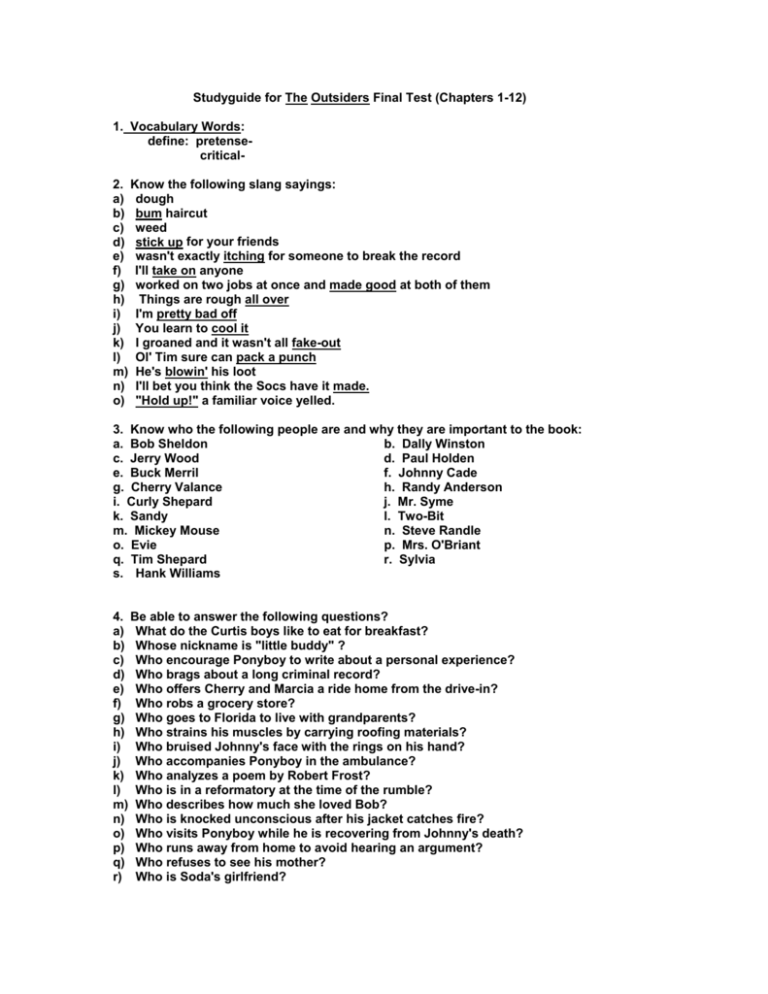 Studyguide for The Outsiders Final Test (Chapters 1-12)
1. Vocabulary Words:
define: pretensecritical2. Know the following slang sayings:
a) dough
b) bum haircut
c) weed
d) stick up for your friends
e) wasn't exactly itching for someone to break the record
f) I'll take on anyone
g) worked on two jobs at once and made good at both of them
h) Things are rough all over
i) I'm pretty bad off
j) You learn to cool it
k) I groaned and it wasn't all fake-out
l) Ol' Tim sure can pack a punch
m) He's blowin' his loot
n) I'll bet you think the Socs have it made.
o) "Hold up!" a familiar voice yelled.
3. Know who the following people are and why they are important to the book:
a. Bob Sheldon
b. Dally Winston
c. Jerry Wood
d. Paul Holden
e. Buck Merril
f. Johnny Cade
g. Cherry Valance
h. Randy Anderson
i. Curly Shepard
j. Mr. Syme
k. Sandy
l. Two-Bit
m. Mickey Mouse
n. Steve Randle
o. Evie
p. Mrs. O'Briant
q. Tim Shepard
r. Sylvia
s. Hank Williams
4. Be able to answer the following questions?
a) What do the Curtis boys like to eat for breakfast?
b) Whose nickname is "little buddy" ?
c) Who encourage Ponyboy to write about a personal experience?
d) Who brags about a long criminal record?
e) Who offers Cherry and Marcia a ride home from the drive-in?
f) Who robs a grocery store?
g) Who goes to Florida to live with grandparents?
h) Who strains his muscles by carrying roofing materials?
i) Who bruised Johnny's face with the rings on his hand?
j) Who accompanies Ponyboy in the ambulance?
k) Who analyzes a poem by Robert Frost?
l) Who is in a reformatory at the time of the rumble?
m) Who describes how much she loved Bob?
n) Who is knocked unconscious after his jacket catches fire?
o) Who visits Ponyboy while he is recovering from Johnny's death?
p) Who runs away from home to avoid hearing an argument?
q) Who refuses to see his mother?
r) Who is Soda's girlfriend?