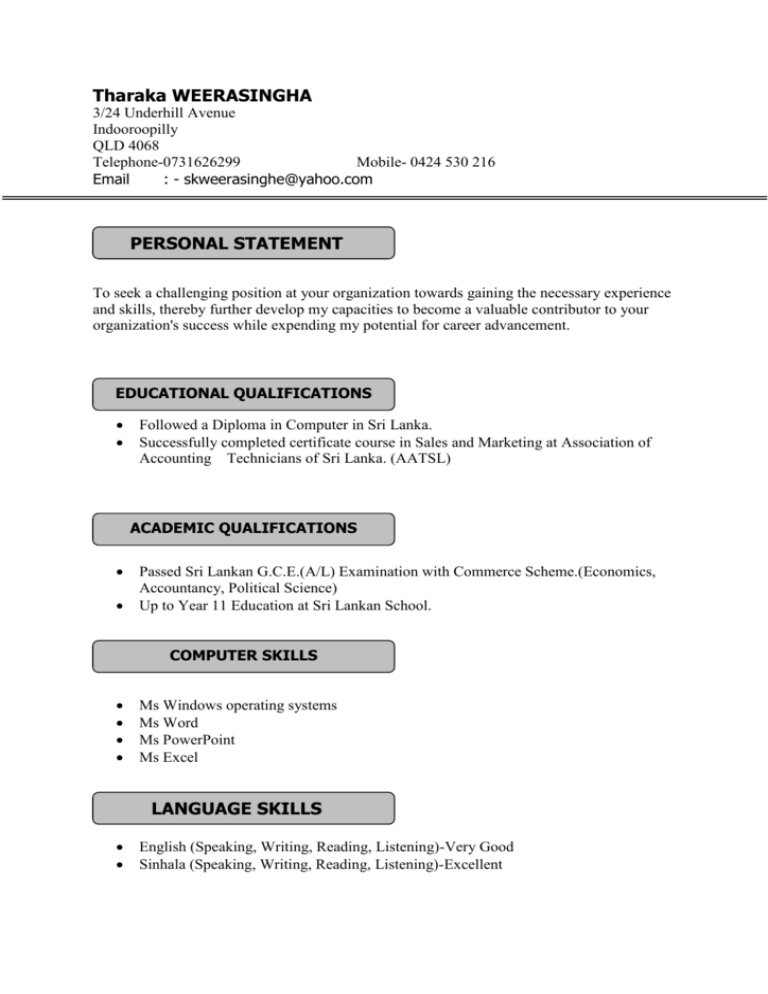 Tharaka WEERASINGHA
3/24 Underhill Avenue
Indooroopilly
QLD 4068
Telephone-0731626299
Mobile- 0424 530 216
Email
: - skweerasinghe@yahoo.com
PERSONAL STATEMENT
To seek a challenging position at your organization towards gaining the necessary experience
and skills, thereby further develop my capacities to become a valuable contributor to your
organization's success while expending my potential for career advancement.
EDUCATIONAL QUALIFICATIONS


Followed a Diploma in Computer in Sri Lanka.
Successfully completed certificate course in Sales and Marketing at Association of
Accounting Technicians of Sri Lanka. (AATSL)
ACADEMIC QUALIFICATIONS


Passed Sri Lankan G.C.E.(A/L) Examination with Commerce Scheme.(Economics,
Accountancy, Political Science)
Up to Year 11 Education at Sri Lankan School.
COMPUTER SKILLS




Ms Windows operating systems
Ms Word
Ms PowerPoint
Ms Excel
LANGUAGE SKILLS


English (Speaking, Writing, Reading, Listening)-Very Good
Sinhala (Speaking, Writing, Reading, Listening)-Excellent
KEY SKILLS/ATTRIBUTES






Achieving challenges
Team Work
Maintaining high standards of work
Honesty and integrity
Co-operation with superiors & subordinates
Ability to work continually to achieve divisional & corporate objectives
 Advanced Internet & Email Skill
WORKING EXPERIENCE

05/2012 To 06/2013
Keells Super PVT Ltd
Piliyandala Road kottawa
Sri lanka
Contact - +94112783850
Position – Sales team leader

08/2011 To 03/2012
Senok Tea Export PVT Ltd
19/1 Kalalgoda Road Hokandara
Sri lanka
Contact - +94 112 562 666
Position – Quality Controller

01/2010 To 07/2011
Dipped Products PLC
400,Deans Road Colombo 10
Sri Lanka
Contact -+94 112 742 160
Position - Accounts Data Entry Operator
REFERENCE
Raj Perera
0430062540
Liz Mardoch
0433640673
AVAILABILITY
Monday to Friday: Full Time
Weekend: full time
I hereby certify that the above particulars furnished by me are true and correct.