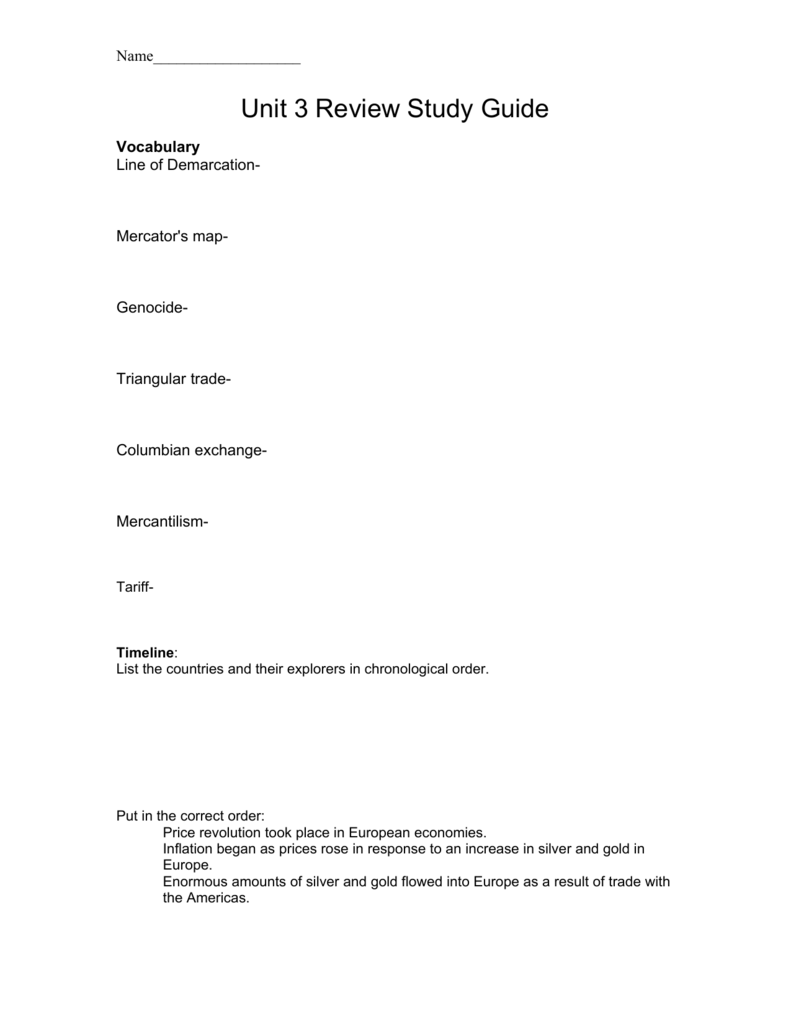 Name___________________
Unit 3 Review Study Guide
Vocabulary
Line of Demarcation-
Mercator's map-
Genocide-
Triangular trade-
Columbian exchange-
Mercantilism-
Tariff-
Timeline:
List the countries and their explorers in chronological order.
Put in the correct order:
Price revolution took place in European economies.
Inflation began as prices rose in response to an increase in silver and gold in
Europe.
Enormous amounts of silver and gold flowed into Europe as a result of trade with
the Americas.
Name___________________
Concepts:
What were causes of European global exploration in the 1400's?
Why was Portugal considered the best at oceanic exploration?
Why did European explorers seek an alternate route to Asia?
With the Treaty of Tordesillas, where did Portugal gain lands in South America?
What caused European sailors from traveling to the America's?
How was the Chinese use of gunpowder different from the Europeans?
How was the Dutch East India Company able to challenge Portuguese for control of
Asian trade?
What were the motivations of early European settlers?
Name___________________
What European king exercised the greatest control over his foreign colonies?
What type of workforce did all European colonies in the Americas use?
Why would governments impose tariffs?