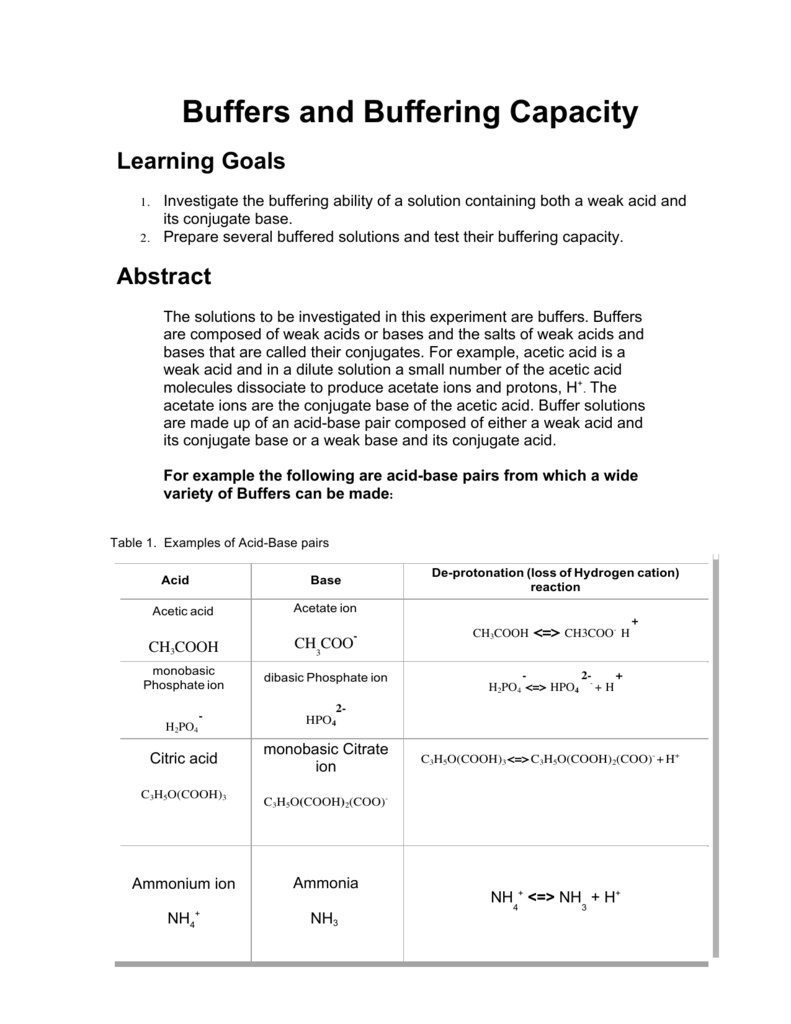 Buffers and Buffering Capacity
Learning Goals
1.
2.
Investigate the buffering ability of a solution containing both a weak acid and
its conjugate base.
Prepare several buffered solutions and test their buffering capacity.
Abstract
The solutions to be investigated in this experiment are buffers. Buffers
are composed of weak acids or bases and the salts of weak acids and
bases that are called their conjugates. For example, acetic acid is a
weak acid and in a dilute solution a small number of the acetic acid
molecules dissociate to produce acetate ions and protons, H+. The
acetate ions are the conjugate base of the acetic acid. Buffer solutions
are made up of an acid-base pair composed of either a weak acid and
its conjugate base or a weak base and its conjugate acid.
For example the following are acid-base pairs from which a wide
variety of Buffers can be made:
Table 1. Examples of Acid-Base pairs
Acid
Acetic acid
CH3COO
CH3COOH
monobasic
Phosphate ion
H2PO4
Acetate ion
De-protonation (loss of Hydrogen cation)
reaction
Base
-
NH4+
CH3COOH
-
-
dibasic Phosphate ion
<=> CH3COO- H
H2PO4 <=> HPO4
2-
-
+H
+
+
2-
monobasic Citrate
ion
C3H5O(COOH)3 <=> C3H5O(COOH)2(COO)- + H+
C3H5O(COOH)2(COO)-
Ammonium ion
HPO4
Citric acid
C3H5O(COOH)3
Ammonia
NH3
NH + <=> NH + H+
4
3
To be effective as a buffer (i.e., having the pH and Buffering Capacity required)
the solution must be composed of the correct acid-base pair and their
concentrations must be in the exact ratio that will give the desired pH value.
The prepared buffer solution also needs to have a sufficient concentration of
both the acid and the base so that the solution will have the strength to
neutralize a given amount of a strong acid or base. This strength of the buffer
solution is called its Buffering Capacity.
So a Buffer solution has the following three requirements:
1. It is made up of the correct acid-base pair to get close to the pH value
needed.
2. It has the acid and base concentrations in the exact ratio for the exact
pH value.
3. It has sufficient concentration of the acid-base pair to produce the
required Buffering Capacity.
A pH meter is a valuable tool that can be used to test the pH of prepared
solutions and gain a better understanding of buffers and their buffering
abilities.
Using the understanding of the chemistry of buffered systems, buffer solutions
can be prepared that have a specific pH value and buffering capacity (the
strength of the buffer solution).
Buffered systems consist of either a weak acid and a salt with the same anion
as the weak acid, for acidic buffer values, pH < 7, or a weak base and the salt
of that weak base for basic buffer values, pH > 7.
For example: A solution containing a relatively large concentration of a
weak acid, i.e. Formic acid (HOOCH), and the corresponding salt of that
weak acid, Sodium formate (NaOOCH), is a buffer. As the weak acid
and its conjugate base are dissolved into the solution the following
reactions occur:
HOOCH
(aq)
NaOOCH
<=>
(aq)
H+
----->
(aq)
Na+
+ OOCH(aq)
(de-protonation)
(aq)
+ OOCH-
(aq
) (dissolution)
The addition of the common anions from the acid and its salt
establishes an equilibrium that has a high concentration of formic acid
and its conjugate base, the formate ion, as shown below.
HOOCH
(aq)
<= >
H+
(aq)
+ OOCH-
(aq)
This is the acid-base pair that makes up the buffer system. If strong acids are
added to the buffered solution, the strong acid will react and be neutralized by the
conjugate base present in the buffer. This drives the equilibrium of the above
reaction to the right. If strong bases are added to the buffered solution, the strong base
will react and be neutralized by the weak acid present in the buffer. This drives the
equilibrium of the above reaction to the left.
Therefore, the addition of acid or base to this buffered solution will not cause a
large change in pH, but will cause a change in the concentrations of both the
weak acid and conjugate base.
Your text (Moore, Stanitski, Jurs) has an excellent explanation of Buffer calculations.
See Chapter 17,Section 1, Pages 805-816.
Prelab Assignment
In your lab notebook, prepare the following information:
1. A brief (2-3 sentence) introduction to the lab.
2. A table of safety information including the chemicals used in the lab and their
safety handling precautions. This information can be obtained from the MSDS
safety sheets.
3. Pick a pH (9.0, 7.0, or 3.0) and using your knowledge of equilibrium, pH, Ka
and Kb values, choose a buffer pair from the acids, bases and salts provided
in Table 2 (below). Determine the correct molar ratio of acid or base to salt
needed for the selected pH. Then determine the mass (for solids) or volume
(for liquids) of the chemicals needed to make 100 mL of the buffer with a
Buffering Capacity so that 50 mL of the buffer is capable of neutralizing at
least 2 mL of either 1 M HCl or 1 M NaOH without letting the pH change by
more that 1 pH unit. See your text pages 815-816. You may also need to
look up the solubility of each chemical. See the MSDS forms for this
information.
Here is an example of a solved buffer calculation and
here is the same problem solved using the Henderson-Hasselbalch equation.
Include the above calculations with your Pre-lab to be handed to your TA at the
beginning of the lab.
You will not be allowed to work in the lab without these Buffer calculations.
Table 2. Available Acid-Base pairs for Preparation of buffer solutions in this experiment
Chemical
Type
Formula
Molecular
weight
Ka
pKa
Kb
pKb
Acetic Acid solution
1.0M
weak acid
HC2H3O2
60.05
1.8 x 10-5
4.75
----
---
conjugate
base of above
acid
NaC2H3O2
82.03
------
---
----
---
Sodium phosphate
monobasic,
monohydrate
weak acid
NaH2PO4*H2O
137.99
6.2 x 10-8
7.21
----
---
Sodium phosphate,
dibasic heptahydrate
conjugate
base of above
acid
268.07
4.7 x 10-13
12.32
----
----
210.14
7.5 x 10-4
3.128
----
---
Na3 C6 H5 O7 2H2O
294.11
------
---
----
---
weak base
NH4OH
17.3
5.9x10-10
9.24
1.7 x 10-5
4.76
conjugate
acid of above
base
NH4Cl
53.5
------
---
----
---
Sodium acetate
anhydrous
Citric acid
monohydrate
Sodium citrate
dihydrate
Ammonia solution
2.0 M
Ammonium
Chloride
.
Na2 HPO4 7H2O
.
weak acid
C6 H 8 O 7 H 2 0
.
conjugate
base of above
acid
Chemicals and supplies
Chemicals
Liquids:
Distilled Water
1.0 M Acetic acid (HC2H3O2)
1.0 M Hydrochloric acid (HCl)
1.0 M Sodium hydroxide (NaOH)
2.0 M Ammonia solution
Glassware and Supplies
(NH4OH)
•
•
•
•
•
pH meter
10 mL plastic syringes
1 mL plastic syringes
100 mL volumetric
magnetic stirrer and stir bar
Solids:
Sodium acetate, anhydrous (NaC2H3O2)
Citric acid, monohydrate (C6H8O7H2O)
Sodium phosphate, monobasic dihydrate
(NaH2PO42H 2O)
Sodium phosphate, dibasic heptahydrate
(Na2HPO47H2 O)
Sodium citrate, dihydrate (C6H5O7Na32H 2O)
Ammonium chloride (NH4Cl)
Procedure:
Part A. Preparing an Acetic acid/Acetate Buffer
1.
2.
3.
4.
5.
6.
7.
8.
Weigh 4.1g of solid Sodium acetate, anhydrous into a 250mL
beaker and dissolve it in 50 mL of 1M Acetic acid and 50 ml of
water. Determine the concentration of Acetic acid, the
concentration of Acetate ion, and the pH of the solution.
Divide this solution equally between two beakers labeled B1 and
B2.
Prepare two other beakers with 50 ml of deionized water in
each. Label these beakers D1 and D2.
Assemble the stirrer apparatus and the pH meter, with
electrode.
Place the electrode in the solution labeled D1, measure
and record the pH. Using a 1 mL syringe, add 0.2 mL of
1.0 M HCl solution, stir, and measure and record the pH.
Repeat the addition of 0.2 mL more of HCl with stirring,
measuring and recording until the pH changes
dramatically (±2 pH units).
Repeat the above experiment using the beaker labeled D2,
only this time use 1.0 M NaOH instead of the HCl.
Repeat with the beaker labeled B1 (the buffered solution) and
add 0.2 mL of the 1.0M HCl solution until the pH makes a
dramatic change (at least ±2 pH units).
Repeat using the beaker labeled B2 using 1.0 M NaOH.
Part B. Preparing a Buffered Solution of Specific pH
and Buffering Capacity
1. Prepare 100 mL of your assigned buffer solution, either pH 9.0,
pH 7.0 or pH 3.0, based on your Pre-Lab calculation.
2. Test the buffering capacity of your prepared buffer by following
the strong acid/strong base addition procedure used in the Part
A with the acetic/acetate buffer. Record the volume of acid or
base and the corresponding change in the pH.
Post Lab Assignment
Include the following information in a lab report to give to your TA.
1. Graph pH vs. volume of acid (or base) added to each of the four
solutions from the Acetic acid/Acetate buffer system.
2. How many moles of strong acid and/or base were added to the Acetic
acid/Acetate buffer system before the Buffering capacity was reached
(change of ±1 pH unit)?
3. Graph pH vs. volume of acid (or base) added to your assigned buffer
solution. What was the buffering capacity of this buffer system?
4. Show all equations for the calculations used in the preparation your
assigned buffer solution
Rubric for Buffers and Buffering Capacity: Claim(s):
Statement(s), derived
from evidence, using
scientific reasoning.
(15 points total)
Summary of claims:
Clearly state the major conclusions or claims for this experiment:
What buffering capacity was achieved with the acetic acid/acetate
buffer? With the other buffering system selected?
Evidence:
Scientific data that
supports the claim.
The data needs to be
appropriate and
sufficient to support
the claim. Submission
of the Analog to
Target and Designing
Experiments
Worksheets are
required.
(30 points total)
Introduction:
Provide background information to put the experiment in context:
What is a buffer and what is its purpose? What is meant by
"buffering capacity"?
Reasoning:
Scientific explanations
that use evidence and
appropriate chemistry
concepts to construct
claims.
(30 points total)
Discussion:
Explain how the evidence you presented supports your claim.
Show calculation of moles acid/base added to the acetate buffer
system. Show calculations for how to prepare your specific buffer
and its experimentally determined buffer capacity. Explain any
noted errors that occurred in lab and how that affected your results.
Procedure:
In a narrative (not numbered directions) summarize the major steps
of the experiment. You may reference parts of this procedure by
providing the title and web address.
Results:
Organize and present all the data you collected. Include graphs of
pH vs. volume of acid/base added to D1, D2, B1 & B2. Include
graphs of pH vs. volume acid/base added to your specific buffer.
Copyright (c) 2014, the ICN Team.