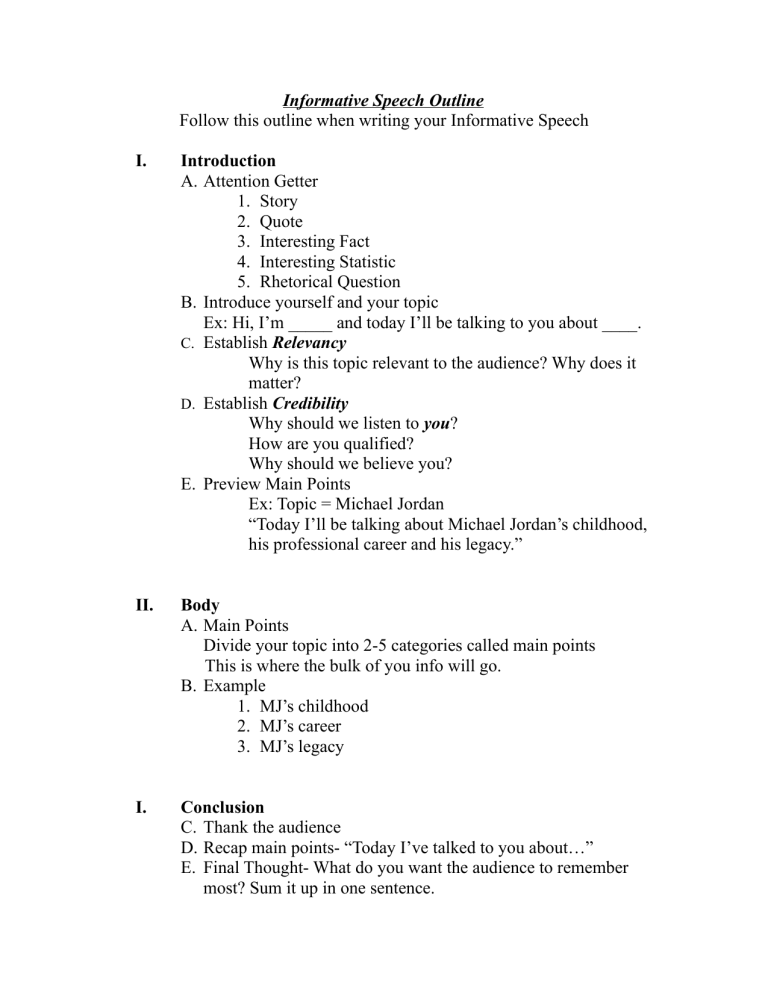 Informative Speech Outline
Follow this outline when writing your Informative Speech
I.
Introduction
A. Attention Getter
1. Story
2. Quote
3. Interesting Fact
4. Interesting Statistic
5. Rhetorical Question
B. Introduce yourself and your topic
Ex: Hi, I'm _____ and today I'll be talking to you about ____.
C.
Establish Relevancy
Why is this topic relevant to the audience? Why does it
D.
matter?
Establish Credibility
Why should we listen to you ?
How are you qualified?
Why should we believe you?
E. Preview Main Points
Ex: Topic = Michael Jordan
"Today I'll be talking about Michael Jordan's childhood, his professional career and his legacy."
II.
Body
A. Main Points
Divide your topic into 2-5 categories called main points
This is where the bulk of you info will go.
B. Example
1. MJ's childhood
2. MJ's career
3. MJ's legacy
I.
Conclusion
C. Thank the audience
D. Recap main points- "Today I've talked to you about…"
E. Final Thought- What do you want the audience to remember most? Sum it up in one sentence.