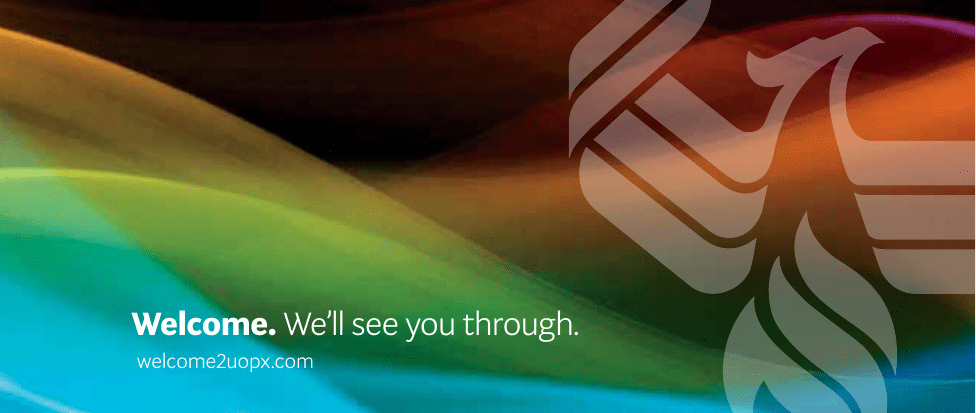 Welcome. We'll see you through.
welcome2uopx.com
2
Congratulations. Welcome to University of Phoenix.
You're about to embark on a journey that will
challenge you, inspire you and help you impact
your family and community in more ways than
you can imagine.
It may seem like you have a lot to do to get ready
for your adventure. That's why we've created this
guide to help you through.
Remember, a team of advisors is dedicated to
helping you succeed every step of the way. I look
forward to seeing where this experience leads you.
Sincerely,
Bill Pepicello, PhD
President, University of Phoenix
3
Working and going to school can
be challenging. But it's worth it.
4
Our approach is a bit untraditional.
But that's why you chose us.
5
Online tools to support your busy life
Start using these online tools and resources right away. They're here to help you save time
and effort, and are vital to your success:
1. eCampus: Meet fellow classmates and your
instructor, and gain access to essential resources,
your account information and student email.
2. University Library: Our library never closes,
offering thousands of scholarly publications, ebooks
and multimedia at your fingertips.
3. University of Phoenix Mobile App: Keep up with
your coursework and your classmates on the go.
4. Life Resource Center: Find the resources and
articles you need to balance all facets of your life,
including health, career coaching, finances, child or
elderly care and counseling.
6
Online tools to support your busy life
5. Centers for Mathematics and Writing Excellence:
Get additional support from tutors, online tutorials,
guides and software training.
7. Academic Support Communities: Find math,
writing and learning skills support through our
communities on PhoenixConnect.
6. PhoenixConnect® academic social network:
Connect with students, alumni and faculty around
the world.
8. University Marketplace: As a student, you can
always use a little extra cash in your pocket. Earn
discounts and cash-back rewards on thousands of
items in our marketplace.
7
Be prepared. Coursework will be
harder than you expect. And much
more rewarding.
8
eCampus
ecampus.phoenix.edu
How to access your online classroom:
Log on to ecampus.phoenix.edu
Type in the username and password you created
when you applied for admission.
2. Chat Room: Students and faculty can
exchange their bios as well as non-classroom
related discussions.
Explore your eCampus classroom
1. Main Classroom: Here online students will attend
class and participate in discussions. Local campus
students hold in-class discussions.
3. Course Materials Forum: Find your course
syllabus and instructor policies here.
9
eCampus
ecampus.phoenix.edu
4. Learning Team: Share messages and work with
your team to collaborate on projects.
7. Materials Tab: View your course readings and
materials here.
5. Individual: This is a private forum for
communication and feedback from your instructor.
8. Help: Use the Customer Support Online
Knowledgebase to help you troubleshoot eCampus
classroom issues.
6. Assignment Tab: Set at the top of the student
page use this tab to submit course assignments.
10
Expect to devote at least 15 to 20
hours per week to your education.
That's what it takes to succeed.
11
University Library
Tap into a vast resource.
Look under the Library tab on eCampus for your University Library.
Here you'll have access to extensive academic content and support services
to enable you to quickly research papers and class assignments.
Simply type in your keyword or topic of interest to start your research.
ecampus.phoenix.edu
12
Center for Writing Excellence
ecampus.phoenix.edu
Prepare to write papers for every course you take.
Look under the Library tab on eCampus for the
Center for Writing Excellence, accessible 24/7.
Discover online writing tools and resources to help
you with writing and grammar questions like APA
style, business writing and more.
Riverpoint Writer®. Our best-kept secret. Download
the software and it will automatically plug into
Microsoft® Word. You can create a document that's
consistent with the University's Writing & Style
Guidelines and the sixth edition of the "Publication
Manual of the American Psychological Association."
Download it as soon as you can.
Plagiarism Checker. Put all your papers through the
rigorous standards of the Plagiarism Checker. It will
generate a plagiarism percentage for your paper and
you can edit accordingly.
13
Center for Mathematics Excellence
ecampus.phoenix.edu
Rebuild your confidence in math.
Log into eCampus and look under the Library tab for the Center for Mathematics Excellence, accessible 24/7.
Gain access.
– Tips and tools
– Videos
– Practice math sheets
Live tutoring sessions. Join live group classes where faculty discusses topics and
questions from your course. You can also receive one-on-one tutoring sessions
for personalized attention from a math coach. Live math tutoring is available for
selected courses only.
14
Focus on your career goals.
We've got your back.
15
Phoenix Career Services
ecampus.phoenix.edu
Your complete career resource.
Look for Phoenix Career Services under Quick Links
on your eCampus homepage.
Jumpstart your job search with this online resource
for students and alumni.
With this complimentary service you'll:
– Discover helpful tools and expert advice.
– Gather the latest intelligence on your career search.
– Develop your professional resumé, cover letter and
work samples.
– Review thousands of sample resumés and cover
letters written by professional resumé writers and
career counselors for all experience levels.
16
Get your family on board. Discuss
how changes over the next few years
will make a difference in all your lives.
17
Life Resource Center
ecampus.phoenix.edu
Balance it all out — your home, work and school life.
Find the Life Resource Center under Quick Links on your eCampus homepage.
Take advantage of a resource not many educational institutions offer:
– Life and career coaching
– Being a better parent while going to school
– Daily time and study management
– Balancing relationships and family with professional
– Healthy ways to manage stress
and academic goals
– Financial advice
– Health and nutrition for an alert mind and body
– Managing transitions at work and home
18
Student Resource Center
At your local campus
For online and on-campus students — our Student Resource Centers (SRC) are open to you.
Everything you need to get your work done is here: computers, printers, fax and copy machines and more.
Reserve a meeting room at the SRC for:
– A quiet place to study before class
– In-person meetings with your Learning Team
– Virtual meetings with your Learning Team
– Skype with Learning Team members when they can't be onsite
19
Own your work. Offer professional
thoughts, opinions and experiences.
All while keeping it real.
20
Certificate of Originality
ecampus.phoenix.edu
Show your coursework is original and true to you with the Certificate of Originality form.
Look for the form under the Classroom tab on eCampus in your Course Materials.
Follow these guidelines to submit your form:
– Read, e-sign and save your Certificate of Originality form as soon as you can.
– Submit the form with every Individual Assignment due to your instructor.
– You can use the form for each course.
– If you cannot locate the form, please contact your instructor.
– If you cannot open and save the form, please contact Technical Support at 877.832.4867.
21
21
Contact us
General Information
866.766.0766
Life Resource Center
866.320.2817
Technical Support877.832.4867
Transcripts800.866.3919
The University's Central Administration is located at 1625 W. Fountainhead Pkwy., Tempe, AZ 85282.
Online Campus: 3157 E. Elwood St., Phoenix, AZ 85034.
© 2012 University of Phoenix, Inc. All rights reserved. | UOPX-01466
22
A personal note from your advisor
Congratulations on your first day!
I'm excited that you've taken the first step toward becoming a Phoenix. And I look forward
to helping you throughout your educational journey.
I'll be calling you soon to help you go over this guide and much more. In the meantime,
please contact me with any questions you may have.
Good luck!
Support every step of the way
Join us on PhoenixConnect: ecampus.phoenix.edu
Friend us on Facebook: facebook.com/universityofphoenix
Follow us on Twitter: @UOPX and @AskPhoenix
welcome2upox.com
I am committed
25
Tip
Read the materials.
You'll discuss them online or
in class, and you'll apply them
to your assignments.
I am supported
27
Tip
Get the help you need.
If your advisor isn't available,
we have plenty more on hand,
just as qualified to help.
28
FAQ for financing your degree
Q. What is the maximum amount available for
Pell Grants and student loan assistance?
A. Maximum Pell Grants eligibility in the 20122013 award year is $5,550. Pell Grants may be
awarded to undergraduate students who have
not earned a bachelor's or professional degree.
Maximum federal financial aid loans eligibility
for undergraduate students varies by grade
level and dependency status. Visit studentaid.
ed.gov/PORTALSWebApp/students/english/
studentloans.jsp for more information.
Graduate students are eligible for up to $20,500
in federal financial aid loans.
Q. How long does it take for loans to be processed?
A. Processing times for loans can vary from student
to student, depending on individual situations and
documentation requirements. On average, loan
processing is completed within 45 to 60 days of the
start of the first course in a new academic year. For
questions or concerns about the timeliness of the
award process, please contact your Finance Advisor.
29
FAQ for financing your degree
Q. How often are disbursements scheduled?
A. Federal financial aid loans and Pell Grants
disburse twice during the academic year, at the
beginning of each payment period. Please refer
to your award letter or contact your Finance
Advisor for specific disbursement dates.
Q. What other sources of funding are available
to assist students?
A. There are many sources of funding for
educational purposes. Please see our Financial
Options page at phoenix.edu/tuition_and_
financial_options/financial_options.html for
further information, or contact your Finance
Advisor for additional resources.
Q. What scholarships are available?
A. You may be eligible to apply for a scholarship.
The scholarship path and resources, including lists
of University of Phoenix and external scholarships,
are available at phoenix.edu/scholarships
I am driven
31
Tip
Be patient.
Our instructors teach, work
and have families. So detailed
feedback on your assignments
may take time.
I am ready
33
Tip
Take as many workshops
as you can.
You'll learn the skills you need
to succeed in the classroom.
34
Noteworthy
I am a Phoenix
35
Noteworthy
I am a Phoenix
36
Start out on the right foot
Countdown to Day 1. Discover tips, tools and advice designed to help
you prepare for your first day of class at University of Phoenix.
37
To do: 5 days before class
Pre-walk to class with your advisor.
Log on to ecampus.phoenix.edu
Walk through eCampus with your Enrollment Advisor.
Familiarize yourself with the University Library, Center for Writing Excellence,
the Plagiarism Checker and more.
Download Riverpoint Writer® today so you can be ready for your first assignment.
On-campus students: Find your course syllabus in your Classroom and look it over.
38
To do: 4 days before class
Access your textbooks and save on software.
Log on to ecampus.phoenix.edu
Go to Account and start filling in My Profile.
Tell us about yourself and start building your goals.
Find your online textbooks for your first course and begin your studies.
Use your student discount to save on Microsoft® Office and Adobe® software
through the University Marketplace.
39
To do: 3 days before class
Start your first assignment.
Online students: Write a 200 to 300 word autobiography to introduce yourself to
your classmates and instructors, due the first day of class. Tell us who you are, what
you do, why you're here and what real-world experience you bring to the table.
Look through the course materials for your first class assignment. Start now.
On-campus students: Check your course syllabus to see if you have an
autobiography due within your eCampus.
40
To do: 2 days before class
Meet your UOPX community.
If you haven't completed your first class assignment, finish it now.
Join the conversation on PhoenixConnect: ecampus.phoenix.edu
Friend us on Facebook: facebook.com/universityofphoenix
Follow us on Twitter: @UOPX and @AskPhoenix
Keep Tech Support on speed dial: 877.832.4867
41
To do: 1 day before class
Prepare for your first day of class.
Print out your syllabus. Follow it daily so you can keep up with
your coursework.
Take a breather. Have some downtime before the big day.
Catch up with a friend or family member who's going to cheer
you on throughout your journey.
42
To do: Your first day of class
Begin class today.
Post your autobiography to the Chat Room if you haven't already.
Online students: Attend class after your Walk-to-Class with your Enrollment Advisor.
Make sure your classroom website is functional and that all links are working.
Understand each classroom folder and learn how to post responses to discussions.
On-campus students: Attend class at your local campus or Learning Center.
Bring a snack or your dinner with you and arrive early so you can find parking.
43
Tip
Keep Tech Support
on speed-dial.
Your new best friend
is on call 24/7.
877.832.4867
44
This is just the beginning
welcome2upox.com
Look through the materials at your own pace, and explore welcome2uopx.com.
Click through the links to easily access our various online resources. And while you're
there, download an eCampus Guide for step-by-step instructions on navigating your
online classroom and much more.