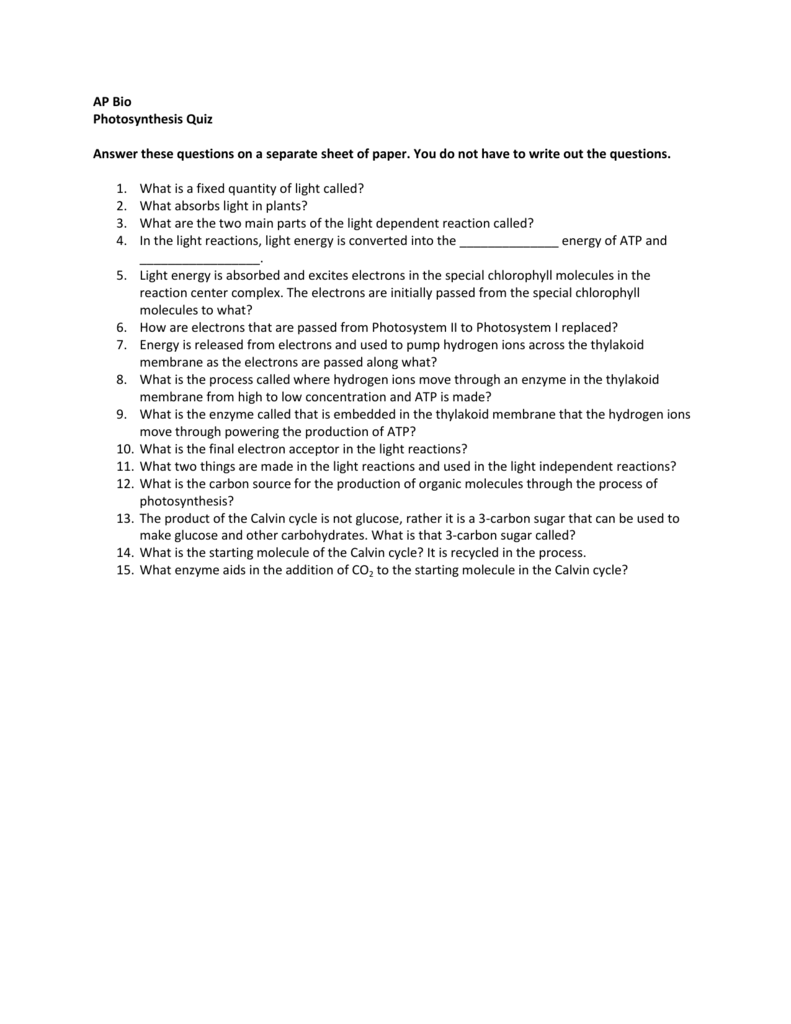 AP Bio
Photosynthesis Quiz
Answer these questions on a separate sheet of paper. You do not have to write out the questions.
1.
2.
3.
4.
5.
6.
7.
8.
9.
10.
11.
12.
13.
14.
15.
What is a fixed quantity of light called?
What absorbs light in plants?
What are the two main parts of the light dependent reaction called?
In the light reactions, light energy is converted into the ______________ energy of ATP and
_________________.
Light energy is absorbed and excites electrons in the special chlorophyll molecules in the
reaction center complex. The electrons are initially passed from the special chlorophyll
molecules to what?
How are electrons that are passed from Photosystem II to Photosystem I replaced?
Energy is released from electrons and used to pump hydrogen ions across the thylakoid
membrane as the electrons are passed along what?
What is the process called where hydrogen ions move through an enzyme in the thylakoid
membrane from high to low concentration and ATP is made?
What is the enzyme called that is embedded in the thylakoid membrane that the hydrogen ions
move through powering the production of ATP?
What is the final electron acceptor in the light reactions?
What two things are made in the light reactions and used in the light independent reactions?
What is the carbon source for the production of organic molecules through the process of
photosynthesis?
The product of the Calvin cycle is not glucose, rather it is a 3-carbon sugar that can be used to
make glucose and other carbohydrates. What is that 3-carbon sugar called?
What is the starting molecule of the Calvin cycle? It is recycled in the process.
What enzyme aids in the addition of CO2 to the starting molecule in the Calvin cycle?