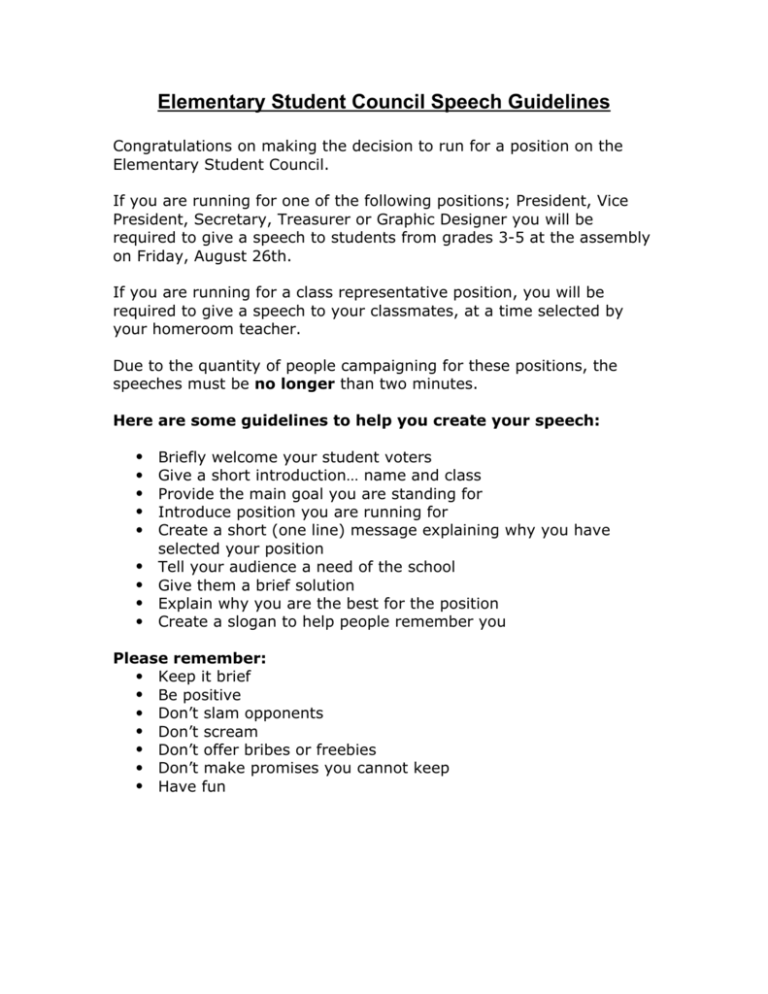 Elementary Student Council Speech Guidelines
Congratulations on making the decision to run for a position on the
Elementary Student Council.
If you are running for one of the following positions; President, Vice
President, Secretary, Treasurer or Graphic Designer you will be
required to give a speech to students from grades 3-5 at the assembly
on Friday, August 26th.
If you are running for a class representative position, you will be
required to give a speech to your classmates, at a time selected by
your homeroom teacher.
Due to the quantity of people campaigning for these positions, the
speeches must be no longer than two minutes.
Here are some guidelines to help you create your speech:
●
●
●
●
●
●
●
●
●
Briefly welcome your student voters
Give a short introduction… name and class
Provide the main goal you are standing for
Introduce position you are running for
Create a short (one line) message explaining why you have
selected your position
Tell your audience a need of the school
Give them a brief solution
Explain why you are the best for the position
Create a slogan to help people remember you
Please remember:
● Keep it brief
● Be positive
● Don't slam opponents
● Don't scream
● Don't offer bribes or freebies
● Don't make promises you cannot keep
● Have fun
Sample Speech
Hello students and teachers! I'm Ben from 3D. I love to participate in all the fun
events that go on at KIS and that is why I am running for the position of class
representative. I am running for this position because I want to be the voice for
my classmates. I feel like lots of great things go on at KIS but there should be
even more! I will contribute ideas for themed activities and raising funds for local
charities. I am the best choice for this position because I am loud, so our class's
ideas will be heard. A good leader listens and then acts and I will do both! Once
again, I am Ben a 3D class rep candidate and I want you to know that a vote for
me is the best choice for 3D!
Tips for Public Speaking
●
●
●
●
●
●
Make notes about what you are going to say. That way you will be sure
not to forget anything.
Practice in front of a mirror, or even better, another person.
Try to speak slowly and clearly. It's natural to want to rush through your
words when you are nervous so focus really hard on slowing down. Take
a deep breath if you need to.
Look at the audience when you speak.
Show enthusiasm in your voice.
Smile!
Speech Deadline!
Speeches are due for approval by one of the student council advisers by
Thursday, August 25th.
Fourth Grade: Approved by Ms. Evans or Ms. Bedessem
Fifth Grade: Approved by Mr. Harnish or Mr. Reynolds
Good Luck to the Candidates of 2010-2011!