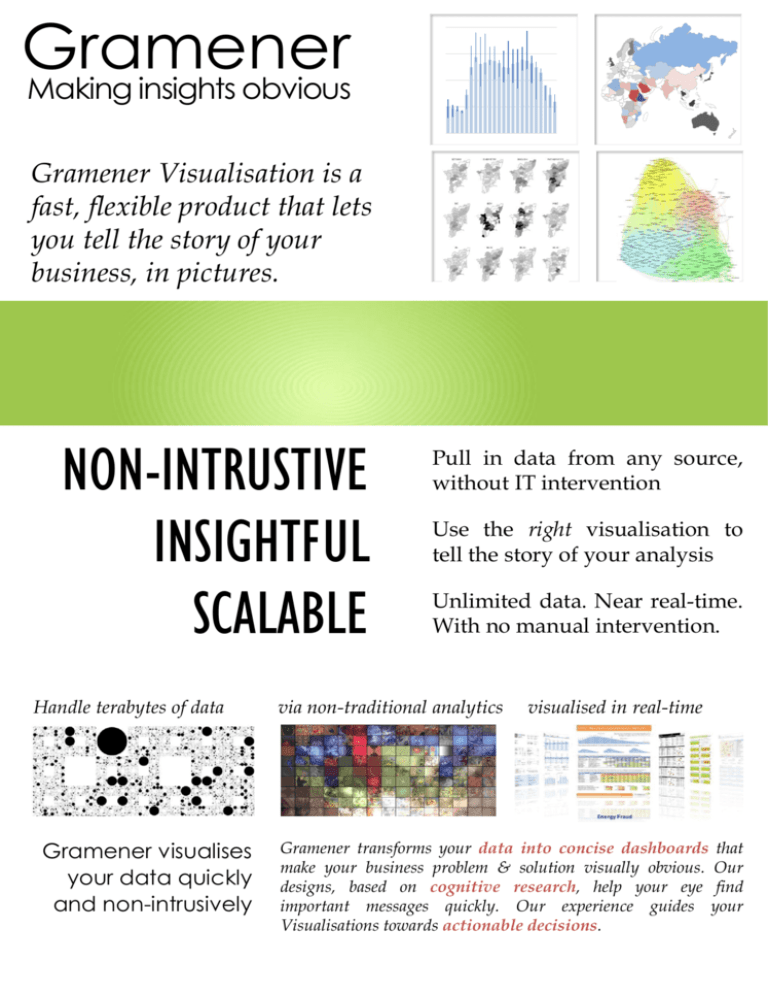 Gramener
Making insights obvious
Gramener Visualisation is a
fast, flexible product that lets
you tell the story of your
business, in pictures.
NON-INTRUSTIVE
INSIGHTFUL
SCALABLE
Handle terabytes of data
Gramener visualises
your data quickly
and non-intrusively
Pull in data from any source,
without IT intervention
Use the right visualisation to
tell the story of your analysis
Unlimited data. Near real-time.
With no manual intervention.
via non-traditional analytics
visualised in real-time
Gramener transforms your data into concise dashboards that
make your business problem & solution visually obvious. Our
designs, based on cognitive research, help your eye find
important messages quickly. Our experience guides your
Visualisations towards actionable decisions.
SYSTEM REQUIREMENTS
HARDWARE




2 core processor
1 GHz
4 GB RAM
500 GB hard disk
SOFTWARE
 Windows XP / Windows
Server 2003 / Windows
Vista / Windows 7
DATA SECURITY
o Product does not hold any
data for storage
o Input data needs to be fed
explicitly - does not scan
sources or ports
o Processing does not need
remote or network access
o All outputs are saved to the
identified location only
Easily complies with any
organizational security policy
TECHNOLOGY STACK
ARCHITECTURE
 Python 2.7 is the underlying language
Raw data is passed
to the server as a
plain text file
 Numpy 1.6.1 for numerical computations
 SciPy 0.10 for statistical transformations
 Tornado 2.0 as the templating engine
 Tabular 0.0.8 for loading tabular data
 RSA 3.0.1 for license key validation
 Cygwin for text file processing
Template
engine
… and transformed
via custom-built
templates.
Analytics
engine
Visualisation library
The output of the
process is a static
PDF or XHTML file
… which is shared
manually with endusers
VISUALISATION LIBRARY
Our library has an exhaustive set of custom visualisation charts and
templates across industries and functions :
• Telecom
• Sales & Marketing
• Manufacturing
• Finance
• Contract Farming
• Production
• Retail
• Procurement
SOME BUILT-IN STATISTICAL MODELS..
VISUALISATION MODELS
PREDICTIVE ANALYTICS
Pairwise correlation: Determine most / Linear regression: Determine if output
least influences amongst variables
increases in proportion to the input
Hierarchical clustering: Group
variables into related clusters
Discriminant analysis: Create a variable
that classifies input into distinct groups
Segmented averages: Categorize
Bayesian classification: Model to
metrics for most significant influencers probabilistically classify input into groups
Comparison of means: Determine
numerical significance of impact
Support vector machines: Perform nonlinear transformations for classification
ANOVA: Determine statistical
significance of impact of a variable
Auto regression: Predict future values of
variables based on past correlations
Principal component analysis: Identify Decision trees: Identify simple but
variables most influencing the output optimal rules for classification into groups
Spectral analysis: Identify seasonal
patterns in time-series data
Neural networks: Predict outcome by
modeling neural structure of the brain
Prioritised metrics: Depict
performance weighted by a priority
Markov chains: Predict a series by
combining chains of patterns in the input


[email protected]
gramener.com


+91 40 6454 5009
blog.gramener.com
Hyderabad
Plot 9/2, Survey No 64
HUDA Techno Enclave
Phase 2, Madhapur
Andhra Pradesh 500 081
India.